Being a nail polish lover, I never miss a chance to add new shades to my collection. Last weekend when I went for shopping I grabbed couple of new shades and refilled few old ones. Of the new shades I bought, here is the review on 'Maybelline Color Show Nail Polish Fiesty Fuschia 213'. I have been wearing this shade since the day I bought it, so this is the perfect time to put forth my view on it.
What the product says:
Make a bold style statement with Maybelline New York's Color Show nail color range.
With trendy, super stylish shades, these nail colors add oodles of attitude to your overall look. Presenting 40 attractive shades, the Maybelline Color Show Range let's you mix, match and experiment with color!
Here's why you'll love it:
• Nail colors have a gel-based formula for increased staying power
• Is chip-resistant and comes with an easy-flow brush
• Available in 40 different shades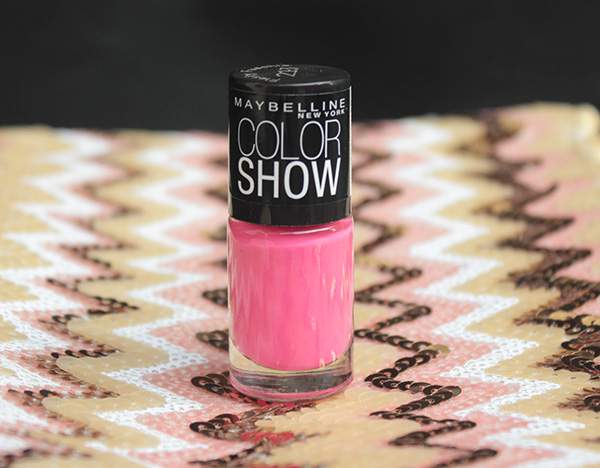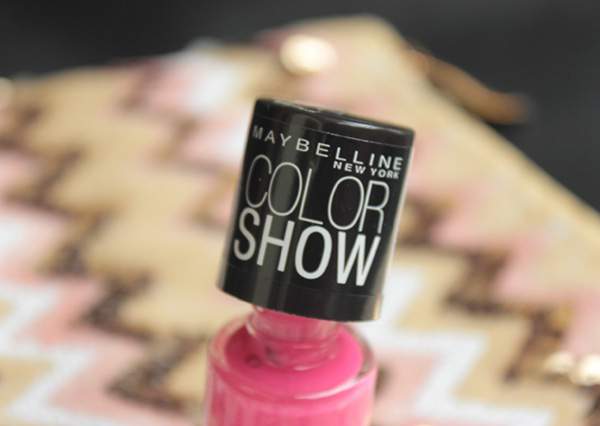 My Take on 'Maybelline Color Show Nail Polish Fiesty Fuschia 213'
It comes in the typical Maybelline color show nail polish packaging – transparent, round nail polish bottle with a black round cap. The cap is the brush holder as well, and has the shade name, number and range title written on it. The one thing that I found new in this packaging is the MRP tag on the black cap. All my previous color show nail polishes did not have this tag so I like this new change. It helps in comparing the prices; in the year 2013 when Maybelline launched color show nail polishes in India the price was Rs 75 and now it goes till Rs 150. Nonetheless, these polishes have wide shade range and are a hit in the Indian market.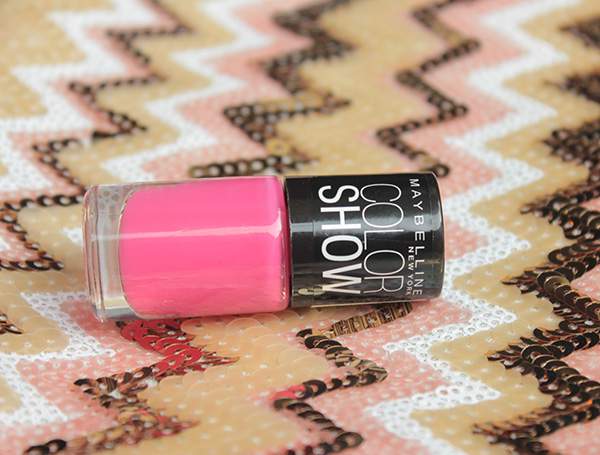 Fiesty Fuchsia is a very pretty pink shade. It does not have any of the blue or yellow undertones. It is a very feminine pink color that will add a touch of softness and elegance to your nails, along with a hint of bubbliness. This is not weather or skin-tone specific pink, you can wear it any season any time and it will make you feel more feminine. It can go pretty much with every outfit – right from the cute floral dresses to corporate attires. I had some apprehensions before purchasing this shade as I could not test it on my nails, but now I like it a lot. This is the pink nail polish every bride should have in her vanity kit.
The brush is wide enough to cover the nail beds in two strokes. I have broad nails, so I require two strokes but if your nail size is smaller you may even be able to polish your nails with just one brush stroke. Also, the brush does not come out of the holder; it stays intact. My only concern with the brush is its length, if it had been little longer I would be able use it more conveniently.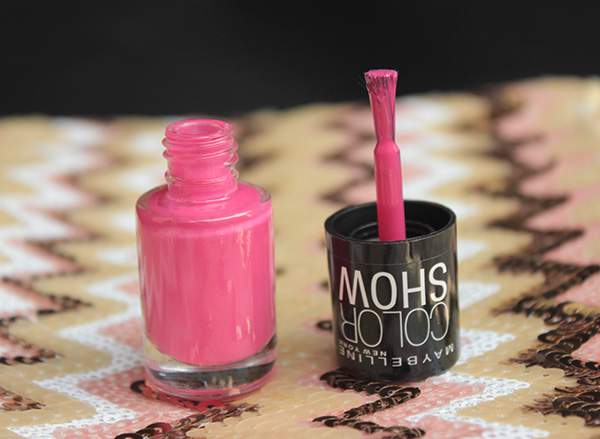 The consistency is semi-runny and easy to work with. In just single coat it provides good opacity, but I always apply two coats to ensure that the nail beds are 100% opaque. I also go for two coats as they increase the longevity and color-intensity of the nail polish. The smooth texture of this nail polish also makes the application easier. It does not require a lot of time in applying two coats, and the drying time is also less so you won't have to sit idle for long to protect the polish from getting ruined.
It gives smooth non-streaky finish. The glossiness looks perfect for day as well as night time. Though I am a matte lover, yet I like the sheen in this polish. It makes the nails attractive, in a decent way and can be comfortably worn for professional meets as well.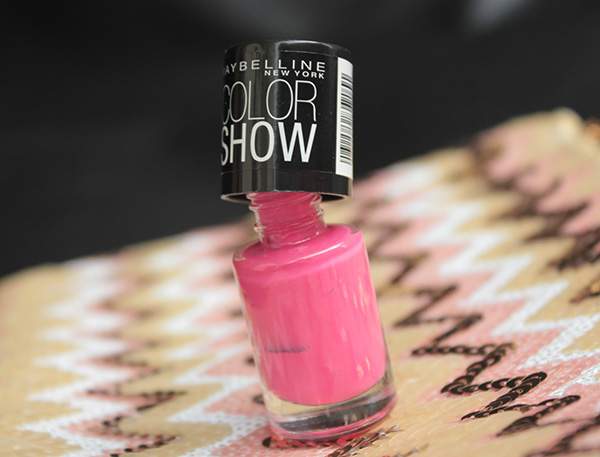 As far as the staying power is concerned, it stays intact for 2 days after which it starts chipping off the tips. And as the shade is on the brighter side so when it starts coming off the tips it looks bad. At that time either I need to completely take it off or apply another coat – just to cover the tips. It is a beautiful shade and I really wished it had stayed for little longer.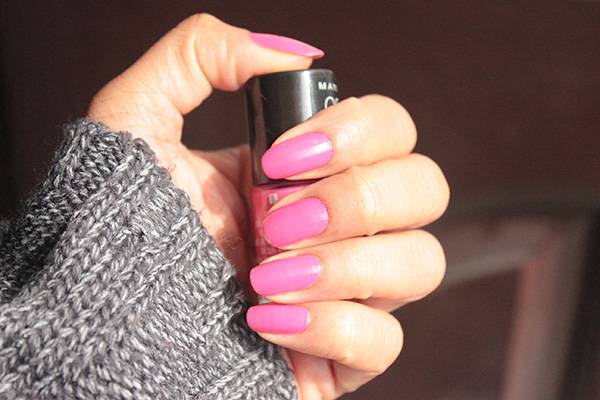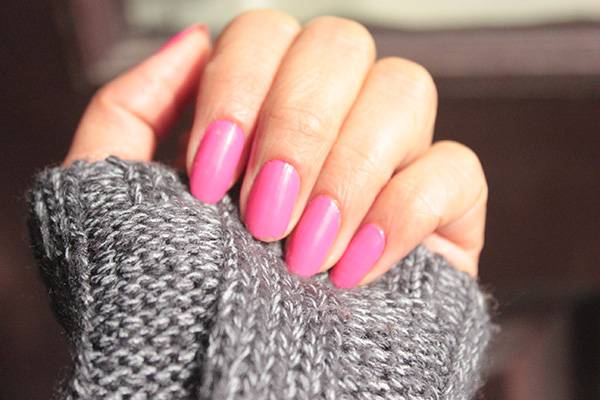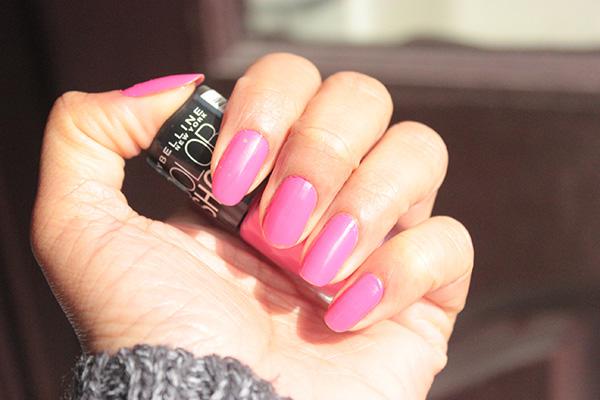 What I like about 'Maybelline Color Show Nail Polish Fiesty Fuschia 213'
– Pretty pink shade with no blue or yellow undertones.
– Will suit all skin tones.
– Provide 80% opacity in single coat.
– Non-streaky glossy finish.
– It does not take a lot of time in drying.
– Decent intensity of glossiness.
What I do not like about 'Maybelline Color Show Nail Polish Fiesty Fuschia 213'
– Easily chips off the tips.
– Short staying power.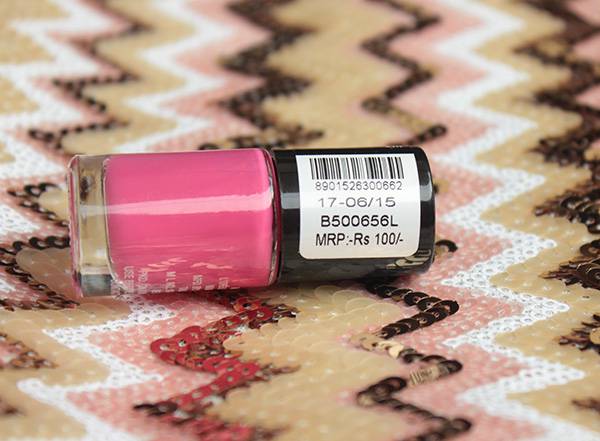 Price of 'Maybelline Color Show Nail Polish Fiesty Fuschia 213': Rs 100 for 6ml
BABE Rating: 3.5/5 (Everything for the beautiful shade)
Final Word: Maybelline Color Show Nail Polish Fiesty Fuschia 213 is a bubbly pink color. It enhances the beauty of your nails, and makes them look feminine and elegant. This is the kind of shade that will go with every outfit in any season. The staying power is low but if you have to wear it for short time this would be an ideal pink nail polish. If you are curating your bridal vanity box, do add this nail polish to it as this pink shade will add splendor to your wedding wardrobe.
You might also like reading these related topics
Maybelline Color Show Nail Polish Cinderella Pink Review Photos
Maybelline Color Show Glitter Mania Nail Paint-Dazzling Diva (602) Review,Swatches
Maybelline Color Show Glitter Mania Nail Paint – All That Glitters (601) Review
Maybelline Color Show Glitter Mania Nail Paint – Pink Champagne (607) Review
Maybelline Color Show Nail Polish Ladies Night Review Swatches
Maybelline Color Show Mint Mojito Nail Polish Review Swatches
Maybelline Color Show Nail paint Nude Skin (015) Review
Maybelline Express Finish Nail Polish Fuchsia Fun 222 Review Swatches