Today I am introducing a new nail polish shade from my collection. It has been there for a while but I forgot to share the review with you. Unlike my regular red, pink and brown nail polishes, this one belongs to the silver color family. I do not wear silver nail polishes often as I believe they tend to make my hands look darker but this casts a different reflection. Read to know how it fares on me.
My Take on 'Lakme True Wear Color Crush 04 Silver Nail Paint'
Lakme true wear color crush nail paints are based on long-lasting and chip resistant formula. They have color lock technology that helps in attaining fine opacity in just single coat. Around 42 nail paints are available in this range so you have ample options to choose from. The 04 shade that I am reviewing today is a gorgeous silver color. As this range has shade numbers rather than shade names, so it becomes difficult to relate the number with the actual color of the nail polish. It would have been great if these 42 shades were given their own names. I know the naming convention does not matter if a nail polish's performance is fine but still remembering the shade name is easier, and if we have to re-purchase the same polish we can easily recall the name than the number.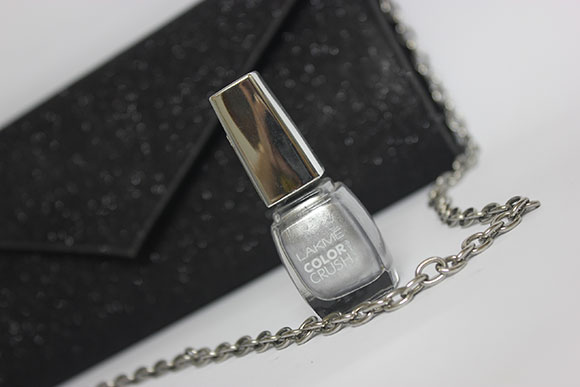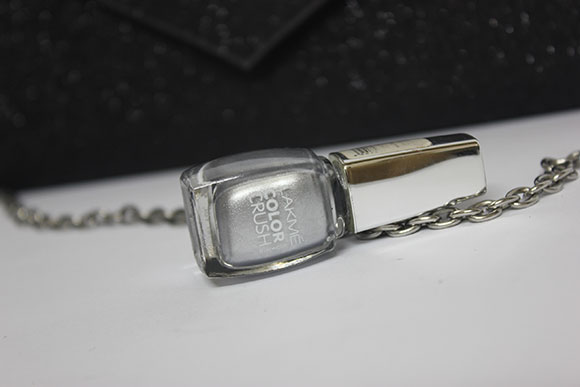 The nail paint comes packed in a rectangular glass bottle that has slightly curvy edges. The brush holder is silver in color and gives a classy look to the packaging. The bristles are not much thick. On my wide nails, I easily require three swipes to cover entire nail bed. If the bristles were little wider or thicker, the application part would be a lot easier.
It is a steel grey shade with metallic finish. It is a nice color for special occasions and festival season. Undoubtedly, this is a gorgeous silver nail polish but it does not seem to look great on all skin tones except medium to fair. If you are purchasing it offline make sure you try it on your nails before making the buying decision.
It has smooth metallic finish that gives it an elegant look. The only thing you need to take care of while applying it is to not use the brush over and over at the same spot. Otherwise, you may end up with streaky finish. Also, if you are going for two coats ensure first coat is completely dry before doing the second round of application.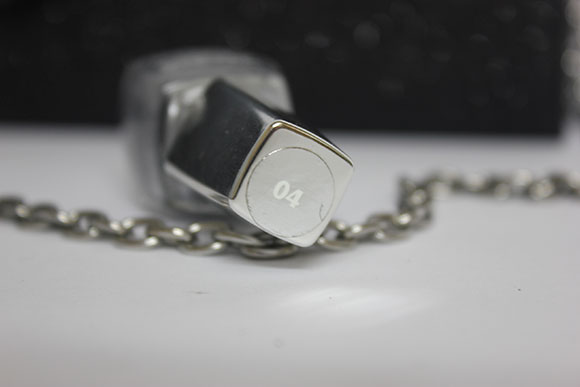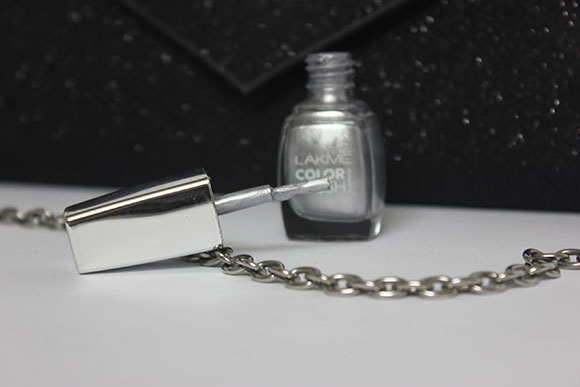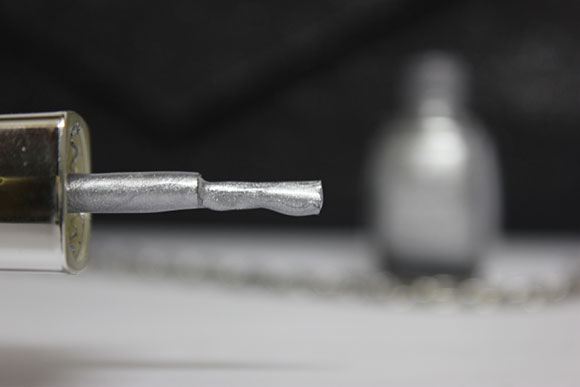 As this nail polish is based on color-lock technology so it gives 100% opacity in one coat. Two coats help in giving it a longer life but nothing much on opacity front. This property is a time saver – especially when you are short of time and are required to paint your nails. The other good thing is it dries out quickly. If you are going for one coat, by the time you will finish its application on all the nails it will be almost dried.
For longevity, two coats can easily last for 4 days without chipping. But if you are going with a single coat, you would experience chipping from the tips from day 2 onwards. Its metallic shine also stays fine without fading.
What I like about 'Lakme True Wear Color Crush 04 Silver Nail Paint'
– Metallic finish.
– Dries quickly.
– After two coats it can easily last for 4 days.
– It provides good opacity in just single coat.
– It would look good on medium to fair skin.
– Metallic shine does not lose its luster for good 4 days.
What I do not like about 'Lakme True Wear Color Crush 04 Silver Nail Paint'
– It can be streaky sometimes.
– The true wear range has shade numbers instead of names that do not related with nail polish color.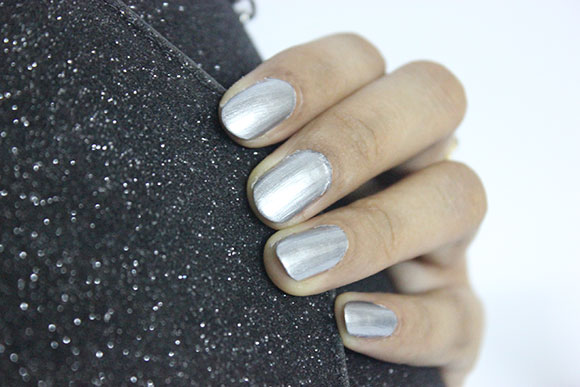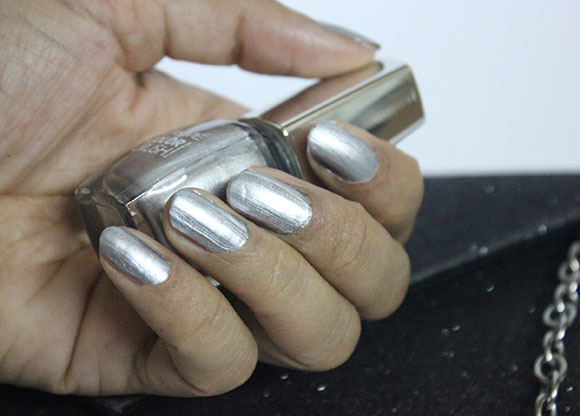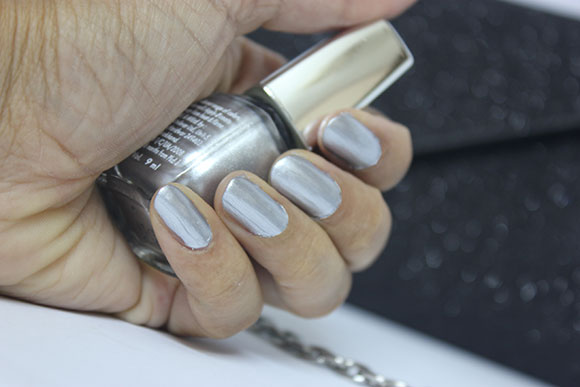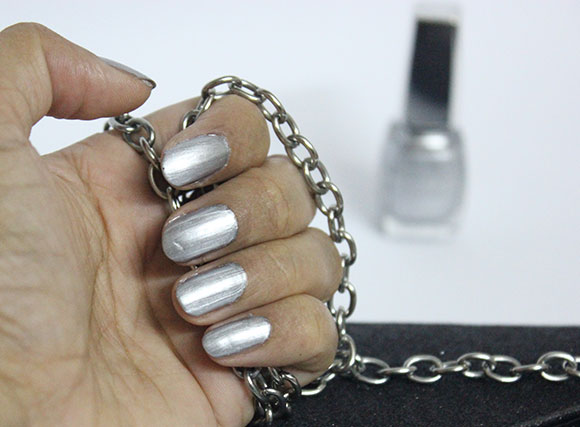 Price of 'Lakme True Wear Color Crush 04 Silver Nail Paint': Rs 150 for 9ml
Shelf life of 'Lakme True Wear Color Crush 04 Silver Nail Paint': 3 years from packaging.
BABE Rating: 3.7/5
Final Word: Lakme True Wear Color Crush 04 Silver Nail Paint is a beautiful steel grey shade that looks gorgeous on medium to fair skin tones. It dries out quickly, gives good opacity in 1 coat and lasts long without chipping or dropping the sheen. It is a nice shade that does not only go with ethnic outfits but western as well.
You might also like reading these related topics
Lakme Free Spirit D416 Nail Polish Review Swatch
Lakme True Wear N236 FreeSpirit Nail Polish Review Swatch
Maybelline Color Show Nail Polish Cinderella Pink Review Photos
Maybelline Color Show Glitter Mania Nail Paint-Dazzling Diva (602) Review,Swatches
Maybelline Color Show Glitter Mania Nail Paint – All That Glitters (601) Review
Maybelline Color Show Glitter Mania Nail Paint – Pink Champagne (607) Review
Maybelline Color Show Nail Polish Ladies Night Review Swatches
Maybelline Color Show Mint Mojito Nail Polish Review Swatches
Maybelline Color Show Nail paint Nude Skin (015) Review
Maybelline New York Color Show Nail Paints
Maybelline Color Show Nail Polish Keep Up The Flame 215 Shade Swatch Review
Maybelline Color Show Nail Polish Crazy Berry Review Swatch
Revlon Nail Enamel Polish in Shade Cherry Berry 421 Review Swatch
Maybelline Color Show Nail Polish Moon Beam 103 Review Swatch