It's been months since I have reviewed a body lotion. If you read BABE regularly, you must know that I love experimenting with different body lotions and I also prefer buying their biggest bottles. That was the reason why I could not purchase a new body lotion – the Jergens lotion lasted so long that there was no need to buy a new one. But when the bottle finally emptied I was excited to try 'Innisfree Daphne Blossom Perfumed Body Lotion'. It had been resting on the shelf for months and I was waiting for the Jergens one to be over. Glad that it is over now, and I am using a new one (in cosmetics world, change is always good) . I have been using this lotion for last one month now; let's see my experience with it.
What the product says:
A fragrant body care product made with daphne blossoms!
1. Long-lasting moisture- This lotion creates a moisture layer on dry skin without leaving any stickiness.
2. Deep sensual scent- Get a more attractive scent with white daphne blossoms!
How to use- Dry off with a towel after taking a shower. Pump a small amount of essence onto your hands and gently massage it onto your body.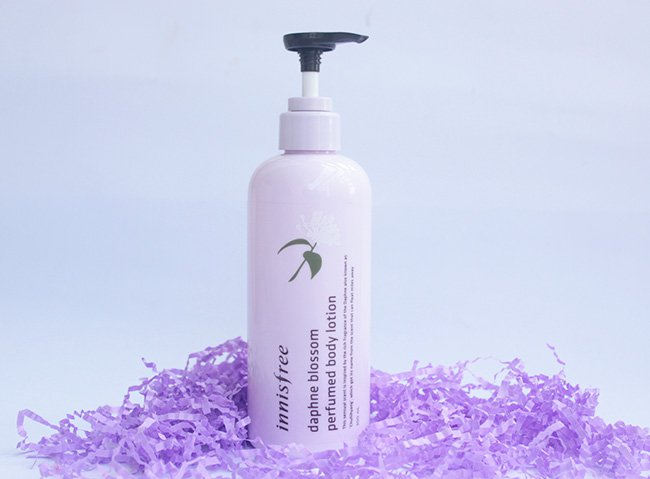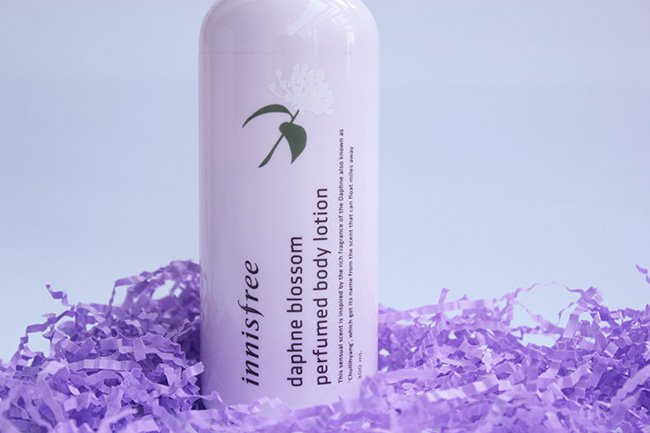 My take on 'Innisfree Daphne Blossom Perfumed Body Lotion'
Innisfree Daphne blossom body lotion comes in beautiful lavender colored bottle. It is based on pumping mechanism so is quite convenient for usage. The bottle is not very huge and can be easily fit in the travel bag; else the contents can be simply transferred to a small travel container. It is an opaque bottle so it becomes difficult to keep a watch on the consumption rate but still the weight of the bottle gives some idea about the quantity left inside. I like the quality of the bottle as it does not feel poky while in hands. Overall, the packaging is attractive, spill-proof and travel friendly.
It has pleasant flowery fragrance, which I assume comes from Daphne plant as it is the main ingredient of this body lotion. These flowers come in various colors ranging from greenish-yellow to white and bright pink to purple, and when these flowers are at shedding stage they turn pink. Initially, it feels like a strong fragrance but within no time the strong fragrance subdues leaving behind mildly fragrant skin. The fragrance lingers on for good 2-3 hours, and this is what I like the most.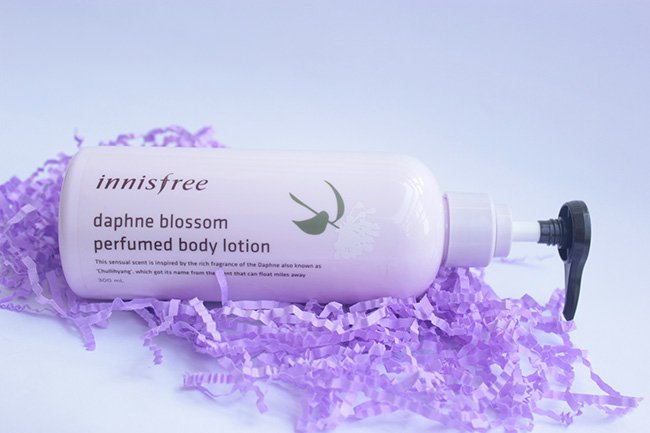 It is a white colored body lotion with semi-runny consistency. The texture is soft and glides smoothly. It is a water based body lotion so can be easily spread in no time. It feels very light as if I have not applied anything on my skin. In summer season nobody likes to use heavy lotions as they become sticky and gross, so I am happy that this lotion is feather light and non-sticky. I can easily apply it multiple times without worrying about the heavy feel. The best part is that a very little quantity is required for one time usage so I assume this expensive bottle will last long compensating for the exorbitant price.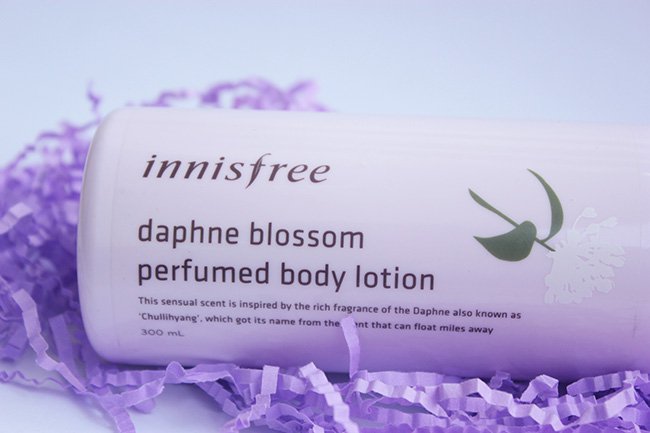 Innisfree Daphne Blossom Perfumed Body Lotion makes the skin soft and smooth. The effect becomes prominent immediately after use as skin looks properly hydrates and supple. Consistent usage of this lotion adds vitality to the skin and impart it good health.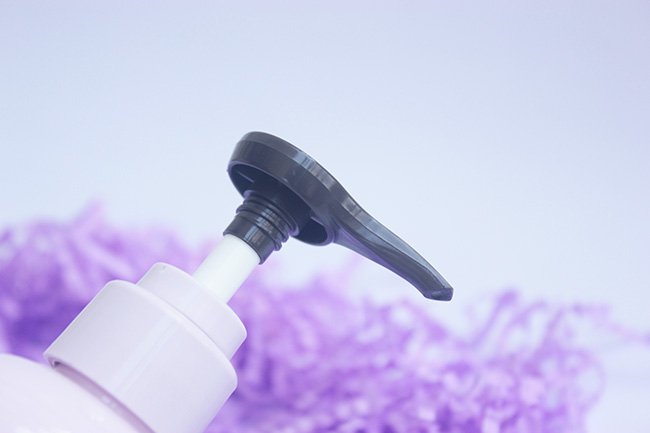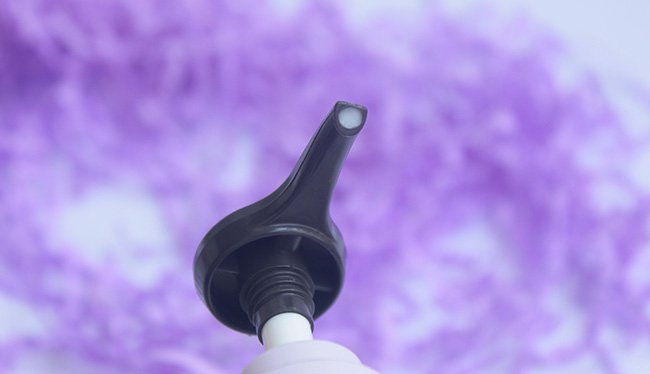 What I like about 'Innisfree Daphne Blossom Perfumed Body Lotion'
– Little goes a long way.
– Leaves skin soft and supple.
– Pleasant flowery fragrance.
– It can be easily transferred to a travel container.
– Feels lights & Non-sticky.
– Penetrates into the skin in couple of minutes
What I do not like about 'Innisfree Daphne Blossom Perfumed Body Lotion'
– Huuuuuge price tag.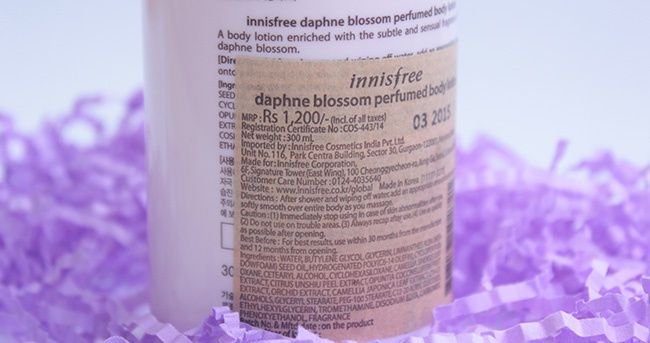 Price of 'Innisfree Daphne Blossom Perfumed Body Lotion': Rs 1200 for 300 ml
BABE Rating: 4.5/5
Final Word: Formulated with glycerin and Daphne blossom seed oil, Innisfree Daphne Blossom Perfumed Body Lotion is heavenly fragrant and nicely moisturizing. Being water based moisturizer it is apt for summer season. Its ability to keep the skin hydrated for long hours without causing any stickiness is a bang-on requirement of sweltering weather. Overall, it serves two purposes – of a perfume and of body lotion. The only deterrent in the high price, and I really wish it were slightly less.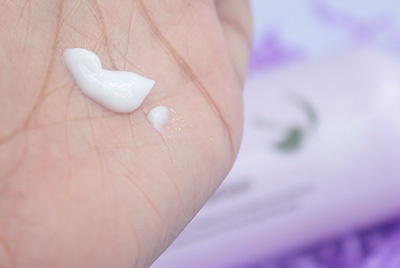 You might also like reading these related topics:
Vaseline Intensive Care Advanced Repair Body Lotion Review
Vaseline Total Moisture Cocoa Glow Body Lotion Review
Vaseline Total Moisture Aloe Fresh 24hr Nourishing Body Lotion Review
Vaseline Healthy White SPF 24 Triple Lightening Lotion Review
Jergens Original Scent Cherry Almond Moisturizer Review
Jergens Age Defying Multi Vitamin Moisturizer Review
Jergens Ultra Healing Extra Dry Skin Moisturizer Review
Palmer's Cocoa Butter Formula With Vitamin E Lotion Review
Malavara Lime Vetiver Body Lotion Review
Nivea Nourishing Lotion Body Milk Almond Oil Review
Nivea Express Hydration Body Lotion Review
Aaranyaa skin soothing hand and body lotion shea butter review
Dove essential nourishment body lotion deep care complex review
Dove Indulgent Nourishment Body Lotion With Shea Butter Review
Himalaya Herbals Intensive Moisturizing Body Lotion Review
Parachute advanced deep nourish extra dry skin body lotion review
Davidoff cool water sea rose moisturizing body lotion review
Jolen Sun Screen Lotion SPF 15 Review, Swatch
VLCC Almond Nourishing Body Lotion Review
Bodycology Sweet Petals Body Cream Review
Marks and Spencer Pampering Cocoa Butter Moisturizing Hand and Body Lotion Review