Hello Everyone,
The biggest challenge for me in winters is to keep my skin nourished and moisturised. My skin becomes dry and lifeless in winters. Hunting for the lotion which can tackle my all skin related problems is another big task for me. I keep on hopping from one lotion to the other with a hope that one day I will find my HG body lotion.
What the product says
It is believed that healthy looking skin starts with deep moisturisation. Vaseline has now infused their lotions with micro-droplets of Vaseline Petroleum Jelly so that they can moisturise the skin even more deeply and restore its healthy look. Regular usage of Vaseline Intensive Care Advanced Repair Variant not only moisturises the skin but also relieve even the stubborn very dry patches of the skin. It is appropriate for sensitive skin as it is lightly scented.
How it works
It is quick absorbing, non-greasy formula with a light, mild scent, which gives you intense moisturization and helps in healing dry skin.
Direction for application: Apply directly on the skin. Use it twice a day for the best result.
Results: It effectively moisturises all type of skin and keep them restored for 3 weeks.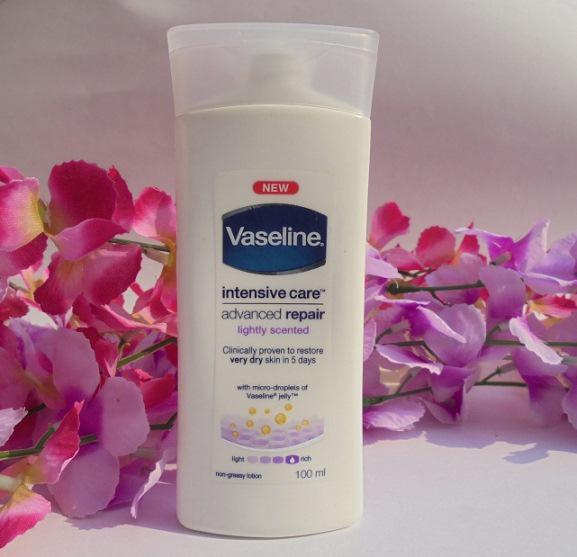 My Take on 'Vaseline Intensive Care Advanced Repair Body Lotion'
I am using Vaseline since ages. I still remember that my mother used to apply Vaseline's Total Moisture Body Lotion in winters before sending me to school. I stopped using it after I joined college and started experimenting with different lotions with cute packaging and tempting fragrances. But no matter how many new brands I try, I always keep coming back to my all-time favorite lotion i.e., Vaseline Cocoa Glow lotion. This lotion gives me a reason to wait for winters. I love its yummillicious chocolaty smell.
Few days back when I saw a random post on Instagram in which a girl was showing her recent haul, I noticed this lotion. I quickly googled it and find that it is a newly launched lotion in Indian Market. It claims to heal even the super dry skin and that too within 5 days. This tempting claim was enough for me to instantly add this lotion to my shopping list. Before sharing my experience with you, I want to quickly give an idea about my skin type. I have dry skin which turns super dry as soon as winters approach. In winters my skin needs heavy moisturisation otherwise it starts looking dull and dry.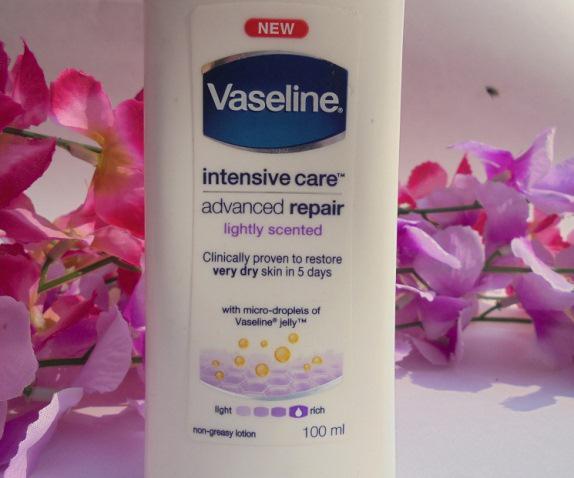 This lotion comes in an opaque white plastic bottle. It has typical "Vaseline" packaging. The upper lid is tight enough to avoid any leaking of the lotion while travelling. The lotion has very mild sweet floral smell which vanishes after half an hour. The lotion has little thick consistency, so you need to massage the lotion for few minutes. Once it completely absorbs into the skin, the skin looks deeply nourished and healthy. It doesn't leave any greasiness or oiliness behind.
I usually apply this lotion before hitting the bed to wake up with healed, nourished and glowing skin. It has helped in removing the dryness from my elbows. My hands also look much healthy than before. Sometimes instead of applying cream or Vaseline Petroleum Jelly, I apply this lotion on my feet. It helps in healing the dry and cracked heels but only upto an extent. I haven't noticed any major change in that particular area. So I stopped using it on my feet and restricted its usage on my hands and legs only.
Absence of SPF factor makes it unsuitable if you have to step out of the house during day time. It doesn't provide any protection from the harmful sun rays. I read somewhere about the importance of using SPF even during the winters. Now I always make sure that lotion and day cream contain the needed SPF before facing the sun.
Overall it's a decent lotion, you will not regret buying it. It fulfils all the claims which are mentioned on the bottle. It repairs dry and damaged skin and makes it soft and healthy. It works wonderfully on dry skin or should I say super dry skin. It is perfect for harsh and dry winters. The only thing which I didn't like about it is the absence of SPF content. Otherwise it's an amazing product from an amazing brand.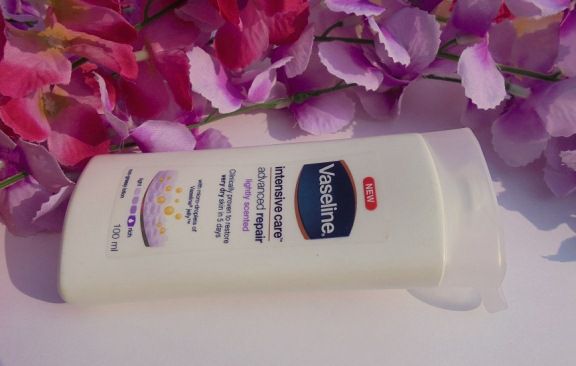 What I Like about 'Vaseline Intensive Care Advanced Repair Body Lotion'
– It has sweet mild floral fragrance.
– It effectively heals dry skin.
– Only a small quantity is required for a single use.
– It nourishes the skin without making it oily.
– The lotion gets completely absorbed into the skin.
– The price is on the lower side.
What I do not like about 'Vaseline Intensive Care Advanced Repair Body Lotion'
– It comes in an opaque bottle, so it is bit difficult to track the leftover.
– It doesn't contain any SPF content.
– It didn't work on my cracked heels.
– Availability is an issue.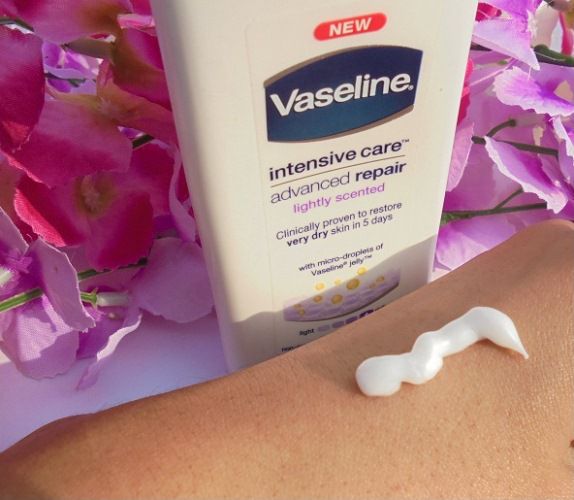 Ingredients of 'Vaseline Intensive Care Advanced Repair Body Lotion'

Price of 'Vaseline Intensive Care Advanced Repair Body Lotion': Rs 105/- for 100 ml and Rs 285/- for 300 ml
Shelf Life of 'Vaseline Intensive Care Advanced Repair Body Lotion': 36 months from the date of manufacturing
BABE Rating: 4/5
Final Words: It's a recently launched body lotion in the Indian Market, so I am sure many of you haven't got an opportunity to try it yet. If you like trying new products you can definitely give it a try. I am sure you'll love it. So in case you haven't bought any lotion for the coming season then get hold of this. Your skin will thank you :)
You might also like reading these related topics
Vaseline Total Moisture Cocoa Glow Body Lotion Review
Vaseline Total Moisture Aloe Fresh 24hr Nourishing Body Lotion Review
Vaseline Healthy White SPF 24 Triple Lightening Lotion Review
Jergens Original Scent Cherry Almond Moisturizer Review
Jergens Age Defying Multi Vitamin Moisturizer Review
Jergens Ultra Healing Extra Dry Skin Moisturizer Review
Palmer's Cocoa Butter Formula With Vitamin E Lotion Review
Malavara Lime Vetiver Body Lotion Review
Nivea Nourishing Lotion Body Milk Almond Oil Review
Nivea Express Hydration Body Lotion Review
Aaranyaa skin soothing hand and body lotion shea butter review
Dove essential nourishment body lotion deep care complex review
Dove Indulgent Nourishment Body Lotion With Shea Butter Review
Himalaya Herbals Intensive Moisturizing Body Lotion Review
Parachute advanced deep nourish extra dry skin body lotion review
Davidoff cool water sea rose moisturizing body lotion review
Jolen Sun Screen Lotion SPF 15 Review, Swatch
VLCC Almond Nourishing Body Lotion Review
Bodycology Sweet Petals Body Cream Review
Marks and Spencer Pampering Cocoa Butter Moisturizing Hand and Body Lotion Review