Hi Everyone,
After a long weekend, it's Monday again. When you get too many offs getting on track to the regular routine gets tedious. But the good things it is just a matter of a single day, and Tuesday onward schedule will be back on track. The only things that leave behind are the good times and the memories. Usually, I am a very sorted and planned person. I like planning my things much beforehand and working on a schedule. This weekend I did things that I could not have dared to do a year or two ago. I did all the crazy fun along with my husband and some friends. We made an impromptu trip to Muruthal (that place is famous for paranthas and you get the best paranthas over there with a bowl full of white butter). We ate like we have not had anything in ages, be it paranthas, tea or white butter we welcomed everything with open mouths, followed by a long drive back home. By the way we did all this crazy eating on Friday, so that gave us two more days to continue the fun. We lazily spent our time at home, watching couple of good movies in the company of pop-corns, juice and coffee. Out of all those movies I would strongly recommend 'Freedom Writers'and '42'. They have inspirational messages that encourage people to do something good and different – even if it would lead confronting the cliche system. You rarely get to see such movies that make an impact on your inner-self.
Well, to give some more fruitful meaning to our weekend we socialized 😉 . You know, hanging out with more friends, sharing 'whats-happening'and eating (of course). That's the benefit of trending words like socializing and networking- doubles up as benefactors in your work and delight in out-of-work life.
Coming back to today's post, below are some photographs of my eye makeup that I adorned on Saturday night. My usual winged eye liner with some pink background. It was not a bold look but appropriate enough for the evening. Hope you like it.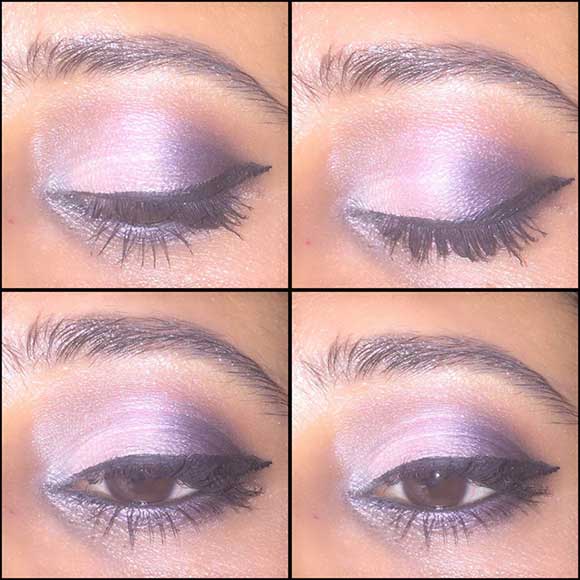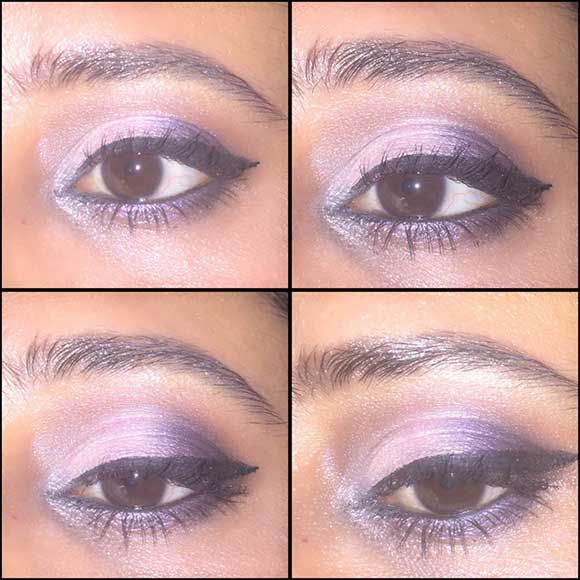 Here is a brief of the products used: Covergirl eye enhancers 4 kit shadow blossoms 257, Sugar cosmetics eyeliner, Oriflame the one volume blast mascara and Makeup revolution concealer in shade medium (being reviewed).
You may also like reading these related topics
Eye Makeup Look-Decent Day Eyes
Eye Makeup Look-Bold Pink Eyes
Eye Makeup Look: Using Zoeva Rodeo Belle Eye Shadow Palette
Makeup Look: Black Smokey Eyes With Fuchsia Lips
Makeup Look: Metallic Grey Smokey Eyes With Orange Lips
Eye Makeup Tutorial : Metallic Copper Red Eyes With Rosy Lips
Eye Makeup Look: Olive Green Amidst Golden Brown
Eye Makeup Tutorial: Golden Grey Diffused Eye Look
Makeup Look: Blue Eyes With Pink Lips
Eye Makeup Tutorial: Green Smokey Eyes
Eye Makeup Tutorial: Make The Pink Blink