This time I wanted to go with simple colors on my eyes so that I could easily adorn the look in daytime as well. I can't tell you how much I love that dark pop of color on outer V, and that is the reason I end my including it in most of the eye looks. Though this look was meant for daytime yet I could not restrain myself from intensifying the color on outer corner. I feel this trick adds glam to even the simplest looks. So when you are out of good eye shades just make a plain base with any color then add either darkest shade from that color family or a black matte eye shadow on outer corner. Blend it, and you are ready to flaunt your glamorous eyes.
For this look, I have mainly used the Revlon 'Blissful Girl' eye shadow palette. The black eye shadow from this palette is what I like the most, and that is the one I use in most of the eye makeup looks (especially the ones where I have dark outer corners). Personally, I believe that every vanity box should have at least two basic matte eye shadows – brown and black. These shades get along with every look, and are appropriate for every kind of day and night makeup.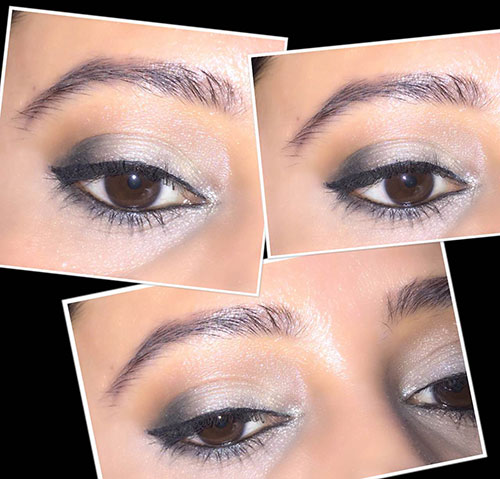 Coming back to the decent day eyes, for base I have used the palest color all over my eyelids and till the brow bone. The second eye shadow was slightly darker than the base, and went from outer corner to the inner side all through the crease. The third and final shade should be the darkest one (in this case I have taken the black matte eye shadow). Take a sleek eye brush, and very finely make a horizontal V at your outer corner. The opening of the V should be towards the inner corner. Now as the canvas is prepared, all that is left is blending. Make sure you do not exert too much pressure; otherwise you will wipe off the color itself. After blending, line up upper and lower lash lines, and curl them up using mascara. And your look is complete!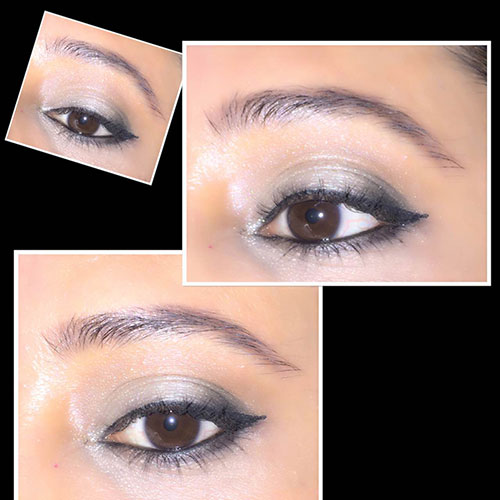 You can use the same shades from any color family as long as they vary in pigmentation. Pink and green are the ones I am really look forward to.
Let me know if you try this look. Stay happy, stay pretty.
You may also like reading these related topics
Eye Makeup Look-Bold Pink Eyes
Eye Makeup Look: Using Zoeva Rodeo Belle Eye Shadow Palette
Makeup Look: Black Smokey Eyes With Fuchsia Lips
Makeup Look: Metallic Grey Smokey Eyes With Orange Lips
Eye Makeup Tutorial : Metallic Copper Red Eyes With Rosy Lips
Eye Makeup Look: Olive Green Amidst Golden Brown
Eye Makeup Tutorial: Golden Grey Diffused Eye Look
Makeup Look: Blue Eyes With Pink Lips
Eye Makeup Tutorial: Green Smokey Eyes
Eye Makeup Tutorial: Make The Pink Blink