Hi Everyone,
Couple of days back, I created this eye look for an evening get together. I wore a black and pink outfit and wanted my makeup to remain subtle yet bold eyes. I prefer spending time on my eyes as compared to other nitty-gritty of makeup. Eye makeup is one thing I like experimenting with, even if it calls for stepping out of the comfort zone. Initially, when I started my brush with makeup I used to prefer soft eyes with thin lining and n*de shadows, with passing time I have started liking the bold and thick eyes. That's the reason you can spot bold winged liner look in most of the 'Eye Makeup look' posts 😉
For this look, I used most of the shades from Zoeva Rodeo Palette, except the black matte eye shadow which is from Revlon Blissful Palette. To start with, I covered the eye with rodeo ready shade. It is a warm brown shade that goes well on Indian skin tones so act as a good transitioning base. I built it up a little just below the brow bone to give mild gradient effect. The second leading shade in this eye look is the 'bang bang' shade (again from Zoeva Rodeo) that covered ¾ of the eyelid starting from inner corner. For the outer corner, I used matte black eye shade from Revlon blissful palette. I kept it dark at the starting (from L to R)of outer corner, minimizing the black pigmentation as it approached towards center of the eye. As with all eye looks, the key is to softly blend in order to dissipate harsh lines and give the look a soft gradient effect.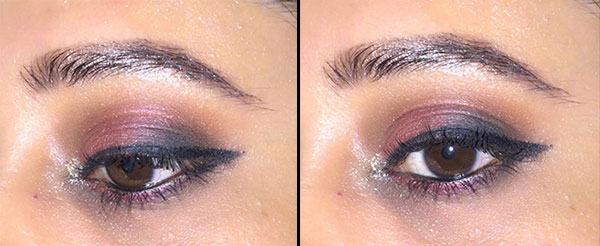 The same pattern of colors was repeated on the lower line with slight highlighting at the inner corners. Finished the look using a gel liner and mascara; I feel comfortable with gel liners while creating a thick look. Enjoy the pics, hope you like the look.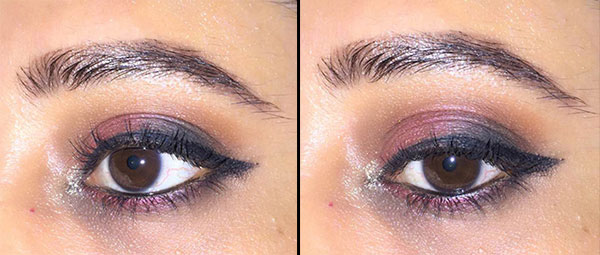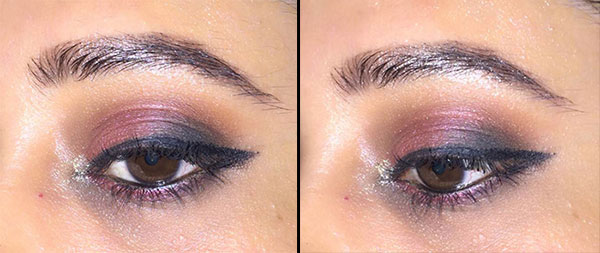 Products used for this look
1 Zoeva Rodeo Belle Eye shadow Palette
2 Revlon High Intensity Eyeshadow Palette Blissful Girl
3 Maybelline New Lasting Drama Gel Eye Liner
4 MUA Matte Perfect Makeup Primer
5 Oriflame The ONE Volume Blast Mascara Review
You may also like reading these related topics
Eye Makeup Look: Using Zoeva Rodeo Belle Eye Shadow Palette
Makeup Look: Black Smokey Eyes With Fuchsia Lips
Makeup Look: Metallic Grey Smokey Eyes With Orange Lips
Eye Makeup Tutorial : Metallic Copper Red Eyes With Rosy Lips
Eye Makeup Look: Olive Green Amidst Golden Brown
Eye Makeup Tutorial: Golden Grey Diffused Eye Look
Makeup Look: Blue Eyes With Pink Lips
Eye Makeup Tutorial: Green Smokey Eyes
Eye Makeup Tutorial: Make The Pink Blink