Cuccio Colour Nail Polish Shaking My Morocco Review Swatches
Hi Everyone,
Cuccio colour nail polishes come in sturdy glass packaging, which looks decent and like professional nail lacquers. These nail polishes come in 7 vibrant shades. If you love bright nails, you would also love this nail paint range. In my review today, I will be talking about their most bright nail paint "Shaking My Morocco". Bright neon nail polishes are in trend these days, so hopefully by the time you reach the end of this post you would have all the information you need to take a decision about this polish.
My Take on "Cuccio Colour Nail Polish Shaking My Morocco"
Shaking my Morocco is a bright orange nail shade that can lift up the look of any outfit. I have used couple of other orange nail polishes but none of them has been as happening as this one is. It is kind of a neon color but the one that does not trouble your eyes. Moreover, it goes perfectly well with Indian and western attires. Hence, the big bottle will be used well.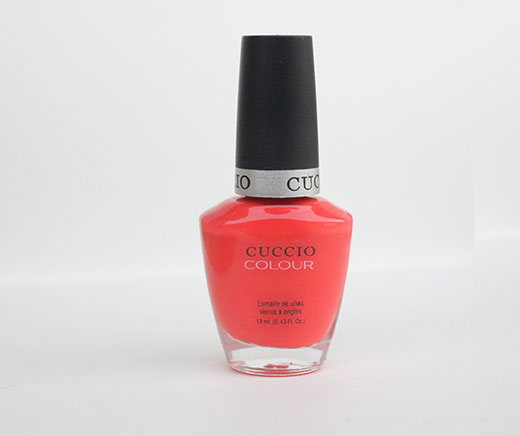 It has intense pigmentation. Just in single coat, it gives an opaque look but I prefer to apply at least two coats. Reason being, it has thick consistency that tends to accumulate with brush strokes, leaving the nail bed visible. If it did not have this thick consistency, I could have done with single stroke.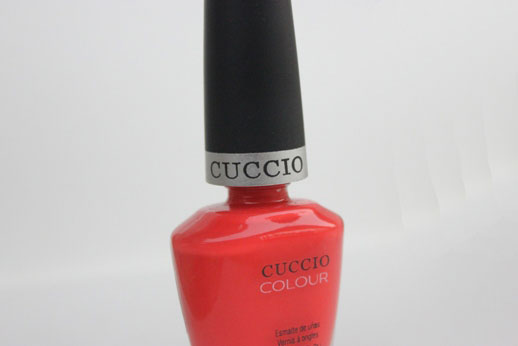 The brush is thin so you need to strike it at least thrice to cover the entire nail bed. But make sure that you do this carefully as thick consistency drags away the polish and make the appearance streaky. Plus, because of this consistency the polish takes quite a lot of time in drying. After you are done with one coat you need to wait for good 15-20 minutes to apply the second coat. If you do not have that much of time, then I would suggest applying one coat in morning and another at night. Moreover, until it gets dry, keep your hands away from clothes or sheets as they can easily leave their imprints on your nails.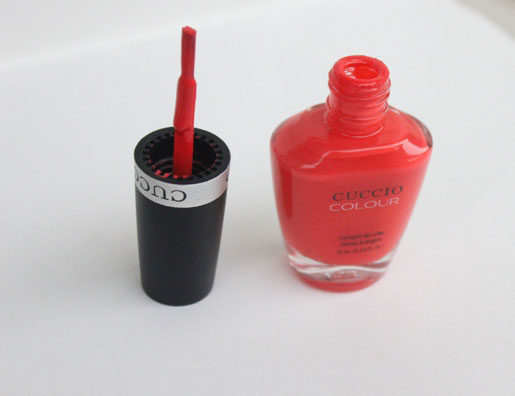 The final finished look is salon like. Shaking my Morocco has glossy sheen that looks great and can really brighten up your nails. For staying power, I would say it is a tough product – does not chip off or lose its shine for at least 2 days at a stretch.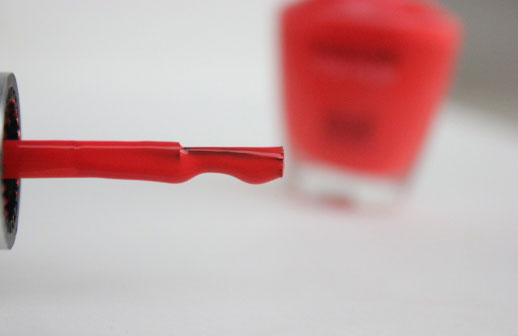 The one important thing that needs to be taken care of while applying this shade is to apply a base coat first. Being a bright color, it transfers its pigmentation to nails and makes them pale. Base coat will not fully protect the seepage but it will at least lessen the paleness.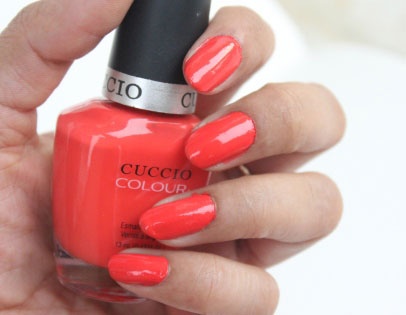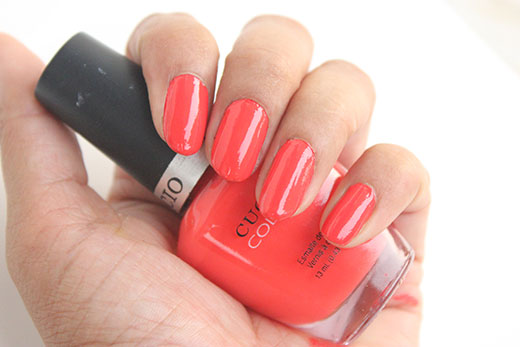 What I like about "Cuccio Colour Nail Polish Shaking My Morocco"
– Vibrant orange colour that can lift up the look of any outfit.
– Suits all skin tones.
– Good quantity slightly justifies the exorbitant price.
– If you succeed in applying it perfectly, you will be amazed to see the salon like finish.
– It has excellent pigmentation.
– It contains no DBP or toluene.
What I do not like about "Cuccio Colour Nail Polish Shaking My Morocco"
– Its consistency is slightly thick that poses problem in application.
– It takes time in drying.
– It takes time to set, until then it gives a streaky impression.
– Wee bit expensive
Price of "Cuccio Colour Nail Polish Shaking My Morocco": INR 675
BABE Rating: 4/5
Final Word: Cuccio Colour Nail Polish Shaking My Morocco is a vibrant orange nail polish that gives a lively and salon like finish. It has good consistency, pigmentation and formulation, which makes it a preferable choice among another orange nail polishes but the thick consistency makes its application difficult. If its consistency had been less thick it would have been a perfect orange nail polish.
You may also like reading these related topics
MAC Nail Lacquer Morange Review and Swatch
Lotus Herbals Colour Dew Nail Polish Peach Perfect 99 Review NOTD
Lakme True Wear N236 FreeSpirit Nail Polish Review Swatch
Lakme Free Spirit D416 Nail Polish Review Swatch
Maybelline Color Show Nail Polish Moon Beam 103 Review Swatch
Maybelline New York Color Show Nail Paints
Maybelline Color Show Nail Polish Keep Up The Flame 215 Shade Swatch Review
Maybelline Color Show Nail Polish Crazy Berry Review Swatch
Maybelline Color Show Nail paint Nude Skin (015) Review
Maybelline Color Show Glitter Mania Nail Paint – All That Glitters (601) Review
Carry Newspaper On Your Finger Nails Using Newspaper Nail Art
My Recent Favourite Nail Paint Swatches – Volume 2
How to do blended nail art using sponge at home
My recent favorite nail paint swatches – Volume 1
How to do nail art designs at home – Tutorial
Revlon Nail Enamel Polish in Shade Cherry Berry 421 Review Swatch
Wet n Wild Megalast Salon Nail Color- 213C On A Trip Review
Maybelline Color Show Mint Mojito Nail Polish Review Swatches