From Here and There-Beauty Makeup Haul
Hi Everyone,
It's been long since I have done any haul post so thought of making a combined post of all the items that I bought last week. Yups, it was a good week from shopping perspective. In addition to the beauty and makeup products, I also bought two pair of shoes and a cute dress (too much shopping for one week). You will see the shoes and dress in my future OOTD posts, until then have a look at the products I bought.
1) Luscious Perfect Brows Tool Kit– This is something that I have been looking for quite long, and finally bought it online in shade 'medium to dark hair'. This is kind of a travel kit which has everything from brow gel, brow powder, brow wax, eye brow pencil, brow brush to mini tweezers. Brow powder and wax can still last for long (2 months I guess) but pencil and gel, if used daily do not seem to last for more than 1 month. However, once detailed review is up, you will get to make an opinion about this brow kit.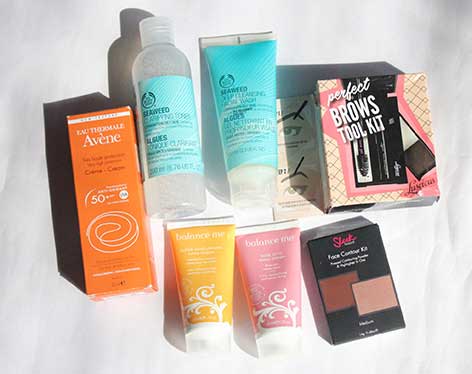 2) Sleek Makeup Face Contour Kit in shade medium – This has also been on my wish list for quite some time as it was difficult to find it here in India. I got it from an online website eventually. It contains pressed contouring powder and highlighter, and a very crystal clear mirror, no brush though. On first look, it seems to do well on Indian skin tones but once I will start using this kit I would be having more elaborative opinion about it.
3) Balance Me Super Protecting Hand Cream Set- I am a hoarder of hand creams. I do not remember since when I started using them, but now as I have developed this habit I always cringe to slather my hands with a cream every now and then. My current cream was about to get over, and I liked this cute hand set packaging so stocked it up. Not sure about these creams' performance or efficiency yet but they do smell heavenly.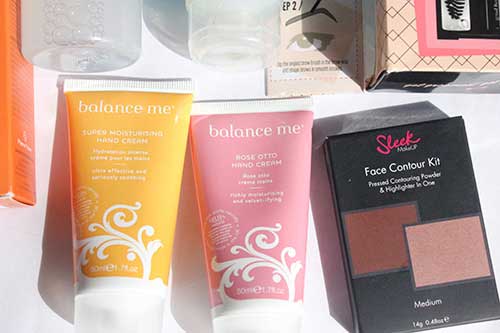 4) The Body Shop Seaweed Deep Cleansing Facial Wash– These days I am a lot into sea mineral products. First was the sea mineral combo from h2o plus and now this another combo from TBS. In summers, my combination to oily skin becomes super oily so I need to tame the shine, if not for all day long then at least for initial couple of hours. With that in mind, I bought Seaweed deep cleansing face wash specifically meant for my skin type, I hope it fares well (fingers crossed).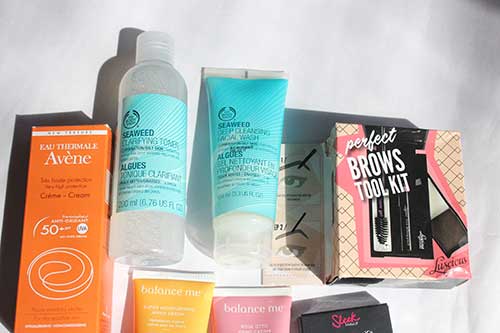 5) The Body Shop Seaweed Clarifying Toner– I bought this alcohol free toner along with the face wash. It claims to remove impurities and refine pores. I have not yet started using it, but all I can say is it has mild fragrance and non-stingy touch.
6) Avene Very High Protection Cream SPF 50– Of lately, I have been using spf 25+ cream but looking at the soaring temperature I ordered SPF 50 cream. I am not new to this cream as I have used it few years back on my dermatologist's recommendation so thought of buying it again. It indeed shields the skin from UVA &UVB rays. Plus, sun or no-sun we should always be wearing a sun protection, so even if it's a monsoon season I will be putting it to use.
Have a great day ahead!
You may also like reading these related topics
A mini haul from The Body Shop and Revlon stores
First Glimpse: Beauty And Makeup Haul
First Glimpse: A Small Makeup and Beauty Haul !
Here Comes My Santa All the way From Singapore – Makeup Haul!
Jewelry Haul-Certain Things Are Never Enough !
First Glimpse: Oriflame The One Matte Lipsticks, h2O+ Marine Toner, h2O+ Sea Mineral Scrub