Hi Everyone,
Like every Indian girl, I too bought heavy gold and diamond accessories at the time of marriage. But if you ask me how many times I have worn them – the answer is not more than twice or thrice. In fact, it's been so long since I have adorned them that I do not even remember how exactly they look like. It is not that I do not prefer investing in gold, considering the steep rise in gold price it is definitely an optimum choice for financial security but if you talk about variety and style gold pieces do not fare well on those parameters. Moreover, the increasing crime rate of snatching and theft has made it all the more impossible for ladies to flaunt off their expensive investments. Weighing all these traits, imitation jewelry proves safest, cheapest and most stylish option for the ladies of this century. Gone are the days when girls used to invest in gold ornaments, imitation jewelry is the new preference on the block.
With 1/100th of a gold necklace's price you can purchase couple of most stylish statement necklaces and flaunt them without repetition. Plus, you do not even need to hide them while walking at public places or travelling – just wear and walk with aplomb. Besides, you can always grow your stock of statement necklaces, dangling earrings, ear cuffs, blah blah without worrying about exceeding your budget or sticking to old fashioned jewelry. The options are myriad so do the chances of staying up-to-date with latest fashion trends.
Enough of the "gyaan"! Now, let me straightaway jump to the additions in my imitation jewelry collection.
1) Fashion Colorful Geometric Shaped Gems Decorated Metal Necklace-This is a beautiful amalgamation of colorful stones in several different shapes. It is slightly heavy in weight but nothing that cannot be worn. The color combination is quite decent, and I prefer wearing it with color blocked outfits. The perfect finish adds grace to the overall appearance of attire.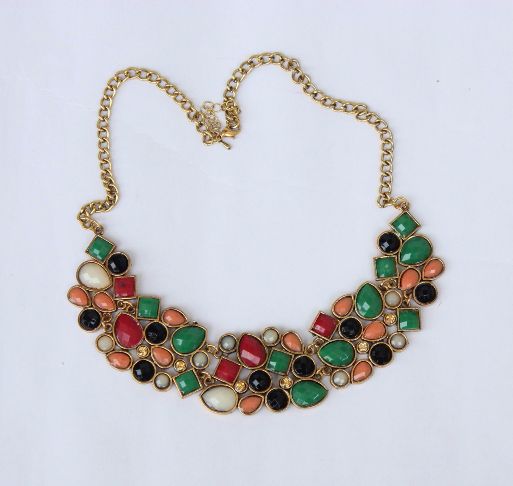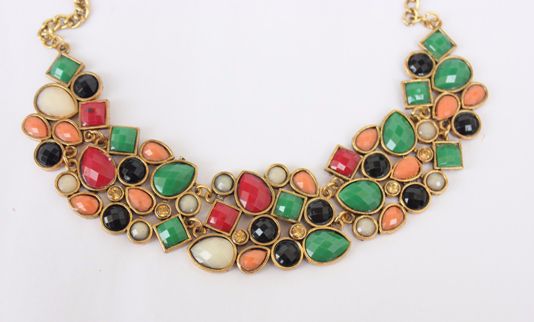 2) Fashion Butterfly Metal Necklace- A beautiful long gold and while pearl necklace. This delicate metallic necklace is suitable to go with summer dresses. It adds femininity and cuteness to the outfit.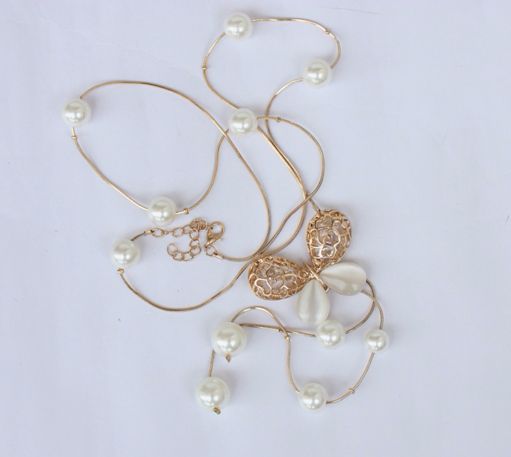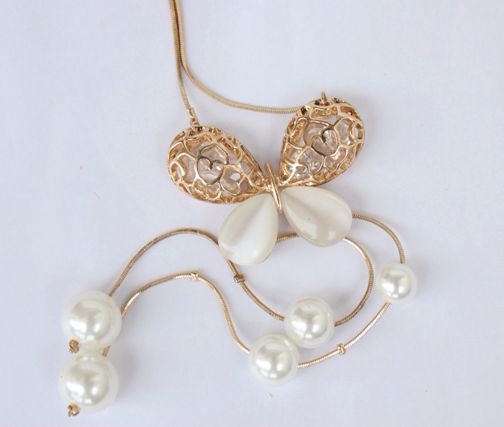 3) Elegant Fashion Black Metal Necklace- This is my most favorite item of the haul. The rectangular black metallic pieces are woven in a sold black thread, separated by gold spherical balls. The best thing I like about this elegant necklace was that each black metal piece had a thin protective film on it to avoid scratching- so much of thoughtfulness. I was apprehensive to remove those films, but if I had to wear to I had to remove it. Nevertheless, this is an all-time wearable necklace that goes beautifully with western and Indian attires.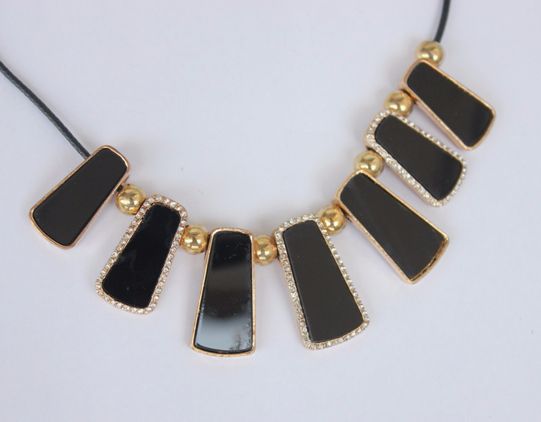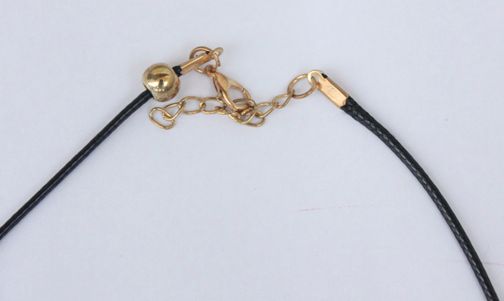 4) Fashion Colorful Gems Decorated Metal Necklace- I was reluctant while ordering this necklace mainly because of the neon colors but when I received it, the gems did not even look a bit loud. The finish is super clean, and the color scheme is pretty modern and elegant. This piece can add life to otherwise dull attire.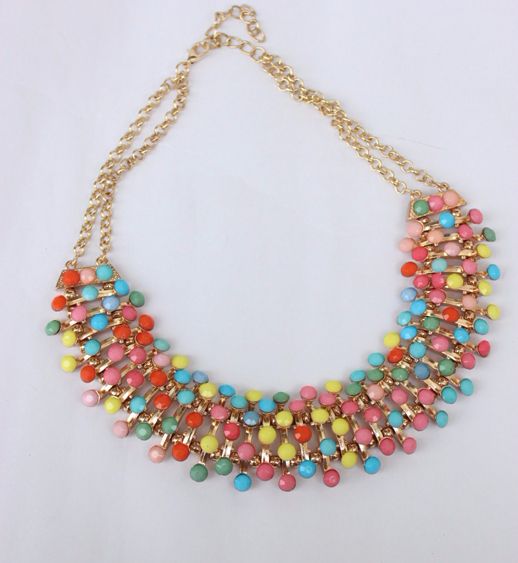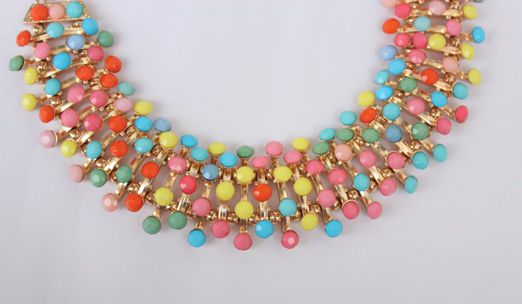 5) European Styles Vintage Golden Rivet Embellished Metal Necklace- It is based of modern design in a vintage look. This necklace is the lightest of all and safest option to go with any outfit. When in doubt what to wear, I just put this on. It never fails to give a sophisticated stylish look.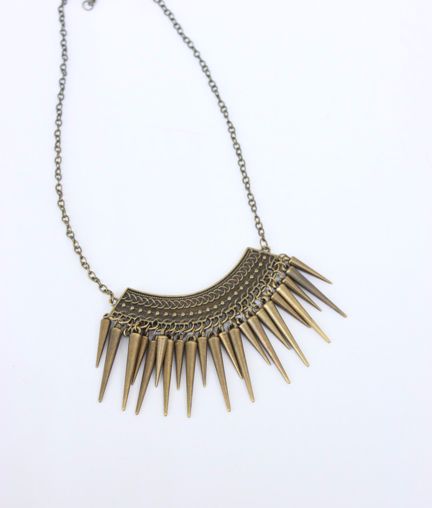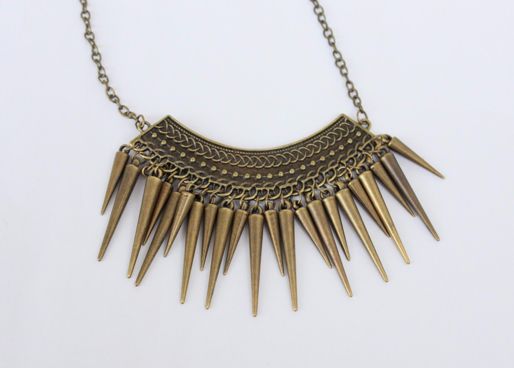 Hope you like my statement necklace collection. This jewelry is not that expensive so you can buy as many pieces as you want. Likewise, with an accessible range like this you can always stay on top of changing fashion styles.
You may also like reading these related topics
Complement Your Indian Attire With Pearl Jewelry
A Shopping Place Enriched With Contemporary Fusion of Traditional Indian Art
Ethnic Handcrafted Jewelry For Casual Wear-Fashion Jewelry
Fashion Jewelry Haul From Colette By Colette Hayman Australia