Hi Everyone,
Considering the soaring humidity levels and sheen on my face, I bought another TBS face wash – seaweed deep cleansing facial wash. It claims to remove excess oil and give a shine-free matte finish. I have been using it for last three weeks now, and the weather (it has been raining cats and dogs) has been idle to put it into testing so let us if it justifies its claims.
My Skin Type: Combination to Oily
My Take on 'The Body Shop Seaweed Deep Cleansing Facial Wash'
Seaweed deep cleansing facial wash comes in an aqua colored flip open tube. The color combination of the tube is soothing and quite attractive. The flip open packaging makes the usage convenient and hygienic.
The face wash is gel based, and has a runny consistency. Because of the consistency I always used to end up taking more product than required. And believe me, if I had kept doing that it would not have lasted for even one month. So to prevent excess usage, I cover half of the outlet using my finger and then pour the contents on palm. This way I keep a check on the quantity being poured, and do not end up with excess product. The runny consistency brings another drawback of product leakage. Even when the cap is properly closed, the surface of the tube is always sticky. So, if you wish to pack this face wash, make sure that you do the fool-proof packaging so as not to spoil other belongings.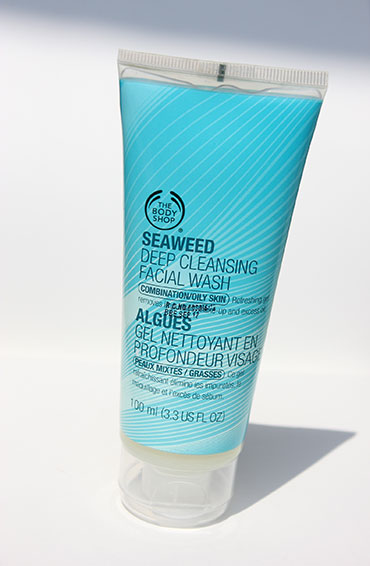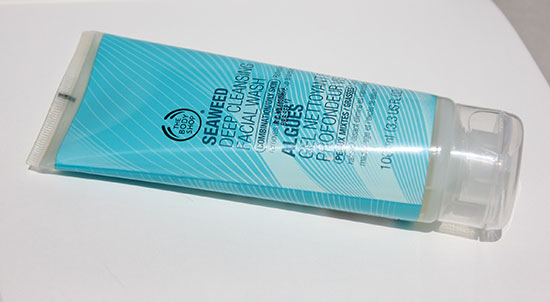 The fragrance consists of menthol and algae but it is so mild as not to bother sensitive noses. Rather, it makes the skin smell nice and fresh. For usage, I take some product on my wet palm, rub both palms together to generate lather and then apply it on my face, massaging in gentle circular motion before rinsing it off. I apply this face wash twice and never find it over drying or irritating my skin.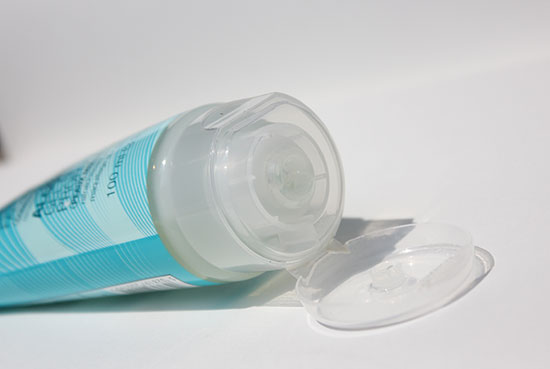 Seaweed is good for combination to oily skin. After the wash, my skin feels refreshed and baby soft. It removes every impurity even mild makeup, and leaves a clean slate. Sometimes I do not even use a separate makeup remover as this gel does that job well. Plus, it controls the oil without giving a stretchy or dry look. The matte effect stays on for approx. 3-4 hours after which the sheen resurfaces. This is an ideal face wash for oily skin people in summer season but for winters it may not give an idle wash, primarily because it keeps oil at bay and in winters our skin needs oil to maintain its elasticity.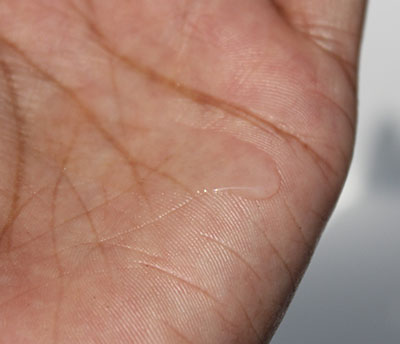 What I like about 'The Body Shop Seaweed Deep Cleansing Facial Wash'
– Just tiny amount is required for one time use.
– Thoroughly removes impurities.
– It leaves skin refreshing and soft.
– It has mild fragrance which is not at all bothersome.
– It controls oil to an extent.
– Oil and soap free.
What I do not like about 'The Body Shop Seaweed Deep Cleansing Facial Wash'
– The packaging is not spill-proof so you may want to wrap it in a poly bag while on travelling.
– It has runny consistency that if not handled properly always makes more quantity to come out than actually required.
Ingredients of 'The Body Shop Seaweed Deep Cleansing Facial Wash':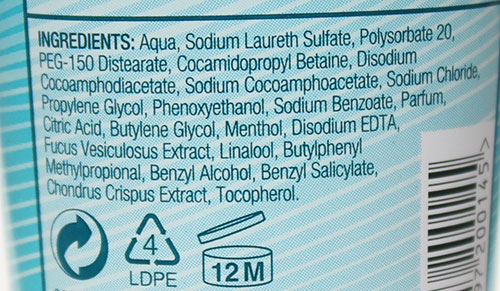 Price of 'The Body Shop Seaweed Deep Cleansing Facial Wash': INR 695 for 100 ml
BABE Rating: 4/5
Final Word: Formulated with seaweed vitamin and minerals, TBS seaweed deep cleansing facial wash works well on combination to oily skin. It thoroughly cleanses skin, and leaves it soft and fresh. It also helps in controlling oil and maintaining skin sheen free for 3-4 hours, without actually over drying or causing the skin to stretch. The soothing menthol and algae fragrance is another plus that would make me go for this face wash again and again. But if you are looking for something to even out your skin tone or combat acne, this may not be the right product for you. Rather, this would help in maintaining the already even skin in a matte way.
You may also like reading these related topics
The Body Shop Tea Tree Skin Clearing Facial Wash Review
The body shop Vitamin E gentle face wash review
Dove Beauty Nutrium Moisture Face Wash Review
Dove Deep Pure Face Wash Pore Care Review
Loreal Paris Hydrafresh Instant Freshness Gel Foam Face Wash Review
Lakme Clean Up Nourishing Glow Face Wash Strawberry Review
JAFRA Brightening Cleanser Review Swatch
Is Pears Pure And Gentle Ultra-Mild Face Wash Good For Dry Skin ?
Garnier Pure Active Neem Tulsi High Foaming Face Wash Review
Neutrogena Deep Clean Foaming Cleanser Review
Neutrogena Deep Clean Facial Cleanser (Combination/Oily Skin) Review