Glowing and healthy skin requires a disciplined routine but not mandatory big budget. In fact getting beautiful skin comes at cheap price – yes, and that is if you use the kitchen ingredients. Obviously you will have to invest some time but believe me the results will be better than what you will get from chemical formulated products. Today, I will talk about the use of tomatoes and its benefits. Tomato is readily available in every home and is not that expensive too. This one vegetable (some people call it fruit too) is sufficient enough to provide at least 7 skin benefits. So I would say, it is quite a budget friendly remedy for many skin problems and its consistent application/consumption can also save the skin from adverse effects. Let's have a look at 7 best uses of tomato juice for glowing and clear skin.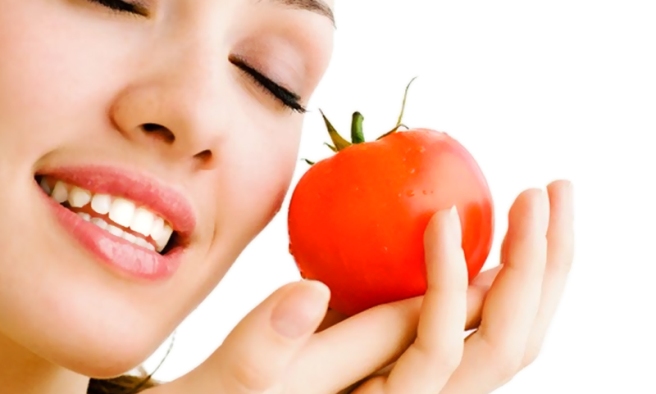 Treats open pores: Cut a tomato into two halves, take one half and rub it on clean face focusing on the areas where you have big pores. There is no specific time for doing this activity so you can do it while watching TV or reading a book. Rub it for 15-20 minutes and wash off with plain water. After washing you will see clean and clear skin that is free of oily residue. Consistent rubbing of tomatoes against the skin result in diminished pores, and also in faded acne scars.
Leads To Glowing Skin: Applying tomato + lime juice result in glowing and clear skin. Dry and normal skin beauties can replace lime juice with rose water. This remedy does not have any side effects unless your skin cannot tolerate tomato or lime juice contact. Plus, it is a quick to make remedy that does not involve lengthy preparation. You can just apply the concoction on your face and keep doing your regular chores.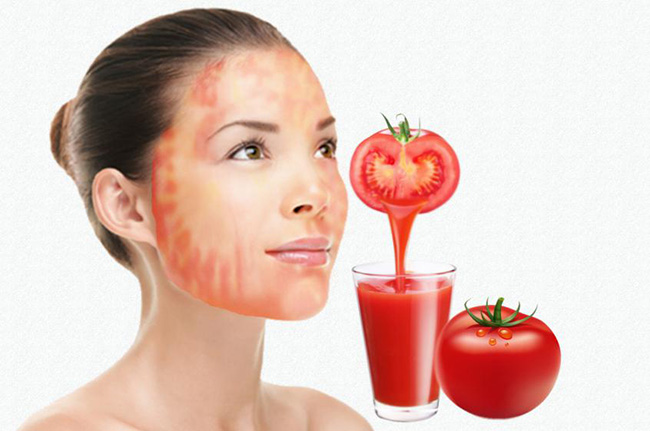 Defers Ageing: Tomatoes do not only benefit the skin from externally but internally as well. Eating one-two tomatoes a day provide many skin and hair benefits. The lycopene present in tomatoes is a powerful anti-oxidant that prevents the skin from pre-mature ageing. Including tomatoes in daily diet can help fight against time and keep the skin forever young.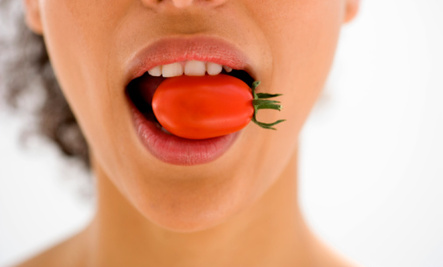 Whitens Skin: Lycopene has numerous skin benefits. It does not only save the skin from pre-mature ageing but also helps in tan reduction. Regular application results in skin lightening, and thus making the skin fairer.
Natural Astringent: Tomatoes act as natural astringent for combination to oily skin. A simple application of tomato juice on the skin controls oil secretion and prevents the skin from getting greasy. If you have to wear makeup for long time I would suggest applying some tomato juice 1-2 hours before so that the skin does not get oily and makeup stay for long.
Natural Shield From Sun: Lycopene is also one of the main ingredients to treat sunburnt skin. Most of the products that dermatologists recommend to treat sunburns have lycopene. And if we include tomatoes in daily diet and skin care routine the chances of landing to a dermatologist are quite diminished.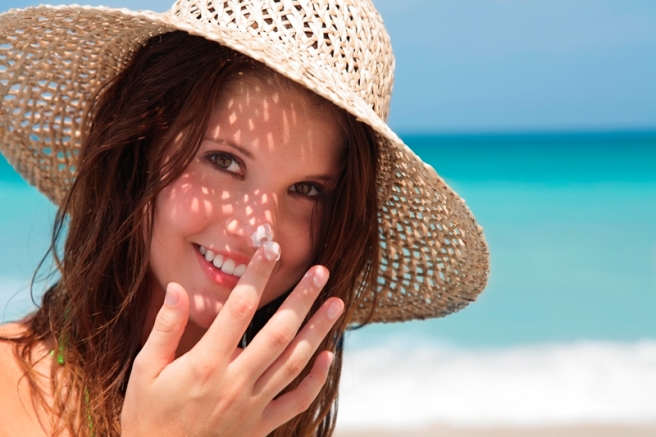 Unclogs Pores: A simple tomato pack unclogs pores and makes the skin breathe. You can also mix tomato juice with granulated sugar or rice flow to make face scrub. Rub it on circular motion near the nose and rinse off with lukewarm water. Immediately your skin will feel smooth and clean. The scrub can be applied twice a week.
You might also like reading these related topics:
How To Remove Whiteheads Using Home Remedies
Home Remedies To Remove Tan From Hands And Feet
Homemade Curd Face Packs for Glowing And Tan-Free Skin
5 Refreshing Homemade Face Packs For Summers
5 'Instant Glow' Skin Care Tips From Kitchen
5 Aloe Vera Homemade Face Packs For Hydrated Flawless Skin
5 Homemade Besan Face Packs For Soft Glowing Skin
Revise daily skin care routine
How Watermelon and Cucumber Face Pack Helps Getting Clear Glowing Skin
5 Natural beauty benefits of lemon juice
How To Reduce Open Pores Using Home Remedies