Besan, usually known as gram flour has been in use for ages. Not only in cooking, besan has a special role to play when it comes to intensifying beauty. Pre bridals are always incomplete without ubtan, which comprises of besan as main ingredient. Owing to the myriad skin enhancing properties of besan, it is used in various face packs to tackle skin issues or simply to make skin soft. Though depending upon your skin type other ingredients of a face pack can change but besan being the key ingredient will ensure that your skin gets the same benefits as are expected from the pack. Let us have a look at the 5 face packs that you can easily prepare at home to enrich your beauty.
Besan face pack for skin hydration
Ingredients required:
Besan – 1 spoon
Cold Milk – 3-4 spoons
Using a spoon, mix besan and milk until there are no lumps. The consistency should be semi thick to avoid dripping. But it should not be so thick as to cause the pack to dry quickly, eventually reducing the efficacy. If required, add couple of drops of rose water to get the required consistency. Let the mixture set for 5 minutes before evenly applying it on face and neck. Leave it on for 10-15 minutes, before washing off with lukewarm water. This is an ideal pack for dry skin as it restores moisture levels and makes the skin soft and supple. If normal or dry skin people are experiencing flakiness then they can also give this a try.
Besan face pack for skin whitening
Ingredients required:
Besan – 1 spoon
Grounded almonds- 1 spoon
Milk – 1 spoon
Lemon juice- 1 teaspoon
Mix all ingredients to make a smooth paste. If the consistency is very thick add some more milk to lessen the thickness. Apply an even layer on face and neck area. Leave the pack on for 15 minutes and wash off the tepid water. This pack works as natural bleach and whitens complexion. Apply this pack once in 2 weeks, and you will start noticing the difference gradually.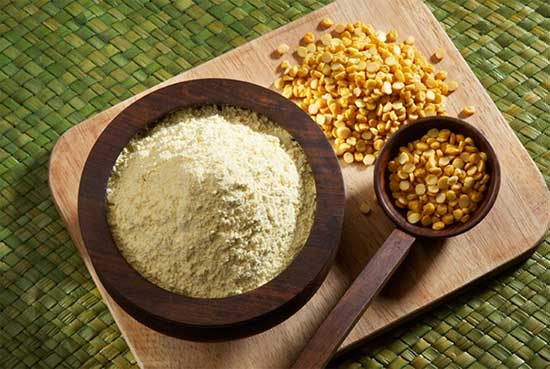 Besan face pack for skin pigmentation
Ingredients required:
Besan – 1 spoon
Turmeric- 1 teaspoon
Milk- 3 spoons (for normal to dry skin)
Curd – 1 spoon (for oily skin)
For this pack, oily skin people should use curd or yogurt, dry to normal skin people should use milk. Mix all the ingredients to make a smooth paste. Apply it evenly on clean face, focusing on pigmentation. Leave it for 20 minutes, and then rinse with cold water. This pack lightens skin pigmentation, removes tan and fades blemishes, thereby improving skin tone.
Besan face pack for greasiness of oily/combination skin
Ingredients required:
Besan – 1 spoon
Curd- 1 spoon
Sandalwood powder- 1 teaspoon
The curd used in this pack would be homemade. Homemade curd has curd water that acts as a very good toner for oily skin. If you use readymade curd the aftereffects would not be same as that of homemade curd. Well for the pack, all you need to do is make a smooth paste by mixing all the ingredients and apply it on clean face. Leave it on for 15 minutes then rinse with cold water. This face pack unclogs pores, deep cleans them and works on pimples/acne. If you have any inflammation the sandalwood powder will take care of it. Regular usage of this pack also prevents pimples and acne.
Besan face pack for soft and supple skin
Ingredients required:
Besan- 1 spoon
Oats- 1 spoon
Milk- 4-5 spoons
For this pack, you need to mix oats and milk first and set the mixture aside until oats become soft. Once that is done, add besan and mix everything together. You won't be able to make a paste of this mixture so let it as is. Apply this pack on your face for 10 minutes. When it is time to remove it, wet your fingertips and slightly scrub for 1-2 minutes. Rinse with tepid water and pat dry. Oats cleanses dirt and impurities from the skin, while milk and besan work to make it soft and supple. Apply this pack every fortnight to keep up the glow and suppleness.
It is not essential to keep applying just one pack. You can shuffle them as and when required depending on your skin condition. The only thing you need to ensure is choosing the right ingredients for your skin type: milk for dry skin and yogurt for oily skin. Normal skin people can use any of these ingredients depending upon their skin health.
You may also like reading these related topics
5 Aloe Vera Homemade Face Packs For Hydrated Flawless Skin
5 Instant Homemade Face Packs Using Orange Peel Dry Powder
5 Tips For Skin Care
5 Natural beauty benefits of lemon juice
5 'Instant Glow' Skin Care Tips From Kitchen
DIY- Homemade fuller's earth and honey face pack for soft and glowing skin
Revise daily skin care routine
How Watermelon and Cucumber Face Pack Helps Getting Clear Glowing Skin
Papaya face pack for glowing and blemish free skin
Image Courtesy: Google