As you know, I changed my winter skincare army replacing every product with a milder and moisturizing version. My new day moisturizer is The Body Shop Vitamin E Moisture Cream, which I have been using since November now. I also wanted to but the toner from the Vitamin E range but still waiting for a good deal on that (that's me :)). The snowy outdoors and heated indoors take a toll on skin health so I needed to protect it as much as I could. Even though I have combination/oily skin I needed to shift to moisturizing products, can't imagine what it would be for other skin types. Well, without further delay, let's get started with the review.
What the product says
An iconic, best-selling facial moisturiser that's lightweight, easily absorbed, and protects and locks in moisture for all-day hydration, to leave skin feeling fresh, silky-soft and looking more radiant. Now formulated with vitamin E, plumping hyaluronic acid and wheat germ oil, its moisturising effects can help ward off dryness. Use after cleansing and toning, as part of your personalised skin care routine.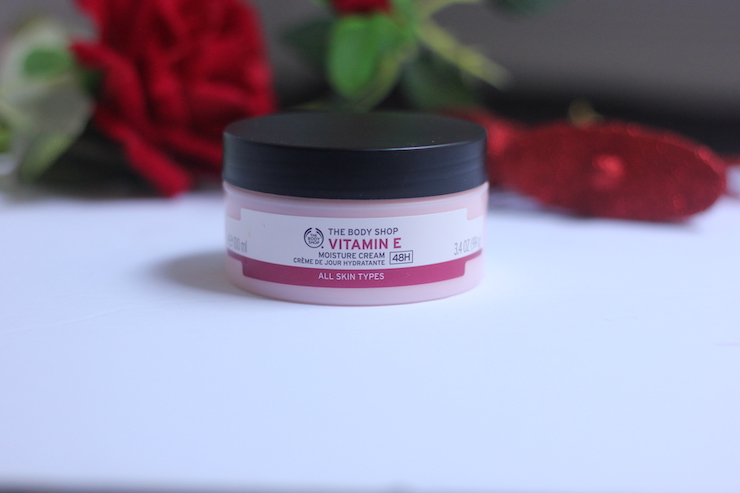 My skin type: Combination/oily
My take on 'The Body Shop Vitamin E Moisture Cream'
It comes in a baby pink plastic jar with screw open cap. The cap shuts properly sealing the contents and making the jar spill-proof. Since it is a lightweight plastic tub it is damage proof and can be easily carried in a handbag. The moisture cream is also slightly pink in color with mild fragrance floral fragrance. I prefer mild-fragrance or fragrance-free products as they go easy on nostrils and contain fewer chemicals. Not only that, it is also a paraben-free cream. Overall, I would say it is a perfect fit to my skincare product's checklist.
It has a soft creamy texture that is easy to work with. The cream quickly penetrates into the skin leaving the skin moisturized. I am glad that it does not make the skin greasy and neither does it break it out. For the application, I take a little quantity of the cream and dot it all over my face and neck, followed by brief massage in soft circular motions.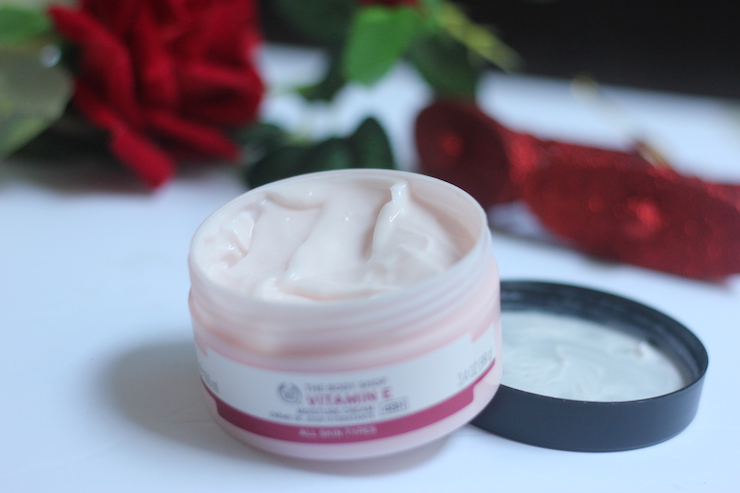 Skin feels absolutely healthy and hydrated, and the hydration effect stays on all day long. The brand claims 48 hour moisture but I never got to validate this claim. The maximum duration I have work this cream is for 15 hours and I can vouch for that number. The good thing is I do not need to reapply the cream in that duration, and after 15 hours I follow my night time skincare routine which involves cleansing, toning and moisturizing.
Over a period of time, my skin appearance has considerable improved. There is no flakiness or dryness on my face, all I see is thoroughly nourished skin with a healthy glow. The skin radiates freshness and looks quite vibrant. Being formulated with skin beneficial ingredients like vitamin E, Aloe vera and shea butter, this cream is a savior from cold weather. I am relying on it to be my protector for rest of the season, and I am assuming it would perform well on all skin types.
Things I like about 'The Body Shop Vitamin E Moisture Cream'
– Suitable for all skin types, even dry skin
– Enriched with vitamin E, shea butter & aloe vera.
– Non-greasy, fast-absorbing formula.
– Long-lasting moisture infusion.
– No breakouts.
– Little goes long.
– Lightweight and spill-proof packaging.
– It can be doubled up as night moisturizer.
Things I do not like about 'The Body Shop Vitamin E Moisture Cream'
– It does not come with a spatula.
– It does not have spf.
Price of 'The Body Shop Vitamin E Moisture Cream'- CA 24 for 50 ml
BABE Rating: 4.5/5
Final Word: Overall, my skin loves The Body Shop Vitamin E Moisture Cream. It has brought considerable improvement in the appearance of my skin. Now, my skin looks properly moisturized and healthy. Gone are the days of flakiness and dryness. I can absolutely rely on this cream even in harsh cold weather of Canada. I would highly recommend this moisture cream to all skin types.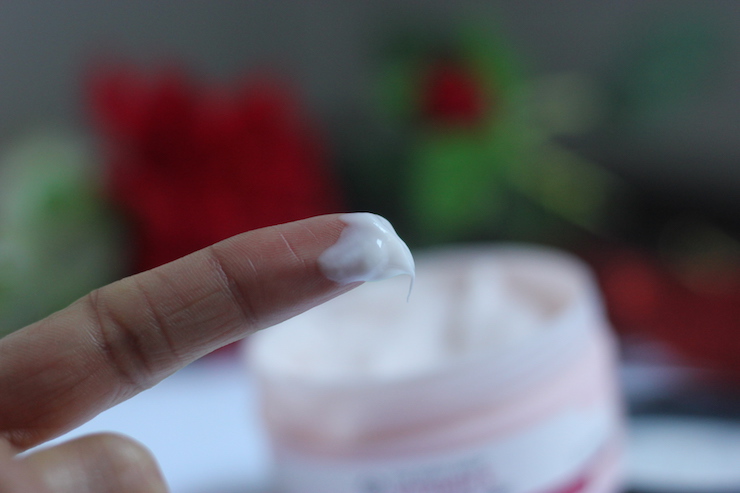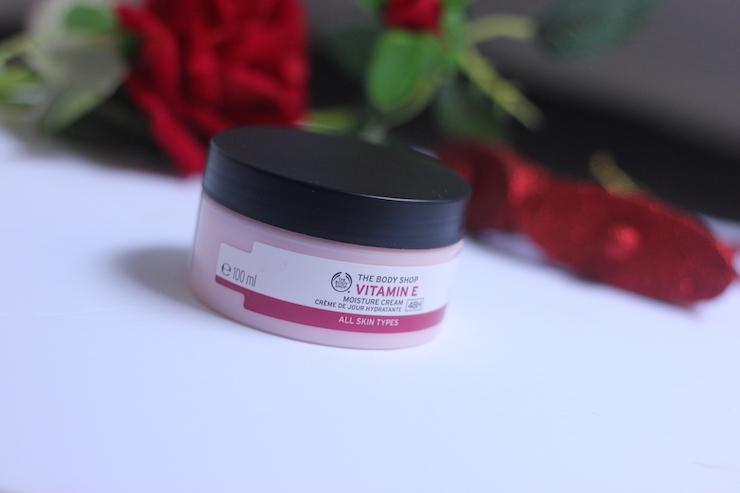 You might also like reading these related topics
QV Face Ultra Calming Moisturiser Review
Innisfree Orchid Enriched Cream Review
Organic Harvest Activ Blush Shine And Glow Cream Review
Himalaya Herbals Oil-Free Radiance Gel Cream Review
The Body Shop Seaweed Mattifying Day Cream Review
The Body Shop Tea tree skin clearing lotion review
L'Oreal Paris Youth Code Youth Boosting Cream Day For Early Signs Of Ageing