I keep stressing in my blogs the importance of exfoliation and masking. It keeps the skin healthy, glowing and youthful. For that matter, I generally prefer using homemade masks as they are fresh and I can put only those ingredients that suit my skin type. However, I also get bored doing the same things again and again so to get a change I bought The Body Shop British Rose Fresh Plumping Mask hoping it will miraculously enhance my skin. Did that happen? Read on but first of all let's check the brand's claims.
What the product says
Grow your glow with our British Rose Fresh Plumping Face Mask. Inspired by the European bathing rituals, our 100% vegan refreshing gel face mask is infused with real rose petals, rose essence, rosehip oil and organic Community Trade aloe vera. Reveal skin that's replenished with moisture and visibly smooth with a youthful dewy appearance. Perfect used with our Facial Mask Brush, it makes for the most beautiful facial at home experience.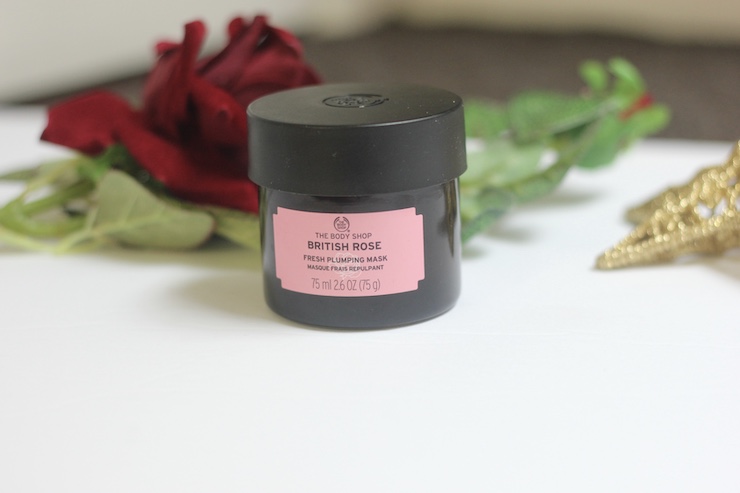 My take on 'The Body Shop British Rose Fresh Plumping Mask'
The mask comes in a beautiful small jar that is quite attractive, thanks to the dark brown and fluorescent pink colors. It is a sturdy jar with screw open cap that shuts properly sealing the contents in place. The label on the jar contains a brief description about the mask. I would suggest if you need to know more go to the brand's website.
The face mask has gel-like consistency and smooth texture with some minute particles that look like rose petals. The light brown color of the mask blends well on Indian skin tones. The mild Rose fragrance adds to the refreshing experience. It is super easy to apply. I use my fingertips for the application, and the job is done in few seconds.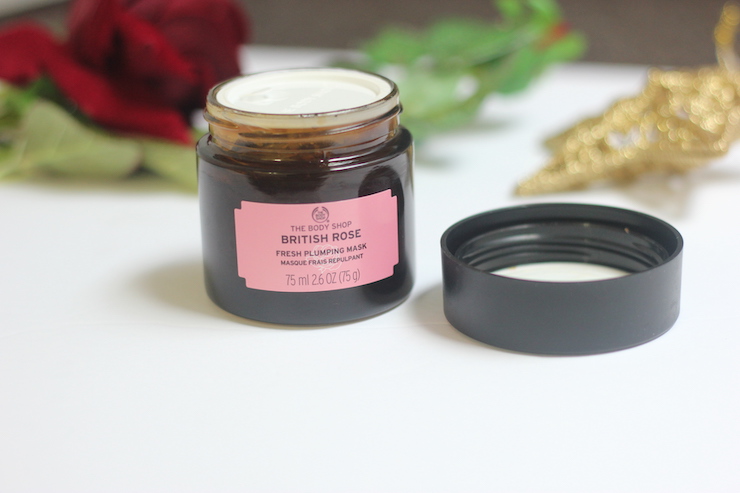 Here is the how-to use instructions from the brand itself:
After removing makeup and cleansing the skin, apply an even layer of the British Rose Fresh Plumping Mask onto the face avoiding eye and lip area. Apply to neck and décolleté if desired. Leave for 5-10 minutes then rinse off with warm water and a muslin cloth. Use 2 to 3 times a week or daily if desired.
As it does not feel stretchy at one point during the application so I keep it on for 15-20 minutes and then rinse off. It's not a sticky or heavy-feeling mask. I absolutely feel nothing when I have it on my skin- no heaviness or tingling sensation. But after rinsing, I see healthy and glowing skin which is plumper and much clearer than before. My combination skin loves this mask as it does not break when I apply this sheer mask. As far as the frequency in concerned, I apply it every other day which means about thrice a week. It keeps the moisture levels in check but you still need to provide that extra dose of hydration from a daily moisturizer.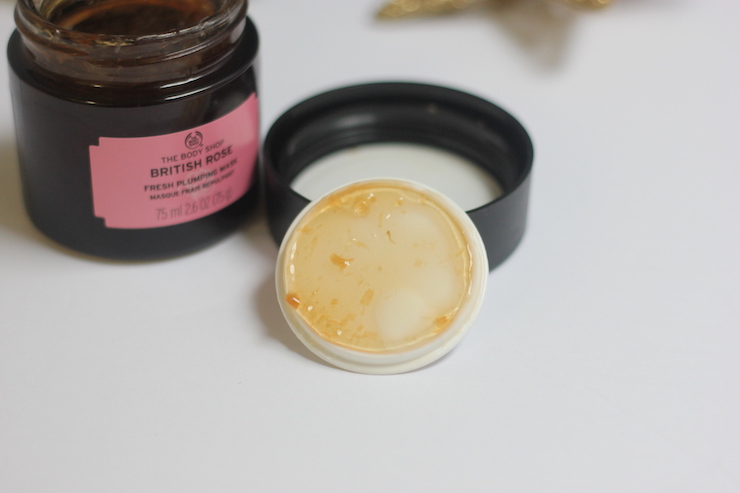 Things I like about 'The Body Shop British Rose Fresh Plumping Mask'
– Moisturizes and soothes the skin.
– Reveals fresh glow.
– Pleasant fragrance.
– Makes the skin clearer and plumper.
– Does not cause skin breakouts.
Things I do not like about 'The Body Shop British Rose Fresh Plumping Mask'
– Results are temporary.
Price of 'The Body Shop British Rose Fresh Plumping Mask': CA 28 for 75 ml
BABE Rating: 3.5/5
Final Word: Overall I find it a nice everyday kind of face pack. It does treat any specific skin concerns but definitely clears the skin and adds glow. A nice option to keep the skin plump and hydrated, and I feel it will suit all skin types since it is quite mild.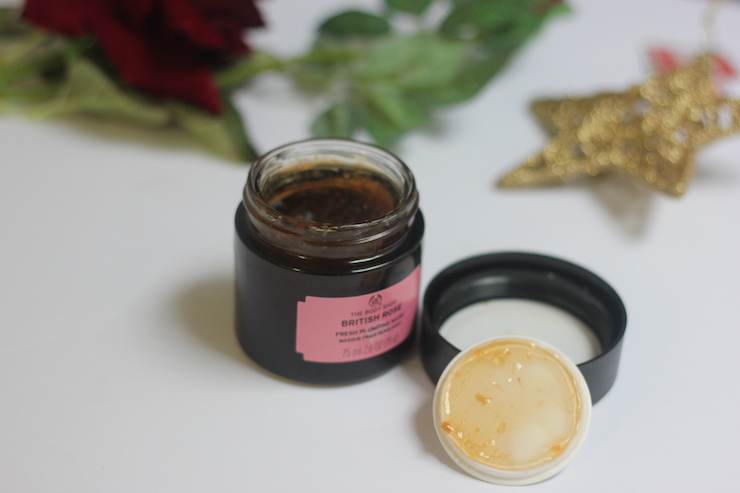 You might also like reading these related topics
Selia And Co Peppermint Green Tea Mask, Lavender Black Tea Mask Reviews
Lotus Herbals claywhite black clay skin whitening face pack review
QV Face Purifying Mask Review
Patanjali Multani Mitti Face Pack Review