Firstly, my apologies for not being able to adhere to the post schedule. I have not been keeping up well and that's why could not devote much time to the blog. Now, I am feeling little better so thought of writing something. The first thing that I am reviewing after this long gap is the Patanjali Multani Mitti Face Pack. I have oily skin so multani mitti works best on my skin. It cures acne and sebum production. Before trying this face pack, I have been using the loose multani mitti mixed with different ingredients depending on my skin condition. You can check the various multani mitti face packs here. These packs are mainly to treat acne, blemishes & scars, and to get glowing and light skin tone. Well, coming back to this review let's see how I find this face pack.
My skin type- Combination to oily
What the product says
Patanjali Multani Mitti Face Pack is a unique blend of minerals and clay for youthful glowing skin. Gairika (Mineral Clay) tautens the skin enhances blood circulation. Fuller earth removes deep impurities, cools and soothes the skin. Aloe Vera possesses softening, healing and nourishing properties. Minerals like Zinc oxide, aluminium and magnesium rejuvenates repairs & nourishes skin.
My take on 'Patanjali Multani Mitti Face Pack'
It comes in a squeezable plastic tube with flip open cap. The packaging is quite simple with mulatni picture on an off-white base. The back side of the tube contains the usage instructions, product description, ingredient list, pricing, etc. It is a light weight and spill-proof tube so can be easily accommodated in any handbag or luggage bag while travelling. Though I have not experienced any leakages still I would recommend securing the opening of the tube with a scotch tap just in case it opens.
The face pack is of the same color as that of multani mitti (fuller's earth). It has very pleasant fragrance of roses and aloe vera, which seems to be due to a chemical present in the pack called methyl paraben. If it had been because of fresh roses and aloe vera I would have been more than satisfied. Anyways, the pack has semi-runny consistency so I need to be bit careful while applying it. Normally, when I make my own multani mitti face packs I keep the consistency little thick as that prevents them from dripping all over the neck area and keep the pack wet for long. Since the consistency of Patanjali Multani Mitti Face Pack is very thin so it gets dried quickly making the skin feel stretched. Usually, I prefer applying a thick layer of the face packs so that all the nutrients get absorbed into the skin with any stretchy feel. I also rinse them off after 15-20 minutes and because of thick layer in that whole duration the packs remains wet. Personally, I feel this is the best way to apply a pack- the nutrients penetrates into the skin without causing any stretchy or dry feeling.
I apply this pack according to the usage instructions mentioned at the back of the tube i.e. applying on a wet face while massaging with finger tips. And then I let it on for 15-20 minutes before washing with plain water. Because of thin consistency, it starts getting stretchy only 5 minutes after the application but still to maximize the benefit I let it on fo5 15 minutes. This might be a concern for dry skin because if after 15 minutes my oily skin is feeling really stretched it might be more intense for dry skin. Though the refreshing fragrance is a savior especially in summer season but I was not expecting methyl paraben as the source of that fragrance.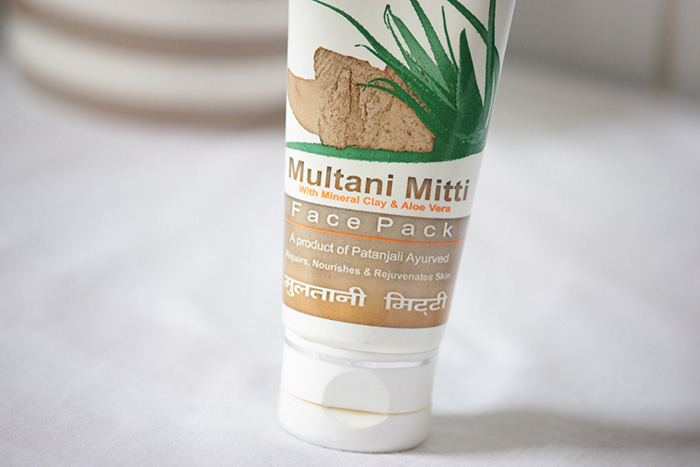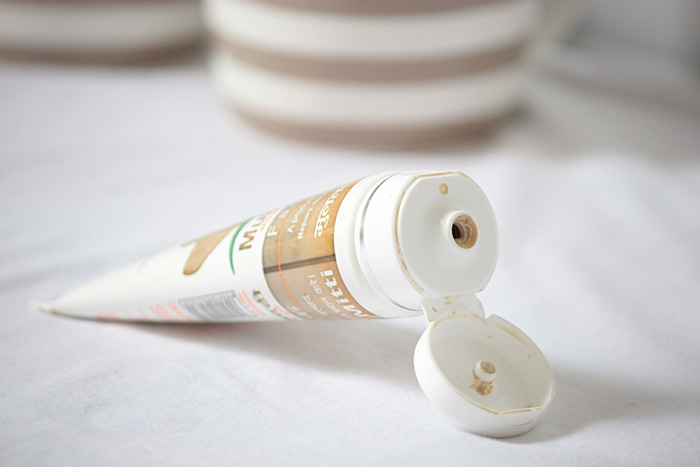 It is easy to rinse off and unlike my thick face packs it gets off the skin immediately. The skin feels somewhat stretched afterward but also looks clean and clear of impurities. Consistent usage can lead to reduction in tanning and would also make the skin soft and supple. Overall, I find this as an average face pack for combination to oily skin. I think when I make my own multani mitti face packs I have more liberty to play with the ingredients and consistency, and those packs work better on my skin.
What I like about 'Patanjali Multani Mitti Face Pack'
– Reasonable priced.
– Thin consistency that makes it easy to apply.
– Pleasant rose and aloe vera fragrance.
– Easy to rinse off.
– Makes skin clean and clear.
– Travel-friendly.
What I do not like about 'Patanjali Multani Mitti Face Pack'
– Contains methyl paraben.
– Makes the skin feel stretched.
Price of 'Patanjali Multani Mitti Face Pack'- Rs 60 for 60g
Shelf life of 'Patanjali Multani Mitti Face Pack'– 18 months from date of manufacturing.
BABE Rating- 3/5
Final Word- If you are not into making your own fresh face packs then Patanjali Multani Mitti Face Pack is a nice option for you. But do keep in mind that this pack is for oily skin types. Dry to normal skin might feel stretched or flaky as a consequence of using this face pack. It is priced very reasonably and comes in travel-friendly packaging so if you cannot get your hand on loose multani mitti and bestowed with oily skin you can give this face pack a try.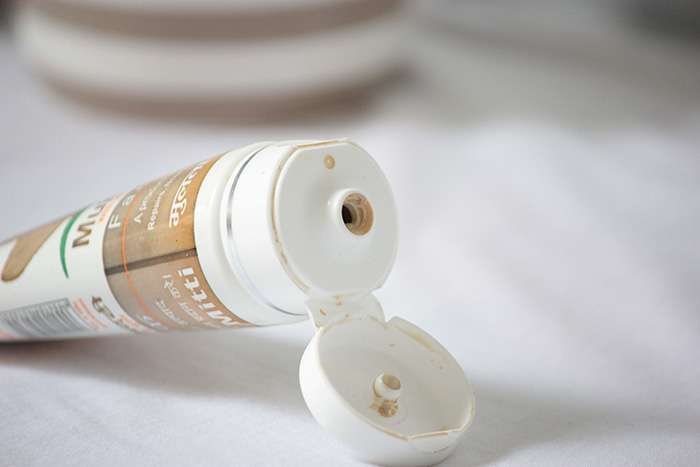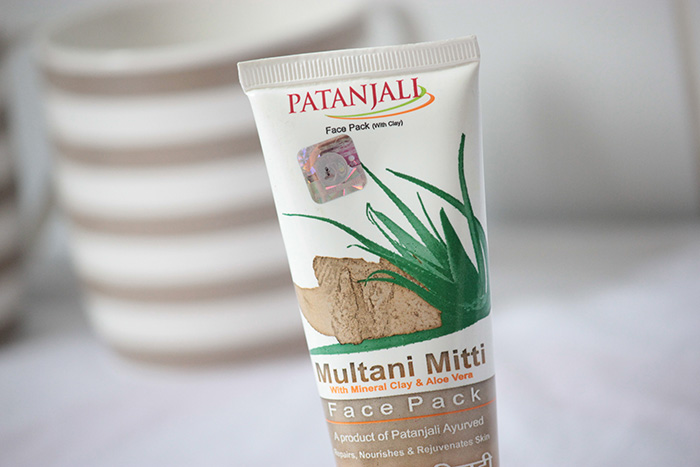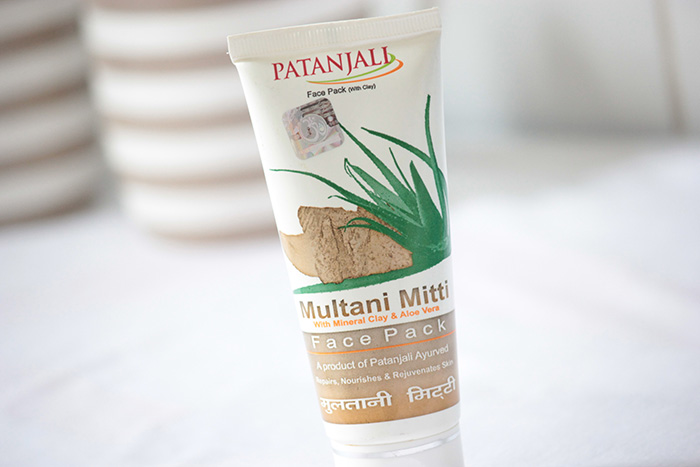 You might also like reading these related topics-
Patanjali Rose Face Wash Review
Homemade fuller's earth and honey face pack for soft and glowing
Homemade Multani Face Packs For Acne-Free Fair And Glowing Skin