Not only the pores on my face ooze out excess oil, the same goes for the scalp as well. I have always considered oily skin as the best skin type and that's for one and only reason- oily skin ages late. But it does not mean I like my oily scalp. Since I love exercising, my hair uses to get greasy a lot sooner than its average shampooing time. I was very much in need of a hair cleanser that would keep my hair fresh for at least a couple of days and it was then that I was introduced to Teal & Terra Argan Oil Shampoo and Coconut & Argan Oil conditioner. Now, I have used this combo for over two weeks and ready to share my experience. Let's see how I find this Argan oil fortified duo.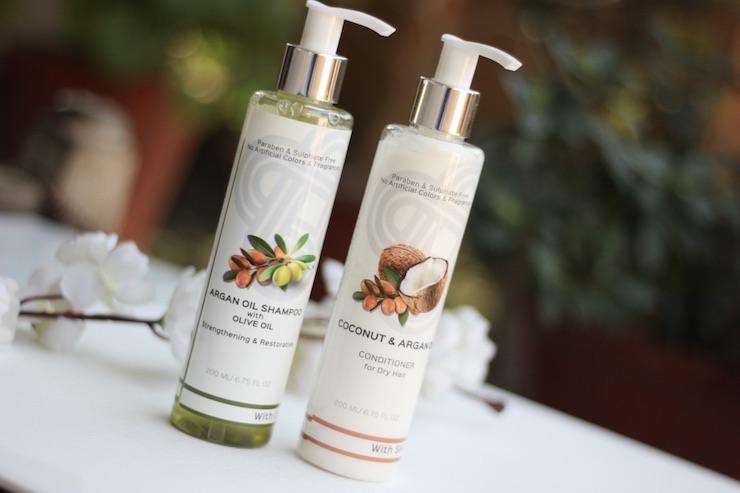 My take on 'Teal & Terra Argan Oil Shampoo and Coconut & Argan Oil Conditioner'
Talking about the packaging first, both the shampoo and conditioner come in tall cylindrical bottles with pump dispensers. It took me a while to understand the mechanism as these pump dispensers need to be kept pressed to take out the required quantity of the product. These are transparent bottles that contain the product description, pricing, and a few other details about. The packaging is spill-proof and the dispensers can be even locked to avoid any accidental spillage. These bottles can also be reused to store other liquids or semi-liquids.
These products are formulated with amazing ingredients that are very beneficial for the hair. The shampoo consists of the goodness of Argan oil, Olive oil, Aloe Vera, Hibiscus Oil and Neem whereas the conditioner contains Argan oil, Coconut oil, Jojoba oil, Brahmi, Vitamin E, Lavender Oil to name a few. I am quite impressed with the formula of both these products as these days it is hard to find such compositions in a single product.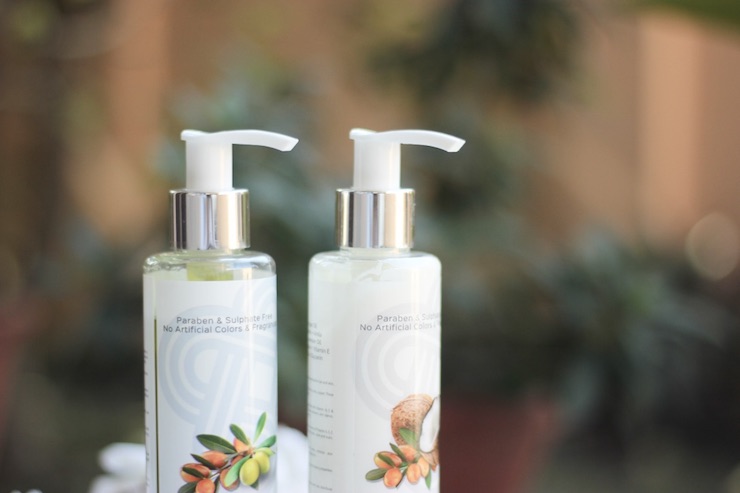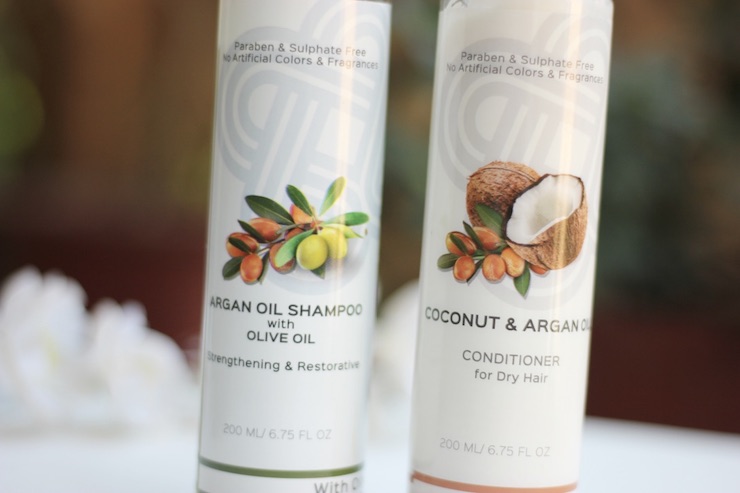 Teal & Terra Argan oil shampoo is pale green in color with semi-thick consistency. It has a gel-like texture and an herbal fragrance which dissipates into the air a few minutes after the wash. This is actually a good thing for those who prefer their hair cleansers to be non-fragrant. Also, if you are sensitive to fragrances you might want to try something like this.
I love using lather-producing shampoos as they give the satisfaction of clean scalp and hair. The Teal & Terra Argan oil shampoo does not create much lather. To get that satisfactory hair-cleansing feel I take a lot more product than what I normally use but I guess if you are not a foam lover you do not need to use much product since it anyways thoroughly cleans the scalp and tresses.
The Teal & Terra conditioner is white semi-thick liquid. It looks like a whipped cream but requires some effort to spread evenly on the hair. It has got a bit strong fragrance, which I think is because of the hair-beneficial ingredients it is made of. Formulated with such ingredients it seems beneficial for the hair.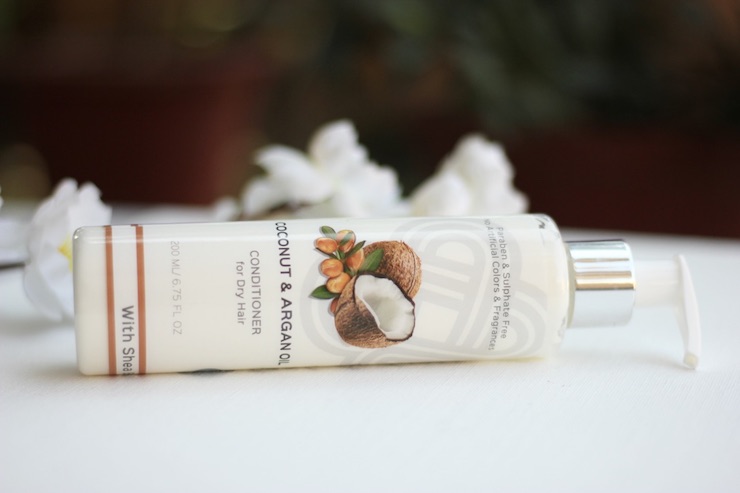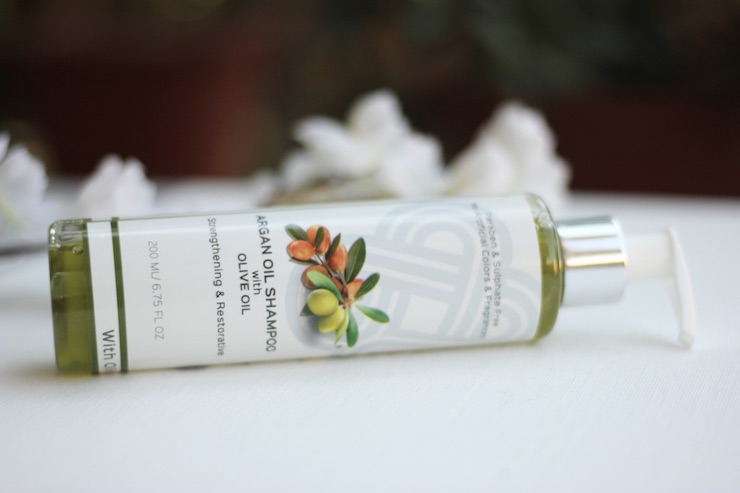 For the efficacy, I have used the shampoo with and without conditioner to see how it affects my hair and scalp. The good thing is it works on my greasiness concern. Now, I do not need to wash my hair every other day. My hair stays away from the unnecessary oil until day 3 and I am very happy om that part. Now, since it controls the excessive production of oil, on day 1 my hair feels quite dry and frizzy but on day 2 they look smooth and can be easily managed. The same goes for the luster as well- it is more on day 2. The combo works amazing if you are looking for a greasiness combatting product. And, if you do not care much about the lather but love sweating out in a gym you can give this a try. It can save your hair from a couple of extra washes.
Price of 'Teal & Terra Argan Oil Shampoo and Coconut & Argan Oil Conditioner'- Shampoo retails for Rs 1090 and Conditioner retails for Rs 1120
Final Word- Overall, I would like to recommend this product to those who are tired of washing the hair every day. This can help you skip a couple of hair washes every month, and you can utilize that time in doing more productive things. On the other hand, if you have dry hair I would suggest trying some another variant from the brand.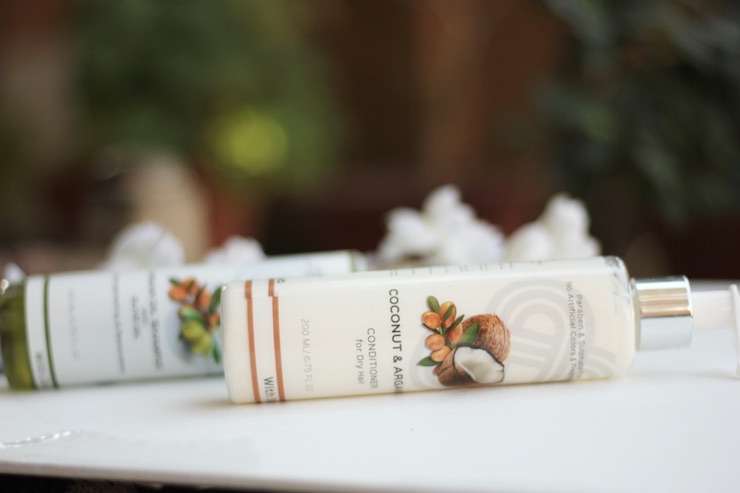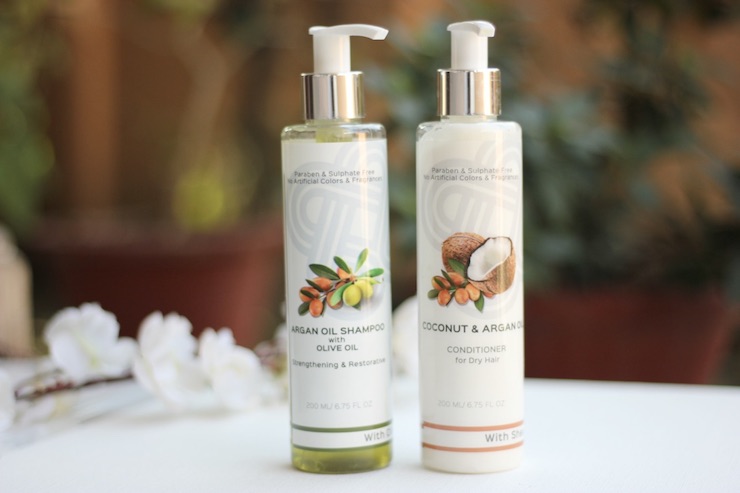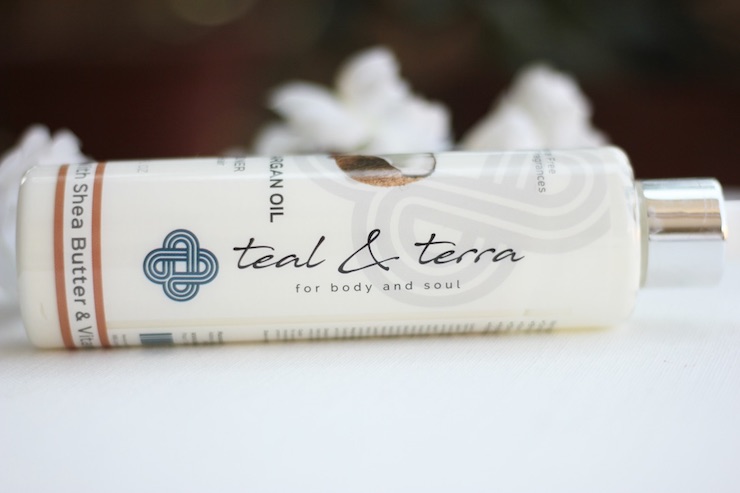 You might also like reading these related topics
L'Oreal Paris Extraordinary Clay Shampoo And Conditioner Review
John Frieda Frizz Ease Miraculous Recovery Repairing Shampoo Conditioner Review
New Pantene Pro-V Hair Fall Control Shampoo, Conditioner Review
Schwarzkopf Marrakesh Oil And Coconut Shampoo, Conditioner Review
L'Oreal Paris Fall Resist 3X Anti Hair Fall Shampoo Conditioner Review
Clinic Plus Soft And Silky Cream Conditioner Review
Loreal 6 Oil Nourishing Conditioner Review
L'Oreal Paris Nutri Gloss Mirror Shine Conditioner Review
Pantene Pro V Hair Fall Control Conditioner Review
Sunsilk Natural Recharge Shampoo and Conditioner Review
Matrix Opti Care Smoothing Conditioner Review