The primary reason why I bought this duo was the highlighted presence of Argan oil. We all know Argan oil is beneficial for hair – it repairs hair from roots thereby giving it some life. If not for the flashing sticker of 'With Argan Oil from Morocco', I would have gone for this shampoo and conditioner duo for the sake of coconut as well. In India coconut oil is considered constructive for hair growth and non-flaky scalp, and as the weather here in Australia is cold and dry I would have given this shampoo & conditioner a preference anytime. So, in whole I was quite impressed with the ingredient list and that led me to the purchase. Now let's see if my experience with Schwarzkopf Marrakesh Oil And Coconut Shampoo and Conditioner duo has been as awesome as the ingredient list.
What the product says
For normal to stressed hair.
– Infused with Organic Argan Oil and luxurious Coconut Milk.
– Boosts shine and increases hydration in hair.
– Gives you healthy, silky smooth hair without leaving any residue.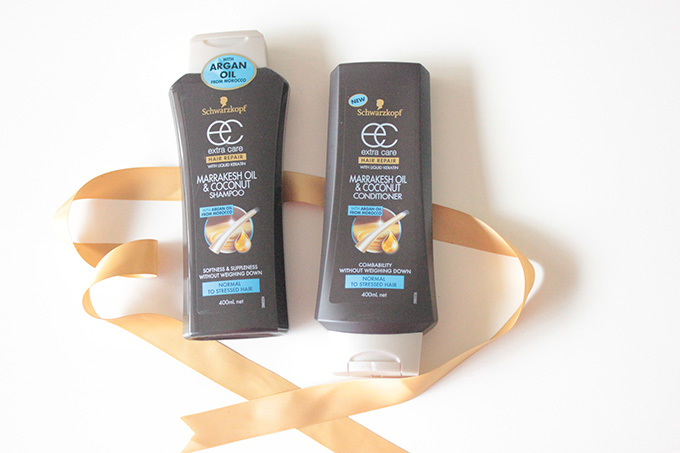 My take on 'Schwarzkopf Marrakesh Oil And Coconut Shampoo, Conditioner'
Schwarzkopf Marrakesh Oil And Coconut Shampoo
The shampoo comes in a tall chocolaty bottle that has a flip open cap. The usage directions, ingredients and benefits are all mentioned on the back side. I have bought the 400 ml packaging, which is quite heavy and if I have to carry it for travelling I need to transfer the contents to a travel-friendly container. Other than that, it is made of sturdy plastic and can survive an accidental fall.
The shampoo has semi-runny consistency and milky-white color. It has nice coconut and argan oil fragrance that feels string initially but then subsides within an hour. By end of the day, I could smell only the mild traces of it left behind. I apply this shampoo on wet hair and it lather pretty well. While I massage my scalp I see the dirt and grim particles dissolving and running down. When applied alone, the shampoo leaves the hair dry and slightly frizzy but if accompanied with the conditioner it gives better results. The one best thing I like about it is that it adds shine to hair without weighing it down.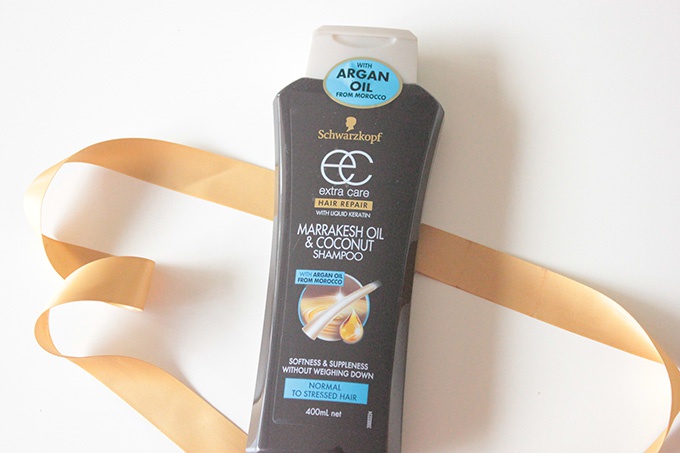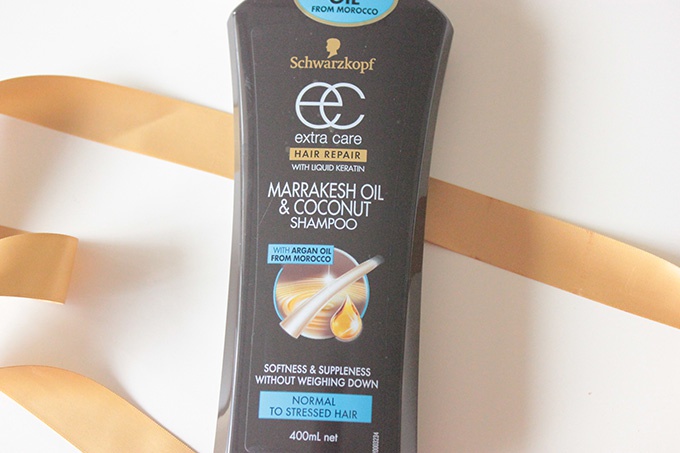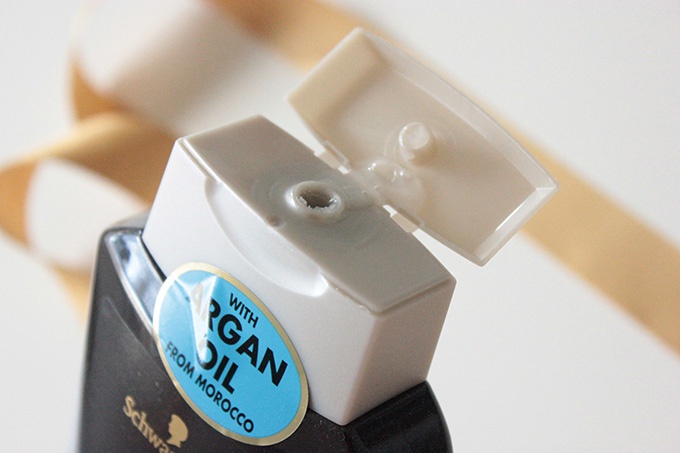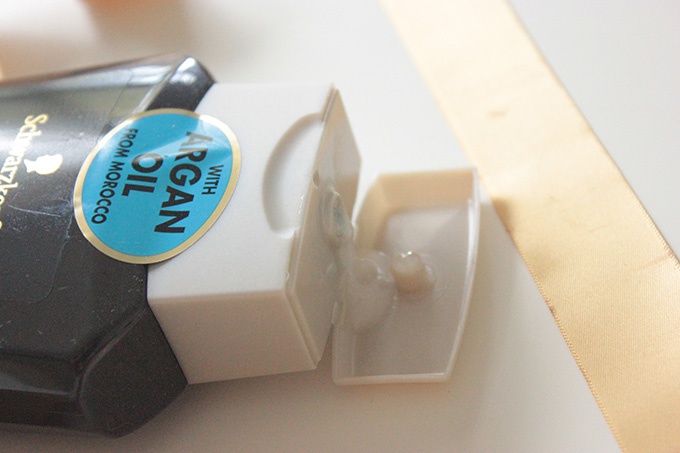 Schwarzkopf Marrakesh Oil And Coconut Conditioner
The conditioner also comes in a similar packaging as shampoo the only difference is that its cap is upside down. It is also a 400 ml bottle and the contents need to be transferred to a small travel-friendly container while planning a trip. All the other things like the text on the bottle and the quality are similar to that of the shampoo.
Its consistency is thicker and non-runny. The fragrance is similar to the fragrance of the shampoo i.e. it smells of coconut and argan oil and stays till day end. I apply the conditioner on shampoo-ed hair and leave it for 2-3 minutes before rinsing. It is quick and easy to rinse off, and does not leave any residue behind. It makes the hair smooth and shiny. The hair stays hydrated with a non-frizzy look. Though I like the shine and hydration but one thing that I have observed over the period of usage is that since I have started using this shampoo and conditioner my hair is getting oilier sooner than its usual time. I need to wash my hair more often but considering the fact that my hair is getting the goodness of argan oil, Marrakesh oil and coconut I do not mind spending extra time in hair care given I have the time.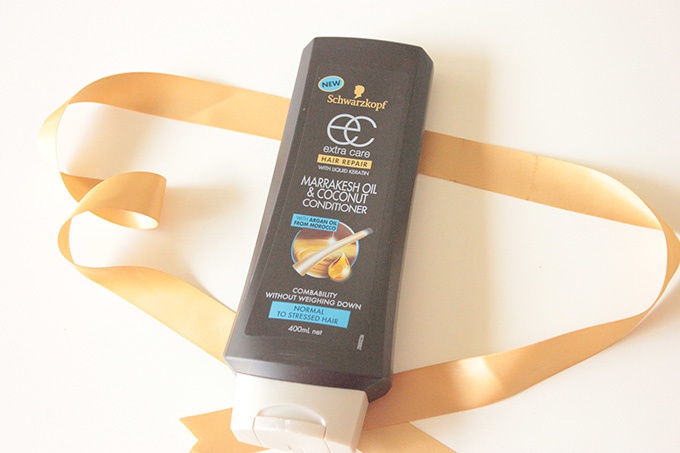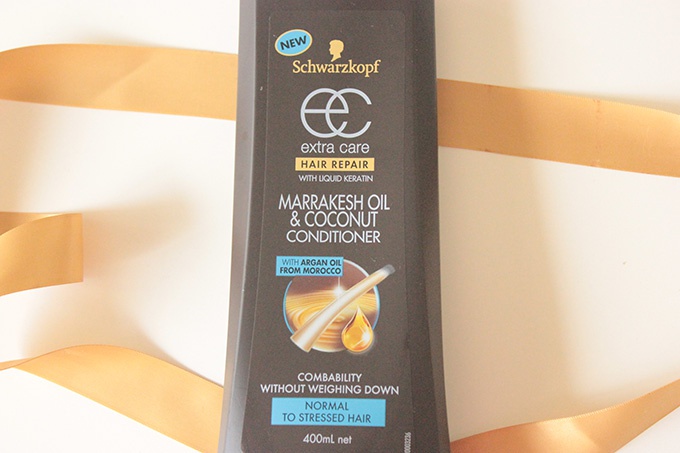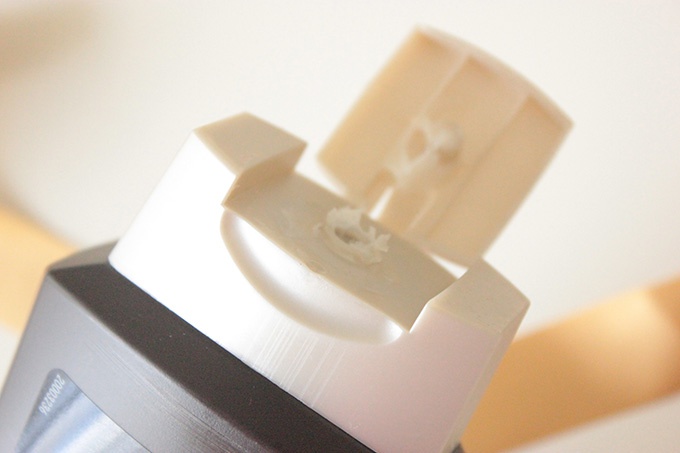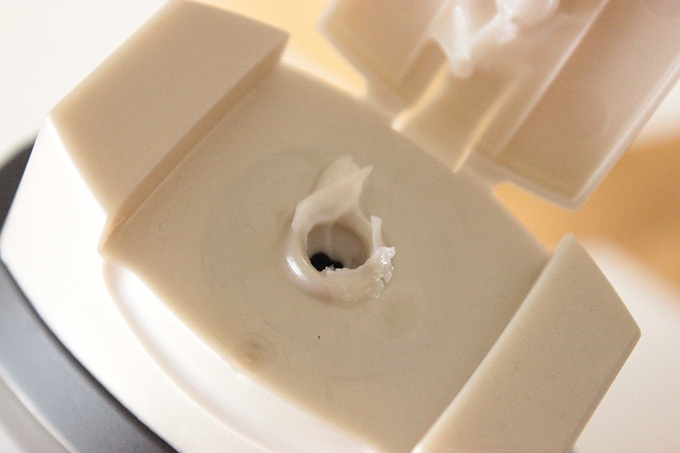 What I like about 'Schwarzkopf Marrakesh Oil And Coconut Shampoo, Conditioner'
– Impressive ingredient list of Argan oil, Marrakesh oil and Coconut.
– It does not weigh down hair.
– Easy to rinse of.
– Shampoo lathers well – good for lather lovers.
– Adds shine and hydration to hair.
– Hair looks healthy and clean.
– Makes hair smooth and non-frizzy.
What I do not like about 'Schwarzkopf Marrakesh Oil And Coconut Shampoo, Conditioner'
– Hair gets oilier sooner and requires more frequent wash.
– It does not work on hair fall problem – not an issue as that is not claimed by the brand either.
Price of 'Schwarzkopf Marrakesh Oil And Coconut Shampoo, Conditioner': Around AUD 3.00 each
BABE Rating: 3.75/5
Final Word: Formulated with good oils and coconut milk, Schwarzkpof Marrakesh oil and Coconut shampoo and conditioner duo nourishes hair with the goodness of these wonder ingredients. It cleans the scalp well, adds shine to hair without weighing it down. Hair feels more soft and supple since I have started using this duo. The only concern is the increase in head-baths but if I have time in hand that is not a concern either. So, if you do not mind washing your hair 3-4 times a week and are looking for some hair-nutritious ingredients in shampoo and conditioner you can give this a try.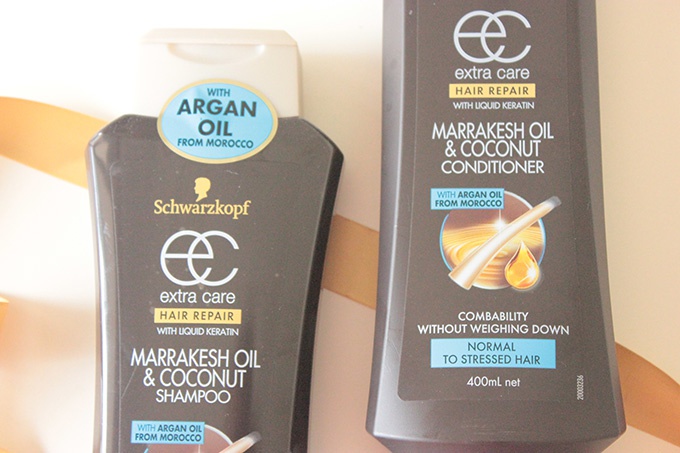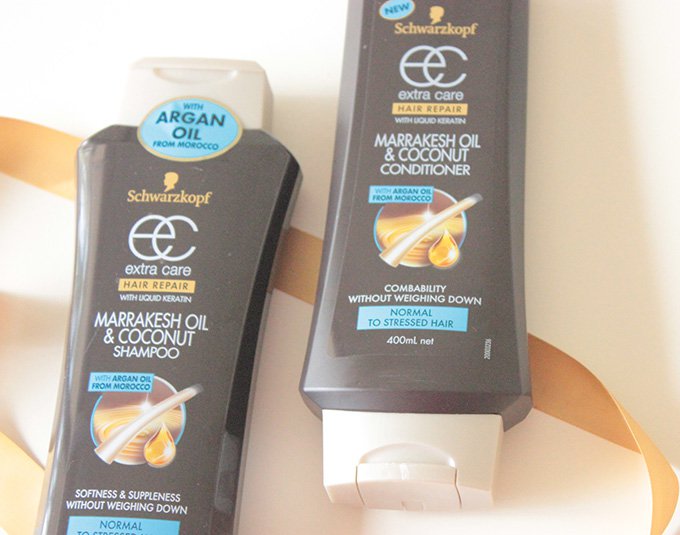 You might also like reading these related topics:
L'Oreal Paris Fall Resist 3X Anti Hair Fall Shampoo Conditioner Review
Clinic Plus Soft And Silky Cream Conditioner Review
Loreal 6 Oil Nourishing Conditioner Review
L'Oreal Paris Nutri Gloss Mirror Shine Conditioner Review
Pantene Pro V Hair Fall Control Conditioner Review
Sunsilk Natural Recharge Shampoo and Conditioner Review
Matrix Opti Care Smoothing Conditioner Review