Today, I am going to review a shampoo and conditioner duo. This is from a brand called 'John Frieda'. I am not sure if you have heard about this brand or not because in India John Frieda products are hard to find. In case you have not heard of this brand, let me tell you that they exclusively make hair care products right from shampoos to hair serums to color protectants. The brand came into existence three decades ago when they opened their first salon in London. The salon was soon a hit among celebrities and beauty experts, and that inspired the John Frieda hair experts to launch their line of hair care products. Today, I am reviewing John Frieda Frizz Ease Miraculous Recovery Repairing Shampoo, Conditioner. Let's see what I have to say about this duo.
What the products say

– Nourishes and repairs dry, damaged, frizzy hair with vital nutrients and restores resilience for healthy hair.
– Infused with an Amino Repair Complex, the powerful formulas help reconstruct the lipid structure of hair with vital nutrients for healthier looking and feeling hair.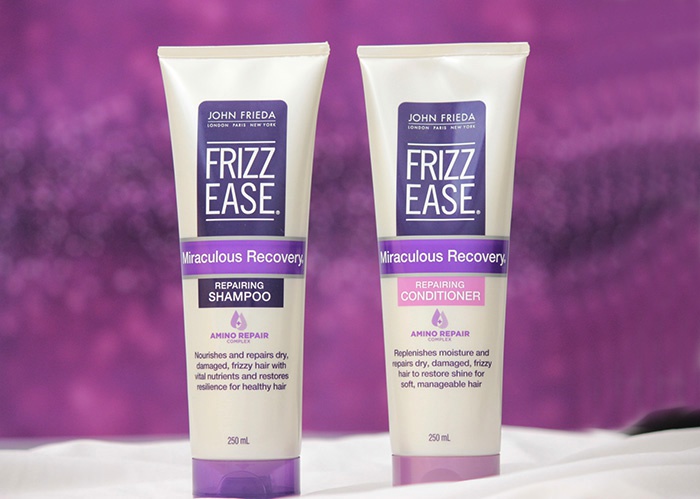 My take on 'John Frieda Frizz Ease Miraculous Recovery Repairing Shampoo, Conditioner'
Both the products come in easily squeezable flip open tubes that are made of soft plastic. The tubes have flip open caps that make them spill-proof yet easy to use. I find the color combination (mauve on a silver base) quite attractive, and that was the first thing that drew my attention to the bottles placed on a shelf full of similar products. Both the tubes contain the ingredient list, usage instructions, and what-to-expect. They come in 250 ml packaging but the contents can be easily transferred to a travel-friendly container.
Talking about the shampoo first, it is white in color with semi-runny consistency. It has a very mild fruity fragrance that stays in the hair for about half an hour and afterward vanishes into thin air. I have a habit of diluting the shampoo before applying it on scalp and hair strands, and this is what I do with John Frieda shampoo as well. I take a small quantity of the shampoo into a bowl, add some water and mix them well. Then apply this mixture on wet hair and massage the hair from roots to ends. After massaging the hair for about a minute or two I rinse off the shampoo under running water. Usually, my scalp and hair get clean in just one go but on the days when I have oiled the hair or it is super filthy I repeat the application until the water comes out clean and clear.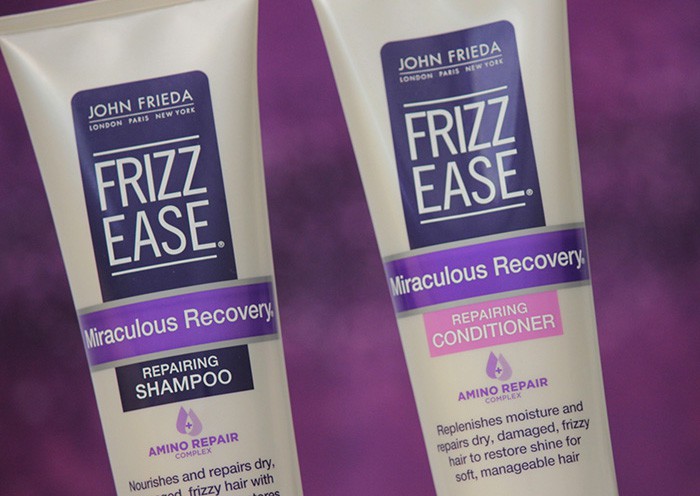 The conditioner is also milky white in color but has slightly more viscosity as compared to the shampoo. It also possesses the fruity fragrance but the lasting power of this fragrance is even less than that of the shampoo. For the usage, unlike the shampoo, I apply the conditioner directly on shampooed & wet hair- starting 2 inches above the roots till the ends. I let it stay on for about 10-15 minutes and then rinse off the conditioner under running water. Afterward, I let the hair towel dry and then style it.
Both the shampoo and conditioner are easy to rinse off, and they do not leave any soapy residue behind. I have been using this duo for over two weeks now, and I find them working in favor of my hair. They do not make the hair dry and neither do they weigh it down. Even when I apply them on non-oiled hair, I do not see my hair getting frizzy or unmanageable. This duo just provides the required bit of moisture without causing the hair to look oily. If I do not do any workout or do anything of the sort that causes my scalp to sweat, my hair stays clean and wavy for about 2 days. In the case of sweat, I need to wash it every other day. As far as repair is concerned, I have noticed that since I have started using this combo my hair health has improved- now my hair looks healthy and bouncy. There has not been a day when I got that static charge in my hair – which often used to happen earlier in winters. So, I hope that the consistent usage of this shampoo and conditioner will keep up the health of my hair.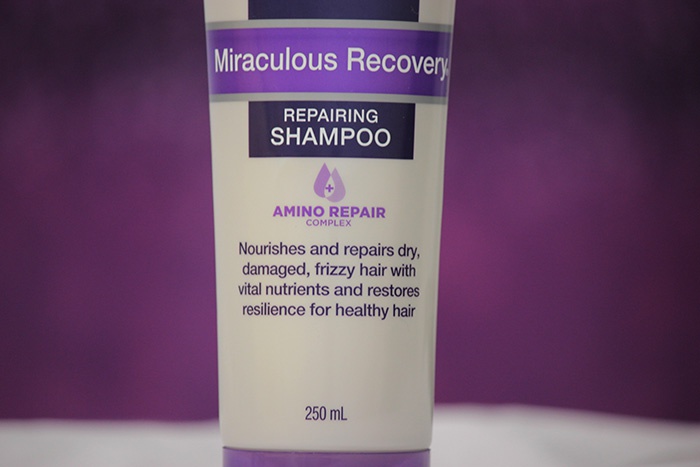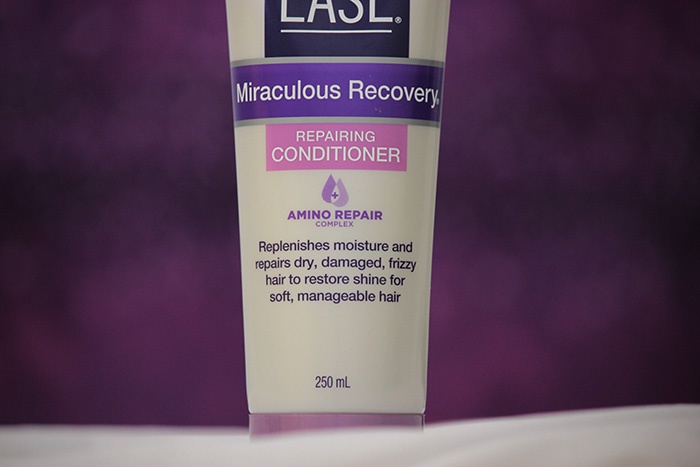 What I like about 'John Frieda Frizz Ease Miraculous Recovery Repairing Shampoo, Conditioner'
– Mildly fragrant.
– Improves hair health and texture.
– Controls frizz.
– Easy to rinse off.
– Does not weight down the hair.
– Thoroughly cleans the scalp off all the dirt and grime.
– Makes hair manageable, and hence, easy to style.
What I do not like about 'John Frieda Frizz Ease Miraculous Recovery Repairing Shampoo, Conditioner'
– Contains paraben.
Price of 'John Frieda Frizz Ease Miraculous Recovery Repairing Shampoo, Conditioner': Around AUD 12 each
Ingredients of ' John Frieda Frizz Ease Miraculous Recovery Repairing Shampoo, Conditioner'
Water, Sodium Laureth Sulfate, Coco-Glucoside, Glycol Distearate, Cocamidopropyl Betaine, Cetyl Alcohol, Cocamide Mea, Fragrance, Dimethicone, Dmdm Hydantoin, Benzyl Alcohol, Ppg-9, Polyquaternium-10, Methylparaben, Sodium Chloride, Malic Acid, Propylparaben, Disodium Edta, Glycine, Laureth-23, Laureth-4, Bis-Methoxypropylamido Isodocosane, Hydrolyzed Silk.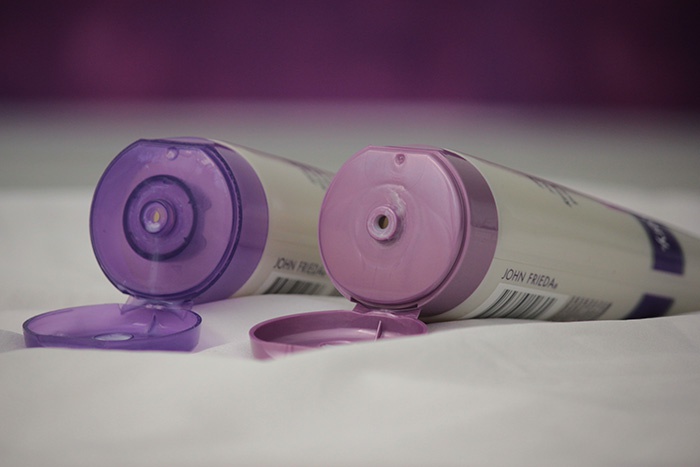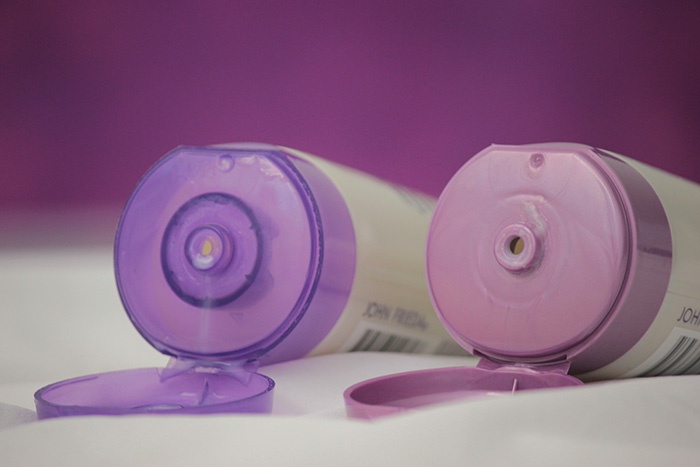 BABE Rating: 4.5/5
Final Word: Overall, I find John Frieda frizz ease miraculous recovery repairing shampoo and conditioner working well for my hair. In the past two weeks, my hair health has considerably improved in terms of texture and frizz. Now, there is no static charge in the hair and neither does it look dull. There seems to be a drift of happiness and bounce in the hair. I would recommend this duo if you have oily scalp that needs just the right amount of moisture to stay oil-free and well.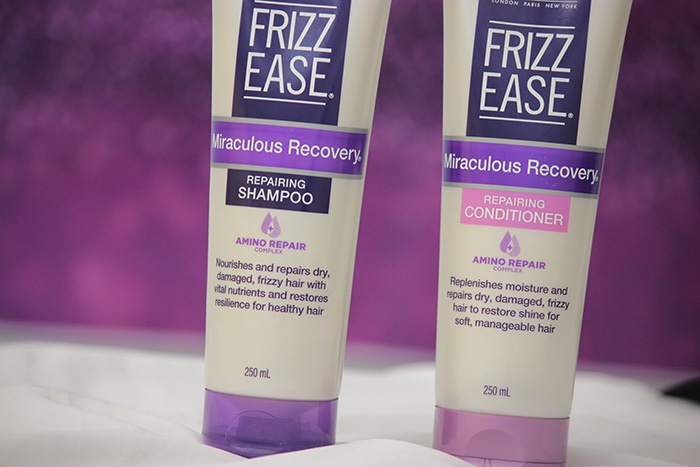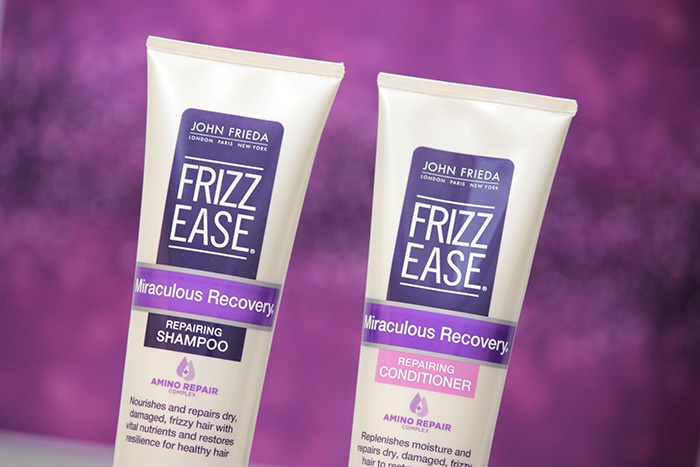 You might also like reading these related topics:
New Pantene Pro-V Hair Fall Control Shampoo, Conditioner Review
Schwarzkopf Marrakesh Oil And Coconut Shampoo, Conditioner Review
L'Oreal Paris Fall Resist 3X Anti Hair Fall Shampoo Conditioner Review
Clinic Plus Soft And Silky Cream Conditioner Review
Loreal 6 Oil Nourishing Conditioner Review
L'Oreal Paris Nutri Gloss Mirror Shine Conditioner Review
Pantene Pro V Hair Fall Control Conditioner Review
Sunsilk Natural Recharge Shampoo and Conditioner Review
Matrix Opti Care Smoothing Conditioner Review