Hello my beautiful friends,
Today I am going to review 'Richfeel Blueberry Skin Radiance CTM Kit'. We all know the role a good skin care regime plays in order to get healthy skin. I always try to adhere to it no matter what, and that's the reason why I purchased this CTM kit. Before I bought this kit I was using products of different brands, but I was not getting satisfied results. Those products were not contributing any remarkable difference to my skin health, so I decided to try a proper range of CTM. I have used other products from Richfeel earlier, and they fared well on me. Hence, I did not have to search a lot to order this kit. Let's see if this kit has worked for me or not.
What the Product Says
Say hello to gorgeous skin with our triple-action skin care kit. Made from antioxidant-rich blueberries and Aloe extracts, our exclusive blend leaves skin feeling ultra-soft and shiny. Our luxury kit delivers an array of feel-good products to gently clean your skin while soothing Aloe nourishes your face. Your skin is left feeling dewy-soft and lightly scented with the luscious blend of blueberries. We believe that everyone deserves a little bit of luxury.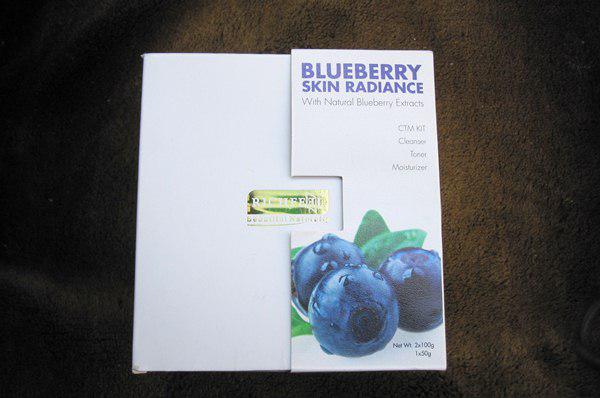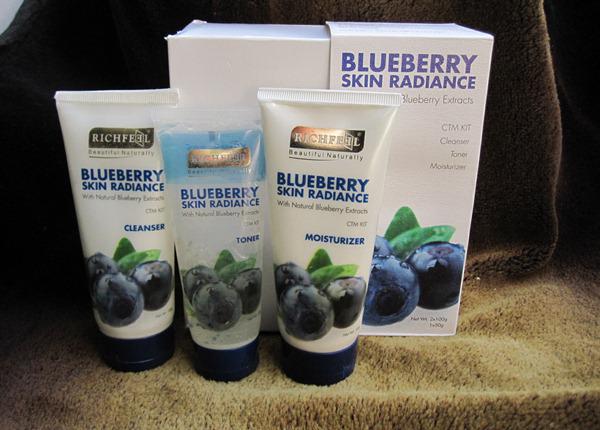 My Skin Type: Normal to oily
My Take On 'Richfeel Blueberry Skin Radiance CTM Kit-Cleanser Toner Moisturizer'
Richfeel Blueberry Skin Radiance Kit comes in a white box. As it is a CTM kit so the box contains cleanser, toner and moisturizer. The cleanser and moisturizer come in similar packaging which is a white squeezable opaque tube with flip-open cap. The toner is also housed in a flip-open squeezable tube but it is transparent. This is the first time I ever saw a toner in this packaging, usually they come in bottles. Anyways, the kit is quite affordable and the quality of the product is also good.
Let's talk about the cleanser, this is the first step. This cleanser is in gel form, and has blueberry beads in it that burst when I massage them on the skin. The consistency of the cleanser is like aleovera gel. The cleanser cleanses and removes light makeup, but I am not sure how it will work on heavy makeup as I barely wear too much of it. The best thing is it does not make the skin red or stretchy. It is a really mild cleanser that works well on all skin type especially sensitive skin. It removes impurities, and this is shown on the clean cotton pad that I get post toner application. Due to gel like consistency it seems to get absorbed into the skin. The fragrance is not very strong and it fades away completely once the product is rinsed of. If you like foam based cleanser you it will not live up to your expectations of lathering. But for me, I prefer milky cleansers and that's why I have completely got used to of this gel based cleanser.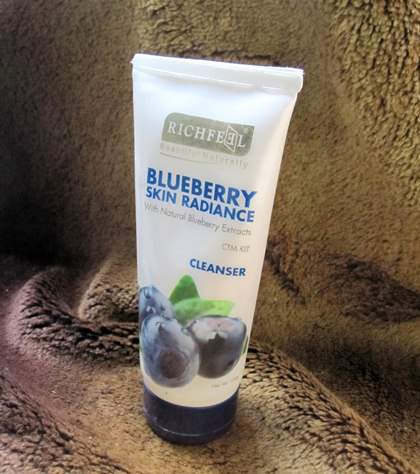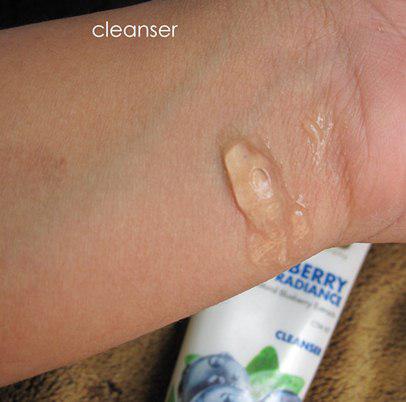 Toner– The toner quantity is lesser than the cleanser and moisturizer, but that is okay as we do not require a lot of it. It is also a gel based toner, this is the first time I am using a gel toner and I like it so far. It is an alcohol based toner so it evaporates pretty fast. The blue beads in it make me feel that the toner is doing its job. Its mild fragrance is soothing, nothing too much. For the efficacy, it removes makeup traces, clears skin and also get rid of excess oil. It helps in unclogging the pores, thereby prevent dirt accumulation. Since I have started using this toner, my skin looks clearer. People with sensitive or dry skin may find it slightly drying but on oily skin it will fare well.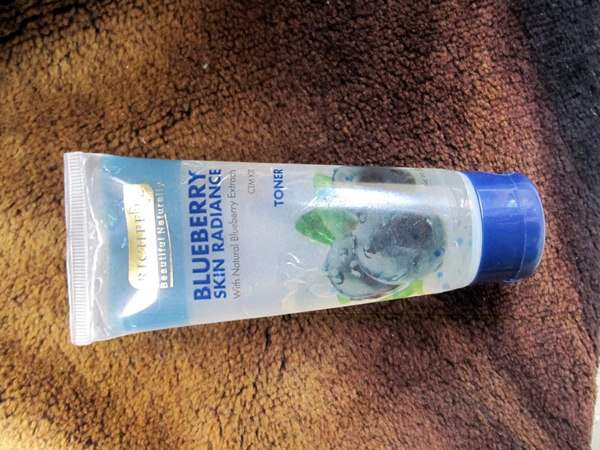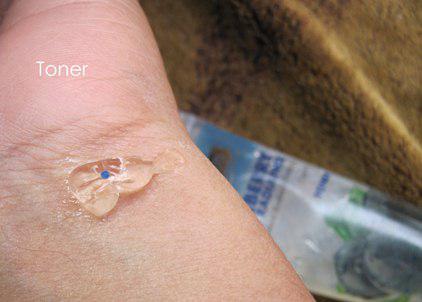 Moisturizer– The consistency of this moisturizer is neither too runny nor too thick. It is oil based fragrant moisturizer; the fragrance lasts for some time but it is not at all bothersome. As it has an oil base so just a single drops is required for oily skin, dry or normal skin may require more than that. When I used it for the very first time I took 2-3 drops and they were obstinate to sink into the skin, since I have started using a single drop it has become easier to work with. On oily skin, a single drop is enough to cover entire face and neck area but in cold weather the required quantity may go up to 2 drops. There is one funny thing about this moisturizer- when I rubbed this moisturizer between my palms it turned like white paint. And when I applied that on my face, it also turned white like a ghost. But when I massaged, it got absorbed into the skin leaving no white residue. So the best practice to apply this moisturizer is to directly dot it all over the face then gently spread. As far as the efficacy is concerned, it makes the skin soft and supple. Since I have started using this, my skin looks brighter and livelier. The moisturizing effect of this product lasts for good 5 to 6 hours. It has not caused any irritation or breakouts on my oily skin. It is a good moisturizer for winter season, in summers it might be heavy for my oily skin so I may stop using it then.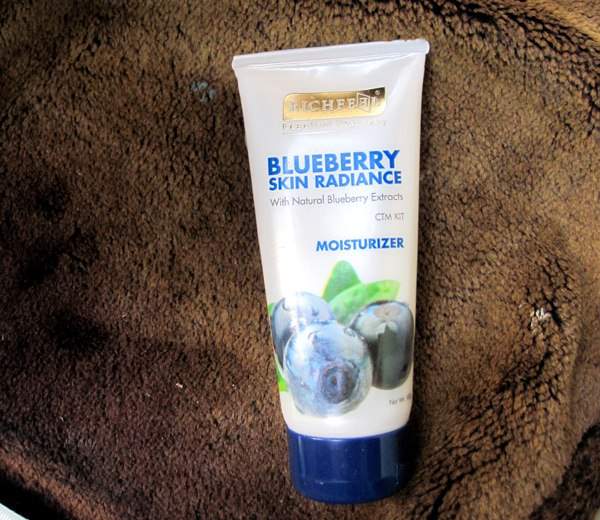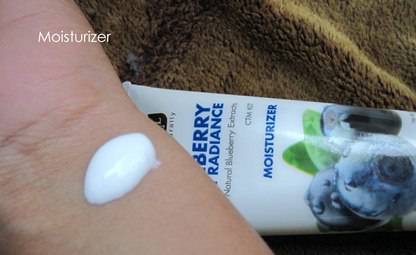 I am using this CTM Kit for last 4 weeks and it has given me good results. Now, my skin looks better- in terms of brightness, evenness, softness and suppleness. Overall it is good kit, especially for those who want to try something new or want to use all CTM products from the same range. Moreover, it will burn any holes in your pocket.
What I Like About 'Richfeel Blueberry Skin Radiance CTM Kit-Cleanser Toner Moisturizer'
– It comes at an affordable price.
– It is easily available online.
– It makes the skin clean, soft and bright.
– It has blueberries and aloe extracts, which are extremely beneficial for the skin.
– It is a good start for a proper CTM routine.
What I Do Not Like About 'Richfeel Blueberry Skin Radiance CTM Kit-Cleanser Toner Moisturizer'
– All the products together may not suit a particular skin type.
– Moisturizer is too oily for people with oily skin.
– Offline availability is an issue.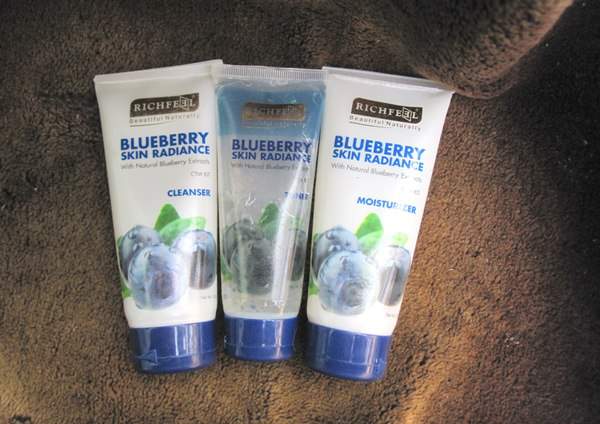 Price of 'Richfeel Blueberry Skin Radiance CTM Kit-Cleanser Toner Moisturizer':
399 INR
Shelf Life of 'Richfeel Blueberry Skin Radiance CTM Kit-Cleanser Toner Moisturizer': 3 years
BABE Rating: 3.5/5
Final Word: This kit is good for people like me who prefer to use all the CTM products from same range. Individually all these products are really good but together they may not be a good fit for every skin type. The CTM kit as a whole is a decent option for beginners and for those who wants to want to try something new.
You might also like reading these related topics:
Forest Essentials Delicate Facial Cleanser Kashmiri Saffron And Neem Review
Dove Beauty Nutrium Moisture Face Wash Review
Dove Deep Pure Face Wash Pore Care Review
L'Oreal Go 360 Clean Anti Breakout Facial Cleanser Review
Loreal Paris Hydrafresh Instant Freshness Gel Foam Face Wash Review
Neutrogena Deep Clean Facial Cleanser (Combination/Oily Skin) Review
Neutrogena Deep Clean Foaming Cleanser Review
The body shop Vitamin E gentle face wash review
The Body Shop Seaweed Deep Cleansing Facial Wash Review
The Body Shop Tea Tree Skin Clearing Facial Wash Review
Vichy normaderm anti imperfection deep cleansing foaming cream review
Neutrogena Fine Fairness Cleanser Review
JAFRA Brightening Cleanser Review Swatch
Lakme Clean Up Nourishing Glow Face Wash Strawberry Review
Pears Pure And Gentle Ultra-Mild Face Wash Review