We had been planning this trip for almost a year but somehow it kept cancelling for one or other reason. So determined we were to break the jinx that we did not do any pre-planning this time. All the reservations were done on the very last minute, seemed like the luck was on our side and we got through every booking- right from train reservations to cabs to accommodation.
Moreover, this trip was even important for us for it was our third wedding anniversary. It's been a while since we spent some quality time together away from all the regular chores and up-downs of life. I was in the 'leisure trip' mood right from the moment we boarded a taxi to the New Delhi railway station. You know doing all sort of crazy things – wearing sun glasses when you do not require, clicking absurd selfies, popping every candy (you have stocked up for the trip) in your mouth. Yes, I like keeping some edible stuff in my handbag – mainly amla candies and some nuts. These things can instantly boost-up your energy levels when you need to climb up the hills.
We reached Dehradun in the wee hours of Friday morning and took a cab to Mussorie. By the way, did I tell you no train directly goes to Mussorie; the nearest train station from Mussorie is Dehradun. But you will easily get a cab or bus service from Dehradun to Mussorie as they ply all the time. It took us 45 minutes or so to reach our destination. For we had to fresh-n-up, unpack our luggage before we could start our mountain sight-seeing, we decided to visit the hotel – The Fortune Savoy, which we booked just couple of hours before embarking upon this journey. After visiting the hotel we were told the check-in timings were from 2:00 pm, and if we were to check-in early that would cost us a substantial amount. Obviously, we did not want to spend the money that otherwise could have been used at exploring the surrounding hilly areas. While we were discussing the possibilities, the hotel manager came in and requested us to check-in without an extra penny. That was indeed a good gesture from hotel management as it saved our time, and money of course.
Our room had the warmth of home and the comfort of new-age architecture.The interior decor was a replica of modern houses that I saw on Homify (a home decor website) while I was browsing for some decoration ideas. It had a small mountain facing backyard that gave a wonderful view. Sitting in that area, we used to imbibe our morning and evening teas along with the beauty of nature.
Speaking of sight-seeing, we only visited couple of tourist attractions for we did not want this to be a hush-hush trip. Instead, we were looking forward to a peaceful time together and a getaway from the hot, sultry Delhi weather. Gladly, these hills provided us a wonderful time, rejuvenated our moods and replenished us with zeal. Sometimes, you need to sit close-to-nature to revamp your outlook towards everything that's happening around you.
Not to mention, here are some picture from the mountains of Mussorie. After all, this was supposed to be an OOTD post. Hope you enjoy this beautiful place through our lens.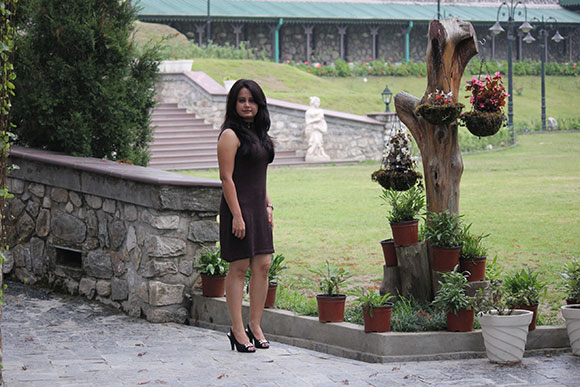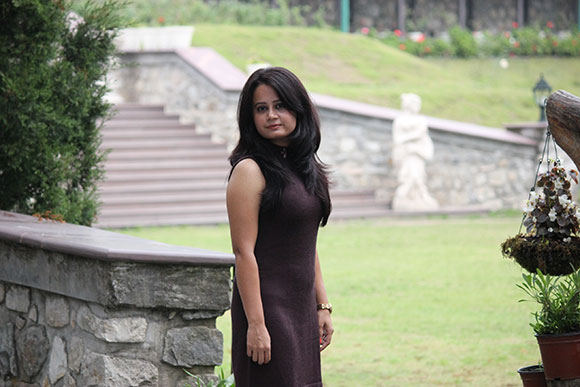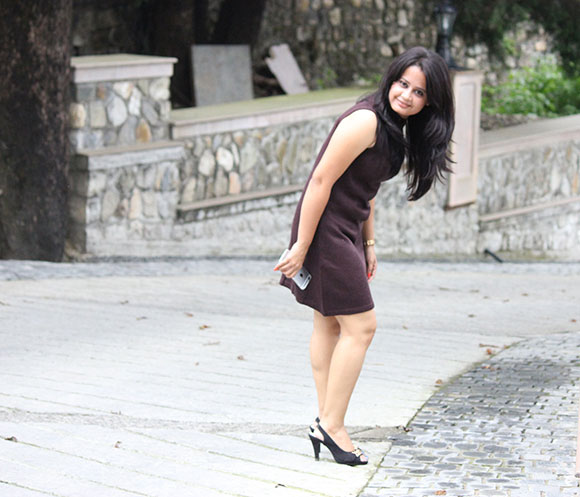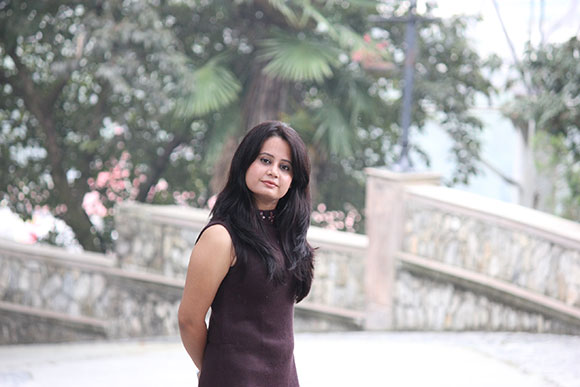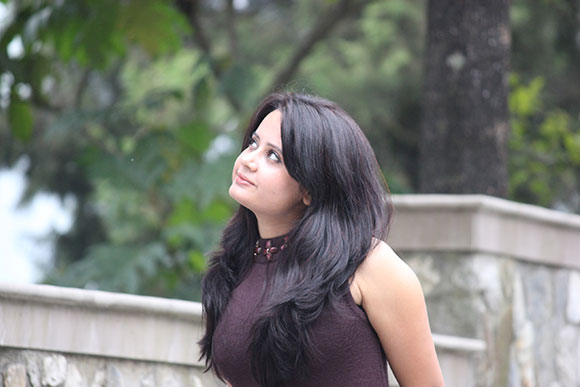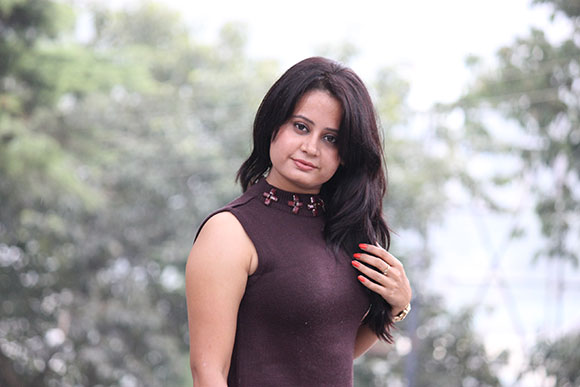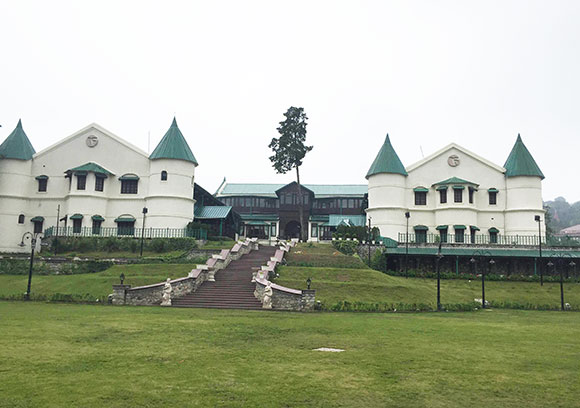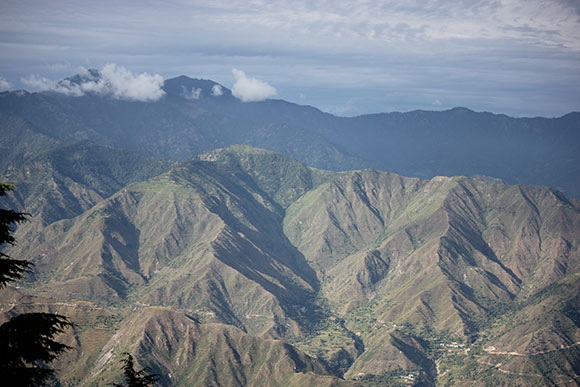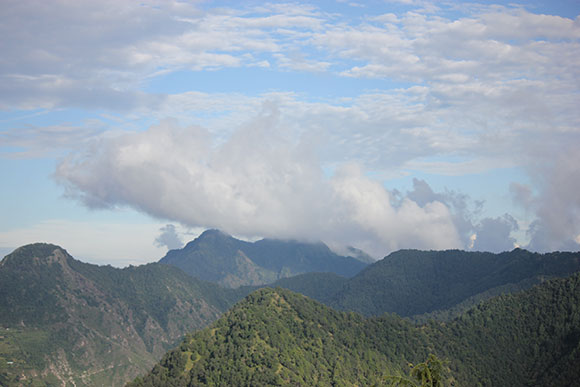 OOTD Details:
Dress: Code
Black heels: Heels
Watch: Fossil
You may also like reading these related topics
Outfit Of The Day-Black Peplum Dress Styled With Black And Golden Accessories
Outfit Of The Day-Off White Lace Top With Black Jeggings
A Road Trip From Delhi To Jaipur – Memorable!
Outfit Of The Day- Black Top With Red Pencil Skirt
Outfit Of The Day- Pleated Chiffon Mint Dress
Outfit Of The Day- Monochrome Knee Length Dress
Outfit Of The Day: Traditional Indian Khadi Silk Suit in Green
Outfit Of The Day: White Frill Top, Chequered Short Shirt With Fuchsia Overcoat
V-Day 2014 – A Quick Glimpse
Outfit Of The Day: Black Leather Jacket Paired Up With Silk Scarf And Knee Length Dress
Outfit Of The Day: Double Breasted Navy Blue Long Wool Coat