Hi Everyone,
Hope you had a lovely weekend amidst romantic weather. I had good time meeting some old pals after a really long time. We were planning to do this get together on last Sunday (in lieu of friendship day) but things did not work out for all of us. You know how difficult it is to get so many people together – place, time, weather, blah blah so many concerns need fixing at times like these. But for friends, whenever they meet it becomes a special day so why wait to catch up with them only on first August Sunday every year! We had lots of fun, food, stories & of course gossip. We shared, we teased, we admired, we recalled everything we have missed since the last time we were all together.
For outfit, as it was slightly windy that day so I wore a black peplum dress that clings to the silhouette. I styled it with black and golden accessories to downplay a little while keeping the look elegant. The black peeptoe heels with golden detailing matched the dress well, so did the necklace, earrings, ring and bracelet. I wanted to carry a golden clutch but it looked slight big relative to the overall look so instead settled with a shimmery clutch.
For face, I used the Red carpet July Fab bag products- right from cleansing to makeup. As I wanted to have a balanced look so did not put on too much makeup- except winged eyeliner, red pout and little blush (can't miss that). It was a minimal makeup look with no base and eyeshadow, and went well with dress and other accessories. Finally, I finished the look with a high bun secured with lots of bobby pins. Thankfully, it stayed intact through the whole evening without giving any fuss. I was satisfied with overall look and happy because it took very little time in putting everything about this look together.
Enjoy the pics, and I would be happy to know your weekend deeds 🙂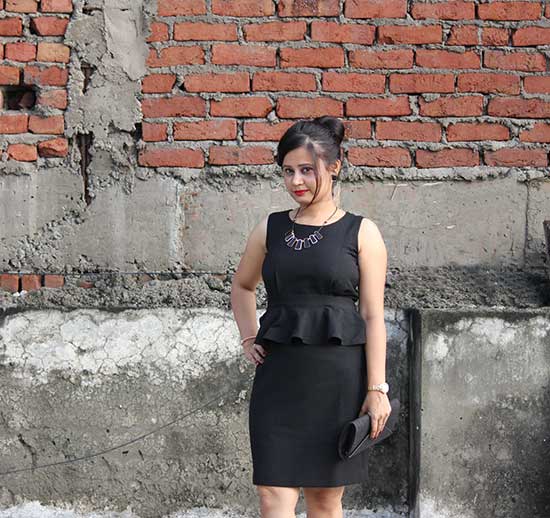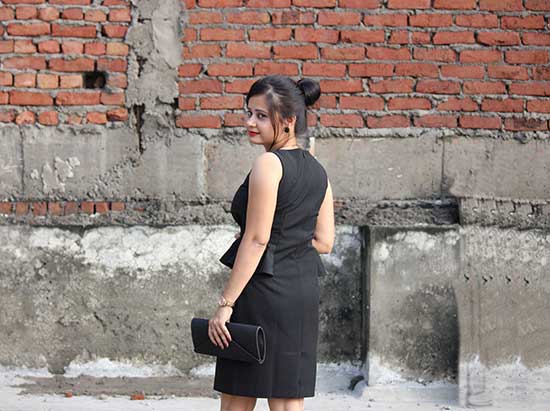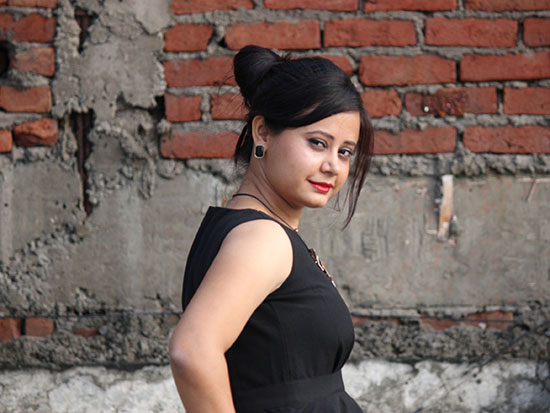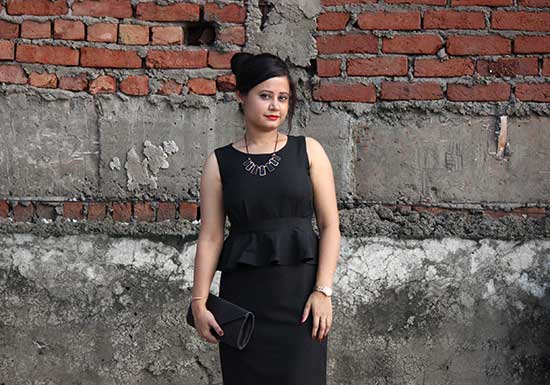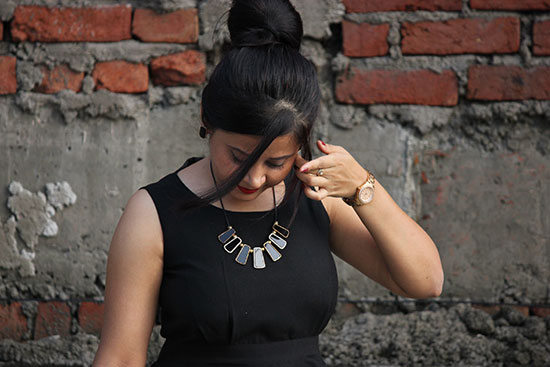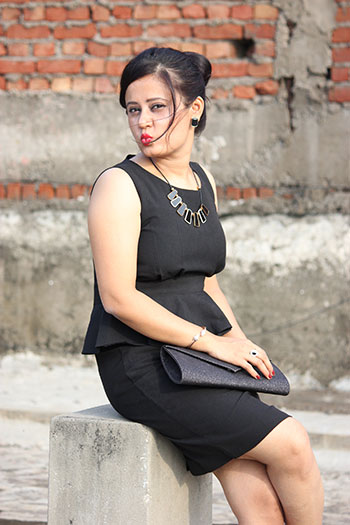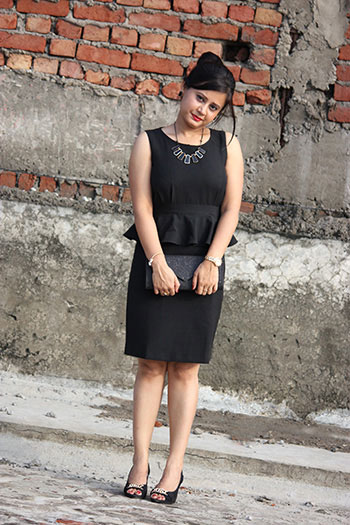 OOTD Details
Peplum Dress : Austin Reed
Earrings: Forever21
Necklace & Bracelet: Online shopping
Ring: From Jaipur's market. (cannot recall shop name)
Peeptoes & Clutch: Gifted
You may also like reading these related topics
Outfit Of The Day-Off White Lace Top With Black Jeggings
A Road Trip From Delhi To Jaipur – Memorable!
Outfit Of The Day- Black Top With Red Pencil Skirt
Outfit Of The Day- Pleated Chiffon Mint Dress
Outfit Of The Day- Monochrome Knee Length Dress
Outfit Of The Day: Traditional Indian Khadi Silk Suit in Green
Outfit Of The Day: White Frill Top, Chequered Short Shirt With Fuchsia Overcoat
V-Day 2014 – A Quick Glimpse
Outfit Of The Day: Black Leather Jacket Paired Up With Silk Scarf And Knee Length Dress
Outfit Of The Day: Double Breasted Navy Blue Long Wool Coat
Outfit Of The Day: Ankle length Anarkali Suit With High Heels