Outfit Of The Day-Off White Lace Top With Black Jeggings
Hi Everyone,
It has been gazillion years since I have done any OOTD post, partly because the weather was not that favorable and partly because I did not have any outfits to do this post… is not this what we keep chanting every time even though our wardrobes are over-stuffed with clothes ? Seriously, in my case it is a genuine statement 😉 Anyways, I did some shopping in last couple of weeks, so here I am with the OOTD post.
I do not know if it is only me or you are also into lace stuff these days. Almost every cloth I bought of lately has lace on it, in one or other corner. I believe I like lace stuff so much because it gives a delicate feminine look, which can be easily uplifted if paired with right accessories and complimentary halves. The off white top that I am wearing in the shoot has a very feminine touch to it. I wanted to give it a smart and trendy look, so ended up tucking it in and wore high heels to give it the power dressing appearance.
For hair style, I wanted to keep the hair loose- slightly curled but the weather was sweltering already so I had to tie them up in a high pony tail. Luckily, that worked in 'power dressing' advantage and also saved me from getting drenched in sweat. I wish the rainy season comes soon so that there is a drop in temperature and ultimately I could do more OOTDs – several outfits waiting to face the camera
.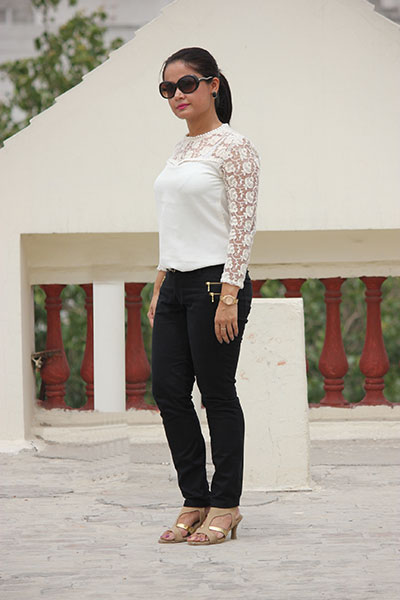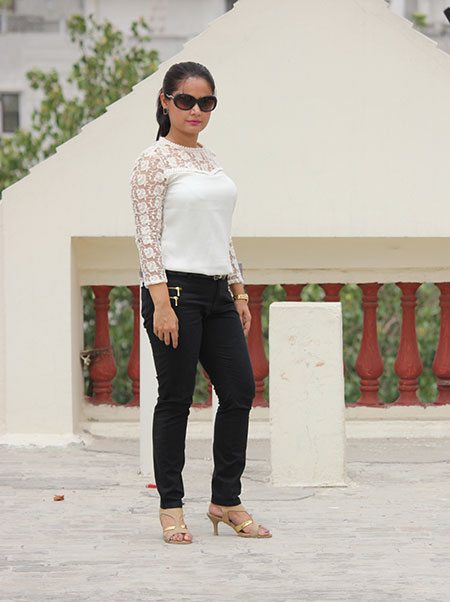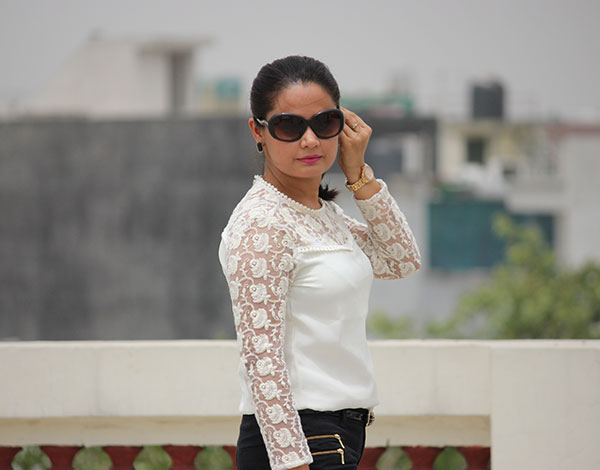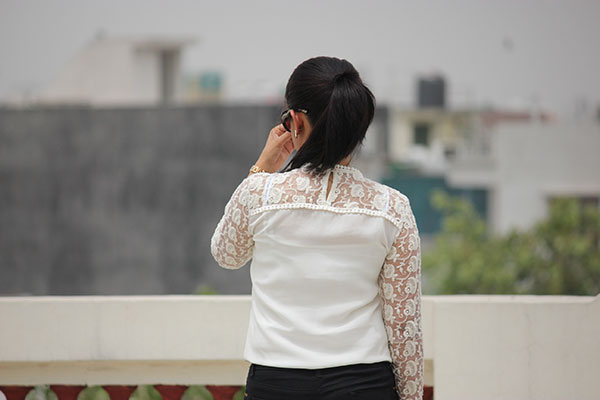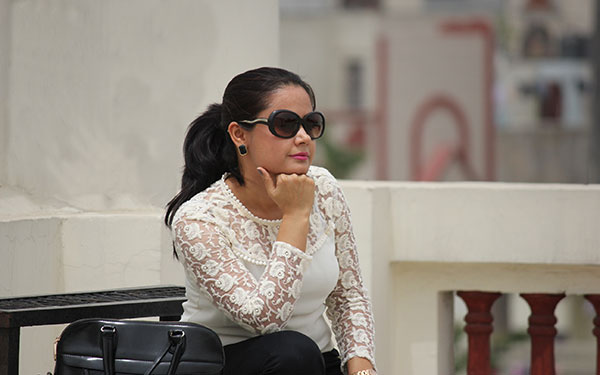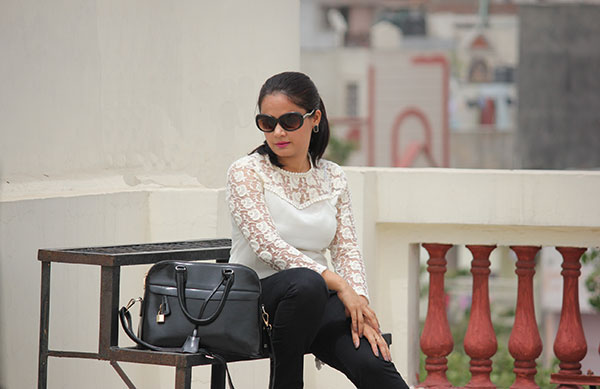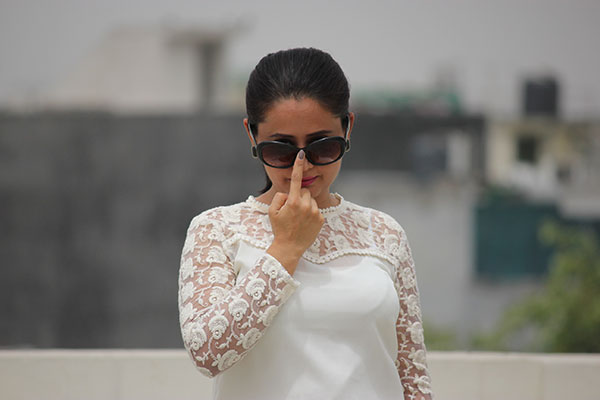 OOTD Details:
Lace Top: GK M block market
Jeggings: Vero Moda
Footwear: Footin
Watch: Fossil
Sun Glasses: Prada
Earrings: Forever 21
Lipstick: Oriflame Matte Pink Raspberry
Handbag: Online shopping
You may also like reading these related topics
A Road Trip From Delhi To Jaipur – Memorable!
Outfit Of The Day- Black Top With Red Pencil Skirt
Outfit Of The Day- Pleated Chiffon Mint Dress
Outfit Of The Day- Monochrome Knee Length Dress
Outfit Of The Day: Traditional Indian Khadi Silk Suit in Green
Outfit Of The Day: White Frill Top, Chequered Short Shirt With Fuchsia Overcoat
V-Day 2014 – A Quick Glimpse
Outfit Of The Day: Black Leather Jacket Paired Up With Silk Scarf And Knee Length Dress
Outfit Of The Day: Double Breasted Navy Blue Long Wool Coat
Outfit Of The Day: Ankle length Anarkali Suit With High Heels