After scorching summers, monsoons come as a relief. I love when it rains- those fresh leaves, wet mud, cloudy sky, chirping birds everything around me look so happy and contented. The scent of wet mud overpowers every other scent and makes me feel a part of mother earth. Undoubtedly, monsoons bring with them freshness and happiness but the humid and damp weather takes a toll on the skin, eyes, hair and even clothing. In today's post I will share simple monsoon skin care tips that will keep the skin healthy and save it from all sort of pop ups. Let's go through these tips: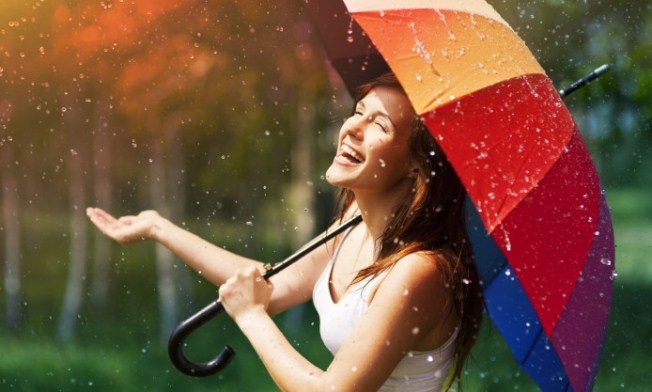 1) Clean your face regularly- Cleansing is important in monsoon season as it removes impurities and prevents bacterial growth. Use a mild cleanser or if you have acne prone skin get a good salicylic acid face wash. Salicylic acid helps in curbing the growth of bacteria and keeps the skin pimple free.
2) Exfoliate regularly- Exfoliation unclogs pores and removes dead skin cells. It aids in the growth of new skin cells giving supple youthful skin. And, as the dead skin is removed blemishes and acne scars also get lighten and the result is glowing even skin.
3) Homemade face packs- In monsoons use besan or multani mitti face packs as they absorb excess sebum and rejuvenate the skin. If your skin is not allergic to turmeric then add a pinch of turmeric powder to these packs. Turmeric does not only help in clearing acne scars and inflammation but also reduces oil secretion by sebaceous glands.
4) Light Moisturizers- Moisturizer increases the hydration level of the outer layers of the skin and gives it a soft, moist look. In monsoon season, the skin is already going through a humid phase so apply light moisturizer as it will keep the skin hydrated without the stickiness. Else, before going to bed, apply glycerin and rose water mixture to keep skin soft and moisturized.
5) Stay hydrated- During monsoons body loses fluids through sweat. Drink lots of plain water, "nimbu paani", coconut water and fresh fruit juices, and stay away from aerated drinks. This will keep the skin hydrated and glowing.
6) Sanitize your hands- Your hands keep touching numerous things around that might already be the home of bacteria. In monsoon season as the humidity level is high bacterial growth happens fast. So frequently sanitize your hands and do not touch your face. Touching the face with non-sanitized hands can cause bacteria to accrue, which further can turn into pimples or painful acne.
7) Use warm water- Instead of using tepid water shift to warm water in monsoon season. Warm water dissolves skin oil and other impurities better than cold or tepid water, and thus leaves the skin healthy and bright.
8) No oils- In monsoons you should not apply any heavy oils such as coconut or castor oil as they can clog the pores. But you can still apply non-moisturizing essential oils such as tea tree oil. Tea tree oil absorbs sebum and thus prevents acne/pimple growth.
9) Sunscreen- Even in monsoon season detrimental UVA/UVB rays can harm the skin. Apply good sunscreen no matter if you stay indoors or outdoors. This will protect the skin from sun damage.
10) Alcohol Free Toner- In monsoon season, humidity rises to its peak level resulting in sweating. As the skin sweats pores become enlarged and can be easily clogged with external impurities. To prevent this from happening use an alcohol free toner as this will keep the pores clean and save them from becoming huge.
Hope these monsoon skin care tips are useful for you all! Enjoy rain and happy skin at the same time!
You might also like reading these related topics
Skin Care Tips To Reduce Fine Lines And Open Pores-Early Signs Of Ageing
Homemade Multani Face Packs For Acne-Free Fair And Glowing Skin
Homemade Curd Face Packs for Glowing And Tan-Free Skin
5 Refreshing Homemade Face Packs For Summers
5 'Instant Glow' Skin Care Tips From Kitchen
5 Aloe Vera Homemade Face Packs For Hydrated Flawless Skin
5 Homemade Besan Face Packs For Soft Glowing Skin
Revise daily skin care routine
How Watermelon and Cucumber Face Pack Helps Getting Clear Glowing Skin
5 Natural beauty benefits of lemon juice