Today, I am going to review Maybelline The Colossal Kohl Jewelled Jade eyeliner. I have bought this eyeliner couple of months ago and have been using it since then. I like experimenting with colors and products so have been using this eyeliner to create various looks in past few weeks. Now, as I feel I have tested it thoroughly I am ready to put forth my review on it. Keep reading to know how I like this eyeliner.
What the product says
Go all out with glamorous eyes with the most exciting Colossal Kohl Now in 4 shades – True Turquoise, Jewelled Jade, Crushed Emerald and Smoked Silver which is a refreshing twist on the conventional black Colossal Kajal kohl and a must have fashion and beauty accessory.
Here's why you'll love it:
– Provides 12 Hours of smudge-free intensity
– Color doesn't smudge or fade
– Enriched with nourishing ingredients and Vitamin E to soothe the eye
– Features a unique tip that glides smoothly for even application
– 100% suitable for your eyes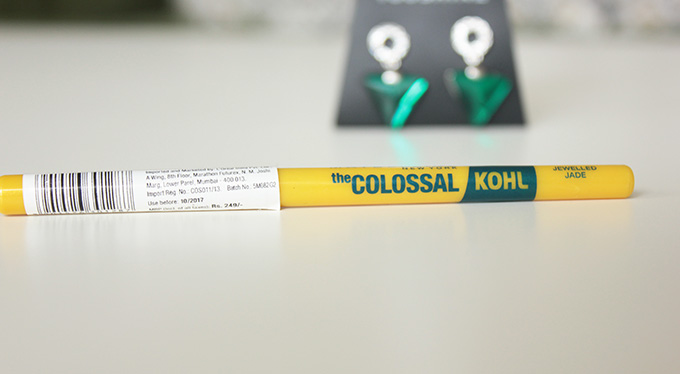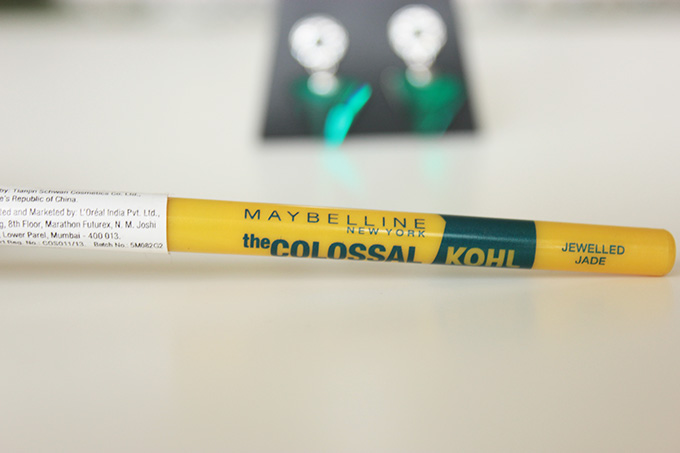 My take on 'Maybelline The Colossal Kohl Jewelled Jade'
Unlike the Maybelline colossal black kohl, the jeweled shade does not come in an outer cardboard packaging rather it comes as a roll-on pencil like lip liners. The pricing details, batch number etc. are mentioned on the sticker that acts as a seal between the cap and the body. The outer look is very much similar to black kohl except that the font on this one is color-coordinated with the shade of the liner. It has a retractable packaging that I personally I find convenient for usage as I do not have to spend time in sharpening it.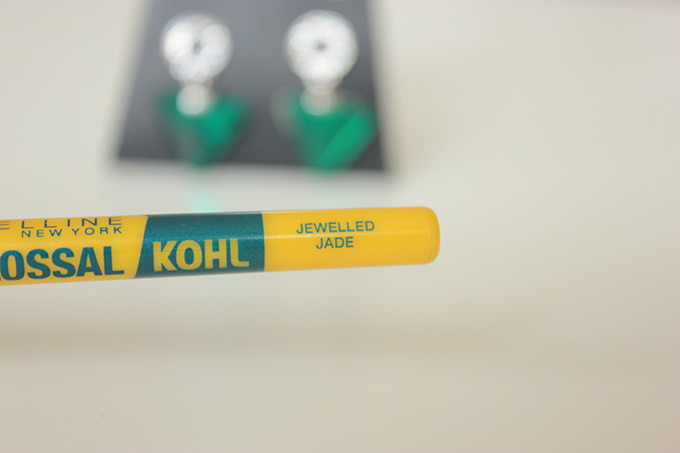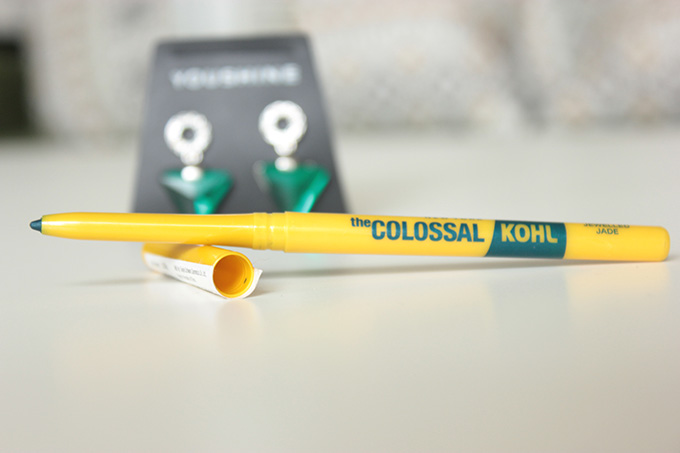 'Jewelled Jade' is a beautiful peacock color with the right mix of blues and green. It has subtle sheen which is rarely visible indoors but is quite prominent under artificial or day light. I seldom wear color eyeliners but I find this one safe to experiment with. Jewelled jade is not a loud shade so even if you do not like being the center of attraction you can easily swipe it on your eyelids without having magnetic properties 🙂
It has smooth texture that makes it to easy glide on the eyes without any tugging. The tip is gentle on the skin and does not irritate or hurt the eyes. I apply on waterline and lower lash line as well, and it does not feel/look awkward. It rests just like a normal black kajal and has got nice pigmentation – in just one swipe it gives a prominent peacock color and adding couple of more swipes adds to the intensity as well. A note of precaution- the tip is fragile so roll-out minimal quantity and keep your hand light exerting less pressure while working with this eyeliner.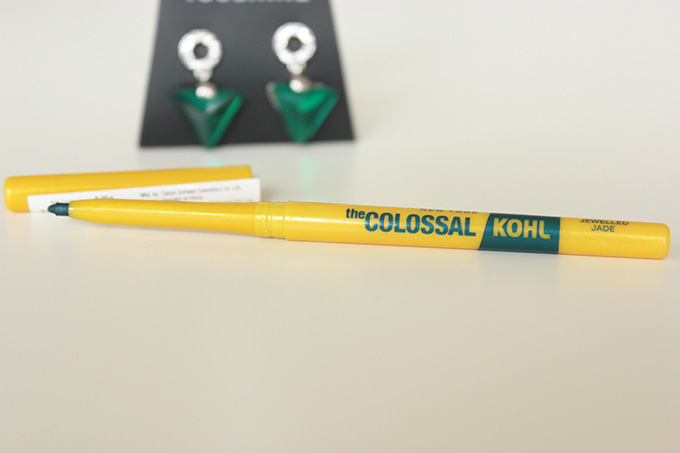 For the satying power, it has got 7-8 hours of staying power without smudging, and after that it starts fading a little. Though this is enough longevity for me, I do not find it staying intact for 12 hours at a stretch. Overall, I am satisfied with the shade and pigmentation.
What I like about 'Maybelline The Colossal Kohl Jewelled Jade'
– Glides smoothly.
– Highly pigmented.
– Smudge-proof.
– Does not irritate the eyes.
– Easily stays on for 7-8 hours at a stretch.
– Reasonably priced.
– The tip is convenient for thin and thick application.
What I do not like about 'Maybelline The Colossal Kohl Jewelled Jade'
– Does not stay for 12 hours as claimed.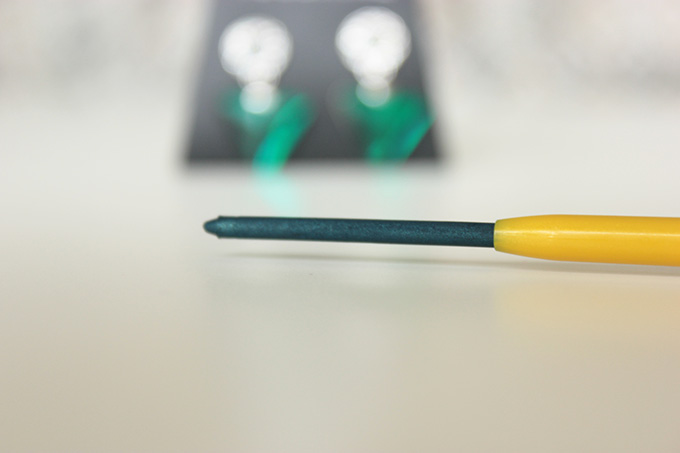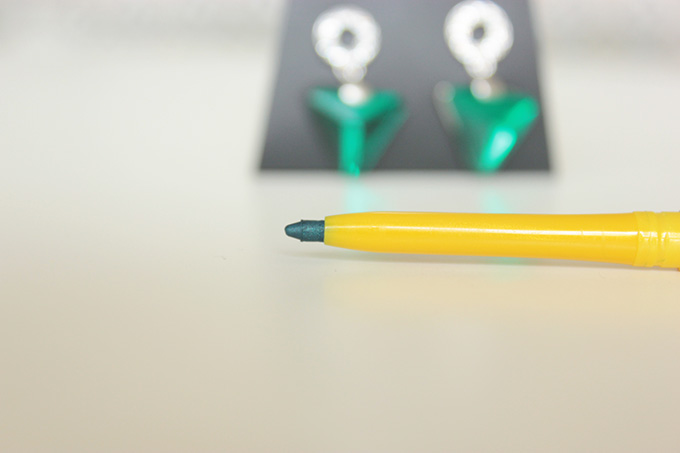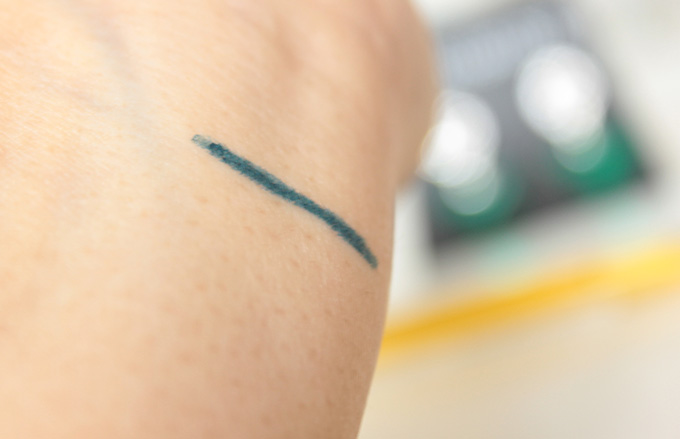 Price of 'Maybelline The Colossal Kohl Jewelled Jade':
Rs 249
BABE Rating:
4.5/5
Final Word:
Peacock blue shade of Maybelline The Colossal Kohl Jewelled Jade is a treat for the eyes. Its soft texture makes the pencil glide effortlessly on the eyelids leaving a pigmented look. The subtle sheen makes it a good fit for day and night time wear, and the fact that it does not irritate the eyes encourage me to deviate from the usual black kohl look on the waterline. If you too are looking for a different color for the eyes, I would suggest trying this one.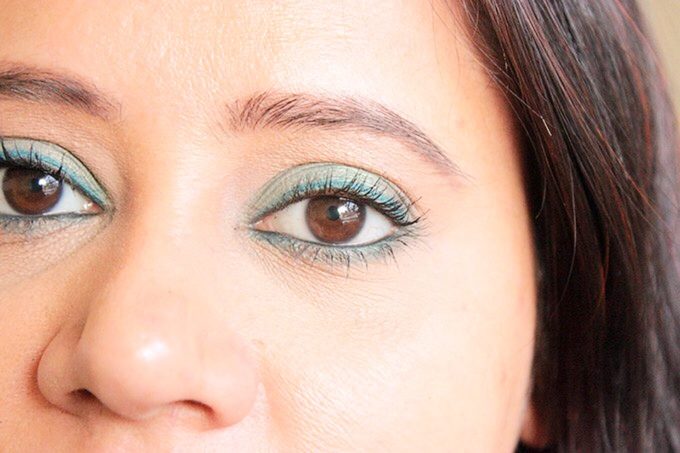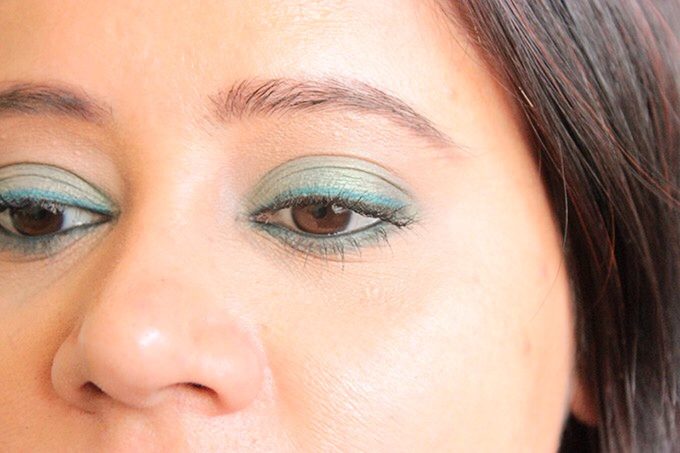 You might also like reading these related topics:
Maybelline Eyestudio Vivid and Smooth Eye Liner in Ocean Blue Review
L'Oreal Infallible Silkissime Eyeliner Silver Review Swatches
L'Oreal Paris Infallible Silkissime Eyeliner Pure Purple Review Photos Swatches
L'Oreal Paris Infallible Silkissime Eyeliner Gold Review Photos Swatches
Catrice Longlasting Eye Pencil Waterproof 060 Moss Undercover Review Swatches
Wet n Wild Coloricon Kohl Eyeliner Calling Your Buff Review Swatch
NYX Auto Eye Pencil Sapphire Review Swatches
Mac Technakohl Liner Eye-Liner Kajal Graphblack Review