Since the moment I got the Infallible silkissime eyeliners I was waiting for the right moment to try them out. The three shades that I have received are pure purple, gold and silver, and all of them bright shades with satiny finish so I could not wear them like my usual black eyeliner. I was dying to create makeup looks using these eyeliners as it is very unconventional of me to try shimmery eyeliner. So when I could not find the much awaited opportunity, I created this look just for the usual weekend shopping. This is my first review of the three infallible eyeliners, and I am reviewing the gold one today. Let's go through the review.
What the product says:
Enjoy beautifully defined eyes for up to 16 hours! Infallible® Never Fail Eyeliner is L'Oréal's most advanced mechanical liner with superior long-wearing technology. The rich and creamy formula glides on easily and evenly and sets quickly for fade-proof color.
Ophthalmologist-tested.
Suitable for sensitive eyes and contact lens wearers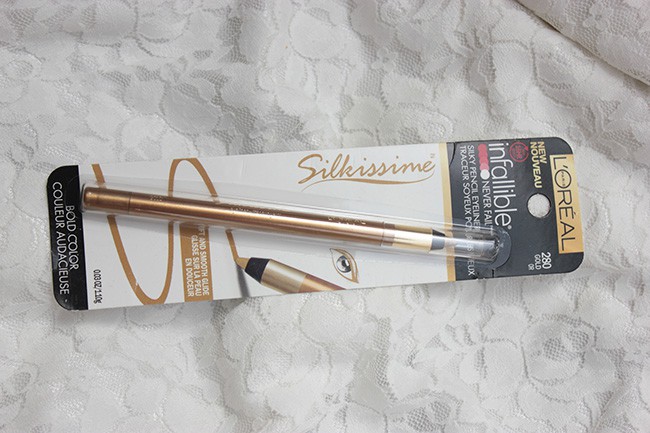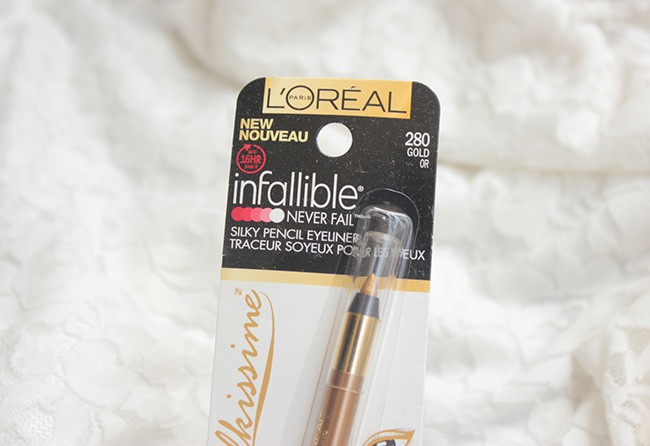 My take on 'L'Oreal Paris Infallible Silkissime Eyeliner Gold'
It comes in the cardboard packaging, where the eyeliner is peeking out through the transparent plastic. Getting it out of the hard plastic is a task as I needed to exert a lot of pressure to detach it from the packaging. And, I think this is good because it saves the eyeliner from getting damaged. The back of the hard paper contains a brief note about the eyeliner, its ingredient list, pricing, etc.
It is a pencil eyeliner, no, not a roll-on one. It needs to be sharpened. I am not sure if the sharpener has to be purchased separately or it is included in the price of the eyeliner. My previous sharpening experiences have been bad so I want to take precaution this time by investing in the right sharpener that is specifically made for these eyeliners. And based on those bad experiences, I prefer the roll-on eyeliner or lip liners to the sharpening ones as they waste very less product (the residual product that is left in the end in roll-on pencils) in comparison to sharpening. Anyways, the L'Oreal Infallible eyeliners did not come with a sharpener but I would buy it from L'Oreal counter as I do not want to sharpen it with just any sharpener.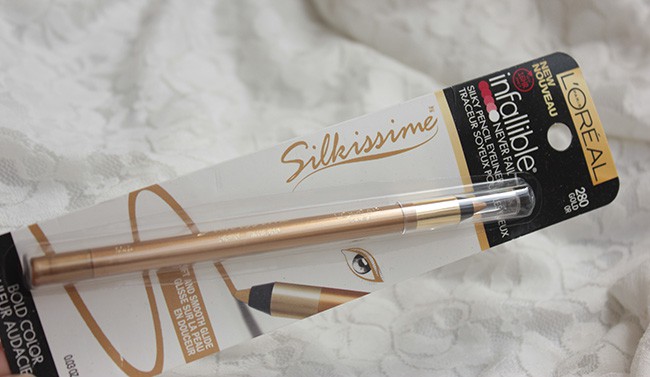 L'Oreal Paris Infallible Sikissime eyeliner in gold is subdued golden shade with satiny finish. It does not have yellow undertone so it can be worn without a loud look. When applied above black eyeliner it stands out and becomes more appealing. It gives almost opaque coverage in one stroke, and that is buildable in intensity but caution has to be taken to keep it even. I love the satiny finish as it gives a glamorous party look without making it too loud.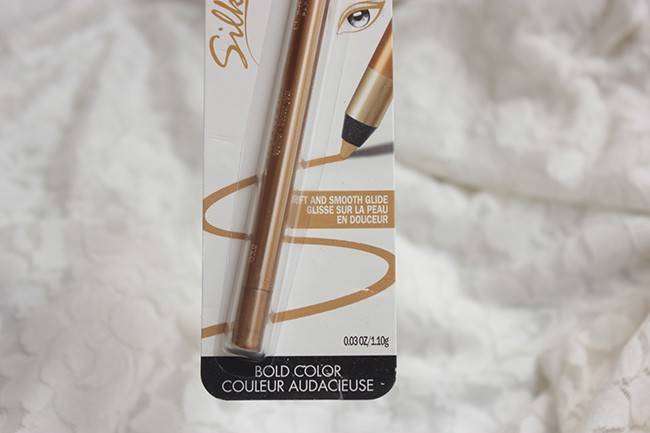 The is a long wearing eyeliner, the brand claims a staying power of up to 16 hours but I do not wear makeup for that long. I wore this eyeliner for maximum 8 hours and throughout this span it maintained the look I achieved in the very first hour. It does not smudge or budge during the wearing time, and is also water resistant. That said, it does not easily come off with water, I have to use a makeup remover to take off the eyelids. It sets quite quickly which is a pro and con in itself because if you want to smudge it out you might find this formula drying too quickly.
The best thing I like about gold and other infallible eyeliners is that they have super creamy texture. The pencil glides on the eyelids like butter on a hot toast (seriously!!). It does not require any pressure to leave a solid impression and neither do I have to pull it along to get opaque coverage. It provides excellent pigmentation in single stroke without any tagging or pressure. I love the color pay off it gives in one stroke.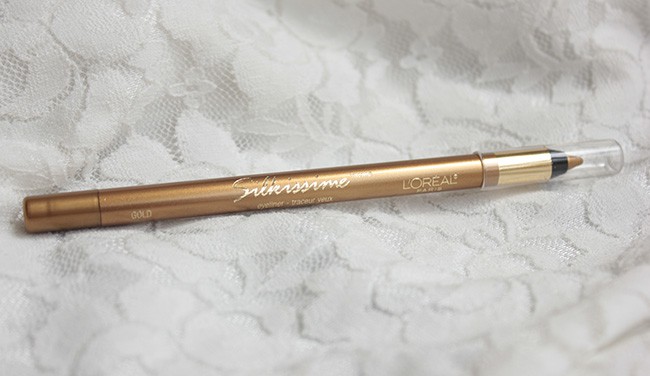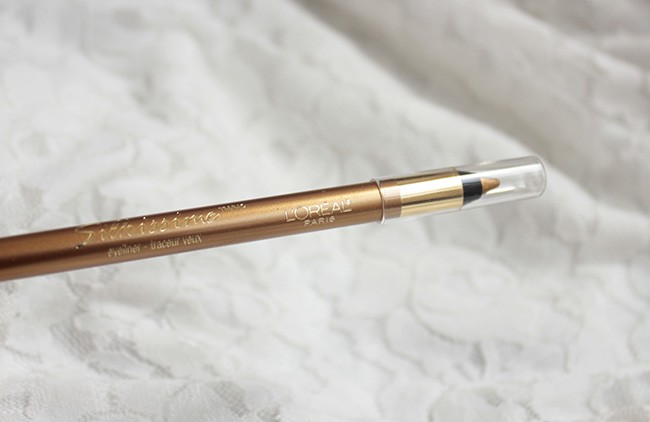 What I like about 'L'Oreal Paris Infallible Silkissime Eyeliner Gold'
– Glides like butter, does not require any force or pressure.
– Super creamy texture.
– Excellent pigmentation.
– Good staying power – stays intact for up to 8 hours.
– It gives almost 90% opaque coverage in one stroke.
– Satiny finish makes it appropriate for party looks.
– It sets quickly, which might be a problem if you want to smudge it out.
– Once set it does not smudge or move from its place at least for 8 hours at a stretch.
– Feels light on the eyes.
– Water-resistant, does not come off easily.
What I do not like about 'L'Oreal Paris Infallible Silkissime Eyeliner Gold'
– It has to be sharpened, which leads to wastage of product.
– 16 hour staying claim is not true, and I do not even wear my makeup for 16 hours at stretch.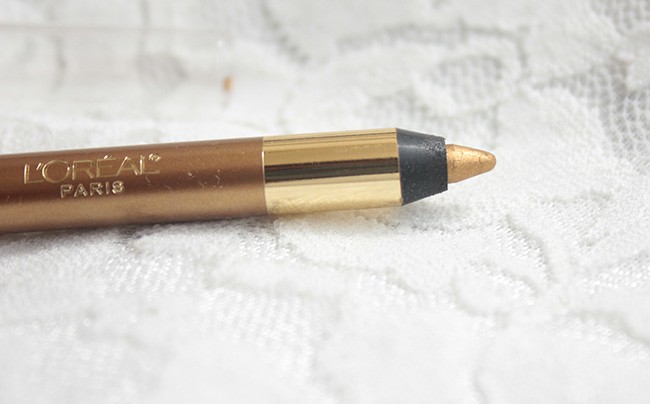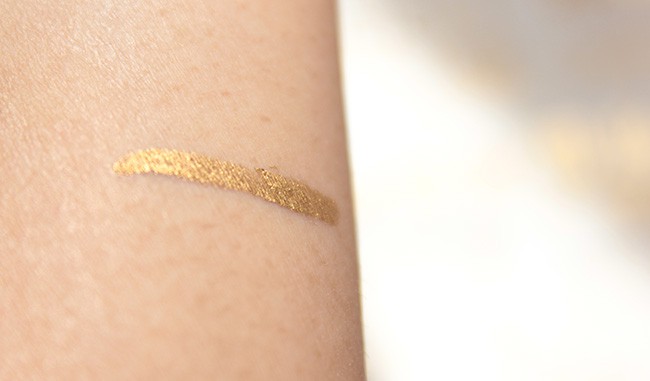 Price of 'L'Oreal Paris Infallible Silkissime Eyeliner Gold': Rs 575 for 1.1 g
Ingredients of 'L'Oreal Paris Infallible Silkissime Eyeliner Gold'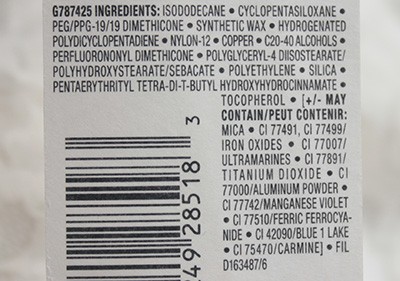 BABE Rating: 4.5/5
Final Word: I am impressed with creamy formula of 'L'Oreal Paris Infallible Silkissime Eyeliner Gold' eyeliner. The eyeliner is highly pigmented, sets quickly, provides good coverage and stays on for 8-9 good hours. The only thing I do not like about this eyeliner is the sharpening, and I hope that once I buy the specific sharpener that will be also be taken care of. Overall, I recommend this eyeliner as I feel the subdued gold shade, pigmentation, texture and finish make it a good addition in the makeup collection.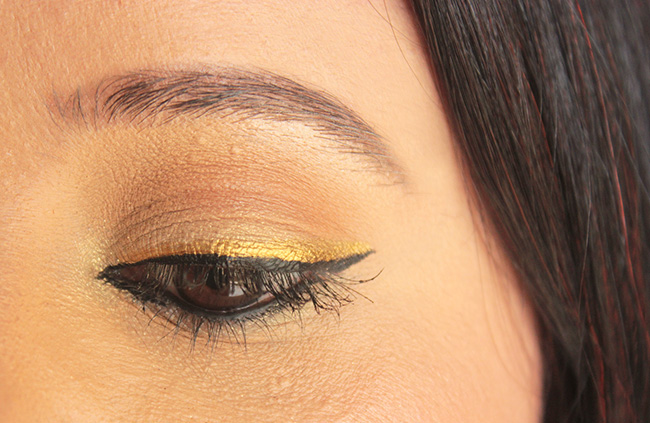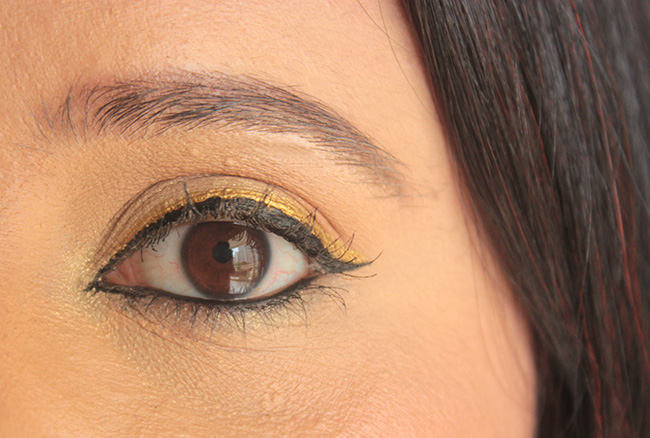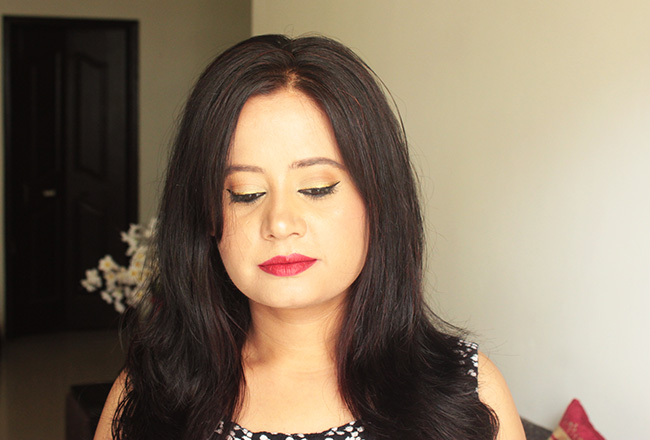 You might also like reading these related topics:
Catrice Longlasting Eye Pencil Waterproof 060 Moss Undercover Review Swatches
Wet n Wild Coloricon Kohl Eyeliner Calling Your Buff Review Swatch
NYX Auto Eye Pencil Sapphire Review Swatches
Maybelline Eyestudio Vivid and Smooth Eye Liner in Ocean Blue Review
Mac Technakohl Liner Eye-Liner Kajal Graphblack Review