Hi Everyone,
Here is another addition to my nail polish collection – Mysterious Icon from L'Oreal color riche range. Well, this is not the first time I am using this nail polish. It is my second bottle of the same shade. If you will read the review further you will come to know why I keep repurchasing this shade. Enjoy the review and do let me know how you find this shade.
My Take on 'L'Oreal Color Riche Nail Polish Mysterious Icon'
L'Oreal color riche mysterious icon nail polish comes in a sleek cube shape glass bottle. It has a golden cap that bears the shade number. Like most of the nail polishes, it is a see through bottle so you can easily figure out the shade even if the SA is out of tester. But I personally prefer swatching a nail polish before purchasing it. The color may look good in the bottle but it may not suit my skin tone, that's why I always insist the SA to at least allow me to dot it on my nails to see whether the color goes well with skin tone.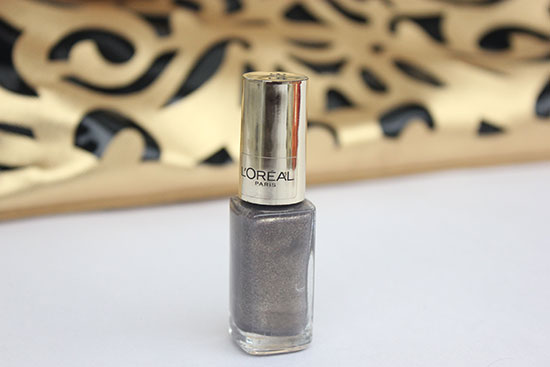 Mysterious Icon is a muted color that does not look very flashy or over the top. Inside it looks dark grey, the moment it comes in contact with light (flash or sunlight) it gives an impression of dark brown shade. Gold shimmer is somewhat visible without light but makes a strong mark when the nails are under light.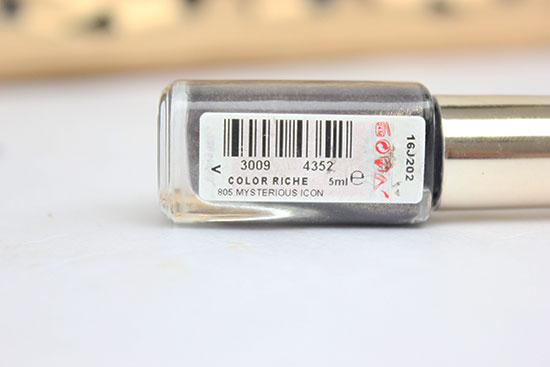 The brush holder is long so can be conveniently used. The bristles are thick and wide; in just one stroke the entire nail bed is covered. If you have really broad nails you would take maximum 2 strokes to cover the nail. In my opinion, brush thickness matters a lot- the thicker and wider the brush lesser are the chances of streakiness.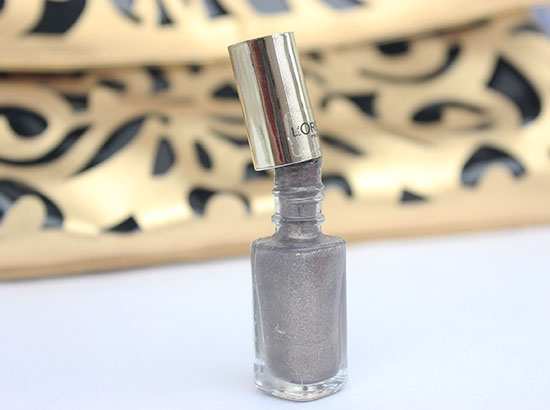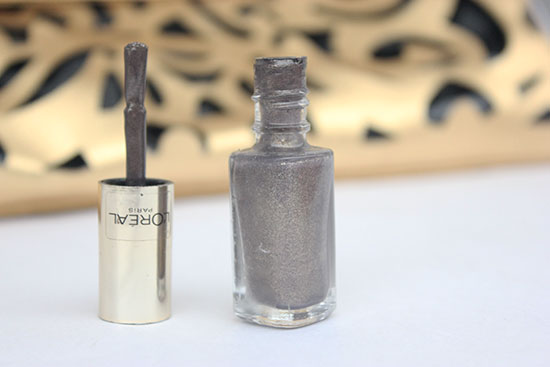 It has smooth texture with rooted golden shimmer. In just one stroke it provides 70% opacity and 2 strokes are enough for 100% opaque look. Applying this nail polish is super easy – first because of the thick brush and secondly because it dries in no time. If you are going for just 1 coat then by the time you will polish all the nails your nail paint will be almost dried. For 2 coats, it takes couple of minutes to allow you to resume your chores.
The staying power is average- stays intact for 2 days after which the shine starts fading and by day 3 it starts coming off the tips. If you wear a single coat you will probably start seeing the breaking much sooner. So I would suggest going for two coats to make the nail polish last for long.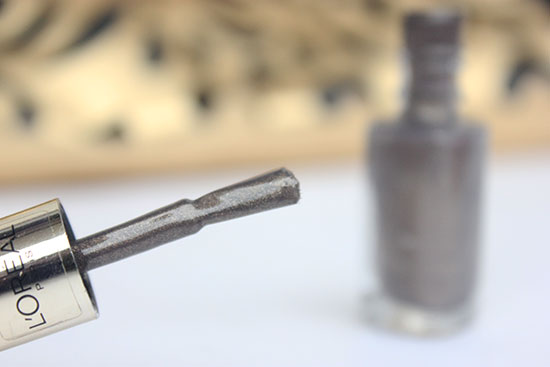 What I like about 'L'Oreal Color Riche Nail Polish Mysterious Icon'
– It does not much time in drying.
– Wide brush that covers the nail bed in one stroke.
– Good opacity.
– Smooth non-streaky finish.
– Decent gold shimmer that makes it apt for daily wear.
– It has convenient to use long brush holder.
What I do not like about 'L'Oreal Color Riche Nail Polish Mysterious Icon'
– It should have stayed intact for slightly longer.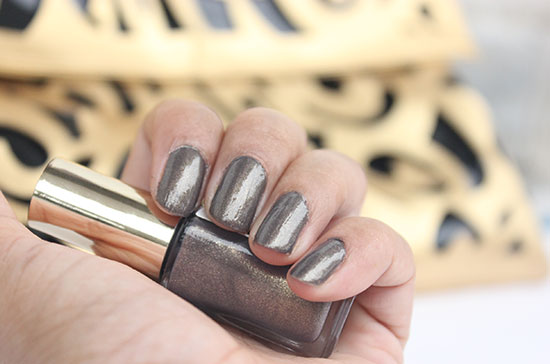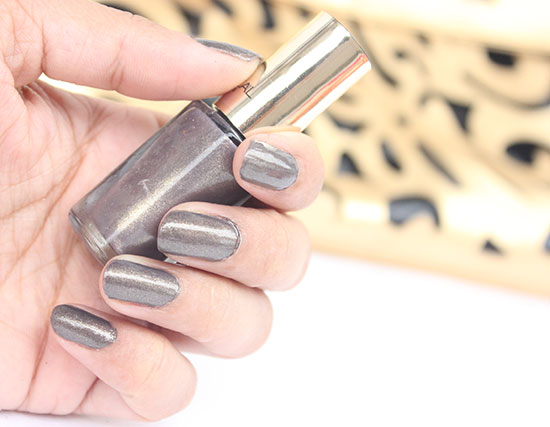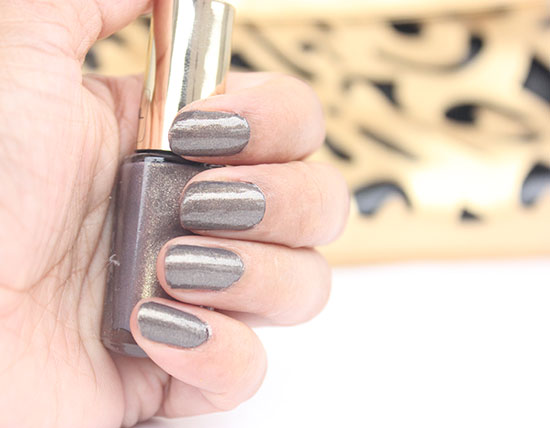 Price of 'L'Oreal Color Riche Nail Polish Mysterious Icon': INR 235 for 5ml
BABE Rating: 4.5/5
Final Word: I love the brush, formula and finish of this nail polish. It is a lovely color and the brush makes it very easy to work with. The staying power is average but not a put off factor. With two coats you can easily make it last for 3-4 days. Overall, it is a good investment considering the ease of application and finish.
You may also like reading these related topics
Maybelline Color Show Glitter Mania Nail Paint-Dazzling Diva (602) Review,Swatches
Maybelline Color Show Glitter Mania Nail Paint – All That Glitters (601) Review
Maybelline Color Show Glitter Mania Nail Paint – Pink Champagne (607) Review
Maybelline Color Show Nail Polish Ladies Night Review Swatches
Maybelline Color Show Mint Mojito Nail Polish Review Swatches
Maybelline Color Show Nail paint Nude Skin (015) Review
Maybelline New York Color Show Nail Paints
Maybelline Color Show Nail Polish Keep Up The Flame 215 Shade Swatch Review
Maybelline Color Show Nail Polish Crazy Berry Review Swatch
Revlon Nail Enamel Polish in Shade Cherry Berry 421 Review Swatch
Maybelline Color Show Nail Polish Moon Beam 103 Review Swatch