Today I am going to review I love coconut & cream exfoliating shower smoothie. Is not that a cute product name- a smoothie for shower? Well, the brand name is even cuter and appropriate for people like me who cosmetics. It is a US based brand called 'I love cosmetics', and is more into bath and body products such as shower gels, lotions, hand creams, body butters, etc. This is the first time I am using a product from this brand and believe me, when I saw the packaging it was love at first sight. Now, let's see how much impressed I am with its performance but before that have a look at what the product claims.
What the product says
Feel idyllic with a burst of sweet coconut and velvety cream.
All our exfoliating shower smoothies contain natural Almond Shell to help exfoliate and keep your skin smooth and soft. Oh and for the record our fabulous products are Soap Free and Paraben Free.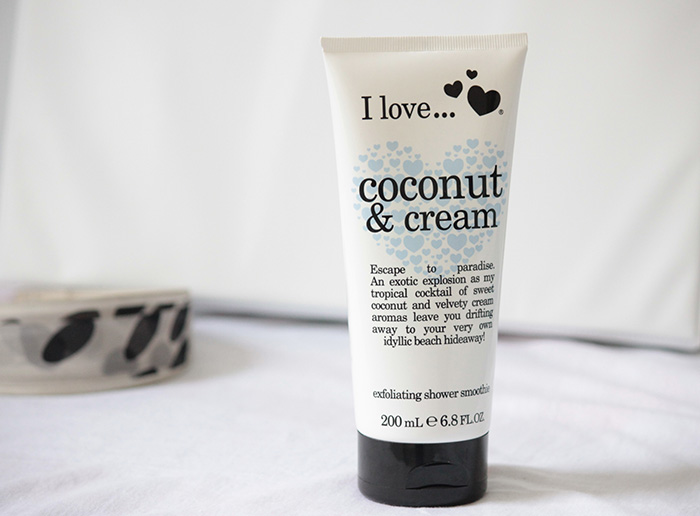 My take on 'I Love Coconut & Cream Exfoliating Shower Smoothie'
The shower smoothie is packed in a white colored flip open plastic tube with black cap. There is a lot of text written on the tube like what to expect from this shower smoothie and how to use it, still I find the packaging super cute. Especially the three little hearts beside the brand name- "I love…" look super cute. Even the quality of the plastic is good- the tube feels soft and easily squeezable. Also, the cap closes with a sound ensuring the contents are sealed properly.
The moment I open the cap, surroundings get filled with a pleasant aroma of coconut. It is yummy coconut fragrance that always provides a rich bathing experience. The shower cream is off-white in color with minuscule brown beads, which feel gentle on the skin and do the exfoliation job. It has semi-thick consistency which makes it possible to use the shower smoothie in various ways. Usually, I put on wet exfoliating gloves but as per the usage instructions you can also squeeze it generously into the palm of your hand and directly rub it all over the wet body.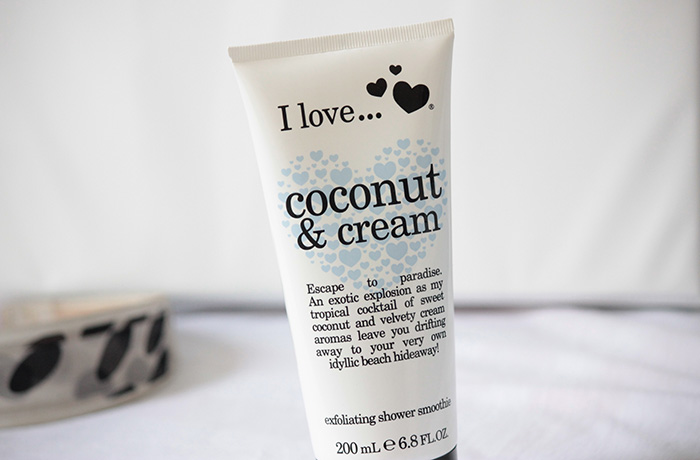 It creates a lot of lather – I won't say it produces abundant lather still the quantity of lather is enough to have a satisfactory bath. Since I love my bathing products to lather so it is a very important criterion for me and fortunately I am satisfied with the quantity of this shower smoothie's lather production and will continue using it.
It makes the skin squeaky clean that makes me feel that the exfoliation thing really works. My skin feels clear of all bumps and impurities yet remain moisture enriched. The combination of coconut and cream is ideal for maintaining the natural moisture level of the skin and this is what this shower smoothie is doing. It keeps the skin moisturized and at ease even after bath while making it clear of all external impurities. Being formulated with moisture enriching ingredients, I was expecting it difficult to rinse off but thankfully it gets off the body at no extra effort. I would say it is an ideal combination of exfoliating body scrub and moisturizing lotion. I love coconut & cream exfoliating shower smoothie is appropriate for all skin types and provides a rejuvenating bathing experience.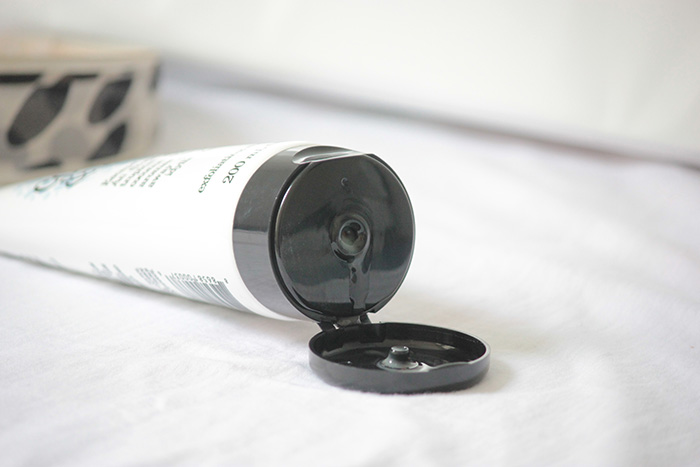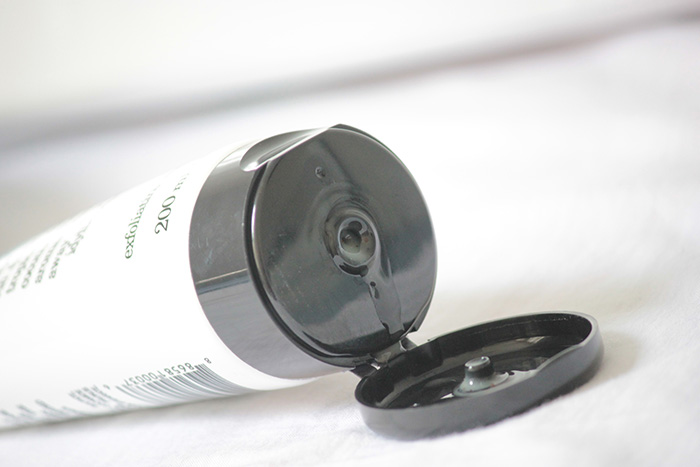 What I like about 'I Love Coconut & Cream Exfoliating Shower Smoothie'
– Super cute packaging.
– Pleasant fragrance of coconut and velvety cream.
– Creates satisfactory lather.
– Leave the skin clean and soft.
– Maintains skin's natural moisture balance.
– Easy to rinse off.
– Provides rejuvenating bathing experience.
What I do not like about 'I Love Coconut & Cream Exfoliating Shower Smoothie'
– Not easily available.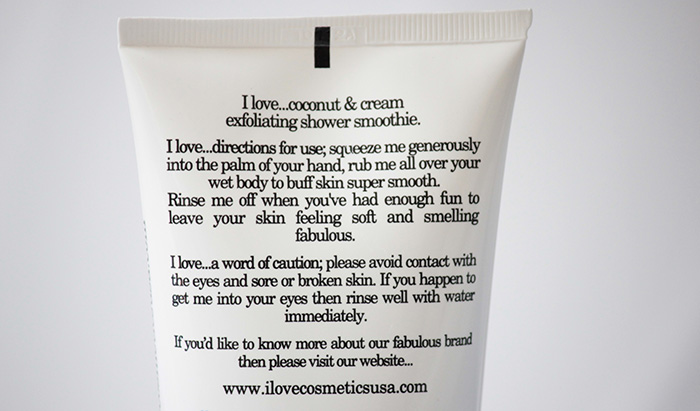 Price of 'I Love Coconut & Cream Exfoliating Shower Smoothie': Approximately 2.99 pounds for 200 ml
Ingredients of 'I Love Coconut & Cream Exfoliating Shower Smoothie'
AQUA (WATER), SODIUM LAURETH SULFATE, ACRYLATES COPOLYMER, GLYCERIN, SODIUM CHLORIDE, COCAMIDE DEA, PARFUM (FRAGRANCE), COCAMIDOPROPYL BETAINE, PRUNUS AMYGDALUS DULCIS (SWEET ALMOND) SHELL POWDER, GLYCOL STEARATE, SODIUM HYDROXIDE, PEG-7 GLYCERYL COCOATE, COUMARIN, STYRENE/ACRYLATES COPOLYMER, BENZOPHENONE-4, DISODIUM EDTA, BENZYL ALCOHOL, MAGNESIUM NITRATE, METHYLCHLOROISOTHIAZOLINONE, MAGNESIUM CHLORIDE, METHYLISOTHIAZOLINONE.
BABE Rating: 4.5/5
Final Word: Formulated with the goodness of coconut, I love coconut & cream exfoliating shower smoothie is a 2-in-1 product. It acts as a body scrub and also as a body lotion. The small exfoliating particles are gentle on the skin and work effectively in leaving the skin clean & clear. The presence of coconut and cream keeps the skin moisturized, and gives it a healthy look. Overall, I find this shower smoothie appropriate for all skin types and if you are looking a moisturizing body wash or shower gel you should definitely give this a try.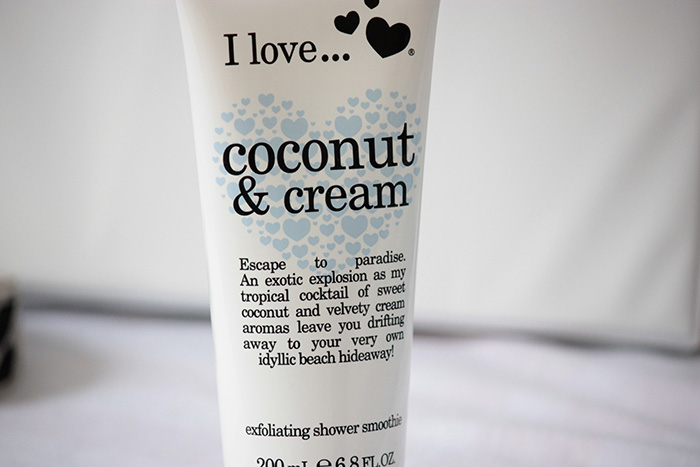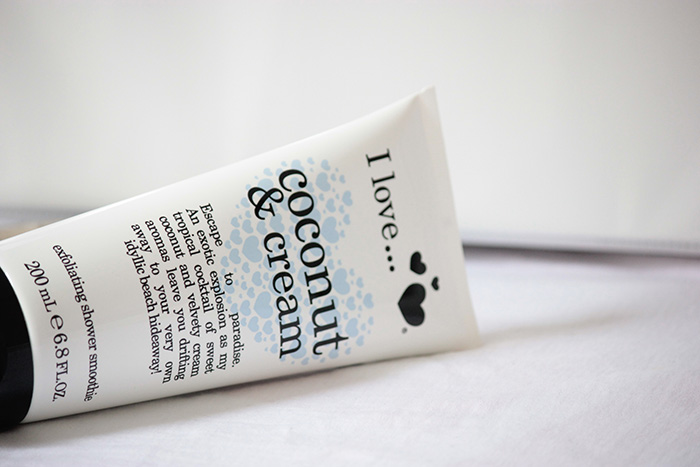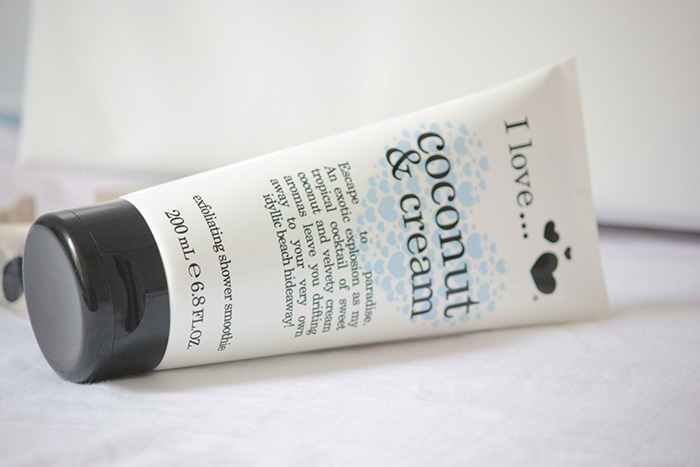 You might also like reading these related topics:
Herbs & More Vitamin Therapy Body Wash Review
Nivea Frangipani And Oil Shower Gel Review
Cinthol Splash Cooling Shower Gel Review
Marks And Spencer Blissful Strawberry Shower Gel Review
Marks and Spencer Fresh Aloe Vera Shower Gel with Added Moisturizer Review
Marks and Spencer Pampering Cocoa Butter Shower Gel Review