A couple of weeks ago, I reviewed Himalaya Herbals Pure Skin Neem Facial Kit. This kit is specially assembled for people with oily skin. Since I have got my hands on the kit, I have been using all the products very religiously. Of all the products, the one that I like the most is this Himalaya Herbals Purifying Neem Pack. If you have oily skin you should definitely try this pack, especially in the summer/humid season. Now, let's see in detail why I like this face pack so much but first have a look at the product description.
What the product says
Himalaya's Purifying Neem Pack brings together the goodness of Neem, Fuller's Earth and Turmeric, which work together to regulate excess oil secretion, clean clogged pores and prevents the recurrence of pimples.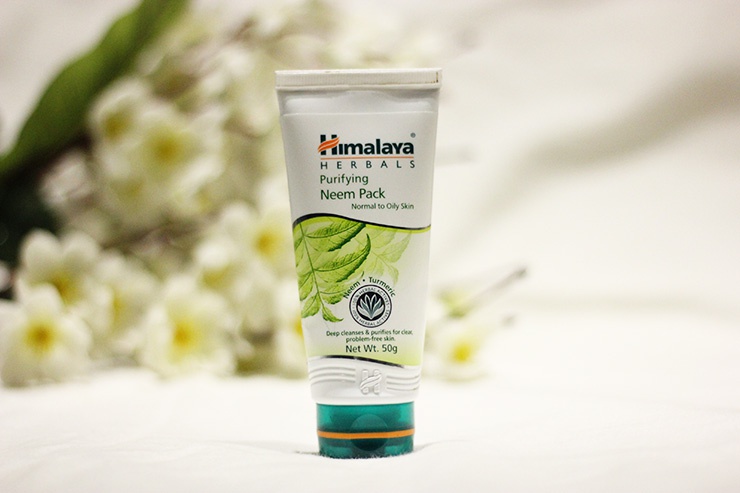 My Skin Type- Oily/Acne-prone
My take on 'Himalaya Herbals Purifying Neem Pack'
Purifying Neem pack comes in a flip open tube. It is a white colored tube that has a bottle green colored cap and similar colored text on it. The tube is easy to squeeze so it is simple to take out the contents. The cap closes properly ensuring that the contents are secured and sealed. The backside of the tube contains usage instruction, key ingredients list, batch number, price etc. The pack is available in 2 sizes- 50g and 100g. To the first timers, I would suggest going for the 50g pack first and then if you like how to fares on your skin go for the 100g pack. Overall, the packaging is simple and convenient to use.
The face pack is of seaweed green color. Some people might not like the color but personally color does not matter to me as long as the product is performing well on the skin. It has a soothing fragrance that feels like a mix of Neem, Glycerin and Fuller's Earth. If you do not like the color at least you would find the fragrance much more tolerable. For the consistency, it has got semi-thick constancy which makes uniform application easier. I apply the pack using my finger tips and I am able to apply an even layer all over the face and neck. It neither drips nor becomes very hard.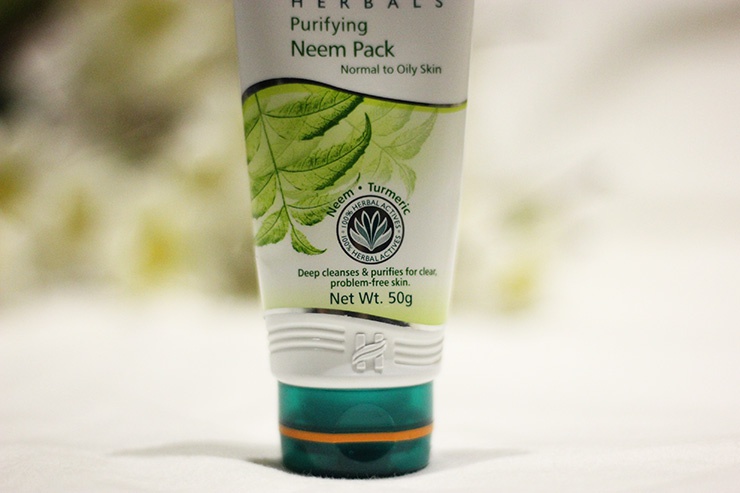 Himalaya purifying Neem face pack contains the goodness of Neem, Turmeric and Fuller's Earth. All these three ingredients are considered beneficial for human skin- mainly oily skin.
Neem is known for its antibacterial properties. It improves skin immunity and helps it combat bacterial infections that lead to acne and pimples.
Turmeric is an antiseptic that works as an anti-inflammatory agent. It reduces the redness and pain associated with acne.
Fuller's Earth is a natural absorbent. It controls the production of oil by sebum glands and reduces the greasiness. It makes the skin clean and complexion clearer.
For the usage, I apply this pack twice a week on the thoroughly clean skin. After leaving it on the skin for good 15 minutes, I wash it off with plain water. It immediately gives a clear and clean skin that speaks of natural glow. Since I have started using this face pack, even my complexion has improved a bit, and so do the acne scars. The greasiness is not 100% cured but I see considerable improvement in that as well and I hope that the consistent usage will combat this problem also. Thankfully, it has helped in curbing existing acne/pimples and also stopped further breakouts. What else I could expect from budget-friendly face pack like this. In my opinion, if you have skin like mine you should definitely give Himalaya Herbals Purifying Neem Pack a try.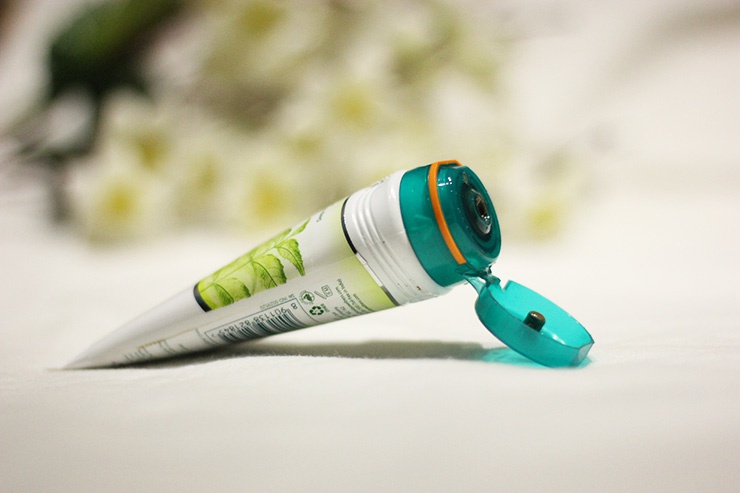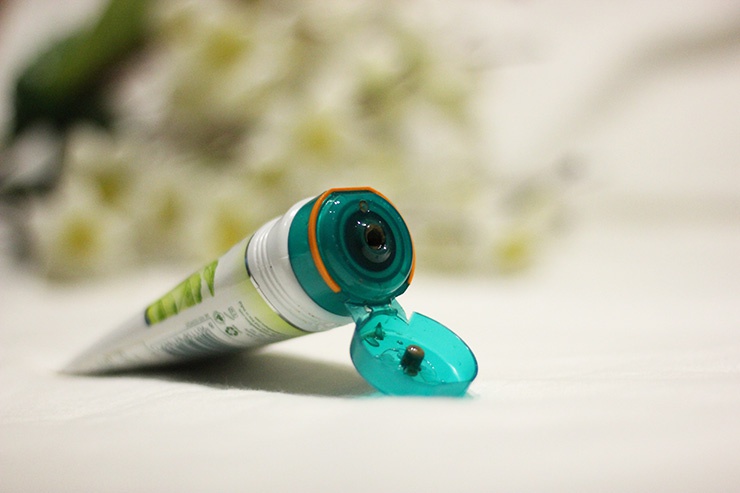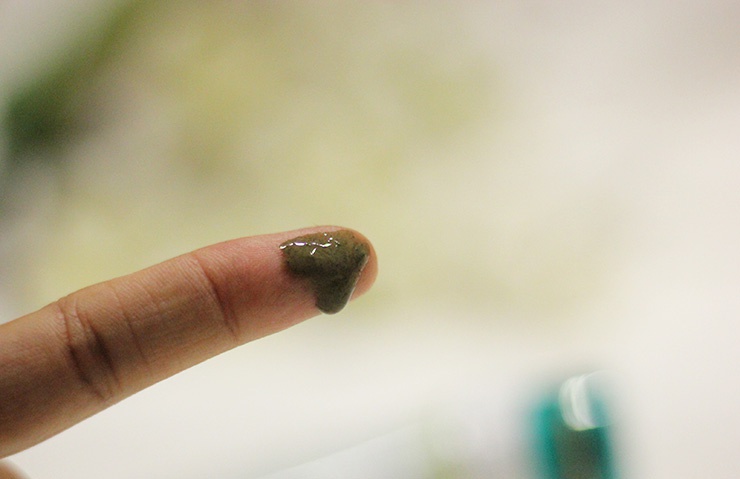 Things I like about 'Himalaya Herbals Purifying Neem Pack'
– Thoroughly cleans the skin.
– Makes the skin clear and matte.
– Helps in the fading of acne scars and blemishes.
– Opens up the clogged pores and helps the skin to breathe.
– Clears complexion.
– Decreases the production of oil by sebum glands.
– It does not cause any skin breakouts.
Things I do not like about 'Himalaya Herbals Purifying Neem Pack'
– Even after rinsing off the pack some residue still leaves behind. The residue can be removed by wiping off the face with a cotton swab filled with mild toner.
Price of 'Himalaya Herbals Purifying Neem Pack'- Rs 70 for 50g
Ingredients of 'Himalaya Herbals Purifying Neem Pack'
The complete ingredient list is not disclosed but the key ingredients are Neem, Turmeric and Fuller's earth.
Final Word- Honestly, I am in love with Himalaya Herbals Purifying Neem Pack. It is a budget friendly option that has numerous skin benefits for the oily skin. It cures pimples, fades scars, clears skin and reduces oil production. I could not have found a better face pack than this in Rs 70. If you too have oily skin that often breaks out go give this pack a try. Who knows, it might suit your skin as well, and then you can thank me later 🙂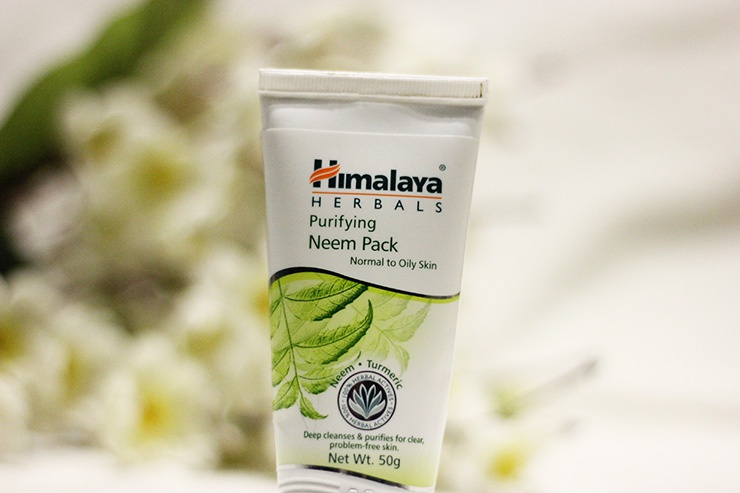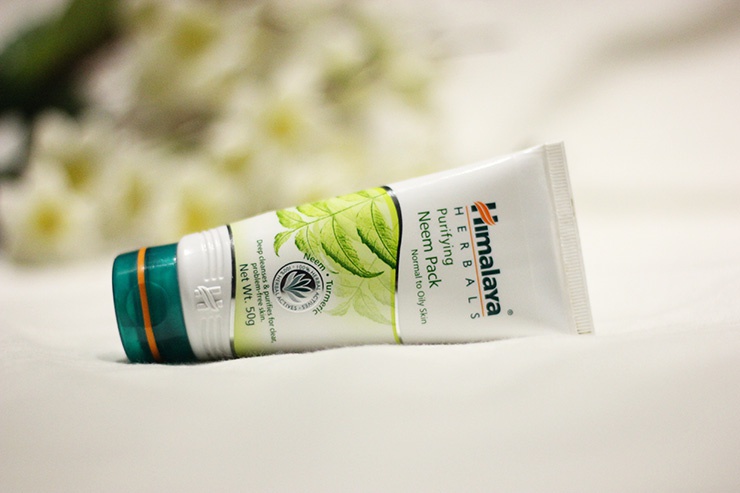 You might also like reading these related topics
QV Face Purifying Mask Review
Patanjali Multani Mitti Face Pack Review
Homemade fuller's earth and honey face pack for soft and glowing
Homemade Multani Face Packs For Acne-Free Fair And Glowing Skin