Hi Everyone! Today, I am reviewing Bliss of earth castor oil. I have been using castor oil for quite a long time as it is beneficial for skin, hair and nails in so many ways. It is an imperative part of my daily skin care routine and I use it in different ways. In today's post, I will tell you the benefits of castor oil and how to use it. Keep reading!
What the product says
Bliss of earth organic castor oil is expeller pressed from the seeds of Ricinus Cimmunis which are directly sourced from the organic farms. It is moisturizing topical oil containing unsaturated fatty acids that offer a multitude of beautifying benefits for the face, skin, hair and nails. It is loaded with anti-oxidants and vitamins including vitamin E making it powerful anti-ageing agent. It increases blood circulation to the skin, increases hair growth and restores a youthful radiant glow to your skin.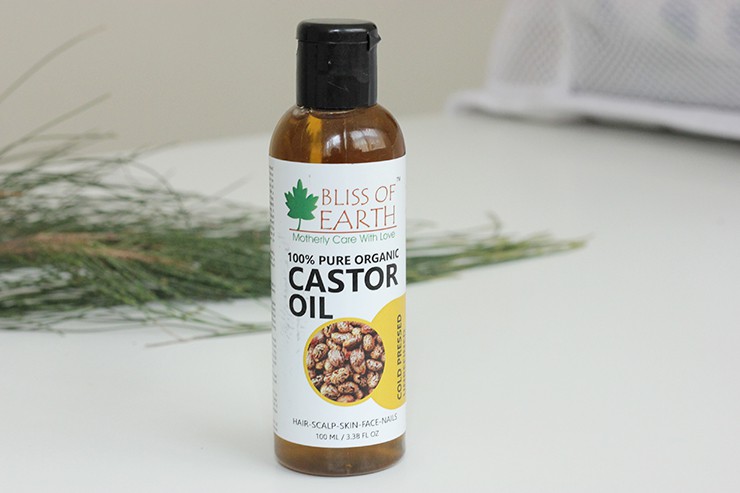 My take on 'Bliss of Earth Castor Oil'
Let's start with the packaging first. The Bliss of earth jojoba oil comes in a 100ml plastic bottle that is transparent, lightweight and easy to carry. The flip open cap prevents the oil from spilling and makes the usage convenient as I can literally count the drops coming out from the nozzle. It is an unbreakable bottle which can later be used as a travel bottle. The label on the bottle carries the description about the oil and the usage instructions, which I find quite useful.
As compared to Jojoba oil, the castor oil has more viscosity, which means it is thick in consistency (thicker than melted desi ghee also known as clarified butter). It is slightly pale in color but it does not leave any stain or transfer to the clothes. The previous castor oils I have used were not this much pale but as far as it does its job I am not concerned with the appearance. The other good thing about this oil is that it is cold pressed oil free of fragrance. So, if you have a sensitive nose you might like using this oil in your daily skin & hair care routine.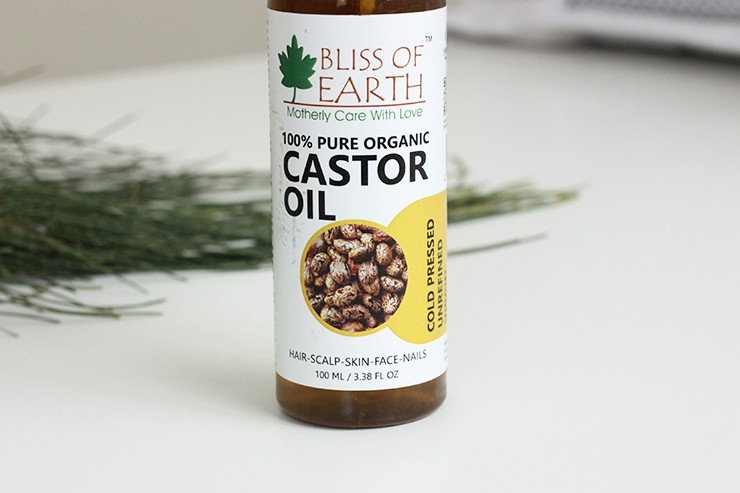 Being thicker in consistency, it requires slightly effort in getting absorbed into the skin. After a couple of minutes of massage, it completely penetrates inside the skin or hair leaving a mild sticky layer behind. That's the reason I always apply it before going to bed so that by the time I have to take shower in the morning all its nutrients gets inside the skin and hair. Before proceeding further let me first tell you the benefits of using castor oil. You can also refer to the post in the clickable link below.
1.It is a moisturizing agent so is an amazing option for dehydrated skin.
2.It works well in reducing the appearance of stretch marks and scars. Since it has high viscosity it keeps the skin moisturized for a long time and increases the elasticity that is required for the pregnant belly.
3.It also helps in triggering hair growth. I mix it with clarified butter (desi ghee) and coconut oil and use the mixture to massage the scalp twice a week. It results in strong lustrous hair and reduces hair fall. Check out the exclusive post on how to strengthen hair and combat hair fall using castor oil.
4.As it boosts hair growth so it can also be applied on sparse eyebrows. Using an ear bud, I apply castor oil on my brows. But be careful with the quantity you take as you would not want it to run into your eyes.
5.It also works great in removing the residual mascara and conditioning eyelashes. Again, take a very little quantity of castor oil on an ear bud and carefully apply it on the eyelashes. You should do it before going to bed. Doing so will strengthen the lashes and eventually make them thicker.
6.If you have brittle nails you can take the help of castor oil to make them strong and long. Massage your nails using castor oil and leave it on overnight. Continuous practice will result in strong nails.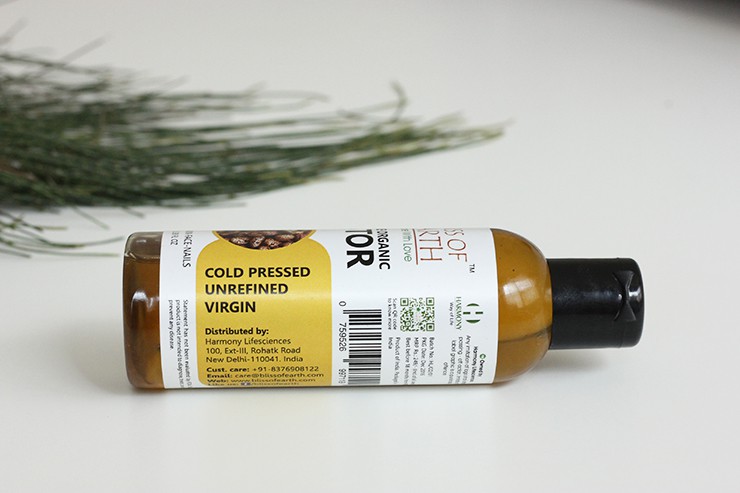 Things I like about 'Bliss of Earth Castor Oil'
– Fragrance-free.
– Contains almost no chemicals.
– Easy to use.
– Moisturizes skin and treats scars & stretch marks.
– Strengthens hair roots and prevents hair breakage.
– Makes nails strong.
Things I do not like about 'Bliss of Earth Castor Oil'
– Leaves slightly greasy layer behind.
– Requires some effort to completely massage it into the skin.
Price of 'Bliss of Earth Castor Oil'- Rs 249 for 100ml
Online availability– Bliss of Earth Castor oil from amazon
BABE Rating- 5/5
Final Word- Overall, Bliss of earth castor oil is multipurpose skin and hair tonic that improves skin appearance and strengthens hair roots. Over time, the usage of castor oil results in improved skin tone and strong lustrous hair. It has been a part of my skin and hair care routine for a long time no, and I absolutely recommend using it.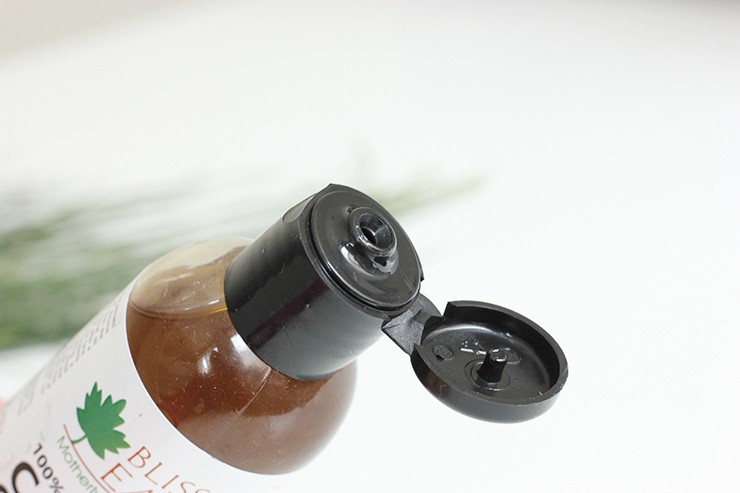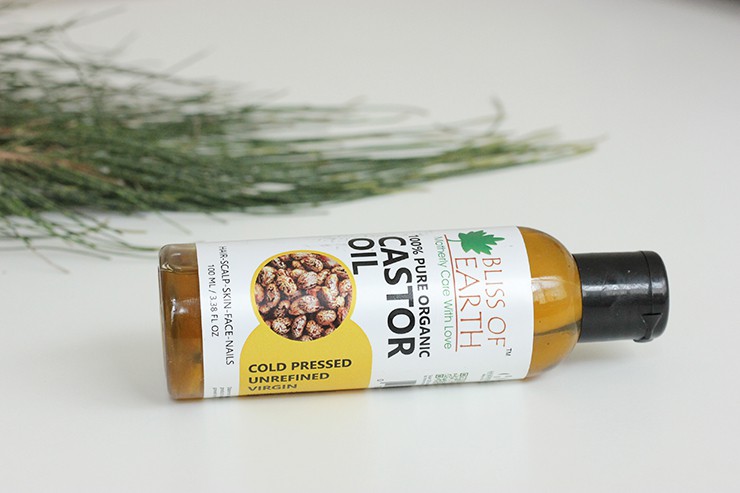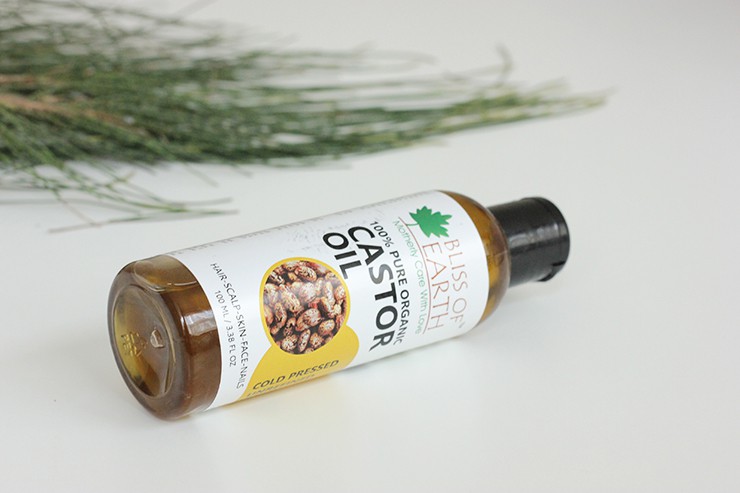 You might also like reading these related topics
Bliss Of Earth Jojoba Oil Review
Bliss Of Earth Premium Essential Oils Review
Bliss Of Earth Essential, Carrier Oils | First Impression<