Hi Everyone! A few days ago I published a first impression post on the Bliss Of Earth products that I received from the brand for trialing. I love using such organic products as I feel these bring more benefit and also have fewer side effects. So, I started using them from the moment I got hold of them and today I am sharing my experience with Bliss of earth premium essential oils.
What the product says:
The use of natural essential oils for aromatherapy is an ancient and time-honored tradition that's been enhancing moods and lifting spirits for thousands of years. Essential oils are liquid plant essences that are genuine reflections of the botanicals from which they're borne.
These oils are highly concentrated and should be used with care. Always use with Bliss of earth carrier oils before any use other than aromatherapy.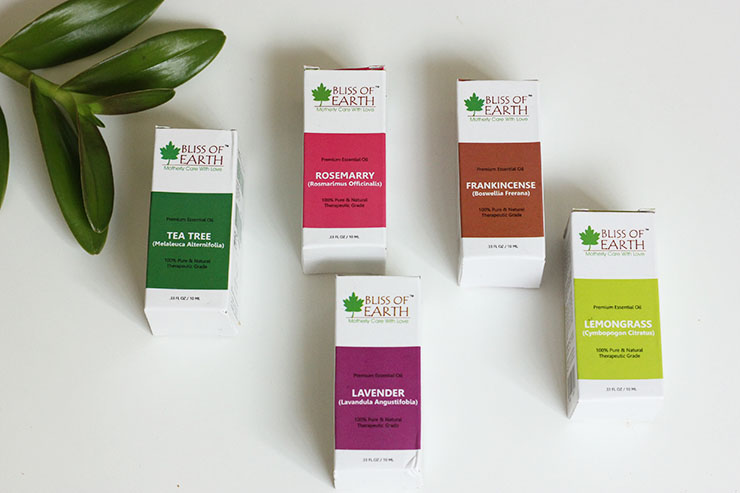 My take on ' Bliss Of Earth Premium Essential Oils '
These essential oils come in 10ml packaging. The outer cardboard packaging contains the pricing, ingredient list and suggested usage of the oils. Inside the outer case, there is brown colored glass bottle that has a screw cap. The outlet of the bottle is safeguarded with a stopper that has a hole at the center. I like it when the liquid products housed in vertical bottles have a stopper at the outlet because it allows me to keep a check on the quantity being poured out. Also, the brown bottles filter out light and maintain the efficacy of the oils. The prices of these oils vary from Rs 299 to Rs 449, which I think depends on the significance of the oil and its manufacturing process.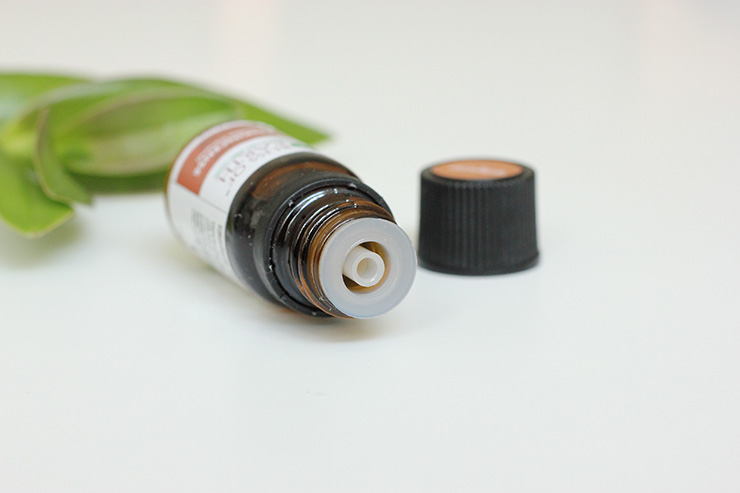 Being highly concentrated, the fragrance of these essential oils is quite strong. The aroma is herbal and medicinal (not that hospital kind), and feels refreshing. I love this fragrance as when it diffuses it creates a relaxing ambiance. In addition to skin care and hair care, the oils can very well be used for therapeutic purpose and aromatherapy. Let's have a look at each variant of essential oil and its usage. A note of caution- since the oils are highly concentrated so they should be diluted with the help of carrier oil before use.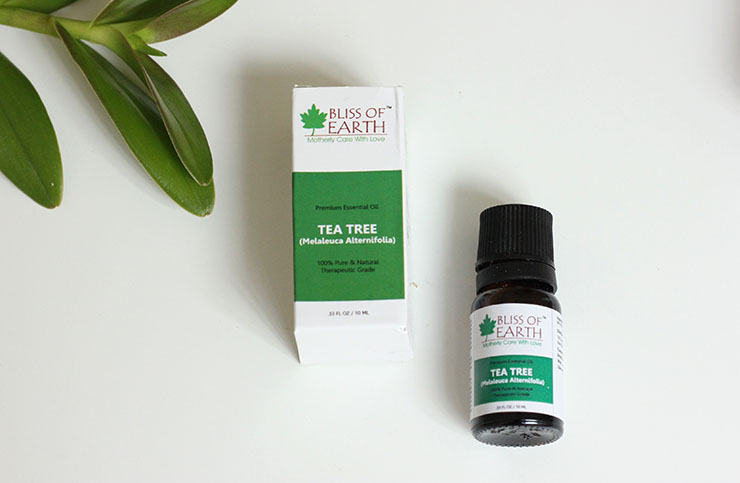 Bliss of earth premium essential oils are available in following 10 variants, and today I will be reviewing five of them.
1) Cedar Wood
2) Citronella
3) Eucalyptus
4) Frankincense
5) Lavender
6) Lemongrass
7) Rosemary
8) Tea tree
9) Sweet Orange
10) Peppermint
Bliss of earth Tea Tree essential oil
Price- Rs 449
Tea tree essential oil is one of the most versatile essential oils. It is widely used by the cosmetics companies in skin care products for its therapeutic usage of curing acne. It can also bring relief from cuts, insect bites, itching, ringworm, and urethritis.
How to use Tea Tree essential oil:
– If you are suffering from painful acne, directly apply a drop of tea tree oil on the affected area before going to bed and you will get relief from inflammation and pain by the morning. For sensitive skin, mix a drop of tea tree oil with a carrier oil before applying it on the skin. Repeat this process for 2-3 days and acne will go away completely.
– Tea tree oil had medicinal properties. Add 5-6 drops of essential oil to the bathing water for a healing bath.
– For people suffering from dandruff, tea tree oil can be very beneficial. Mix few drops of tea tree oil with a carrier oil and massage the scalp. The increases the blood flow and help hair follicles stay healthy. The regular massage using this concoction can also provide relief from unnecessary hair breakage.
– Tea tree oil is an amazing skin tonic. If applied on the skin with the help of carrier oil, it brings relief from itchiness, rashes and heals skin infections.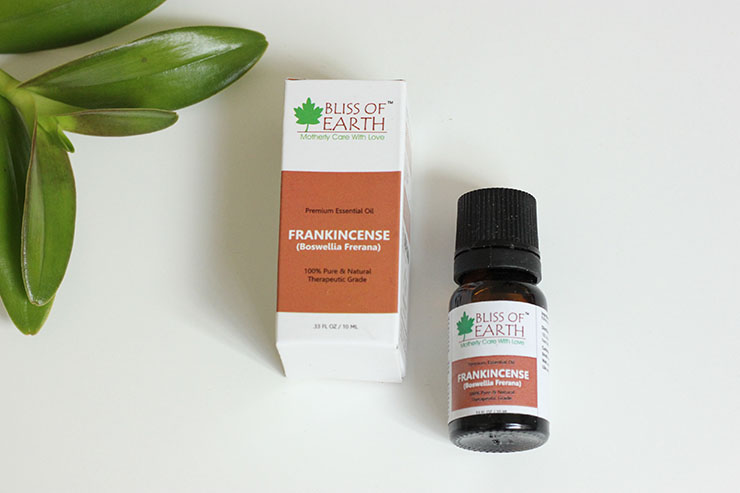 Bliss of earth Frankincense essential oil
Price- Rs 449
Frankincense essential oil has an amazing herbal fragrance that is a beautiful combination of woody and spicy aroma. I love this marvelous scent as it is refreshing and relaxing. In addition to the aromatherapy usage, the therapeutic usage of Frankincense essential oil brings relief from anxiety, bronchitis and stretch marks.
How to use Frankincense essential oil:
– Frankincense oil helps in fighting anxiety so if you are feeling stressful just diffuse a few drops of this oil in an essential oil diffuser or add the drops to lukewarm bathing water. You will immediately experience a feeling of relaxation and peace. The calming scent will also assist in having a sound sleep at night.
– It helps in reducing the appearance of skin scars such as stretch marks, acne scars, blemishes, etc. Mix a few drops of Frankincense oil with a carrier oil or lotion and apply directly to the skin. It is also believed that this oil prevents signs of ageing so the regular usage will strengthen skin elasticity and keep it taut.
– Adding a few drops of Frankincense essential oil to a face steamer will also bring relief from cold or flu. It provides relief from coughing makes breathing easier and decongests the nostrils.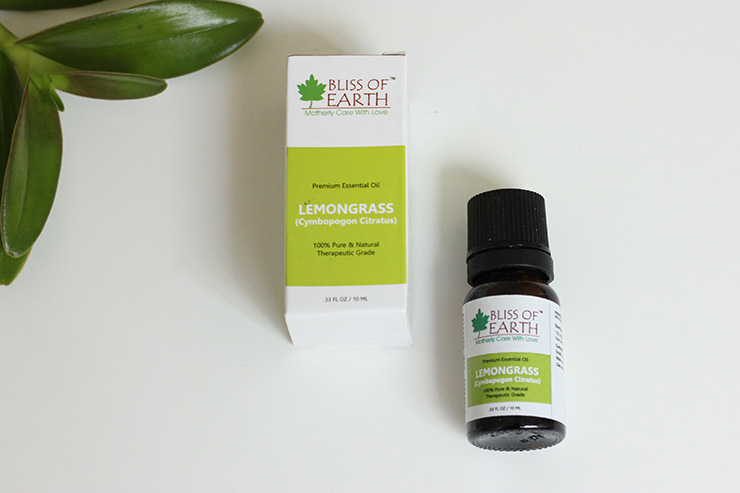 Bliss of earth Lemongrass essential oil
Price- Rs 299
Lemongrass essential oil has a refreshing lemon fragrance. It is a wonderful mix of sweetness and sourness. Every time I smell this oil, my eyes pop open and lips widen into a smile as I literally have to resist myself from tasting this amazingly fragrant oil. For people like me who love this fragrance, this oil would work give remarkable results for aromatherapy. Other than that, it can be used to bring relief from excessive perspiration, muscle aches, and stress.
How to use Lemongrass essential oil:
– Mix a few drops of lemongrass oil to lotion and apply on the areas where you perspire the most. You can also add it to dispensing bottle along with water and use it as spray deodorant. This helps in curbing perspiration and bad body odor.
– Lemongrass oil is an effective skin cleanser. Mix a few drops of the oil to your body lotion, and apply the concoction daily. The astringent and antiseptic properties of lemongrass will help in sterilizing pores and prevent skin infections.
– The calming scent of lemongrass provides relief from anxiety and insomnia. Before going to bed, either put a few drops of the oil into an oil diffuser or massage your skin using the lemongrass infused lotion. The soothing and mesmerizing properties of lemongrass oil can help to improve the quality of sleep.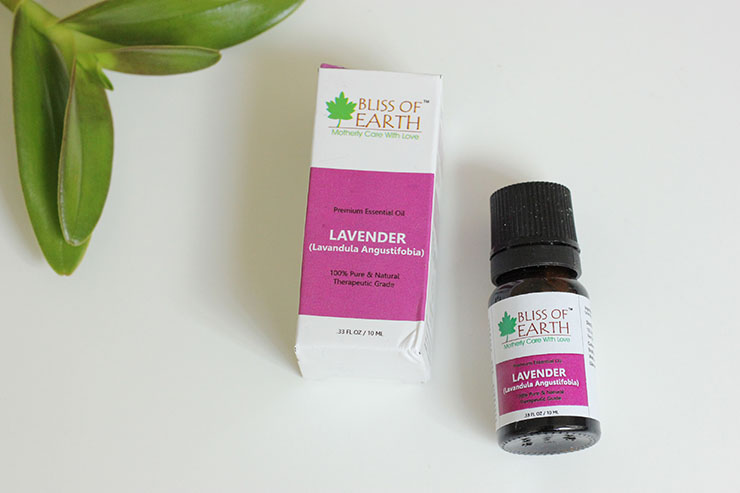 Bliss of earth Lavender essential oil
Price- Rs 449
Unlike the other essential oils' fragrance, the fragrance of Lavender is not very prominent. It has a hint of sweet herbal aroma to it. Lavender essential oil has the mildest smell and most versatile usage of all essential oils. It is used in numerous products for its relaxing effects on the body. For its therapeutic grade, it also highly regarded for the skin. It also helps in bringing relief from aching muscles, bruises, etc.
How to use Lavender essential oil:
– The scent of Lavender oil calms the nerves and fights anxiety. It is also considered safe in pregnancy. While in labor, you can use a few drops of lavender oil in your oil burner to mask the smell of the hospital and make the ambiance calming.
– Add a few drops of lavender oil to moisturizer and apply it on the dry/chapped skin to get relief from flakiness.
– Lavender oil also helps in bringing relief from menstrual cramps. Massage a few drops of the oil on the cramping area to get instant relief.
– To stop itching and swelling, rub a few drops of the oil on the affected and it will bring relief.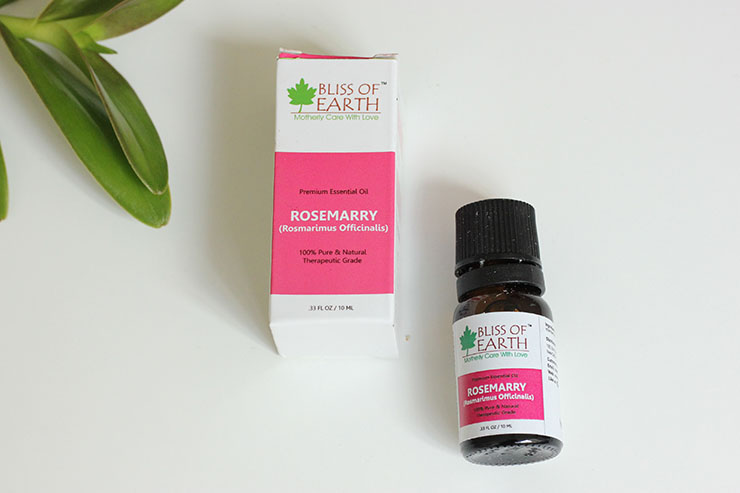 Bliss of earth Rosemary essential oil
Price- Rs 399
Rosemary essential oil too has a mild calming fragrance. The intensity of the fragrance is more than that of Lavender oil but still, it is milder than the fragrance of other essential oils. Rosemary oil is widely used in aromatherapy and massage as it has a calming effect on the nerves and body. In addition, its therapeutic usage involves getting relief from muscular pain, influenza, dandruff & hair problems.
How to use Rosemary essential oil:
– To get relief from muscular pain, apply a few drops of the oil to the aching area and massage gently. The anti-inflammatory properties will soon kick in and you will get relief from muscular aches.
– Add a few drops of Rosemary oil to the steamer, and inhale the steam. It will help relieve the symptoms of cold or flu. You can also massage a few drops of the oil on the chest for speedy recovery from flu.
– Rosemary oil is known for stimulating hair growth and strengthening hair follicles. Mix a few drops of Rosemary oil to a carrier oil (almond oil, etc) and use this blend to massage scalp. This can prevent baldness and treat dandruff.
– This oil also helps in improving memory. To make that happen, you can either diffuse it for 1 hour or mix a few drops of rosemary oil with almond oil and massage your head & neck with this potion.
Shelf life of ' Bliss Of Earth Premium Essential Oils ': 24 months from the date of manufacturing.
Availability of ' Bliss Of Earth Premium Essential Oils ': From amazon.in
BABE Rating: 5/5
Final Word: Essential oils are much better alternatives to chemically formulated cosmetics or medicines. Their positives outnumber the negatives. These oils are not required to be consumed to calm the nerves and ease the senses. Their acclaimed usage in aromatherapy brings speedy relief from aches and discomforts. In my opinion, essential oils are a way to stay close to nature and adopt its ways of curing the human mind and body with its motherly touch.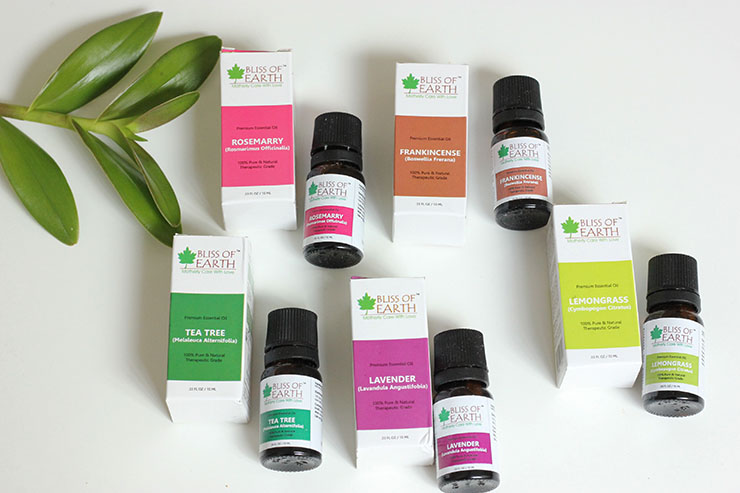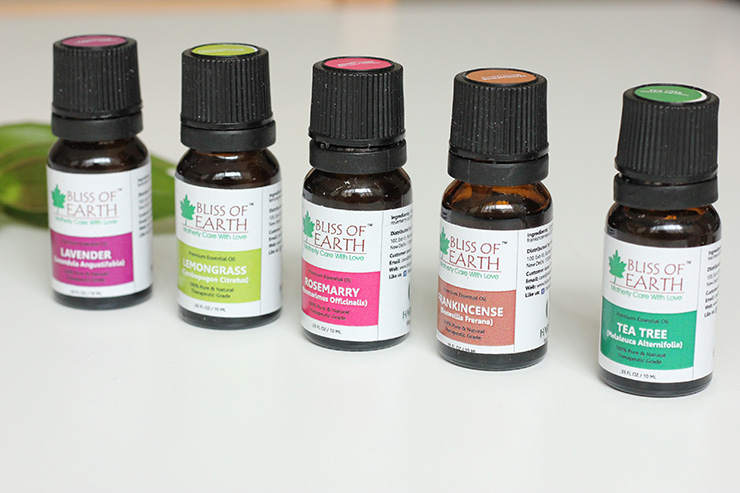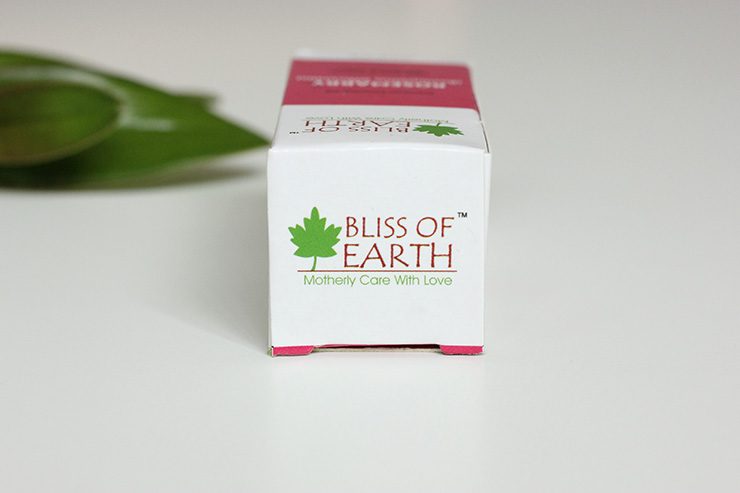 You might also like reading these related topics:
Bliss Of Earth Essential, Carrier Oils | First Impression
What Are Essential Oils? What Are Essential Oils Used For?