Technically, this is the first article I am writing after delivery. Now, since I am busy with the little prince I literally have to steal time out of my busy everyday routine. This new phase demands lots of hard work and simultaneously has its own joys. I am trying to cope up with the sleepless nights and fun with diapers. Anyways, coming back to today's post! I am reviewing Bliss of earth jojoba oil, which I have been using for quite a while now.
What the product says
Bliss of earth 100% pure golden jojoba oil is cold pressed from the beans of jojoba, a desert native plant. This oil is unrefined, hexan free and extracted without heat & processing methods to preserve its nutritional properties. It contains almost all of the vitamins and minerals including vitamin A, vitamin E, B-complex, copper, zinc, selenium, iodine, and chromium which are essential for healthy skin and hair.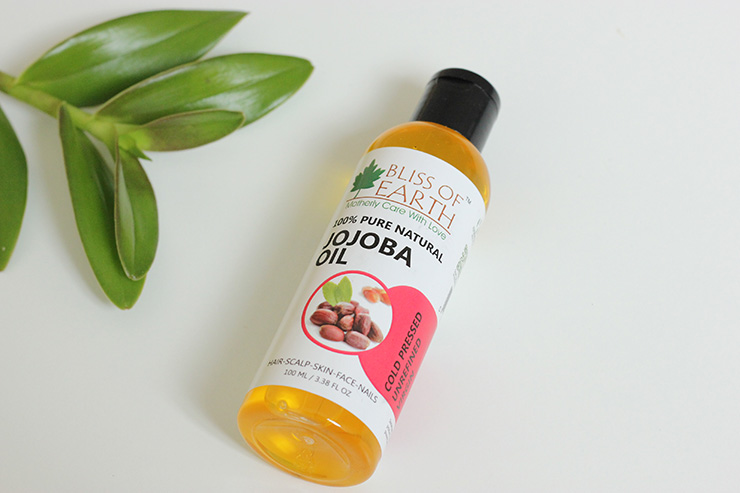 My take on 'Bliss Of Earth Jojoba Oil'
The jojoba oil comes in a transparent plastic bottle that has a flip open cap at the top. The benefits, ingredients, pricing, etc are mentioned on the bottle so if you do not know beforehand what to expect from this oil the brief usage text would help you in setting up the expectations. It is a 100ml bottle and quite lightweight but still while carrying it for traveling I prefer to properly pack it in order to avoid leakage.
The oil is yellowish in color with no fragrance. If I compare it with coconut oil, it has lesser viscosity and feels way lighter than coconut oil. It is all purpose oil suitable for hair, scalp, skin, face and nails. Considering the multipurpose usage and benefits, its price does not seem to be a big concern. Since I have included this in my daily skin care routine, my all other products have taken a back seat. This is the only skin care product I am using in addition to face cleanser and I am surprised to see its effects on the skin. My skin looks more nourished and smooth with a healthy glow. As my skin is acne prone so I was afraid that this oil will cause skin breakouts but I am glad that nothing of that sort happened. In fact, my skin seems to love this moisturizer. I apply it in the morning and at night (before going to bed) and it's doing an amazing job of keeping the skin moisturized and healthy. It penetrates into the skin in no time and does not even leave an oily or greasy layer behind. During the day time, I apply an additional layer of sunscreen to protect my skin from sun rays, and both these things are enough to tackle the dehydration and sun rays.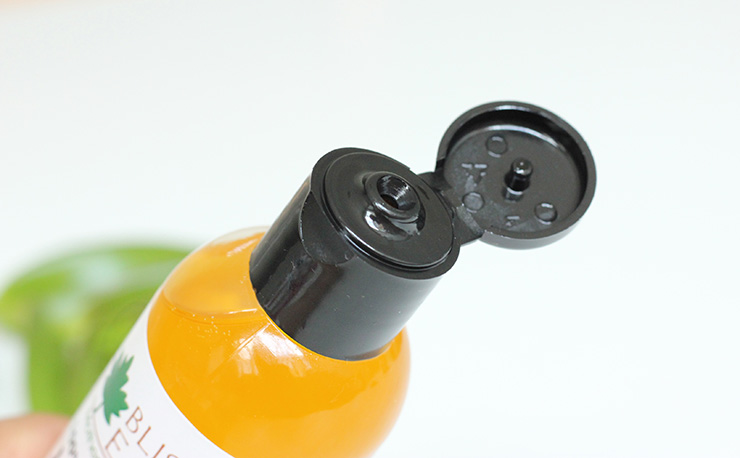 I also mix few drops of oil to coconut oil and mustard oil and massage it into the scalp and on the tresses. Though the usage instructions mentioned on the bottle ask to apply this oil while conditioning the hair or after shampooing but I have not tried doing that as my scalp is really oily and I do not like applying oil after shampooing. But even the few drops that I apply before shampooing bring a major difference to hair shine. Hair becomes more lustrous and the scalp absorbs the beneficial nutrients.
It also works great as a makeup remover. All I need to do is take few drops of the oil on palm and gently rub it on the face. Waterproof makeup requires little more quantity and time but eventually gets off the skin.
Mr. Husband has also tried this apply as an after-shave lotion and he too was satisfied with the results. When applied after shaving, it does a 2-in-1 job of healing the cuts and moisturizing the skin. No need to apply an additional moisturizer after shaving. If you shave your legs and arms, you can also use apply this oil on those areas.
Benefits of Jojoba Oil
1) Jojoba oil works as an amazing moisturizer for all skin types. Being a waxy liquid, it seals in the moisture and helps the skin to stay hydrated for a long time.
2) It soothes skin conditions like pigmentation and wrinkles.
3) It also helps in healing the skin from acne, burns, rashes, and cuts.
4) It adds shine to hair and makes it strong. Even 3-4 drops of jojoba oil are enough to make the hair strong and healthy.
5) It helps in healing of chapped skin so can be used easily as a lip balm as well.
What I like about 'Bliss Of Earth Jojoba Oil'
– Quickly absorbs into the skin.
– Does not cause skin breakouts.
– Keeps the skin well moisturized.
– Fragrance-free.
– Does not contain chemicals.
– Can be used as a makeup remover.
– Can be used as an after-shave moisturizer.
– Maintains the moisture level of scalp and hair.
– Adds shine to tresses.
What I do not like about 'Bliss Of Earth Jojoba Oil'
– Absolutely nothing.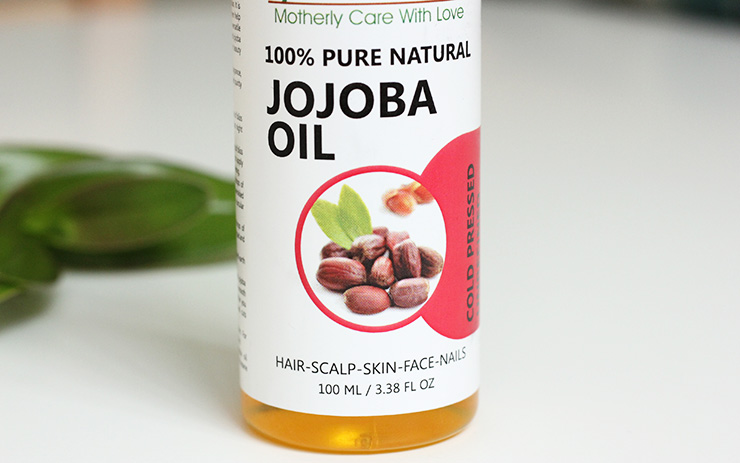 Price of 'Bliss Of Earth Jojoba Oil'- Rs 849 for 100ml
Shelf life of 'Bliss Of Earth Jojoba Oil'- 24 months from packaging
BABE Rating- 5/5
Final Word- Jojoba Oil is a true multi-tasking product that can be used in a variety of ways. It works amazingly great as a skin moisturizer and hair moisturizer. The fact that it does not have any chemicals makes it even more reliable. It replaces a number of skin care and hair care products and makes life a lot easier. Suitable for all skin types, I would highly recommend the use of Bliss of earth jojoba oil.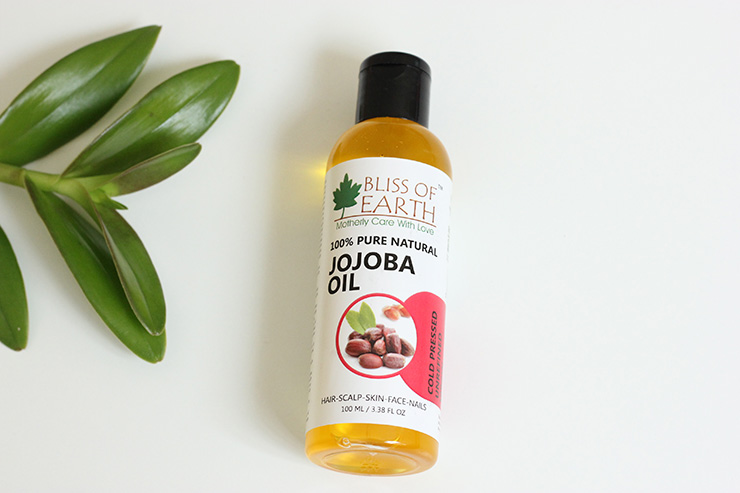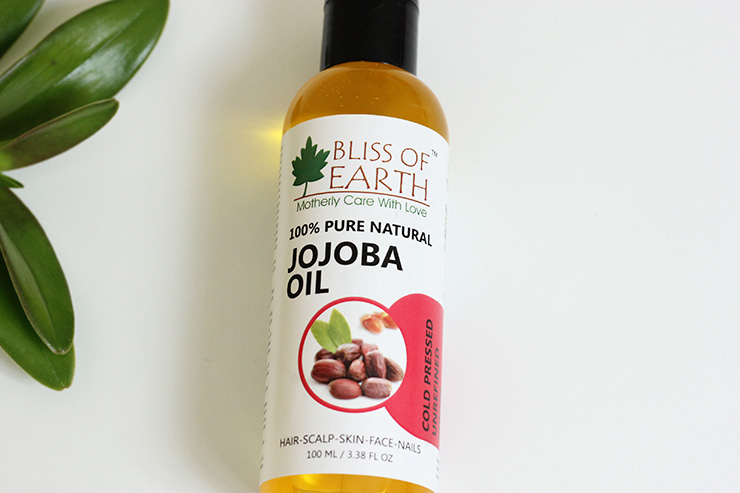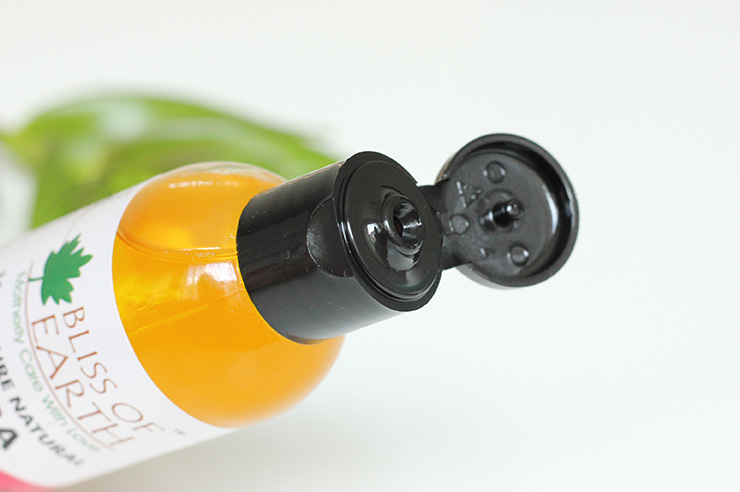 You might also like reading these related topics
Bliss Of Earth Premium Essential Oils Review
Bliss Of Earth Essential, Carrier Oils | First Impression