Red lipstick can make you stand out of a crowd. As they say 'a little red lipstick on your lips can put the fear of God back in people'. So true it is! Going by my experiences, I feel it not make other think high of you but you as well. Every time I paint my lips red that not only gives me a bold and confident look but also makes me feel the same. Things become a lot easier when your confidence doubles up. And, have you heard of this 'Red lipstick' song?
Want your pretty red lips, red lips
Girl you know what you do to me
You got that red lipstick on
Baby kiss me til your lipstick gone
Red lips, red lips
You should listen to it once, and thence onwards every time you wear a red lippie you won't be able to take these lyrics off your mind. Now coming to today's review I got this lipstick in my July Fab Bag. That month's bag was based on 'red carpet' theme, hence this bright lipstick. Read on to know my experience with it.
My Take on 'Bellapierre Mineral Lipstick In Shade Ruby'
Bellapierre mineral lipstick comes in a black case that on one side has crisscross design and on the other side it bears the name of the brands in silver typography. A silver rim separates the bullet holder from the cap. The packaging looks flimsy so it needs to be dealt with care. It is based on click-close mechanism so I believe there is less probability of loosening the cap and ruining the bullet. Other than that, because of fragile packaging you cannot just throw it in your vanity box, rather it needs a secure place of its own.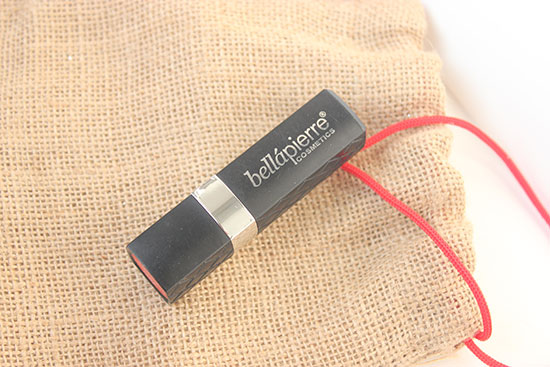 Ruby is a beautiful tomato red color that instantly brightens up your complexion and gives you an all charged up look. This is the kind of shade that would suit all Indian skin tones. It goes well with every kind of outfit be it ethnic, western or contemporary.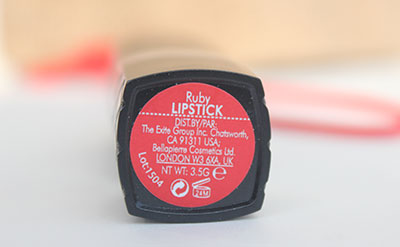 It has yummy fragrance that to me related to a custard or pudding. I know weird it is but that is my interpretation of this fragrance. The fragrance is not too intense so even if you do not like custard you can easily wear this lipstick.
The texture is smooth and creamy. I do not see any problem on the application front. You can apply it with a brush or directly. Either ways it moisturizes the lips and keeps them hydrated. Hence, you do not need to wear a lip balm underneath this lipstick.
It has glossy and smooth finish. Personally, I prefer matte red lipstick to glossy ones but wearing a glossy lippie once a while does work great. Besides, this one does not feel sticky or heavy on the lips. It is feather light and not at all irritating.
For pigmentation, I would say it has an average pigmentation; in just two strokes it gives a beautiful red color to your lips. However, pigmented lips may find the opacity slightly less. It does not provide full coverage, and I think this is because of the mineral base. However, you can override that con by applying a lip liner underneath this mineral lipstick.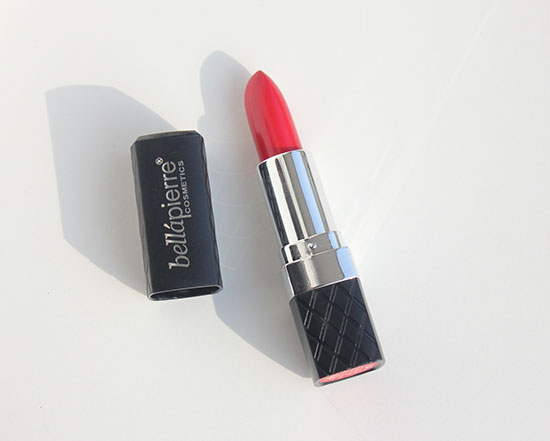 As far as the staying power is concerned, if you do not take any snacks in between this lipstick can easily stay for 4-5 hours. With intermittent snacking, it stays for around 2 hours and then requires reapplication. The fading is even, so even if you do not want to reapply you can leave the lips unadorned with just a slight tinge of color.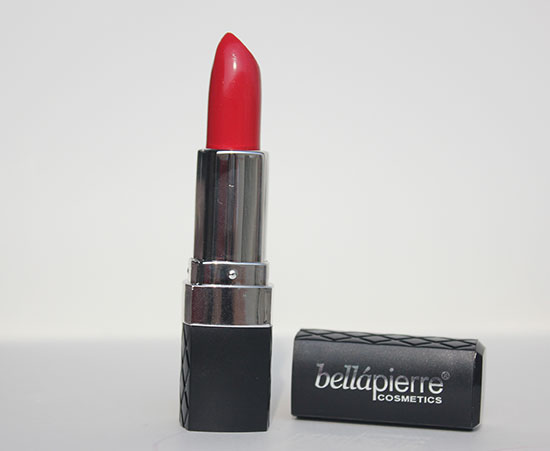 What I like about 'Bellapierre Mineral Lipstick In Shade Ruby'
– Beautiful red shade that would suit all skin tones.
– Formulated with natural waxes and mineral pigments.
– It effortlessly glides on to the lips.
– It does not settle into fine lines.
– It does not leave lips parched, instead moisturize them.
– Tomato red color that instantly brightens up complexion.
– It claims not to contain lead.
– It fades evenly.
– It feels light and non-sticky.
What I do not like about 'Bellapierre Mineral Lipstick In Shade Ruby'
– The packaging is flimsy.
– Wee bit expensive.
– Requires a lip liner to stay intact.
– It does not provide 100% opacity.
– Average staying power. In that price I was expecting more.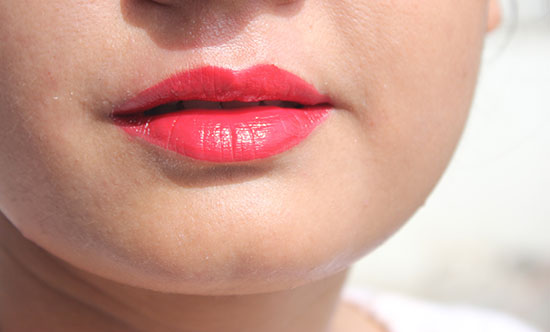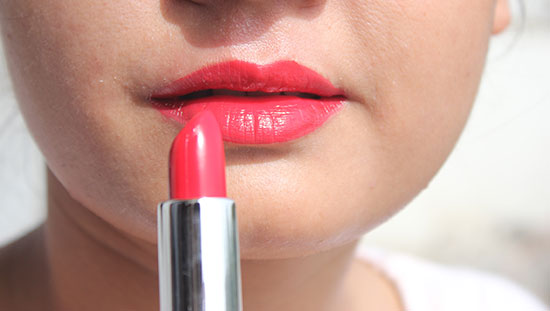 Price of 'Bellapierre Mineral Lipstick In Shade Ruby': INR 1500 for 3.5g of product.
BABE Rating: 3.5/5 (all points for the pretty red shade)
Final Word: Formulated with minerals and waxes, Bellapierre lipstick feels smooth and hydrated. Its moisturizing formula does not leave lips craving for moisture. The beautiful red shade brightens up the complexion and revamps the look. Considering the price, the staying power and packaging are not up-to the mark. I would expect more from a lipstick that with comes with a price tag of 1500.
You may also like reading these related topics:
Faces Go Chic Lipstick Rock Solid Shade Review Swatch
Revlon Plump Sexxxy Lipcolor Rose Passion Review
Revlon super lustrous lipstick creme mulled wine review
Revlon Colorburst Lipstick (Rosy Nude – 065) review
Oriflame The One Color Unlimited Lipstick Endless Red Perfect For Office Goers
Oriflame The ONE Matte Lipstick Red Seduction Review Swatch
Oriflame The ONE Matte Lipstick Wild Rose Review Swatches