Hello Friends,
I really love eyeliners, and I am always ready to buy a new one. I like all kinds of eyeliner: gel eyeliner, pencil eyeliner and liquid eyeliner and because of my this habit sometimes my sister gets irritated. Anyway so, today I am going to review Wet n Wild H2O Proof Liquid Eyeliner for you, my beautiful friends. I recently purchased it from Luxola.com.
What the product says:
This smudge-proof, water-resistant liquid liner has a soft, felt-tip brush for precision control and mistake-proof application. Create ultra fine and dramatic bold lines to emphasize your eyes while defining the upper lash line.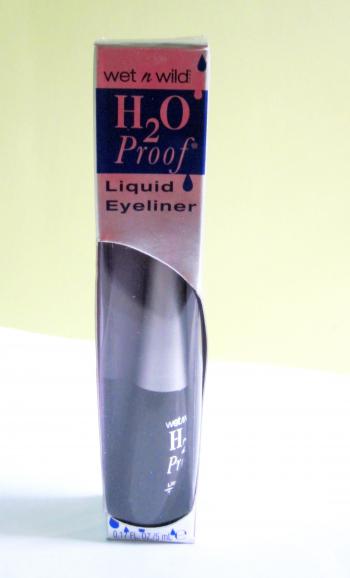 My Take on 'Wet n Wild H2O Proof Liquid Eyeliner'
It comes in a plastic bottle that is transparent and let you see how much product is left inside. The bottle is small but the wand is quite long that provides good control while working with it. I like the silver cap which gives it a contrast look and makes it more appealing.
As the name says it is a liquid eye liner with a felt tip applicator. At the time of purchase, I ordered its dark brown color but upon swatching I found it more on black lines. Or it might be giving a black look on Indian skin tones, if you have very fair to fair skin tone it might still look dark brown on you. But I like this color as well as it is different from my usual black liners.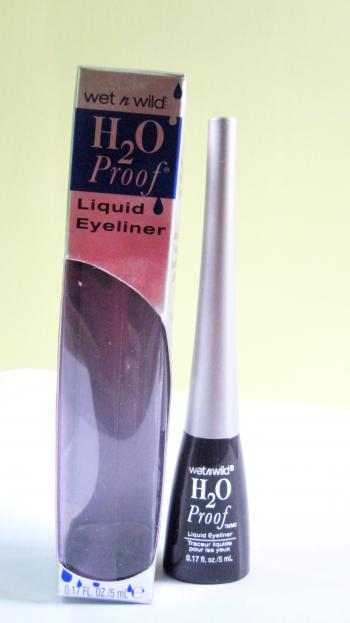 It has a matte finish, and it gives my eyes a good pop up effect. If you have yellow skin tone then it will look really natural on your skin. It will open up your eyes and will not look blunt at all. There are few types of eyeliner which change color after drying but this just looks the same. The pigmentation is excellent; in just couple of swipes it gives an intense color. I feel it is good for making cat eyes and wings.
As far as the texture is concerned, it is smooth and spreads very easily. It is waterproof eyeliner and dries quickly. The good thing is its color remains the same even after drying. I have used those eye liners that change color once dried but this one just gives the same intense color as before drying. Being waterproof also makes it difficult to wash off. A simple round of washing with water won't get this off. You'll need at least two to three splashes with some rubbing to make it completely go.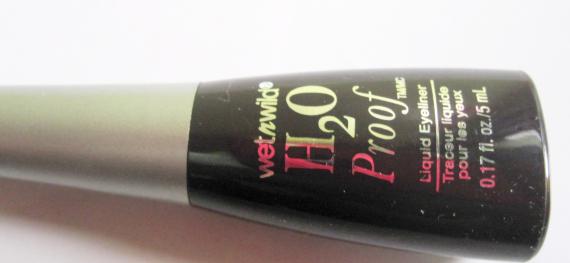 It does not have any fragrance and neither does it cause any irritation, so no watery eyes. But I would recommend washing eyes immediately if by mistake it gets into your eyes.
Staying power of this eyeliner is unbeatable. I will give it 11 out of 10 for this extraordinary staying power. I have oily eye lids that tend to release oil so making a liner stay on my eyes is a difficult task but I am glad that this eyeliner sticks on my eyelids throughout day and night. I will recommend this product to those who have oily eyelids.
As I have said this eye liner dries quickly, but that has its share of cons as well. You have to be really very fast to work with this liner otherwise it will just set as is. This quick drying is good for those people who know how to apply eyeliner in one stroke but for beginners it is not good. Because as it is also a waterproof liner so if you get it wrong you will have to invest some time in removing it. And trust me you really need good eye makeup remover to remove it. The product dries up on the applicator while I was applying it, and I have to dip it again and it becomes clumsy due to this. Sometimes this quick drying gets really annoying.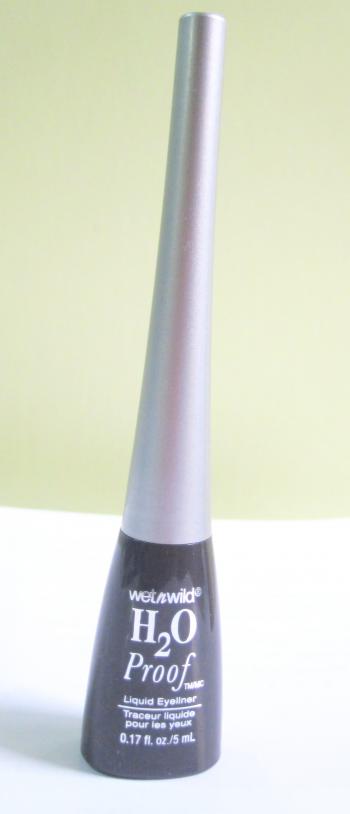 The another problem I find in this eyeliner is its applicator brush, which makes it difficult to make thin lines. It provides good control but also require expertise. In fact, if you purchase this product you can use some other applicator brush because the liner itself is very good.
What I like about 'Wet n Wild H2O Proof Liquid Eye Liner'
– Excellent pigmentation.
– Matte effect.
– It dries really quickly.
– It is perfect for making cat eyes.
– It is long lasting and water proof.
– Good for making bold and dramatic eyes
What I do not like about 'Wet n Wild H2O Proof Liquid Eye Liner'
– Applicator brush is more like a stump.
– Difficult to make thin lines.
– Difficult to remove this eyeliner.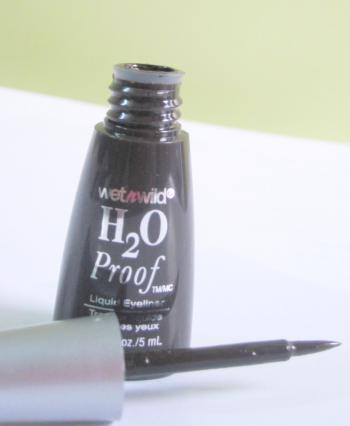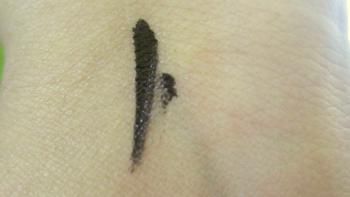 Price of 'Wet n Wild H2O Proof Liquid Eye Liner': Rs 250
BABE Rating: 3.5/4
Final Word: Wet n Wild H2O Proof Liquid Eyeliner gives good color pay off, dries quickly and stays on for long. If you are an expert in eyeliner application then should definitely give this a try but beginners may find it difficult to work with as it dries super quickly leaving no room to correct it if you go wrong.
Author: Veena Singh
You might also like reading these related topics
Lakme Insta Liner Water Resistant Eyeliner Review
L'Oreal Super Liner Gel Intenza In Shade Sapphire Blue Review Swatches
Mac Technakohl Liner Eye-Liner Kajal Graphblack Review
Maybelline The Colossal Liner Black Review
Maybelline Hyper Sharp Liner Black Review
Oriflame The ONE Eye Liner Stylo Black Review Swatch
Sugar Eye Told You So Waterproof Eyeliner Black Swan Review