Hi Everyone,
I believe that felt tip liners are quite easy to use. If a felt tip liner provides good grip it can come in handy in situations of time crunch. With that in mind, I always keep a felt tip liner in my makeup stash. So now, when my current liner got over I decided to go with Maybelline colossal. I had heard so much about Maybelline the colossal liner that I eventually felt like giving it a try. Read on to know if it would really serve as a savior in tough times.
What the product says:
Enjoy eye-catching intensity and flawless precision with the Maybelline New York Colossal Liner.
Designed to end all your application woes, the Maybelline New York Colossal Liner features a 0.4 mm Flexi Tip applicator that gives you perfect, error-free lines. Empowered with the Ink Pigment Technology, this Colossal Eyeliner imparts fade-proof, intense color to your eyes. Its quick-dry formula ensures a 12-hour staying power and quick application. Add this kajal eyeliner to your vanity kit and enjoy stunningly defined eyes, everyday!
My Take on 'Maybelline The Colossal Liner Black'
Like most of the felt tips liners, the colossal liner comes in a pen like packaging. The mere difference is that the cap of this liner has strong grip on the base that prevents it from uncapping and messing the tip. The width of the pen is neither too thick nor too thin; in fact it is apt enough to handle the pen for that immaculate accuracy.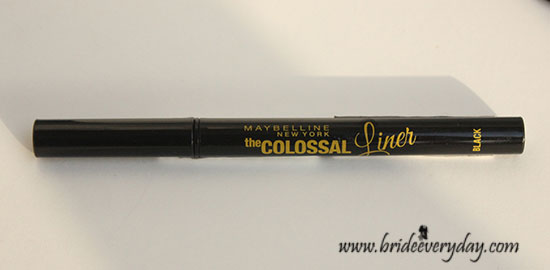 The felt tip is way longer than the tip of Maybelline Hyper Sharp liner. The enhanced length ensures that you get to swipe it all over the lid in just a single stroke. The tip feels soft on the eyes, does not hurt at all. I have used felt tip liners that used to have stiff tips that hurt a bit. But the colossal liner's tip is flexible to reach every corner of the eye without causing any discomfort. You do not need to move your hand a lot to reach the inner and outer corners. The long tip itself will take care of the accessibility without you worrying much about it.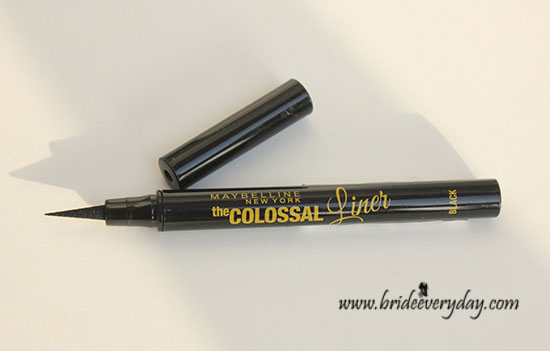 The pigmentation is too intense and jet black in color. In fact, it so intense that seldom require more than one swipe for intense jet black color. Also, the tip is narrow at the front and widens as it goes back towards the base, and this makes it quite a good liner to create n number of looks. You can easily create a thin line or thick bold look with a wing.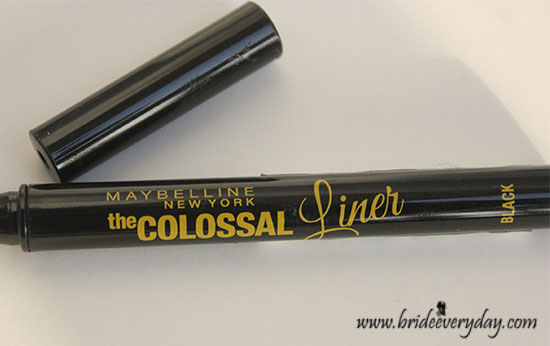 It has smooth texture that makes the product easily go deep within the hollows of your lids. The finish is not purely matte, rather it has slight sheen to it. This colossal liner gives somewhat in between matte and semi-glossy finish, but nothing of the sort that goes overboard or appears inappropriate for professional occasions.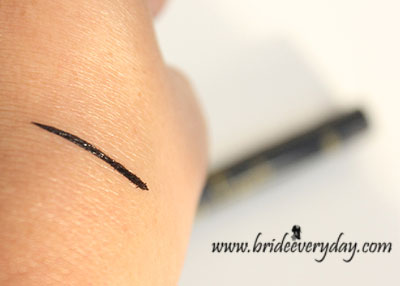 For the longevity, it stays on all day long without smudging or fading. I have worn it for maximum 10 hours, and did not notice it fade at all. As the product claims, it does dry instantly – in a couple of seconds. Hence, if you have drawn a wrong line you need to erase it completely and start afresh with the liner for that perfect look. If you have used 'Lakme insta liquid liner', you must know that it is easier to wipe off the wild lines and keep going to create the desired look, but with this one you cannot afford to go wrong as it calls for rework.
What I like about 'Maybelline The Colossal Liner Black'
– Highly pigmented, intensely black color.
– It is quite easy to use.
– It can be used to create thick and thin looks.
– The tip does not hurt on the eyes.
– Gives control for that coveted clean application.
– When on the eyes it dries within a couple of seconds.
– Flexi tip ensures that you outline your eyes in every possible creative way.
– Easily available.
– It stays on my oily lid all day long – 8-10 hours. I could not test it beyond that 😉
– The width of the pen is congruous to provide good control on the pen.
– It is smudge-proof and fade-proof.
What I do not like about 'Maybelline The Colossal Liner Black'
– Going wrong with this liner calls for more work.
Price of 'Maybelline The Colossal Liner Black': INR 425 for 1.2g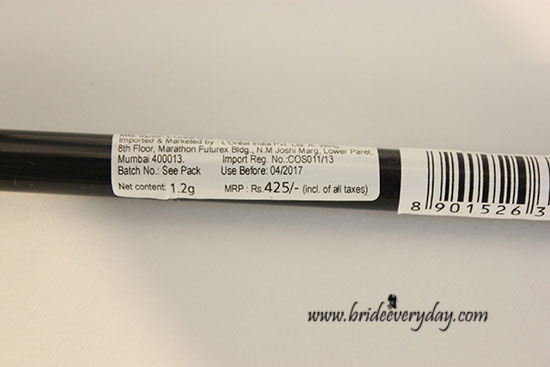 BABE Rating: 4.8/5
Final Word: Maybelline the colossal liner has intense black pigmentation and long staying power. The 0.4mm felt tip is flexible and soft, and ensures smooth application on the lids. I really like the control it provides while outlining and that makes it apt to create different looks. If you have this liner there is no limit to explore your creativity. On the whole I would say it is a good liner both for amateurs and pros.
You may also like reading these related topics
Maybelline Hyper Sharp Liner Black Review
Maybelline New Lasting Drama Gel Eye Liner Review Swatch
Maybelline Eyestudio Vivid and Smooth Eye Liner in Ocean Blue Review
Lakme Insta Liner Water Resistant Eyeliner Review
Oriflame The ONE Eye Liner Stylo Black Review Swatch