#TwiceAsNice-Garnier Pure Active Apricot Exfoliating Face Scrub And Neem Purifying Face Wash Review
Hi Everyone,
Hope you are having a good respite from scorching sun. Now, when the sun is at its peak we need to take special care of our skin in order to prevent tanning and breakouts. So when Garnier approached me to test apricot scrub and neem face wash I got ready immediately. The icing on the cake was reviewing these products along with a blogger friend. Who would have been a better pal than Purva from planetbeauties.com to review these products with! After all:
Both of us have oily skin, which is acne prone so we really needed a good neem face wash to keep pimples at bay in this sweltering weather.
We both love to deck up our eyes, and I see strong competition from her on this front 😉
We love visiting new places, and keeping those memories locked for eternity in photo shoots. These days Purva have been hopping a lot from one destination to another, and you must have seen that via her coveted OOTD posts.
We also love decorating our nails- be it the classic plane jane way or intricate designs of sophistication.
With so many similarities, our pair is the perfect combination for Garnier's #TwiceAsNice campaign. We have tried our best to review every aspect of these products, considering the efficacy in this scorching weather. Read on to know the detailed evaluations.
My Skin Type: Oily to combination, acne prone.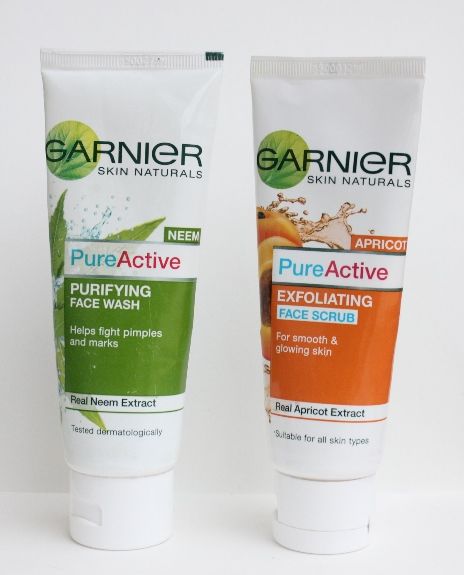 Garnier Pure Active Apricot Exfoliating Face Scrub
What the product says:
– With the power of 1500 exfoliating Apricot beads in every wash, this creamy scrub gives you smooth and glowing skin.
– It gently scrubs away dead skin cells to reveal fresh and glowing skin.
– It contains an exfoliating powder, derived from Apricot seeds and a creamy texture that lightly hydrates the skin while cleansing. Skin is smooth, fresh and radiant with every wash.
My Take on 'Garnier Pure Active Apricot Exfoliating Face Scrub'
Garnier pure active apricot scrub comes in a soft plastic flip open tube packaging. Scrub particles are not granular in size; in fact they are even smaller than sunflower seeds, so feel soft on the skin. The fragrance is fruity, nothing of the sort that troubles your smelling sense.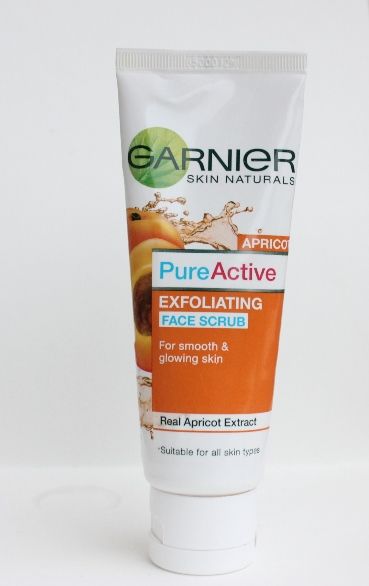 The soapy content in the scrub ensures that the scrub works as a cleanser as well. For the size of the scrub particles it can be used daily. People with sensitive skin might want to give it a try every alternate day. If you are looking for scrubbing benefits such as getting rid of flaky skin, blackheads and whiteheads, you can see a difference after persistent use of this product. On the contrary, this is not a sort of scrub that you would use weekly or bi-weekly. If you resort to this routine, the scrub would not bring that much of difference in your skin health because of the miniscule scrub particles.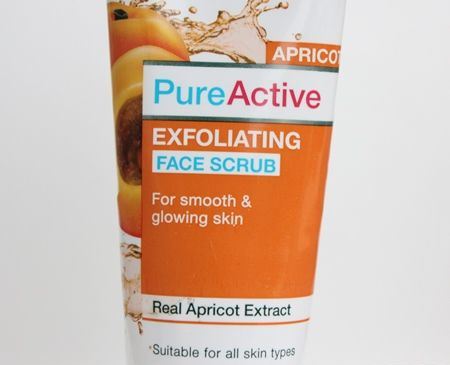 For usage, after dotting my wet face with the product I use my finger tips to rub it in circular motion. After a couple of minutes of circular massage, I rinse off the froth using normal water. Because of the small size of scrub particles I often need to squeeze the tube multiple times to have a satisfactory feeling of scrubbing.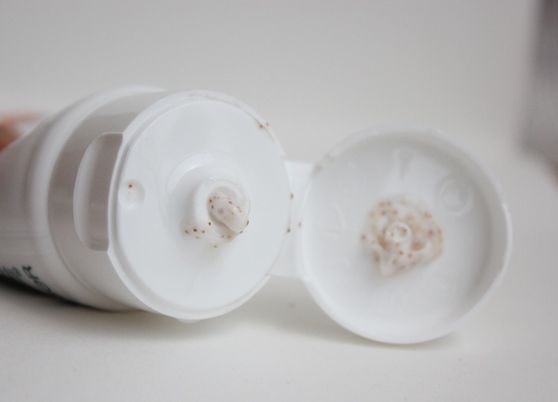 This is a mild exfoliating scrub, which if used regularly keeps the skin healthy and abolish all the unwanted problems such as dry flaky skin, clogged pores, etc. The good thing is it does not break out my skin even though I am using it twice a week. For summer season, it brings a great respite to the skin from harmful atmospheric elements. Overall, I find it a soft exfoliating face scrub that provides basic scrubbing benefits after consistent usage.
Ingredients of ''Garnier Pure Active Apricot Exfoliating Face Scrub' –

Price of 'Garnier Pure Active Apricot Exfoliating Face Scrub' – INR 115 for 100g
Garnier Pure Active Neem Purifying Face Wash
What the product says:
It contains real Neem Leaf and Tree Tea Oil extracts:
– Fights germs: Washes away problem causing germs.
– Fights Pollution: deep cleans pores to remove impurities caused by pollution.
– Removes Oil: Washes away excess oil which attracts dirt & germs.
My Take on 'Garnier Pure Active Neem Purifying Face Wash'
Garnier pure active neem purifying face wash also comes in a soft plastic flip open tube packaging that is quite similar to the packaging of apricot scrub. The tube is easily squeezable so you do not have to exert a lot of pressure while taking out the product.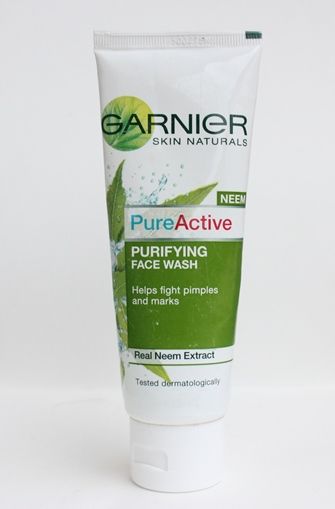 The face wash is green in color, and has smooth texture devoid of any grittiness. The fragrance is mild with a hint of neem in it – not too strong to bother the smelling sense. The face wash contains soap so you get to see abundant froth upon application. Moreover, a very small quantity is required for each use. The required quantity is literally less than the size of a raisin.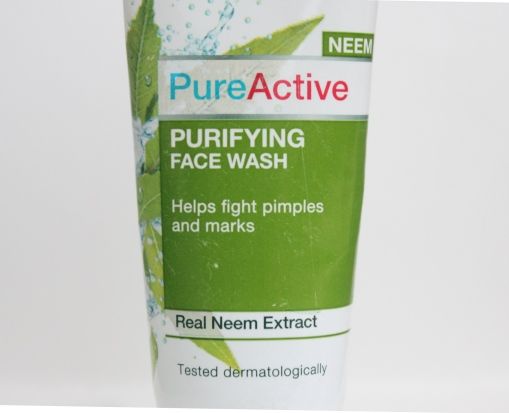 Regarding usage, I take out small quantity on my moist palms and rub them together to generate froth. In no time my hands become full of bubbly froth that I further apply on my wet face. Massaging in soft circular motions, I then rinse it off with plain tepid water. It removes all external impurities including makeup and unclogs pores. Even when I use the toner after cleansing I seldom notice any major makeup residual or dust particles on cotton pad.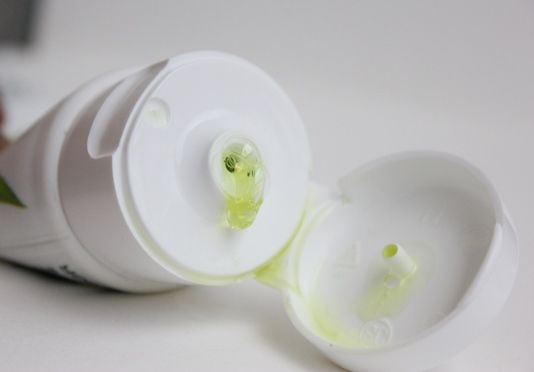 On the whole, it is a nice face wash that cleanses the skin thoroughly. Since I have started using it, my skin has not broken out. It clears impurities without leaving the skin stretchy or dry. After using this face wash, I do not immediately feel the need of applying a moisturizer. For sweltering weather like summer, Garnier pure active neem face wash is a good option especially for oily skin people like me.
Ingredients of 'Garnier Pure Active Neem Purifying Face Wash' –
Price of 'Garnier Pure Active Neem Purifying Face Wash' – INR 90 for 100g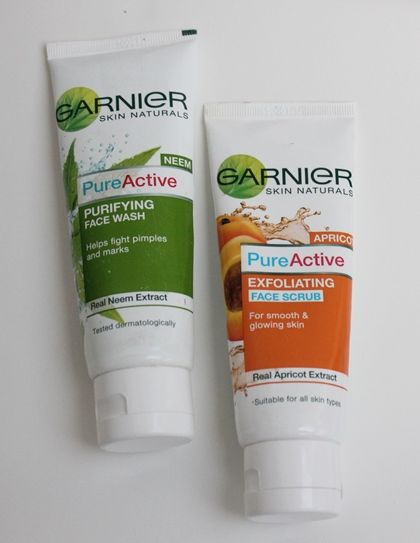 As much as I loved testing these products, I loved doing this post with Purva.
You may also like reading these related topics:
Himalaya Herbals Gentle Exfoliating Walnut Scrub Review
Lotus herbals white glow oatmeal yogurt skin whitening scrub review
Neutrogena deep clean gentle scrub review
Neutrogena Deep Clean Blackhead Eliminating Daily Scrub Review
Dove Beauty Nutrium Moisture Face Wash Review
Dove Deep Pure Face Wash Pore Care Review
JAFRA Brightening Cleanser Review Swatch
Is Pears Pure And Gentle Ultra-Mild Face Wash Good For Dry Skin ?
Lakme Clean Up Nourishing Glow Face Wash Strawberry Review
Loreal Paris Hydrafresh Instant Freshness Gel Foam Face Wash Review
L'Oreal Go 360 Clean Anti Breakout Facial Cleanser Review
Neutrogena Deep Clean Foaming Cleanser Review
The Body Shop Tea Tree Skin Clearing Facial Wash Review