Hello Everyone,
I hope you all are enjoying the starting phase of Winter Season. For me winter means sipping million cups of coffee, reading novels while sitting in the blanket, layering my skin with lotions, layering my body with sweaters, mufflers. Everything starts looking pleasant and colourful during winters.
What The Product says
Benefits of eating seaweed are one of the best kept beauty secrets that have been known for centuries in Japan. Formulated with sea-sourced active ingredients and developed under advanced Japanese technology, Spawake offers you effective yet pleasurable skincare solution to achieve healthy, glowing skin.
How it Works
It is a multi-function daytime moisturiser that instantly brightens the complexion while protecting against harmful UVA and UVB rays. It is a fresh, non-greasy formulated gel cream which immediately melts into skin, infusing it with Vitamin C and Vitamin B3 to reduce the production of dark melanin, and Algae Extract helps in protecting from sun damage. With consistent usage the complexion appears visibly fairer, more even-toned and radiant.
My Take on 'Spawake Whitening Fairness Gel Cream'
Choosing the moisturiser which provides the required moisturisation to the skin without making it look like an oil-tank is a big task. Hunting for the moisturiser which is tailor-made for my skin is like a ritual for me which I am supposed to follow every winter. The thing I hate the most about winter is that it makes my face one or two shades darker. So, I always try to find a moisturiser which can deal with all the above mentioned concerns.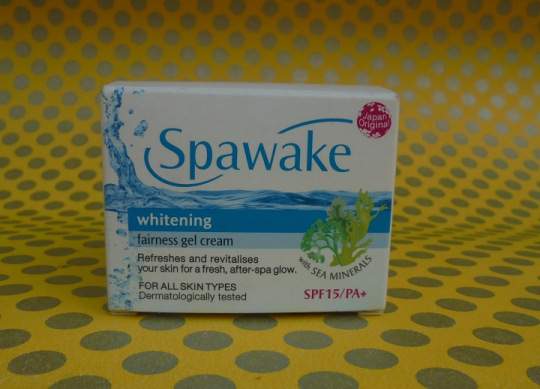 After having a mixed experience with Spawake products, I was bit curious to try "Spawake Whitening Fairness Gel Cream". The products that claim to lighten the skin tone suddenly become my attention seeker in winter. The reason which always forces me to try Spawake is the exotic ingredient-list which they use in their products. Like other products from this range, it also contains Sea Minerals, Algae Extract, Sea Salt, Vitamin B3 and Vitamin C.
The product comes in an opaque white colour plastic tub. The tub is completely spill-proof which makes it a suitable option for travelling. It has a very natural and sweet fragrance which will not bother your sensitive nose at all. It has gel like consistency that is bit runny. You only need a small amount for whole face. It smoothly glides on the face. You need to massage it on your face for couple of minutes otherwise the face will look sticky and greasy.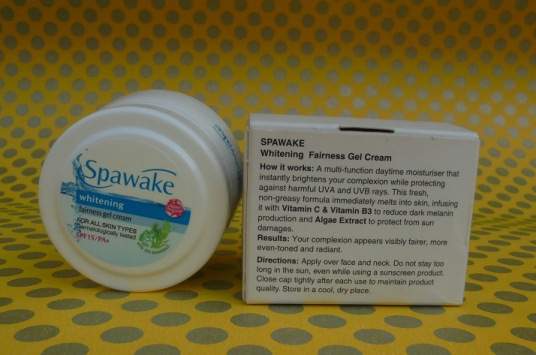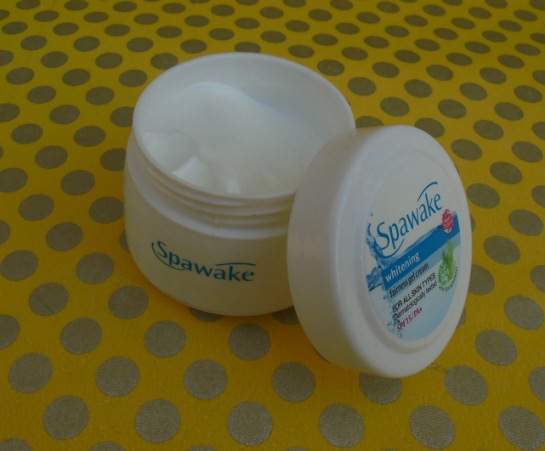 The face looks healthy and nourished for 2-3 hours and covers all the dry spots. But after few hours, the dry patches on the face re-emerge, and for that I need to re-apply the cream. Apart from the moisturisation part, the claim of lightening the skin tone is also not upto the mark. The skin does look a shade lighter but the effects are not long lasting. After few hours, the effect starts fading. I am using this cream from the last one month and I haven't noticed any remarkable change in my skin tone or skin texture.
Though this product contains few tempting ingredients but we can't ignore the scary chemicals which are mentioned in the ingredient lists. We all are aware that how chemical damages our skin in the long run. Now when every brand is replacing all our chemical-icious products with the organic one, this product gives us a reason to think before making it a part of our skin care routine.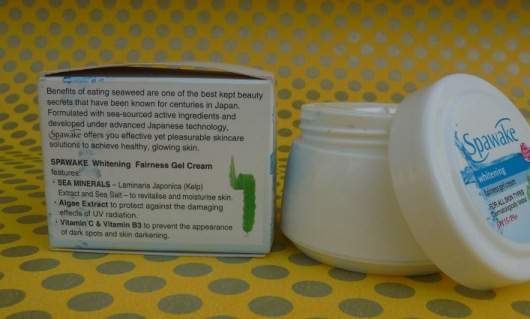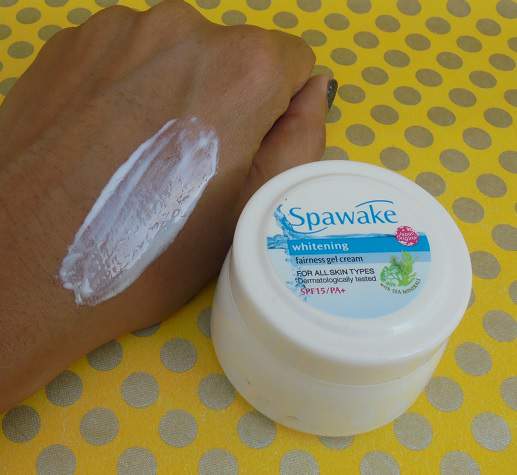 What I Like about 'Spawake Whitening Fairness Gel Cream'
– It contains Sea Minerals, Vitamin B3 and Vitamin C.
– It doesn't make face oily.
– Skin looks nourished and healthy post usage.
– It gets easily absorbed into the skin.
– Only a small quantity is required for single use.
– It is very affordable.
What I do not like about 'Spawake Whitening Fairness Gel Cream'
– The whitening claim is not true.
– It doesn't give enough moisturisation.
– It contains parabens.
– Availability is a big issue.
Ingredients of 'Spawake Whitening Fairness Gel Cream'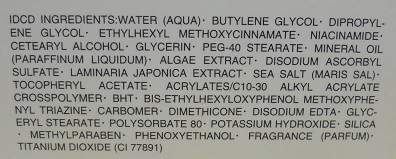 Price of 'Spawake Whitening Fairness Gel Cream': Rs 129/- for 25 gm and Rs 249/- for 50 gm
Shelf Life of 'Spawake Whitening Fairness Gel Cream': 36 Months from the date of manufacturing
BABE Rating: 3.5/5
Final Words: Overall it's an average gel cream which moisturises the face for few hours and makes it radiant and nourished. If you have normal to oily skin and want a light moisturiser, then I am sure you'll like it. But in case you have dry skin or you are looking for a moisturiser with long lasting effect, then you can skip it.
You might also like reading these related topics
Spawake Moisturising Cold Cream Review
Spawake Moisturising Fairness Cream For Day Review
Spawake Moisturising Fairness Cream For Night Review