Hello to all the pretty readers of BABE. How are you doing? What are your plans to escape this scorching heat? I guess you all have missed me in the same way in which I have missed you all.
Before proceeding further, I would like to share something with you all. If you remember, I told you in one of my previous articles that I have started working. Well, now I have changed my job. Currently I am working in Ministry of Science and Technology.
What The Product says:
Benefits of eating seaweed are one of the best kept beauty secrets that have been known for centuries in Japan. Formulated with sea-sourced active ingredients and developed under advanced Japanese technology, Spawake offers you effective yet pleasurable skincare solutions to achieve healthy, glowing skin.
How it Works:
A daytime moisturiser that protects against damaging UV rays, pollution and other environmental stresses while delivering instant comforting moisture. Replenishes your skin with nutrient-rich SEA MINERALS and VITAMIN E and maintains optimal moisture balance throughout the day.
My Take on 'Spawake Moisturising Fairness Cream For Day'
I never heard or read about this brand before I got a mail from Shailja Mam. She asked me that whether I would like to try their range and write a review on them. Who doesn't want to try new products that too without spending a single penny. So, I immediately said yes!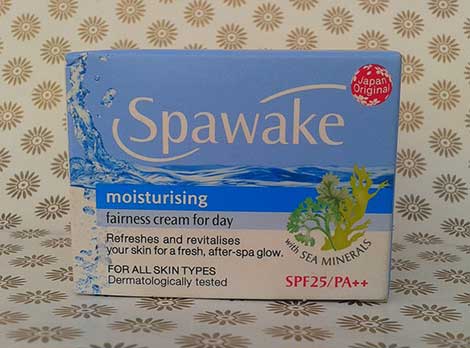 The first thing which I did after reading that email (apart from doing a short happy dance) was to google search about this brand. After reading about the brand, I was more than excited to give it a try. Spawake is a Japanese brand enriched with the goodness of sea. It contains sea minerals in its list of ingredients. This much introduction was enough for me to try this product.
The moisturiser comes in a small white and blue plastic tub. As soon as I removed the lid, a sweet and refreshing fragrance welcomed me. The moisturiser is bit runny and has watery texture. After washing my face with the face wash of the same range, I applied this moisturiser on my face and neck. I massaged my face for 3-4 minutes. It took some time to get absorbed into the skin.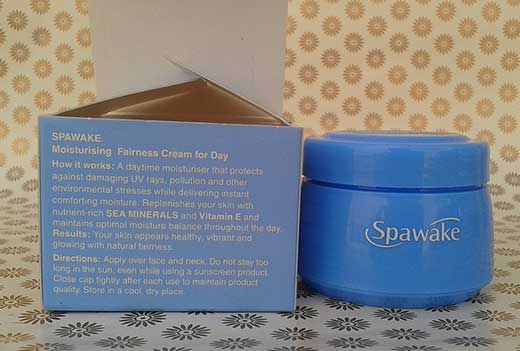 My face was looking bit oily and sticky in the beginning but after an hour all the oiliness and stickiness vanished. My skin was looking fresh. It made my face soft and nourished. I continued using it for next few days. The results were quite satisfying. My skin started looking more radiant and smooth than before. It was actually glowing. It also lightened my complexion a bit.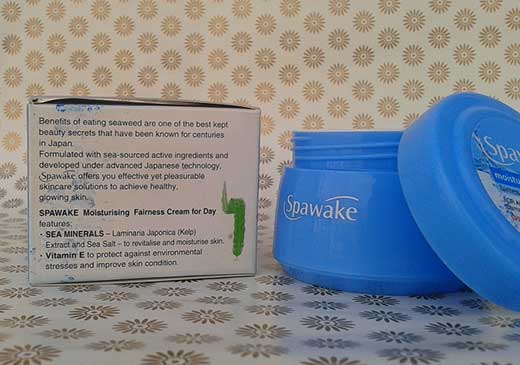 But the problem with this moisturiser is that it does nothing to fade the dark spots or the acne mark. It does not control the formation of new acne or reduces the size of existing pimples. The lower SPF rate is another issue. Less SPF value makes it ineffective in case we are planning to go out in afternoon. So, if you are a working woman or a college going girl and face the sun, then this is not for you. You definitely need something with higher SPF value.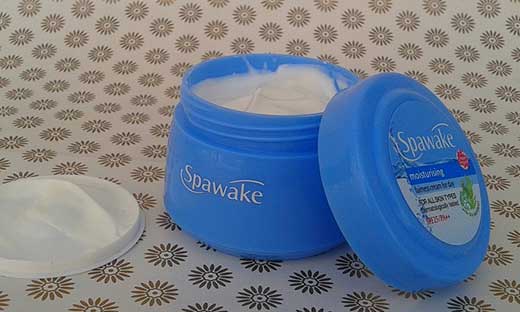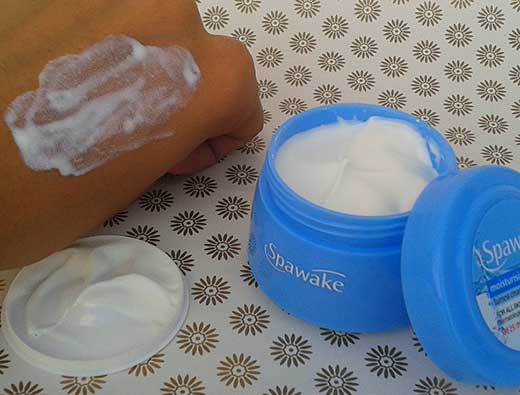 What I Like about 'Spawake Moisturising Fairness Cream For Day'
– It contains the goodness of Sea Minerals.
– It rejuvenates the skin and add glow.
– Helps in lightening the complexion.
– Only small amount is needed for a single use.
– It is budget friendly.
What I do not like about 'Spawake Moisturising Fairness Cream For Day'
– It takes time to get absorbed into skin.
– Skin looks oily in the beginning.
– It is not effective in fading dark spots.
– It contains a long list of scary chemicals.
– Availability is also an issue.
Ingredients of 'Spawake Moisturising Fairness Cream For Day'

Price of 'Spawake Moisturising Fairness Cream For Day': INR 125/- for 25 gm
Shelf Life of 'Spawake Moisturising Fairness Cream For Day': 36 Months from the date of manufacturing
BABE Rating: 3.5/5
Final Words: It is an average moisturizer which helps in lightening the complexion. It effectively rejuvenates your skin that too without causing any damage. But in case you are looking for a moisturiser in order to protect your skin from sun then this is not for you. Its low SPF value is ineffective in protecting you from sun tan and sun burn. Overall, it is a decent and pocket friendly moisturiser which does what it claims.
You may also like reading these related topics
L'Oreal Paris Skin Perfect Anti Fine Lines and Whitening Cream Review
L'Oreal Paris Skin Perfect Anti Imperfection Whitening Cream Review
L'Oreal Paris Skin Perfect Range For Every Age Group
L'Oreal Paris Youth Code Youth Booster Serum Review
L'Oreal Paris Youth Code Youth Boosting Cream Day For Early Signs Of Ageing
Olay Natural White Rich All-in-one Fairness Day Cream Review
The Body Shop Seaweed Mattifying Day Cream Review, Swatch