Spawake Moisturising Cold Cream Review
Hello Everyone,
I hope you all are doing well and enjoying reading every post of BABE in the same way I am doing it. Recently BABE has completed its two year which is such a great achievement. It has been around 1.5 years since I am writing for it. It's such a pleasure for me to work with someone like Shailja Mam. Congratulations on your success, you deserve every bit of it. I know you have worked so hard to achieve all this. Please keep up your hard work and keep on posting new posts.
What The Product says:
Benefits of eating seaweed are one of the best kept beauty secrets that have been known for centuries in Japan. Formulated with sea-sourced active ingredients and developed under advanced Japanese technology, Spawake offers you effective yet pleasurable skincare solution to achieve healthy, glowing skin.
My Take on 'Spawake Moisturising Cold Cream'
I am sure you all have read my previous posts in which I reviewed couple of Spawake products. Till now I have mixed experience with this brand. I loved its face wash but I didn't like its fairness moisturiser much. This time I am going to share my views and my experience on 'Spawake Moisturising Cold Cream'. I know you all must be thinking that why I am talking about a cold cream in this season. I am just trying to make you winter ready.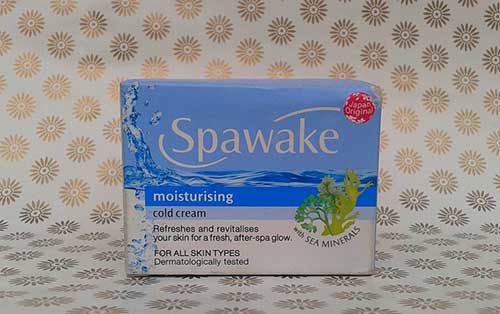 My super oily skin turns super dry as soon as winter arrives. Applying moisturiser after every couple of hours becomes my major priority during winters. Winters not only make my skin dry but it also makes it dark. My skin becomes a shade or two darker in winters. I guess it is because of using moisturiser too frequently.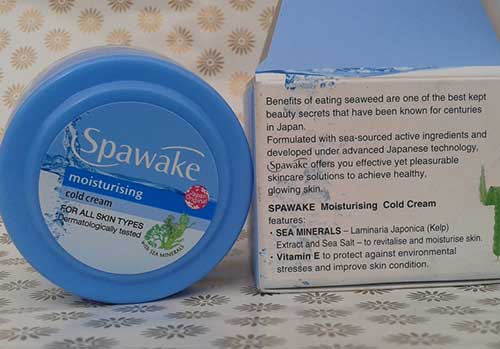 The first thing which forced me to use this cream was its ingredients. It tempted me to give it a try. It contains the goodness of sea minerals and Vitamin E. We all are very well aware with the amazing benefits of Vitamin E for our skin and hair. I have recently started taking Vitamin E capsules. Though it's just been two weeks since I am taking those Capsules, but the results are quite visible. Now I wake up with more glowing and fresh skin. Sometimes I add Vitamin E serum in my oil before oiling my hair. Now I am thinking to start Vitamin E serum on my lips, as I have read somewhere that applying Vitamin E on lips helps in lightening the pigmented lips. Overall these days I am in love with Vitamin E.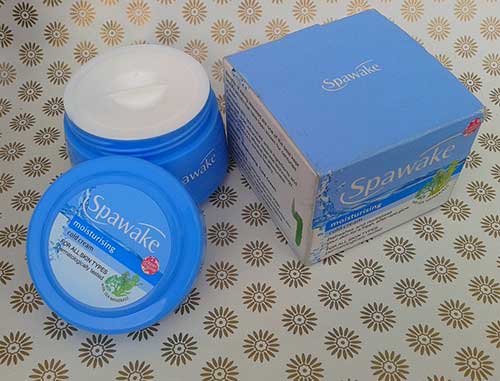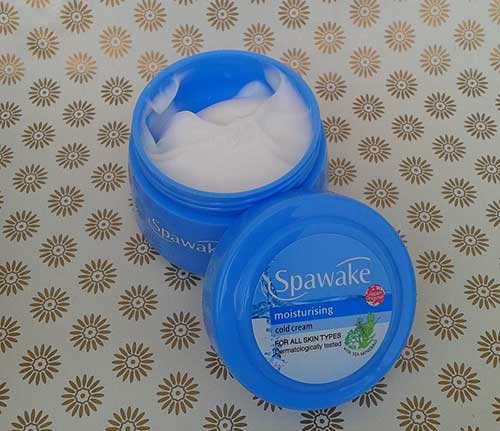 It comes in an opaque white colour plastic tub with a blue lid. There is another inner white colour lid to prevent the product from leaking. The packaging is completely spill proof, so if you are willing to travel with it, you don't need to think much before doing so. It has a very mild sweet and floral fragrance. The cream has gel like texture. Only a small quantity is required for a single use. After applying the moisturiser on my entire face, I gently massage it for couple of minutes.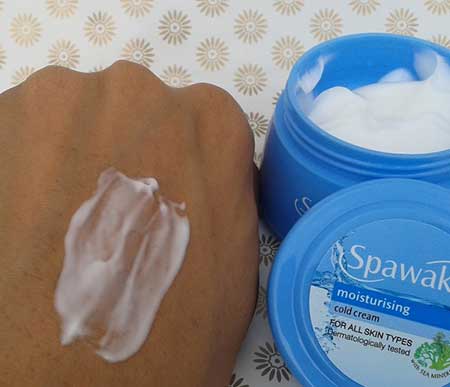 As we all expect from a cold cream, it does leaves behind an oily layer behind. But it disappears after an hour or so. My skin looks nourished and moisturised. It stays like this for 5 to 6 hours. After that I need to reapply it. But the problem with this moisturiser is the absence of SPF. It doesn't contain any SPF. We do need to protect our skin from the harmful UV rays even in the winters. So, not having any SPF value makes it an inappropriate option if you are a working lady or if you are planning to step out of your house.
What I Like about 'Spawake Moisturising Cold Cream'
– It contains Sea Minerals and Vitamin E.
– It does not make my face oily.
– It controls the oil for 5-6 hours.
– It does not make my complexion dark.
– Only a small amount is required for a single use.
– It is very affordable.
What I do not like about 'Spawake Moisturising Cold Cream'
– Skin looks oily in the beginning.
– It contains paraben.
– Availability is also an issue.
Ingredients of 'Spawake Moisturising Cold Cream'

Price of 'Spawake Moisturising Cold Cream': INR 129/- for 25 gm and INR 249/- for 50 gm
Shelf Life of 'Spawake Moisturising Cold Cream': 36 Months from the date of manufacturing
BABE Rating: 3.5/5
Final Words: Overall it is a decent product which doesn't make tall claims and effectively does whatever it claims. It keeps the skin moisturized for 5-6 hours without making it oily or greasy. Its continuous usage brings a healthy glow on the face. Unlike other cold creams available in the market, it doesn't make my complexion dark. The only drawback which it has is the absence of SPF value. If you are thinking about changing your moisturizer this season, then you can trust upon this option.
You may also like reading these related topics
Spawake Moisturising Face Wash Review
Spawake Moisturising Fairness Cream For Day Review