Hello Everyone,
I hope you all are doing well and waiting for the arrival of weekends. I literally count every single day, 4 days left, 3 days left, till it finally comes. I am planning to watch 'Dil Dhadakne Do' this Saturday. The promos are looking very promising. I hope the movie will be good.
What The Product says
A rich, creamy lather enriched with SEA MINERALS washes away daily sweat, dirt, dust and oil while retaining essential moisture which results in perfectly clean, soft and smooth skin with a pearl-like glow.
My Take on 'Spawake Moisturising Face Wash'
If you read my previous review on Spawake Moisturising Fairness Cream, then you must be aware that currently I am using the skin care products from Spawake. I have already reviewed its day care moisturiser and now I am going to share my experience on another product from the same range, Face Wash. We all are aware that how much important role a face-wash plays in our skin care regime. It removes all the dust, dirt, sweat, pollution, dead cells, and oil from our skin and makes it clean and oil free.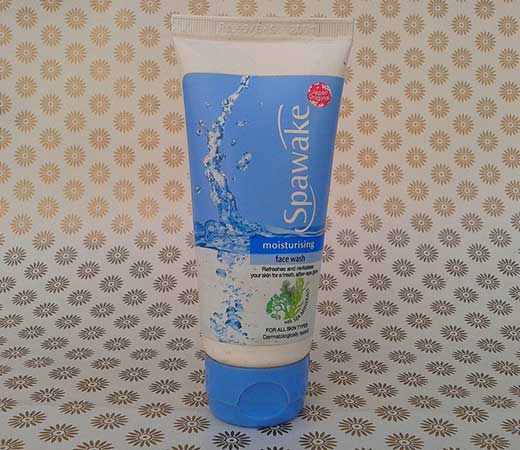 Finding a good cleanser according to our skin type is such a difficult task. I have used atleast two dozen different face washes since my childhood but still I haven't find my HG face wash yet. After having a good experience with Spawake Moisturising Fairness Cream, I was looking forward to try the face wash.
Before sharing that how it worked on my skin, let me share a bit about my skin type. My skin turns into an oil producing plant in summers. I was using Garnier Complete White Face Wash from the last two months. It helped in controlling the oil secretion but only for a short period of time. I was thinking about switching the face wash when this option came in my kitty.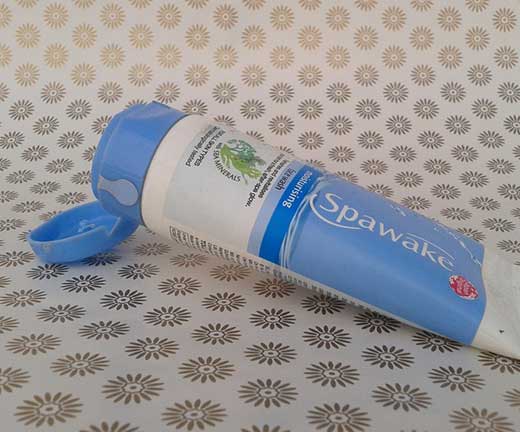 It comes in an opaque plastic tube. The packaging is spill proof which makes it a convenient option in case you are planning to travel. It has mild floral fragrance. A single sniff is enough to instantly refresh your mood. Its texture is very similar to aloe vera gel but it is colourless.
Every time I take only a drop and that much is more than enough for my entire face. It lathers really very well. It makes my face clean without leaving any slippery feeling behind. My face looks fresh and glowing after every use. It effectively removes the oil from the face without making it dry. My face remains like that for 3-4 hours. Its continuous usage has helped in improving my complexion as well.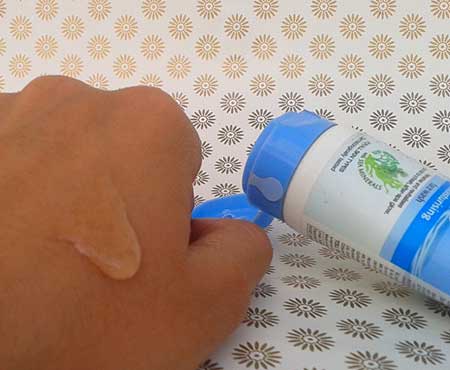 But there are few things which I did not like about it. The brightening effect is temporary. It stays only for an hour or so. Another thing which I totally disliked about it is that its ingredient list contains some scary chemicals. Though it contains few amazing ingredients like pearl powder, glycerine and sea salt but it also contains paraben which damages our skin in long term.
What I Like about 'Spawake Moisturising Face Wash'
– It contains pearl powder and sea salt.
– It instantly refreshes the face.
– It controls the oil for 3-4 hours.
– Regular usage helps in lightening the complexion.
– Only a drop is enough for a single use.
– It comes with an affordable price tag.
What I do not like about 'Spawake Moisturising Face Wash'
– Results are temporary.
– It contains paraben.
– Availability is also an issue.
Ingredients of 'Spawake Moisturising Face Wash'

Price of 'Spawake Moisturising Fairness Cream': INR 69/- for 50 gm
Shelf Life of 'Spawake Moisturising Face Wash': 36 Months from the date of manufacturing
BABE Rating: 4/5
Final Words: Overall it is a decent face wash which effectively helps in controlling oil for few hours. It also refreshes the face without making it dry. I guess it will perform better in winter season. If you are thinking about changing your current face wash then you can definitely give it a try. It doesn't make tall promises and does whatever it claims. You will not be disappointed with the after effects. But in case you are looking for a cleanser to deal with your acne issues or dark spots, then skip it. It does not deal with that problem.
You may also like reading these related topics
Dove Beauty Nutrium Moisture Face Wash Review
Dove Deep Pure Face Wash Pore Care Review
Is Pears Pure And Gentle Ultra-Mild Face Wash Good For Dry Skin ?
JAFRA Brightening Cleanser Review Swatch
Lakme Clean Up Nourishing Glow Face Wash Strawberry Review
Loreal Paris Hydrafresh Instant Freshness Gel Foam Face Wash Review
L'Oreal Go 360 Clean Anti Breakout Facial Cleanser Review
Neutrogena Deep Clean Facial Cleanser (Combination/Oily Skin) Review
Neutrogena Deep Clean Foaming Cleanser Review