For coffee lovers, Skin Yoga Coffee Body Scrub would be no less than a treat. I got this product in one of the Fab Bags, but unfortunately forgot to use it until two weeks ago. When I was rearranging my skin care products I spotted this shiny golden pouch and thence I have been using it regularly. Let's see what this product claims and how it actually performed on my skin.
What the product says:
De-tans and Reduces Cellulites.
The caffeine enhances fat metabolism and removes liquid and fat from your skin, ultimately reducing the appearance of cellulite and stretch marks. The natural oil moisturizes and nourishes your skin. This scrub also treats inflammation and protects your skin from sun damage.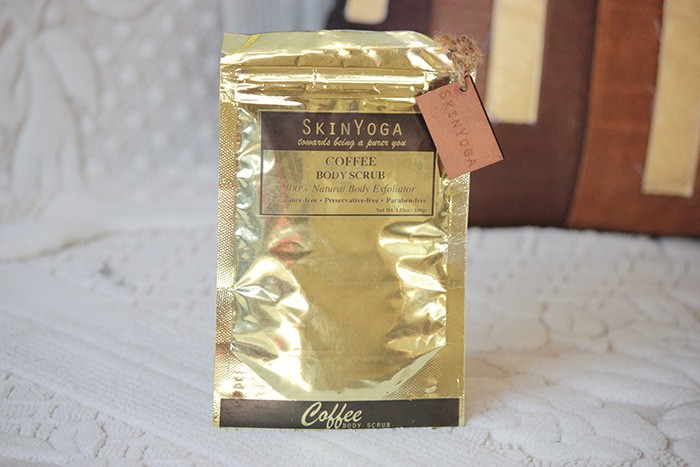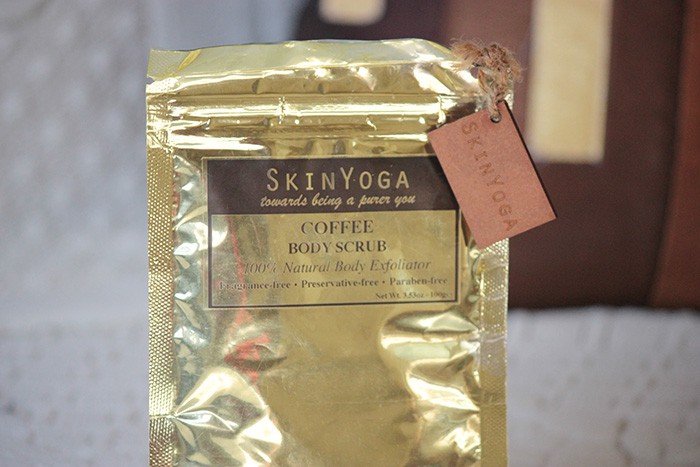 My take on 'Skin Yoga Coffee Body Scrub Review'
Skin yoga coffee body scrub comes in an attractive golden pouch that looks quite luxurious. It is a zip lock pouch that means the contents can be sealed without allowing any contamination from air or water. Though the packaging is ok but still I feel that if it had been packed in jar the usage would be more convenient. For initial couple of applications, I took out the scrub from the packet only but it was bit inconvenient as I had to dig deep inside to fetch the scrub. After I transferred the contents to a wide empty container, the usage became a lot easier. Now, I can take the scrub without spilling it around, and hence use it economically.
Oh, do not ask me about its fragrance! I love coffee and the moment I opened this packet it took me to another world. The fragrance is just like that of my favorite coffee. And if you know how amazing coffee fragrance becomes when we beat coffee manually you would be easily able to relate it. This fragrance in a coffee scrub is intoxicating and would make you long for a cup of coffee. I can go on and on about its fragrance but for the time being let me just say that it has yummy coffee fragrance that lingers on the skin for about 5-7 minutes after the shower. I think that it is good that the fragrance is sort-lived because I would not want to smell of coffee all day long – no matter how much I love it.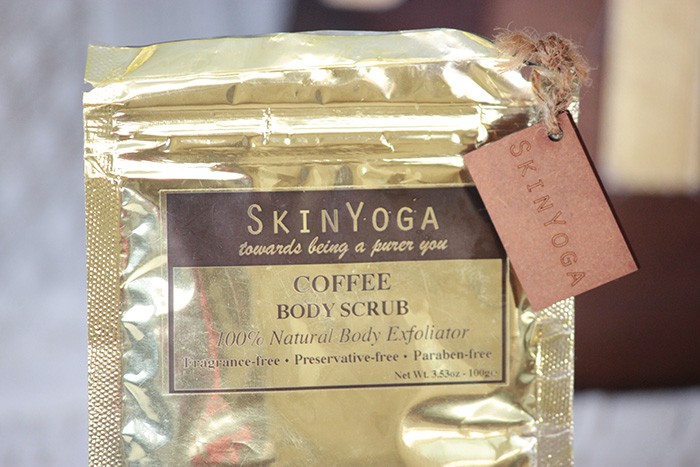 The scrub contains grounded coffee beans, coconut oil and sesame oil as main ingredients. It looks similar to coffee and the scrub particles are small enough to be gentle on the skin yet work effectively. I apply this scrub on wet skin after taking regular shower. I massage the skin for good 7-10 minutes focusing on the areas where I see tanning and flakiness. I massage it in soft circular motion as that increases the performance of the scrub. Then rinse it off using regular tepid water. Since it does not create any froth it is easy to get rid of.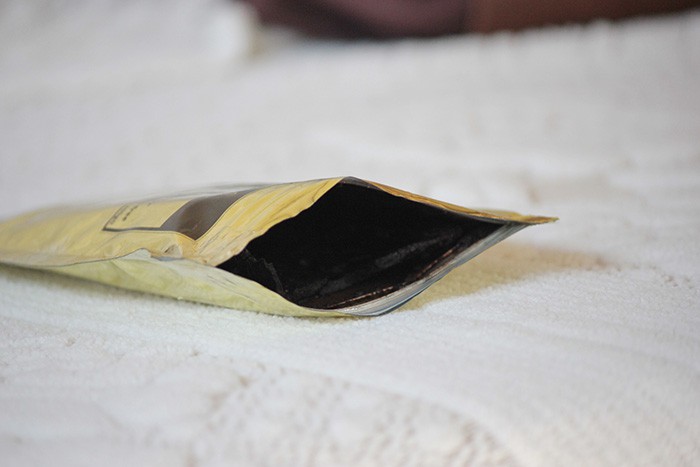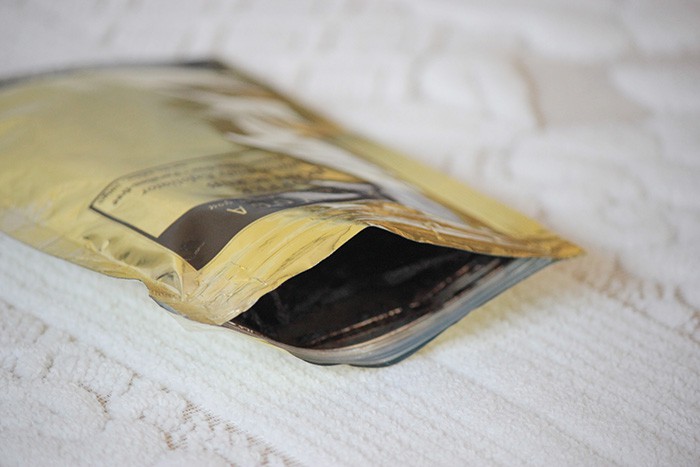 This is a hydrating scrub so it leaves the skin well moisturized. Sometimes I do not even see the need of applying an extra layer of moisturizer. It is a nice product for all skin types especially dry skin and as winter season is approaching this would an easy way out to save the skin from dryness. It makes the skin soft and moisturized, and since I have started using it twice a week I see visible difference in my skin health. Now, it looks smooth and healthy. Even the areas that got tanned because of continuous exposure to sun have started to lighten. Though I have not seen any cellulite reduction yet but I am satisfied with its performance.
What I like about 'Skin Yoga Coffee Body Scrub Review'
– Delicious fragrance of coffee.
– Works effectively in removing tan and dead skin cells.
– Hydrates the skin.
– Scrub particles are effective yet gentle on the skin.
– Does not create any froth.
– Less is more here as only small quantity is required for one time use.
What I do not like about 'Skin Yoga Coffee Body Scrub Review'
– The scrub would be more safe and easy to use if it had been packed in a jar.
– Steep high price.
Price of 'Skin Yoga Coffee Body Scrub Review': Rs 1795 for 220g
Ingredients of 'Skin Yoga Coffee Body Scrub Review'
Grounded coffee beans, pure coconut oil, pure sesame oil
BABE Rating: 4.5/5
Final Word: Formulated with the goodness of coffee, Skin yoga coffee body scrub works gently yet effectively on the skin. It has yummy fragrance and mild scrub particles that give pamper the skin and make it soft and smooth. Consistent usage helps in removing tan and flakiness. The presence of coconut and sesame oils keeps the skin well moisturized and healthy. Overall, except the price I love everything about this body scrub. If you do not mind the price tag you should give this a try.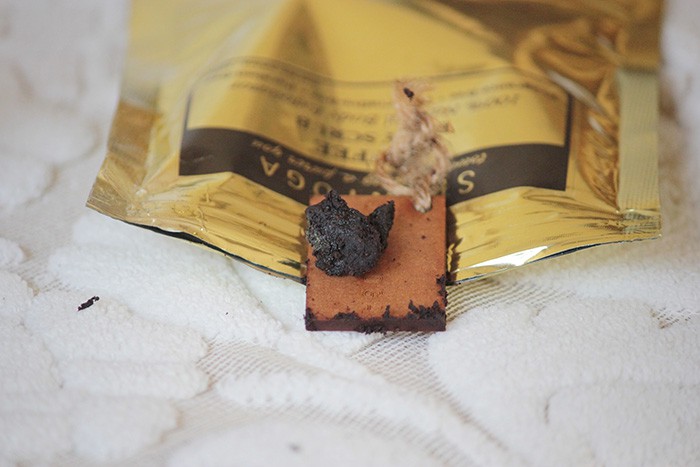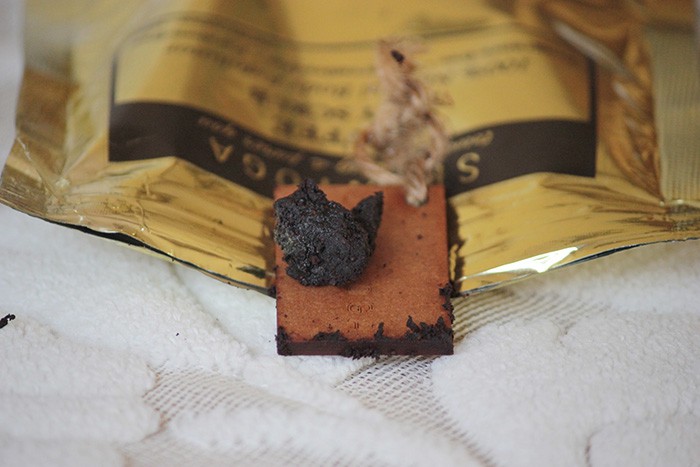 You might also like reading these related topics:
Nyassa Tiramisu Body Scrub Review-Cocoa Butter & Raw Brown Cane Sugar
Grace Cole Tea Tree And Witch Hazel Exfoliating Body Scrub Review
The Body Shop Virgin Mojito Body Scrub Review
Fabindia Black Sesame and Salt Body Polisher Review
Vana Vidhi Oriental Rice Paddy Face And Body Scrub Review