Recently, the body shop has launched limited range of Virgin Mojito bathing products. There are five products in this range- body sorbet, body wash, body scrub, shower gel and body butter. As the name says, all the products are have an essence of Virgin Mojito cocktail, and that's why they smell so refreshing. I have already reviewed body butter; you can check its review here. For body scrub, read on to know my experience with this reviving product.
My Take on 'The Body Shop Virgin Mojito Body Scrub'
The body shop virgin mojito scrub comes in a transparent tub packaging. The pale green color is attractive and soothing to the eyes. Being packed in tub, the contents have the probability of getting unhygienic but if you use a spoon or a spatula to take out the product there will be no such problem. Also, the tub is spill-proof and easy to carry while travelling. If you want to carry it in a handbag, I would suggest transferring some of the contents to a travel container.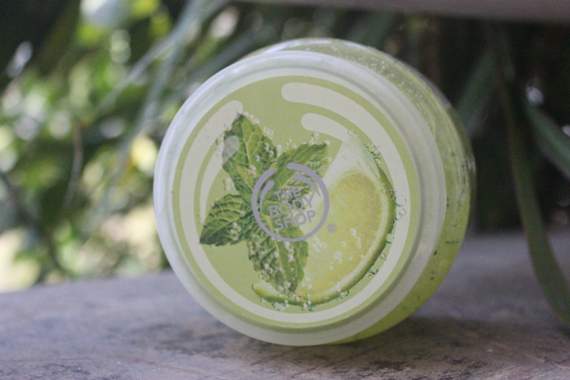 It has a gel base with two type scrub particles that feel gentle on the skin. The green beads are slightly bigger in size than the pale ones but irrespective of the size both the particles feel very soft on the skin. The pleasant mint & lemon fragrance is as refreshing as the cocktail itself. It has the ability of turning on your lazy mornings or any time when you shower with this invigorating scrub.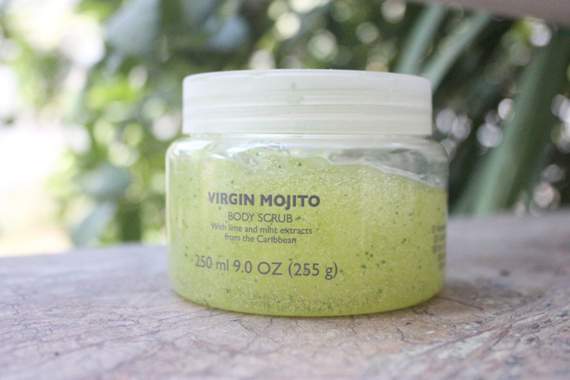 For application, it is a gently scrub so can be used on daily basis. I use it on wet skin, massaging in circular motions. It leaves skin smooth and fresh. The other benefit of being a non-foaming scrub is that it does not leave any sticky feel behind. In just one wash every residual is off the skin, making it smoother and more fragrant than before.
It does not leave the skin dry. The skin feels moisturized and healthy afterwards. In winter season, it might require moisturizer after scrubbing but in summers it will keep up the moisture level without calling for an addition layer of lotion.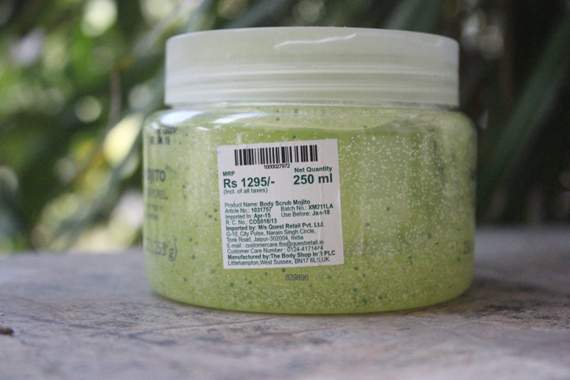 It helps in uprooting ingrown hair. I have been using this scrub for over last two weeks, and in this short span I see it working on tanning as well. There is considerable improvement in my skin tone and blemishes. Earlier, I used to have visible spots on my arms since I have started using this scrub the spots have faded to a huge degree.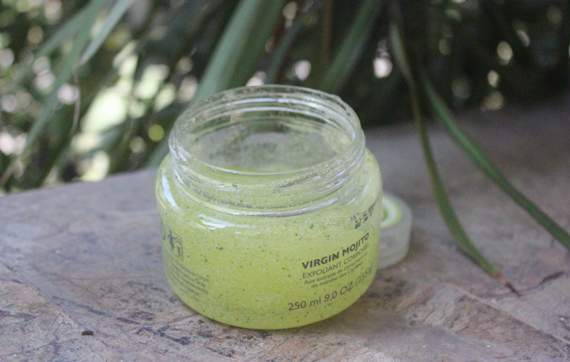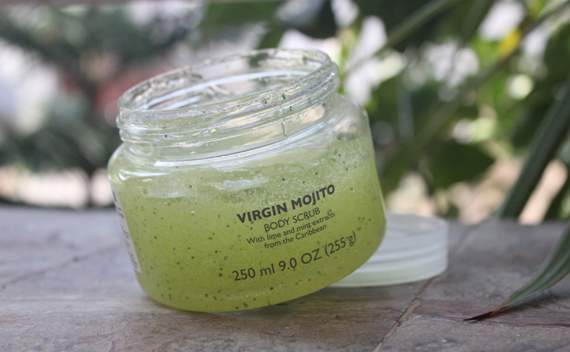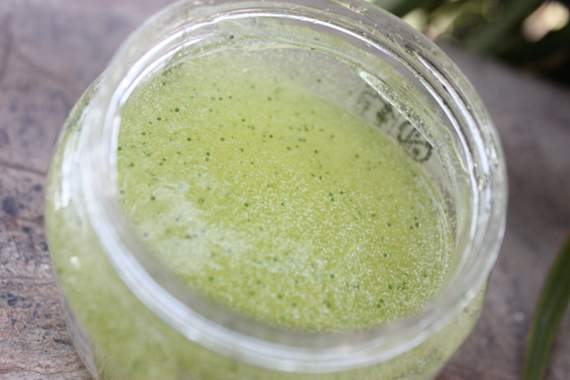 What I like about 'The Body Shop Virgin Mojito Body Scrub'
– Refreshing lime and mint fragrance.
– It has miniscule scrub particles that feel gentle on the skin.
– Easy to remove as it does not leave any residue behind.
– It's fragrance is an amazing combination of mint and lemon.
– It helps in removing tan.
– Evens out skin tone.
What I do not like about 'The Body Shop Virgin Mojito Body Scrub'
– It does not foam. It is not a con though but I prefer foaming bath & body products.
Price of 'The Body Shop Virgin Mojito Body Scrub': Rs 1295 for 250 ml
Shelf life of 'The Body Shop Virgin Mojito Body Scrub': Around 30 months from date of manufacturing.
BABE Rating: 4.5/5
Final Word: The body shop virgin mojito body scrub is a mild product that is apt for daily usage. It's refreshing lemon and mint fragrance keeps the skin fresh for a good time. Also, the consistent use of this product helps in removing tan and evening out skin tone. If you do not mind the price tag, you should definitely try this scrub.
You might also like reading these related topics
First Impression- The Body Shop Virgin Mojito Range
The Body Shop Virgin Mojito Body Butter Review
Fabindia Black Sesame and Salt Body Polisher Review
Vana Vidhi Oriental Rice Paddy Face And Body Scrub Review