Coming out from the neutral and pastels phase, I have tried a different nail color this time. It is from 'Sally Hansen Diamond Strength No Chip Nail Color' range and the shade name is 'Rosy Future'. The name is quite promising and so is the quality. But does it go on my 'favorite nail polishes' list? Find out yourself.
What the product says:
Up to 10 day protection from breaking, splitting and cracking. Infused with real micro-diamonds & platinum. The best just got better. This new, advanced formula now has platinum for superior strength, shine and wear.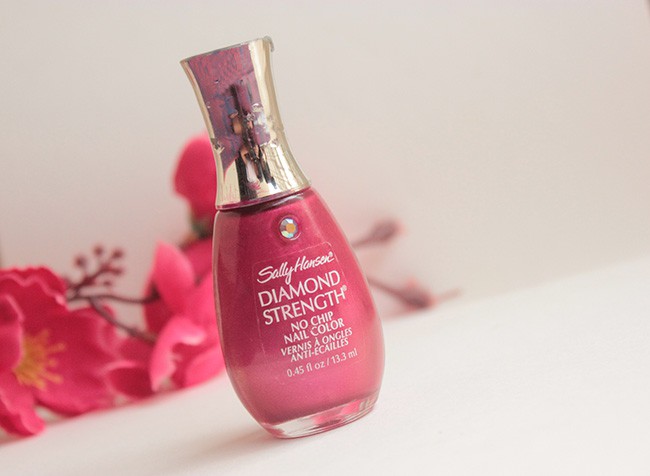 My take on 'Sally Hansen Diamond Strength No Chip Nail Color Rosy Future'
Sally Hansen diamond strength nail polishes come in curvy glass bottles. The name diamond strength is because of two reasons, one they claim to have long staying power up to 10 days that too without any chipping or breaking ( I will add my experience regarding this in later paragraph) and second they have shining stone embedded on the bottle. Because of the stone and curviness the packaging looks classy and unique, but rest of the other features like sturdiness and transparent bottle are similar to other nail polishes. One thing that I want to point out here is that this polish has long brush holder that aids in making the application easier, but the brush is not too wide and for my extremely wide nails I need to swipe it four times to fully cover the nail bed. If you have narrow nails you might not face this problem. The good thing about this brush is that it does not leave any marks. The finish comes out smooth and non-streaky.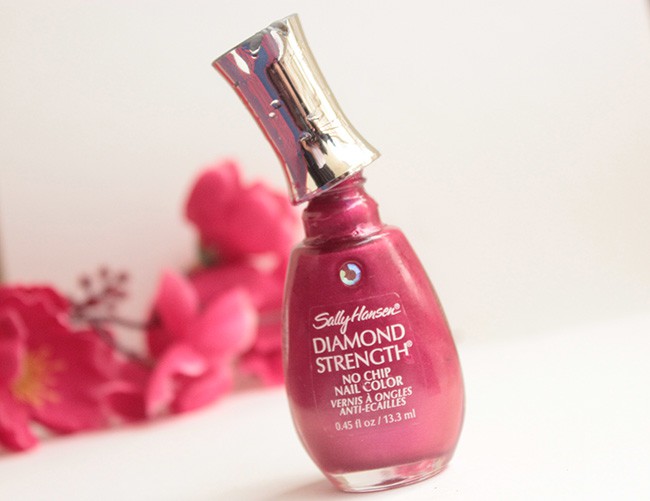 There are more than 20 shades in this range, so I am sure you will find many shades matching to your preferences. Rosy future shade is what it says- a deep pink shade just like roses. It is a very bright color and highly pigmented too. In just one coats it gives 100% opacity, normally I do not go for the second coat but if you want you can apply the second coat to enhance the longevity. I always apply a base coats underneath such bright and pigmented shades to avoid transfer of color to my nails. I would suggest you also do the same as it will protect the nail from going pale.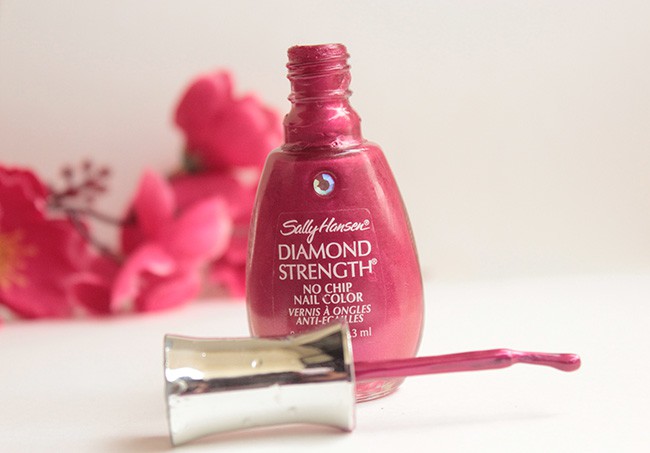 As for the finish, it is high shine nail polish, and being a bright color it gives a bold and quirky impression. This shade is perfect for parties, especially when you need to make a loud statement. Indian brides and brides-to-be should add this shade to their nail polish collection as it will go well with their party outfits. Well, you can also wear it on regular daily basis if your surroundings (such as office culture) permits but personally I keep such colors for special occasions only.
Regarding the longevity, the brand claims 10 day protection from breaking, splitting and cracking. Going by my personal experience I find it staying intact for 4 days after which its shine starts fading and it comes off the tips. But that scenario is with just one coat, if I seal a second coat on top of it the longevity and intactness get extended to another couple of days but even then it does reach the 10 day mark. In conclusion it has a lot better longevity than other nail polishes but definitely not 10 days.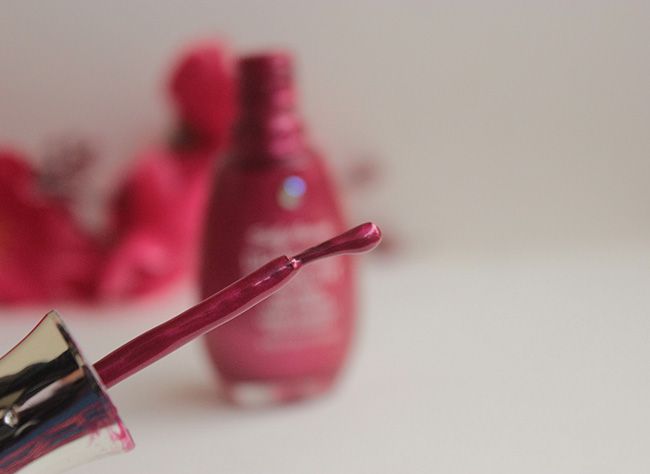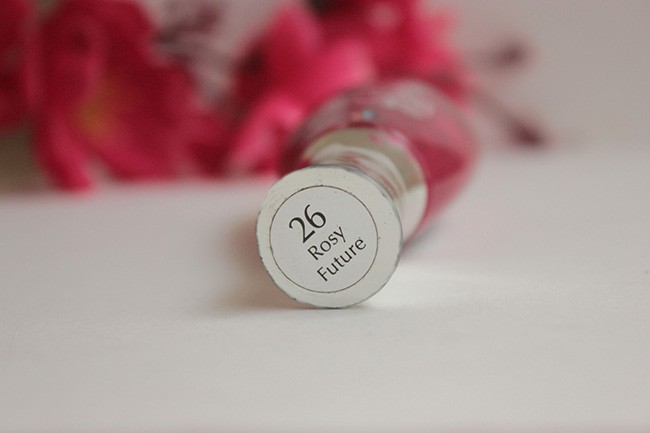 What I like about 'Sally Hansen Diamond Strength No Chip Nail Color Rosy Future'
– Extremely pigmented, one coat provides 100% opacity
– Dries quickly.
– High gloss shine.
– Classy packaging with a stud embedded on the bottle.
– Long brush holder that ease the application.
– Bright shade apt for parties.
– Does not chip off easily.
What I do not like about 'Sally Hansen Diamond Strength No Chip Nail Color Rosy Future'
– Brush is thin and less dense; I need 4 strokes to cover my wide nail bed.
– Some people might find it not much appropriate for daily wear.
Price of 'Sally Hansen Diamond Strength No Chip Nail Color Rosy Future': Rs 395 for 13.3ml
BABE Rating: 3.5/5
Final Word: I quite like the different packaging of this nail polish. The shade speaks in itself as it is quite bright and pigmented with super glossy finish. It has excellent staying power, compared to other nail polishes it stays on really long without chipping and loosing the shine. I would recommend this shade to everyone, who likes wearing bold colors, especially to brides and brides-to-be as it will go along well with their wedding wardrobes.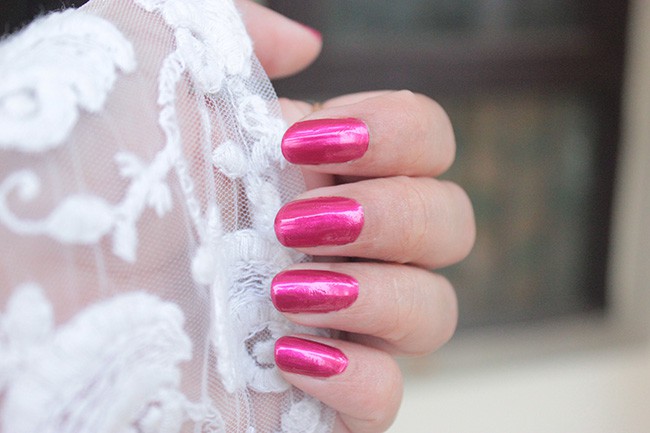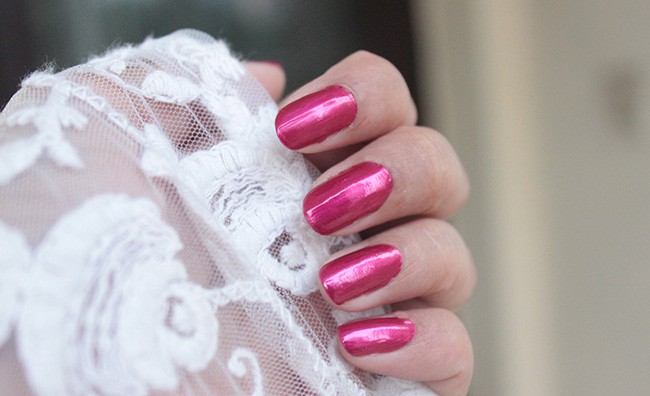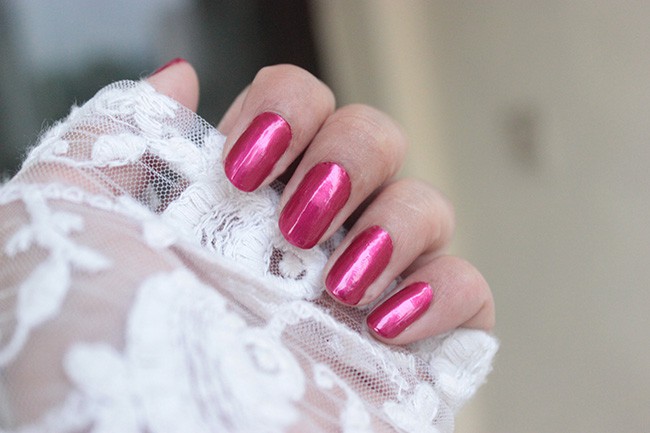 You might also like reading these related topics:
Sally Hansen Satin Glam Nail Color In Shade Teal Tulle Review Swatch
Maybelline Color Show Nail Polish Fiesty Fuschia 213 Review Swatches
Revlon Nail Enamel Knockout 451 Review Swatches