After reviewing numerous red and pink nail polishes, I thought to give a try to a different shade this time. Black is a very common color, and for last some time it has become common in nail paints as well. I always wanted to try a matte black nail polish with leather finish but it was difficult to get it in India. Nevertheless, when I spotted Revlon Nail Enamel in knockout I could not resist adding it to my collection. Read on to know my experience with this unique shade.
My Take on 'Revlon Nail Enamel Knockout 451'
It comes in a cylindrical glass bottle that looks study but cannot survive an accidental fall. I have already broken one such bottle so be careful while you handle it. The bottle is transparent so you can easily see the shade without trying it out. Plus, this is the kind of shade that you do not actually require to test before purchasing.
Speaking of color payoff, one coat provides a translucent nail bed. For a complete opaque look, you require 2 coats. The pigmentation is excellent – 2 coats give you a pure jet black color. The plus point is that it dries quickly. One coat takes just fraction of seconds in drying, and the second coat also does not take much longer before it makes your hands free again.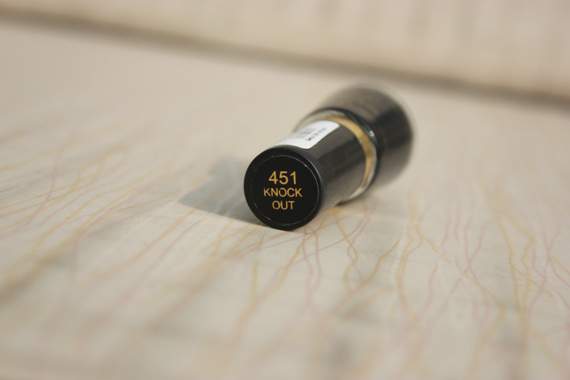 Being a dark shade, I would suggest applying a base coat underneath. Lacking of which may transfer the color to your nail skin. It has slightly thick consistency which makes it difficult to work for water marble nail art. To be honest that was the main reason why I purchased this nail polish. Because of the thickness, it does not work at all with other nail polishes. But if you are using it for normal nail art, it should work just fine.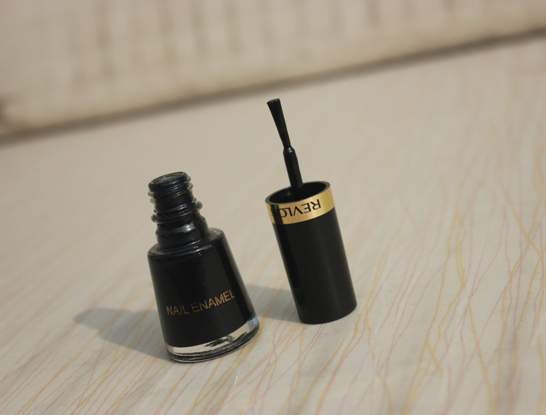 It has nice smooth texture that leads to a non-streaky even finish. The brush is wide enough to cover entire nail bed in 2-3 strokes. The silk-silicone formula smooth away bubbles and brush marks to deliver a salon perfect finish. The glossy finish goes very well with both western and Indian outfits. If you want to turn it into a matte black nail polish, top it up with a mattifying transparent coat.
This nail polish is based on chip-resistant formula. So for the staying power, it stays intact for 3-4 days with slight chipping off the tips. The sheen starts fading from day 3, but you can always recreate it by applying a glossy top coat.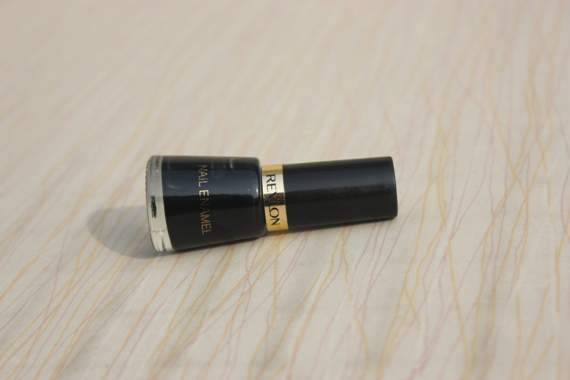 What I like about 'Revlon Nail Enamel Knockout 451'
– It does not take much time in drying.
– Good color payoff.
– Glossy finish goes very well with western and ethnic outfits.
– Non-streaky finish.
– Does not leave any bubbles or brush marks.
– Suits all skin tones.
– Long staying power.
What I do not like about 'Revlon Nail Enamel Knockout 451'
– It cannot be used for water marble nail art.
– Consistency is thick as compared to other nail polishes.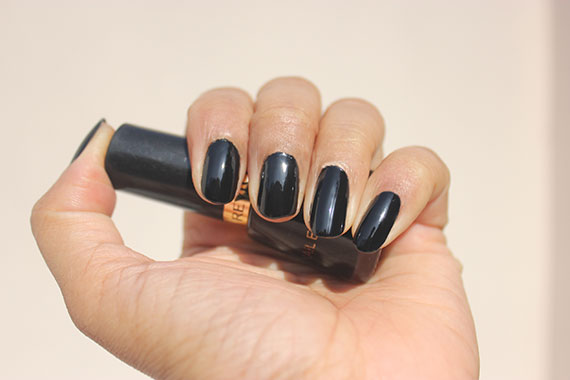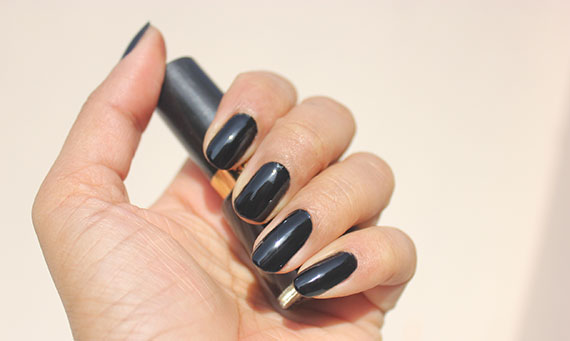 Price of 'Revlon Nail Enamel Knockout 451'- Rs 190 for 8ml
Shelf life of 'Revlon Nail Enamel Knockout'- Around 3 years from manufacturing date.
BABE Rating: 3.75/5
Final Word: Revlon nail enamel knockout is based on silk-silicon formula that delivers an even smooth finish without any bubbles or brush marks. It is jet black nail polish; the color goes well with all types of outfits. It gives a bold impression with a hint of self-confidence and attitude. In my opinion, it is a nice shade to add diversity to your nail polish collection.
You might also like reading these related topics
Revlon Nail Enamel Polish in Shade Cherry Berry 421 Review Swatch