Seeing the sudden rise in temperature in early April, it is not difficult to comprehend what it would be like in upcoming summer months. To combat the heat, we need to prepare ourselves, and that does not only mean servicing the air conditioners, redoing the summer-appropriate interiors, stocking up refreshing summer drinks but also re-planning the wardrobe. In summers, I prefer such outfits that are easy on the skin and comfortable to carry, and that's the reason my wardrobe mainly consists of Kurtas, tunics, and dresses. Being a working woman, I do not have much liberty when it comes to professional wear. We only get Fridays to wear informal/casual attires such as tunics and dresses but I am thankful to those fashion designers who came with the concept of Kurtas or Kurtis.
For women, Kurtas are summer savior as they are easily available in formal and informal types. They are comfortable to wear and easy to carry and can be styled in n number of ways. You can keep the look ethnic or make it sophisticated by just juggling with some style accessories and the choice of footwear. Though Kurtas for women are available for every season and occasion, but I like summer designs the most. As summer season takes the toll the fashion brands come up with quirky designs that are captivating and fashion-aligned. The shelves are flooded with new designs in bright colors and summer-appropriate cuts. This summer it will be even more fun to wear Kurtas as Pantone has announced Rose Quartz and Serenity as colors of 2016. These are mesmerizing colors, and when I went for shopping this weekend all I could see were numerous waves of these colors.
A nice blend of custom and modernism, Kurtas personify Indian woman's spirit. They can be complemented with myriad options that go from traditional churidars to modern palazzos. You can add a hint of variety to your Kurta collection by option for different styles- A-line, frock style, straight, three-fourth sleeves, sleeveless, printed, embroidered etc. My favorites are straight Kurtas as they look professional, and if I find a collared neck I would not miss adding it to my wardrobe. It looks even more decent and modern, giving you a confident and bold look.
Here are few designs and prints from the renowned apparel brand BIBA. These styles perfectly fit in my preference list so I thought why not share them with you all as well. Let's have a look.
Floral print is one of my favorites as it adds a feminine touch. Here is a placement printed kurta inspired from navajo patterns mixed with floral prints.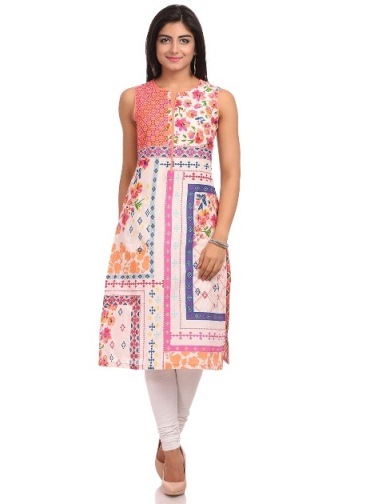 Sleevless kurtas are sheer beauty as they highlight body shape giving it a slimmer look. Here is a sleeveless kurta with collar neck and long placket. Its neck is highlighted with embroidery and shell buttons, and in my opinions it is a beautiful amalgamation of East and West.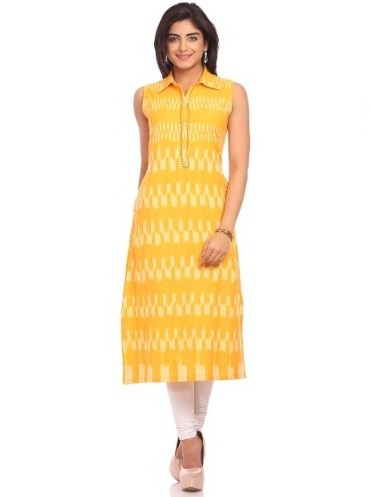 Printed Kurtas have always been in fashion but instead of going for an all-over print I like my Kurtas to be printed just around the neck line, and at the most sleeves. Printed sleeves give the Kurta unique, rich & authentic look.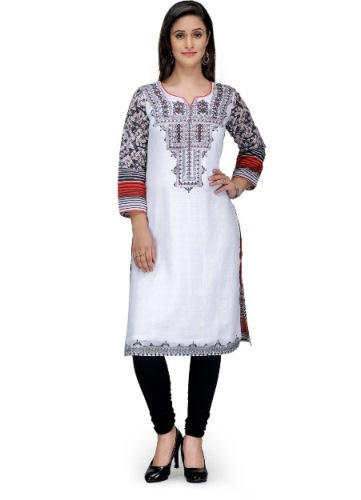 For a pure formal look, I would any day go for a 3/4th sleeve kurta with collar neck. And, if it is made in cotton fabric it would meet every criterion of urban working women's professional wardrobe.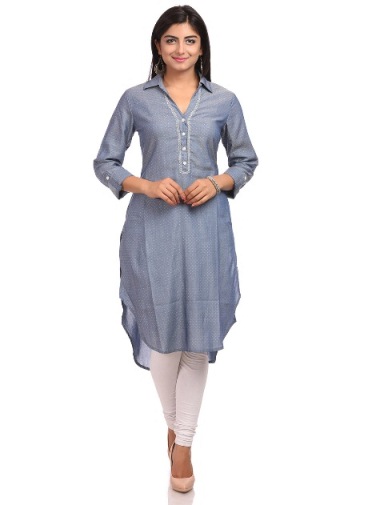 Kurtas are all-time favorite attire. You can easily find a perfect Kurta that would go well with your body type and your personal preference of colors and designs. This year's spring-summer collection is an assortment of bright colors, perfect fits aknd trendy materials. You should check out the latest collection before it runs out of stock. Lets re-plan the wardrobe this summer with trendy kurtas.
You might also like reading these related topics
Tunic Tops Provide Femininity To Both Curvy And Slender Women
Redefine Your Style This Prom With Gorgeous Dresses
10 Gorgeous Ways To Style A Saree
Ethnic Wear-Chic and Fashionable Indian Designer Sarees
Indian Wedding Outfits Based On Modern Wedding Themes