When it comes to looking really elegant and sophisticated at work we usually opt for a saree as it is the most traditionally and culturally accepted form of clothing for women. There is no harm in admitting that nothing can give you grace and poise more than a comfortable saree. The versatility of sarees depends on their style, design and fabric. Cotton sarees are welcome everywhere. Handloom sarees are very popular for grand events. Bollywood sarees in georgette or net are fit for weddings and parties. Indian designer sarees have become successful in winning many hearts and most of them suit many occasions, right from office meetings to parties and festivals.
Here are some examples of designer sarees that can earn you equal praises from both friends at a social gathering and colleagues at work or office meetings. A single saree can meet many purposes and save your money. You may also wear the same saree for office in the morning and go out for work with a friend after a little bit of styling as per your wish.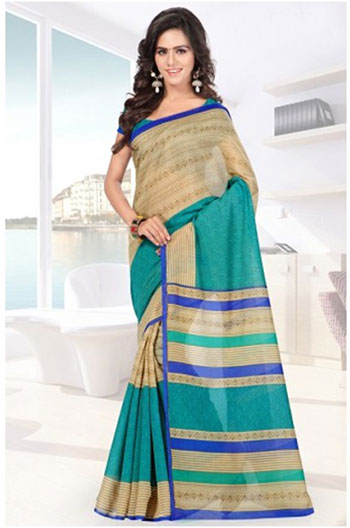 This silk blue and beige printed saree is bright and gorgeous, and yet smart and sophisticated. The saree designed in the half and half style has a pattern of black prints all over the pallu section. The ends of the pallu section however has multicolored stripes which look bright and interesting. The lower half of the saree has a beautiful shade of blue that has a calm and pleasant outlook. The orange border binds the entire saree in a beautiful outline. Your friends are bound to go gaga over this and your office colleagues too will love your pleasant demeanor. Here's a small tip. You can pleat up the saree at the office and let loose the pleats when you leave for having fun.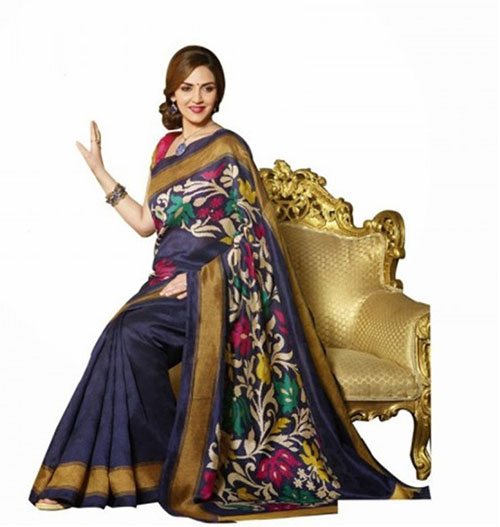 Bhagalpuri silks are smart and pleasant to look at. This Bhagalpuri silk half saree in amazing deep blue can suit all purposes. It is smart and sophisticated enough for office work, traditional for festivities and also exciting for get-togethers. Designed in the half and half pattern, it has a lovely floral in white, green and pink on the pallu section. The lower half is kept plain to balance the saree and keep the smartness intact. The golden border outlining the saree gives the touch of perfection. You just cannot go wrong with this anywhere.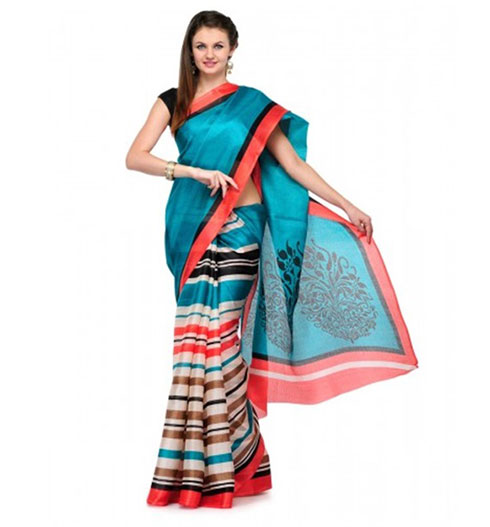 Blue is such a color that can both make you look exciting and cool among your friends and give you a calm, sober and pleasant demeanor at work. This blue art silk printed saree is such a saree that can suit all purposes. Wear it for work, for casual purposes or at a get-together you are sure to please everyone around you. The upper section has a calming shade of turquoise while the lower section has white, blue, brown and orange horizontal stripes for a smart and interesting look. It balances the entire combination really well. The thin black stripe and orange border outlining the saree gives it a perfect definition of grace and elegance.
In conclusion, designer sarees are smart, creative and innovative and their designs are crafted according to latest trends and fashion. These are varied in nature and can be of a lot of fabrics. They are also versatile in nature and suit all occasions perfectly.