Merry Xmas friends! Hope you have a good time on this special day. Well, I can't step out because it's very cold and difficult to party with a 9 months old baby. So to keep the spirits high I decided to doll up my nails in bright red. This nail polish is from Nykaa Floral Carnival Nail Enamel collection. I ordered it in September but somehow could not review it. Now, since I had some time on my hands so I thought why not share its review with you all. Let's get started with it.
What the product says
Want high impact color and super-shine? The Nykaa Floral Carnival Nail Enamel Collection is a superior nail lacquer with light-reflecting pigments that deliver intense, long-lasting color. Perfect for times when you DO want super shiny nails that last longer than regular polishes. The ultimate collection for the sophisticated, girlie girl! The Nykaa Floral Carnival Nail Enamel Collection is like wearing a bouquet of fresh spring flowers on your tips; your pinkies never looked more beautiful!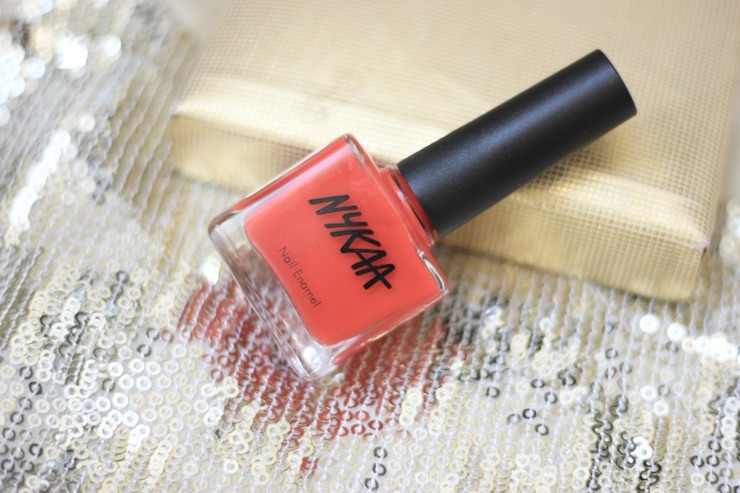 My take on 'Nykaa Floral Carnival Nail Enamel'
The packaging of these nail polishes is similar to any other normal packaging i.e. transparent glass bottle, brand name in front, shade number on top of the cap and shade name on a sticker pasted on the side of the bottle. The subtle difference is the length of the black cap, which is longer than regular nail polishes and more convenient for application.
These nail polishes are available in 17 stunning shades that are vibrant and stunning. A few pastel shades are also there just the fresh blossoms of the spring season. I like this bright range as it instantly adds life to the nails and boosts the mood. New brides or would-be-brides will find a lot of variety in this range. Also, if you are looking for striking shades for Indian weddings or festivals you should check this out.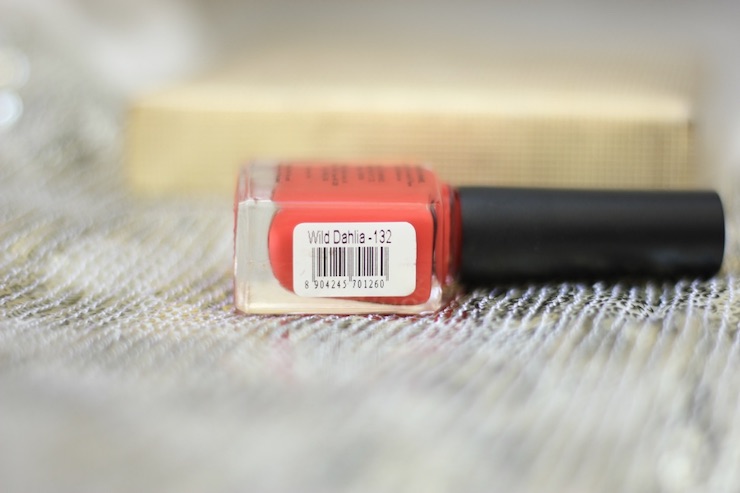 Wild-Dahlia is a bright red shade just like tomatoes. It resonates free spirit and "bindaas" attitude with a slight feminine touch. As the sun sets and the sky basks in its reddish-orange glory, the Nykaa Nail Enamel in Wild Dahlia makes the heart grow fonder towards the less-traveled road.
I like the gel-like formula as it makes the application smooth and convenient. But the downside is you have to be little quick while applying these nail polishes else it will become thick after getting exposed to air and will lead to a streaky application. The average sized brush has to be swiped 2-3 times to cover the nail bed. I love the semi-glossy touch as it gives a professional look. Being on the brighter side, most of the shades have got nice pigmentation. You get smooth and gorgeous coverage in a single coat, stunning, plumping effect in two coats.
If you place the order on Nykaa website you have an option to digitally these nail polishes. All you need to do is select the nail polish shade and your skin tone, and you get an idea how it will look on you. I find this feature very helpful while selecting my shades.
The longevity is amazing as these can stay intact for good 5-6 days. If you do household chores it starts chipping off the tips after 3-4 days else the formula is chip proof. Also, these polishes are formulated to have UV filter to prevent discoloration of nails.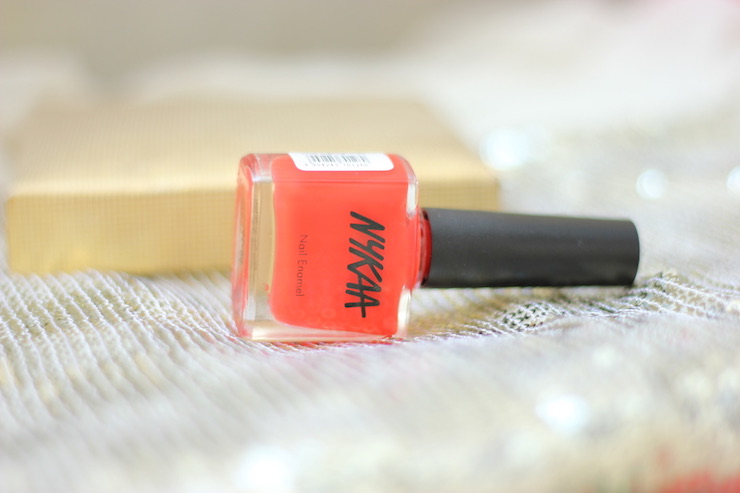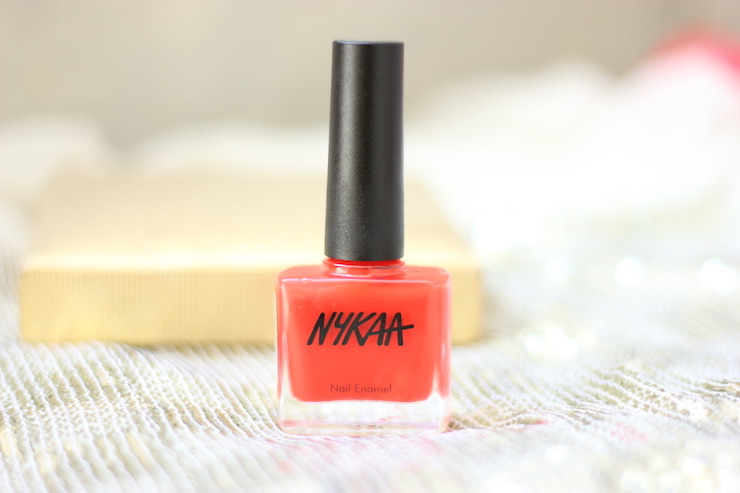 Things I like about 'Nykaa Floral Carnival Nail Enamel'
– 17 shades to choose from.
– Excellent long-lasting formula.
– Chip-proof.
– Gel-like non-streaky finish.
– Non-yellowing.
– Smooth coverage in two coats.
– Reasonable price.
– Can be virtually tried before placing online order.
– Nice variety for brides and brides-to-be.
Things I do not like about 'Nykaa Floral Carnival Nail Enamel'
– All shades might not suit every skin tone.
Price of 'Nykaa Floral Carnival Nail Enamel'- Rs 179
BABE Rating- 4/5
Final Word- Overall, Nykaa floral carnival nail enamel collection has an excellent variety of stunning shades. It is a fabulous range for color lovers and Indian brides. You can even use these shades to doll up the nails and brighten up the mood when you just need a little dose of a striking color.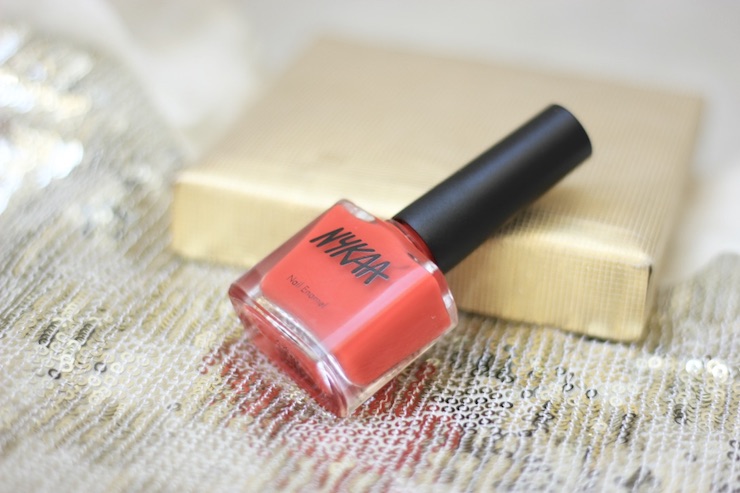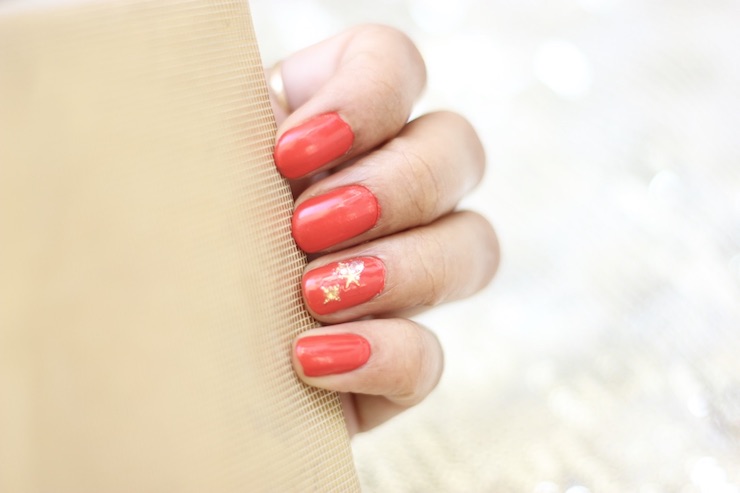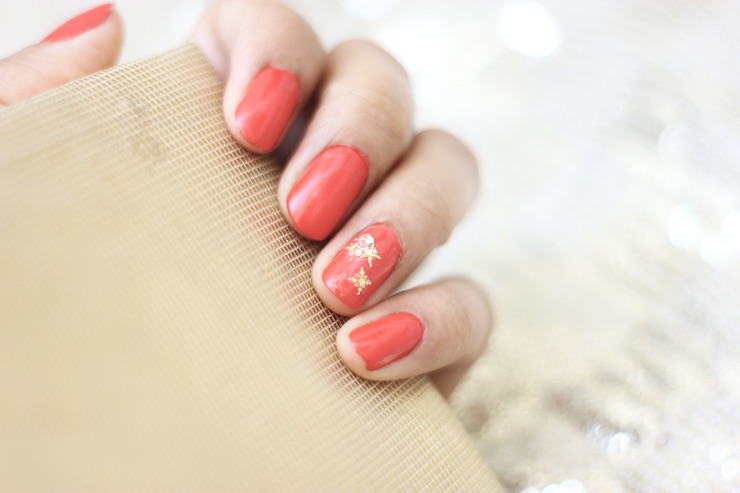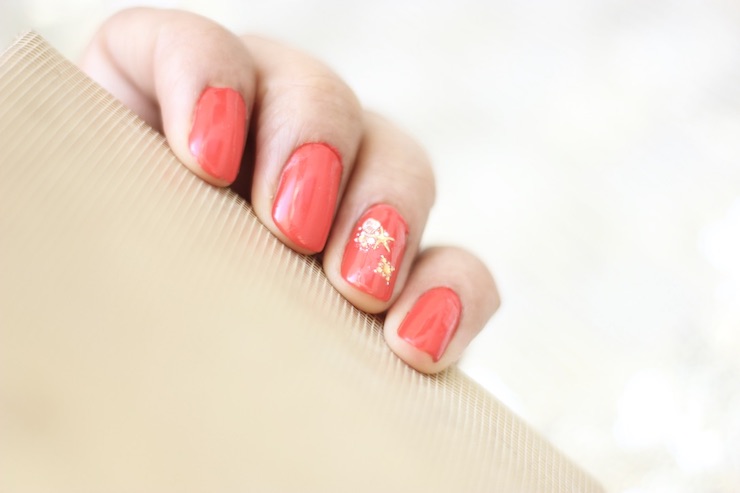 You might also like reading these related topics
Nykaa Nail Polish Strawberries n Cream Review Swatch
MAC Nail Lacquer Morange Review and Swatch
Cuccio Colour Nail Polish Shaking My Morocco Review Swatches
Lotus Herbals Colour Dew Nail Polish Peach Perfect 99 Review NOTD