Today I am going to review one of the famous Nykaa nail polishes. These polishes are available in 15 shades that go for every occasion and season. Plus, these shades are created keeping the fashion trends in view. This is my first brush with these nail polishes, and as they do not test them on animals I might give a try to other shades as well. Before that, let's go through my review on Strawberries n Cream nail polish.
What the product says:
Want high impact color and super-shine. The Nykaa Pastel Nail Enamel Collection is a superior nail lacquer with light reflecting pigments that deliver intense, long lasting color. Perfect for times when you DO want super shiny nails that last longer than regular polishes.
The ultimate collection for the sophisticated, girlie girl! The Nykaa Pastel Nail Enamel Collection makes you want to reach for delicate macaroons and swirly cupcakes. It?s like wearing a bouquet of fresh spring flowers on your tips; your pinkies never looked more inviting!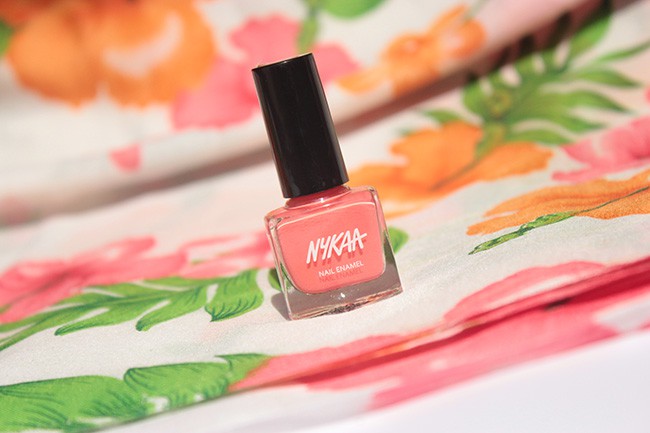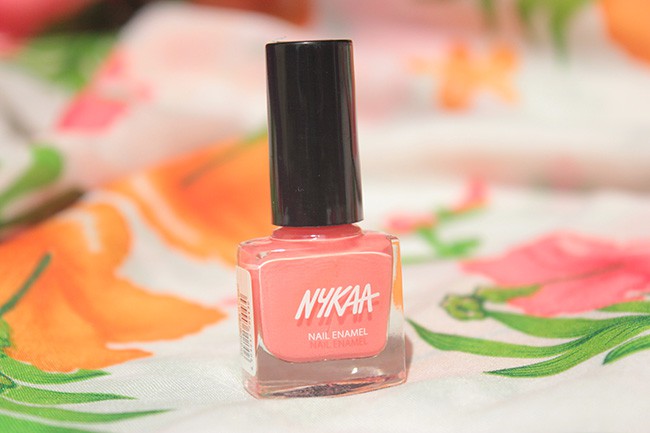 My Take on 'Nykaa Nail Polish Strawberries n Cream Review'
These nail polishes are packed in glass bottles. The base is square shaped, and is supported with a black brush holder on top. The length of the brush is long enough for convenient application and good grip. The nail paint brush is thick, and does not leave any brush marks while it glides on the nails. However, it is also not wide enough to cover the nail bed in just one stroke. On my big nails, it requires at least 3 strokes to cover every nook and cranny but if you have average or smaller nails you may be done even in 2 strokes.
Strawberries n cream is coral shade on the neon side. It is a vibrant shade that adds life to an otherwise dull look, and sort of leaves a bold impression. It is the shade of 21st century girls who love to stay bold and confident. It is an appropriate shade for summers especially when you need to get ready for those cool pool parties.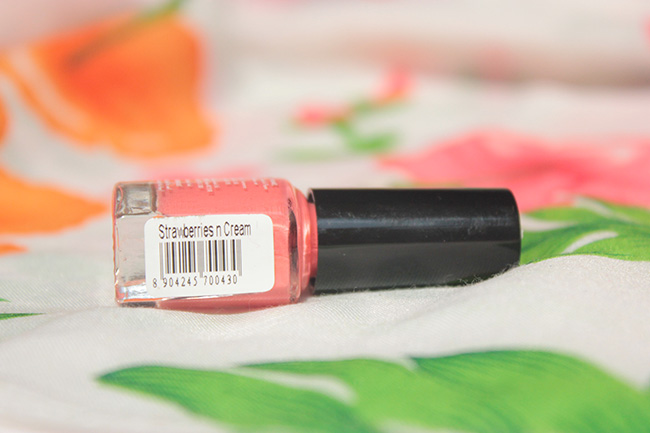 Being based on gel formulation, this nail polish has slightly thick consistency. Though this consistency makes the polish to stick to the nail for a longer time it also makes the application little difficult. Dragging the brush to spread the nail polish everywhere leads to patches, and as it is a pastel color those patches can be very much visible after drying. To avoid this patchy finish, I prefer using a top coat. It evens out the damp polish and prevents any streakiness. Plus, for the gel consistency the gap between two coats has to be slightly longer unless the finish would not come as desired.
It is a pastel shade so requires minimum two strokes to give an opaque look. You may need to go for a third coat in case of streakiness after the second coat. The key here is to let the first coat dry completely before applying the next. Not doing so will give uneven finish. Speaking of finish, it is salon-like glossy and solid like a rock. When in sun, it reflects light and gives an impressive look. Even though it is a neon coral shade, it would suit all skin tones, making the hands look bright and "you" confident.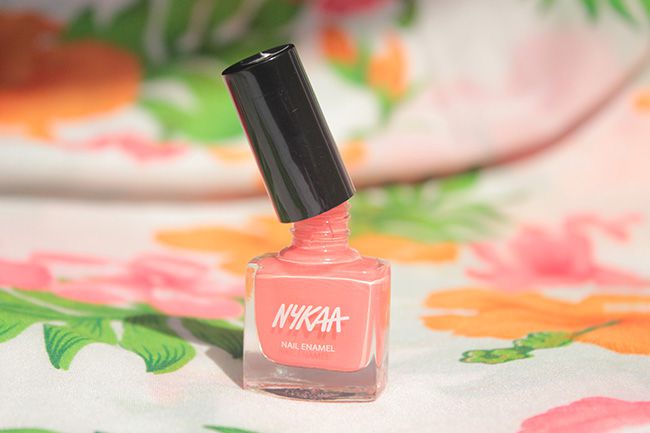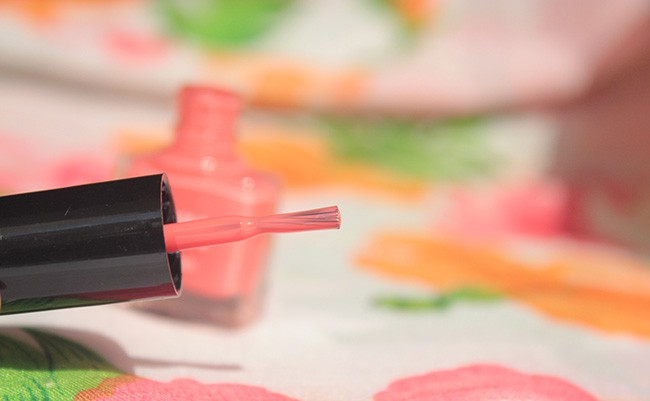 As I seal it with a top coat, so the chipping in my case gets delayed. Normally, my nail paints start chipping from the tips third day onwards but this stays on for another day with almost no variation in glossiness. For discoloration, the brand claims that it would not make the nails yellow. I always apply the base coat before putting on any n*de, pastel or neon nail polishes, so the discoloration never happens unless, of course, I keep the polish on for 7-8 days at a stretch.
What I like about 'Nykaa Nail Polish Strawberries n Cream'
– Vibrant coral shade, appropriate for summers.
– Gives a bold and confident impression.
– Brush holder makes the application convenient.
– Lasts long without chipping off the tips.
– Does not contain any of these five chemicals: Toluene, DBP and Formaldehyde,Formaldehyde Resin and Camphor
What I do not like about 'Nykaa Nail Polish Strawberries n Cream'
– Gel-like consistency increases the application time.
Price of 'Nykaa Nail Polish Strawberries n Cream': Rs 149 for 10ml
BABE Rating: 4/5
Final Word: Overall, strawberries n cream is a lively coral color that makes the hands look bright and bold. The gel like consistency makes the polish last long without chipping, and keeps the glossiness intact. It is a nice summer appropriate shade that will look good on all skin tones.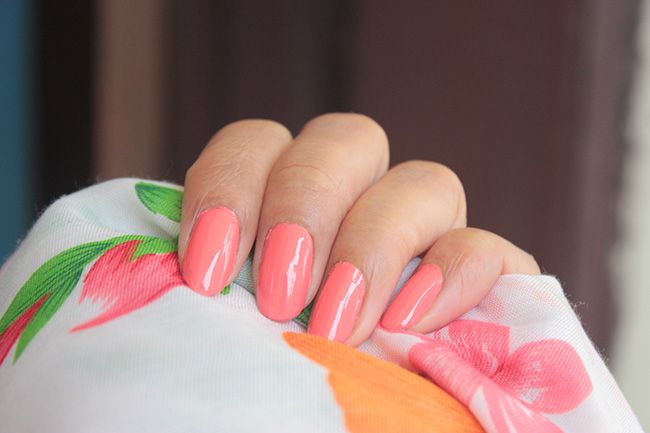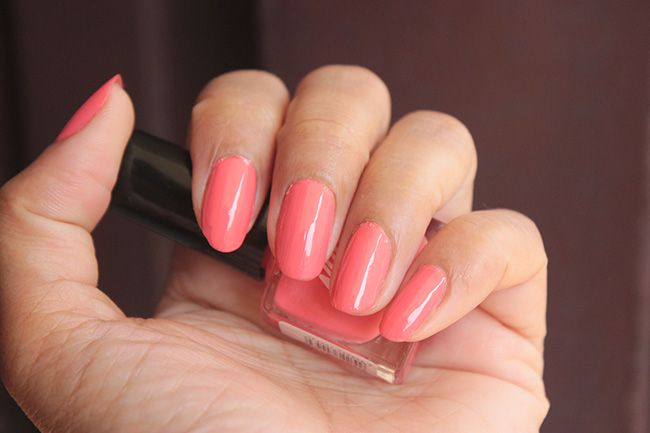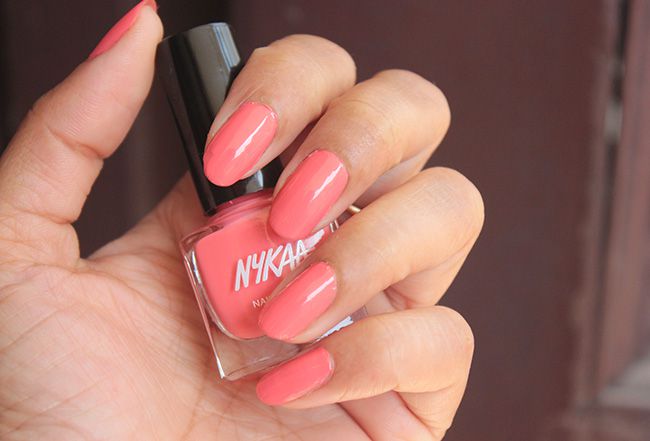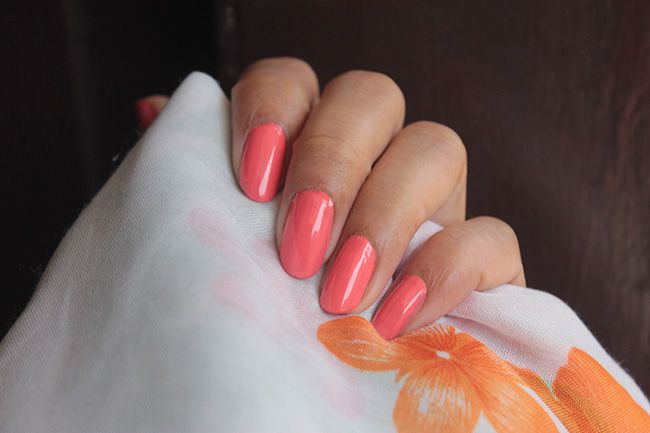 You might also like reading these related topics
MAC Nail Lacquer Morange Review and Swatch
Cuccio Colour Nail Polish Shaking My Morocco Review Swatches
Lotus Herbals Colour Dew Nail Polish Peach Perfect 99 Review NOTD