Introducing "Nature Sure", an Indian brand that has a vast list of personal care products made from natural Ayurvedic ingredients. I have always been an advocate of Ayurveda as I feel it is close to nature and has no side effect on the human body. Ayurvedic products never fail to tempt me for the many benefits they bring to our skin and hair. Besides, as compared to the chemically formulated products these ones have affordable price tags. Nature Sure products are also formulated for the masses at large, and that's why they are reasonably priced. The packaging is simple yet cute and the quality is uncompromising. Today, I am sharing a few of Nature Sure products and their benefits. Let's have a look at them.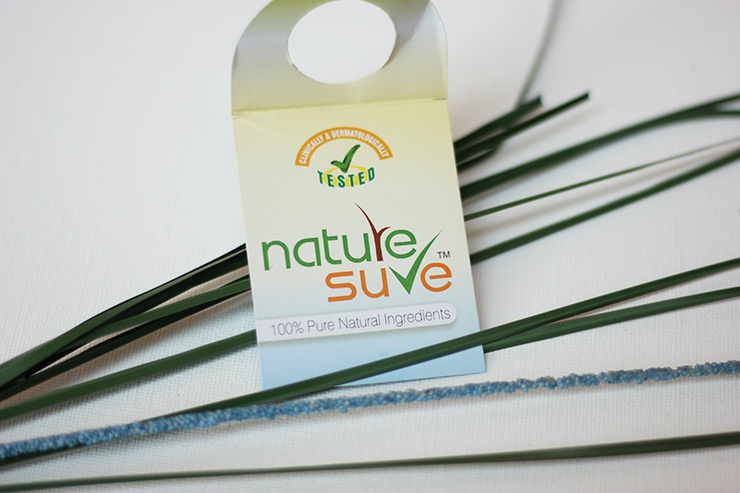 Nature Sure Kalonji Oil (Black seed oil) |Price Rs 309 for 100ml
Kalonji or Black seed is often used as the main ingredient in Indian pickles. Until a few months ago, I did not know that this amazing ingredient is effective in treating skin infections as well. One of my friends was suffering from mild eczema and was advised to apply Kalonji oil on the thickened skin. After just couples of days of application, the eczema was gone. Besides the healing properties, the other uses of Kalonji are-
– Prevents hair loss and treat baldness.
– Useful in diabetes and hypertension.
– Helps in preventing skin disease.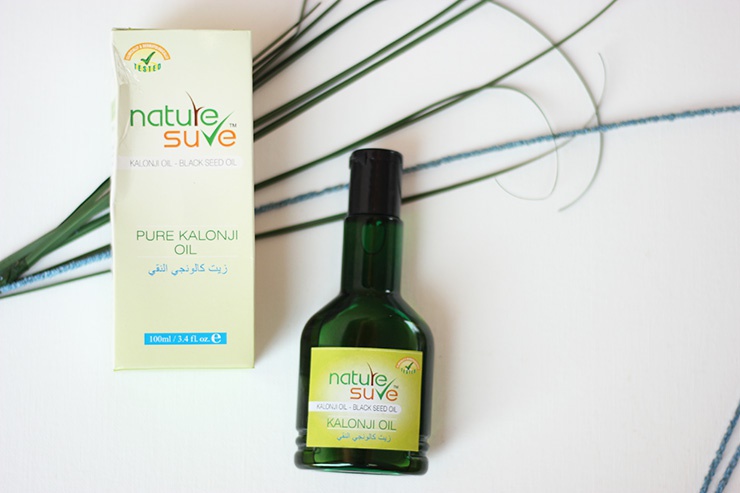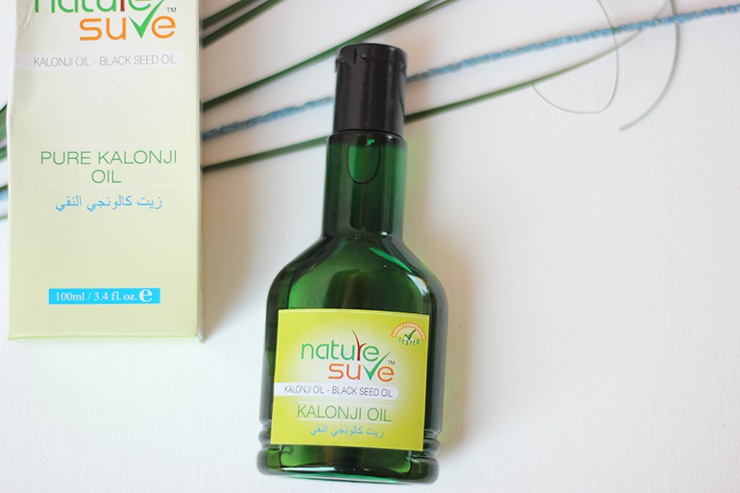 Nature Sure Jonk Oil (Leech Oil) | Price Rs 239
Jonk Oil by Nature Sure claims to be a miraculous therapy for hair related problems. It is effective in hair regrowth and also prevents hair related disease. With its curative properties, Jonk Oil is helpful in treating alopecia and baldness. The regular use of this oil helps prevent hair loss and provides nourishment to the scalp & hair shafts. It also aids in removing dandruff and fungus from the scalp.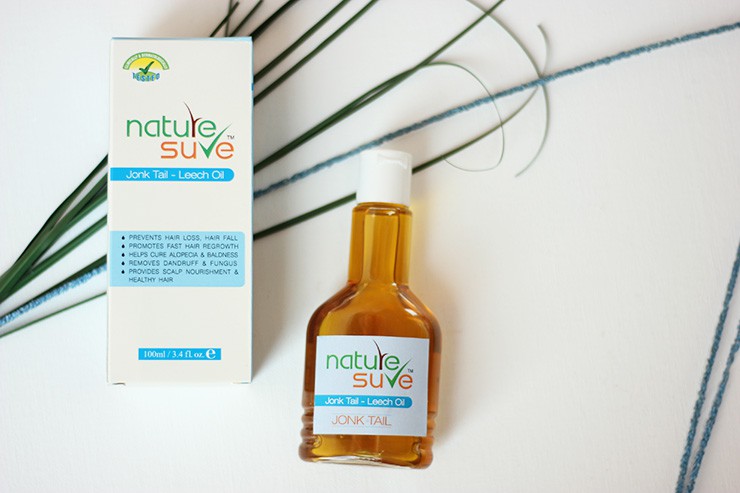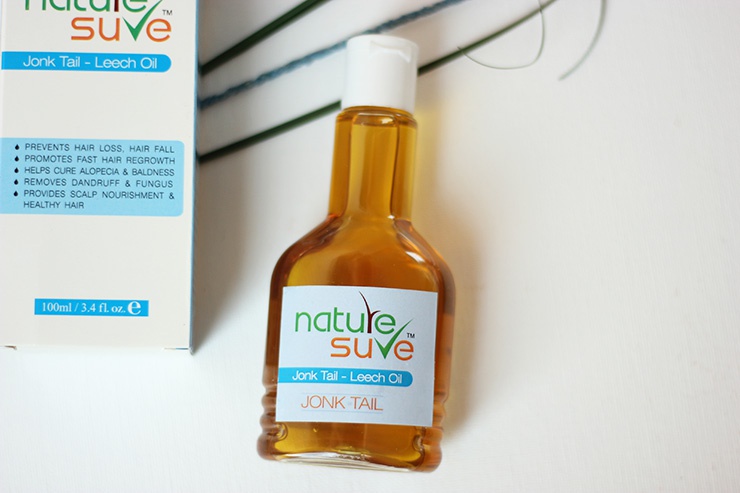 Nature Sure Rogan Jaitun Ka Tail (Olive Oil) |Price Rs 267 for 110ml
We all are well-versed with the benefits of Olive oil. Be it skin care, hair care or internal health Olive oil is one such ingredient that works equally well internally and externally. Nature sure Olive oil is packed with anti-aging antioxidants that make it perfect remedy for skin, hair, and nails as well. It prevents clogging of pores and acts as an effective moisturizer. Some of the other benefits of Olive oil are-
– Protects skin against harmful UV rays.
– Prevents anti-aging and wrinkles.
– Exfoliates the skin and removes dead skin cells.
– Provides soft and smooth skin.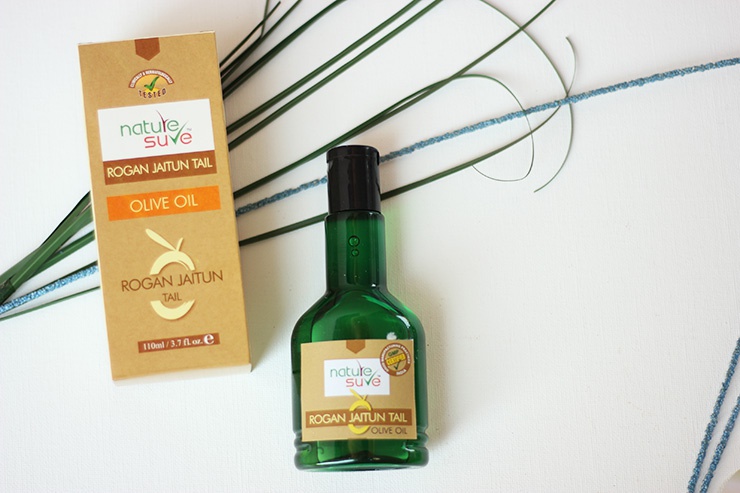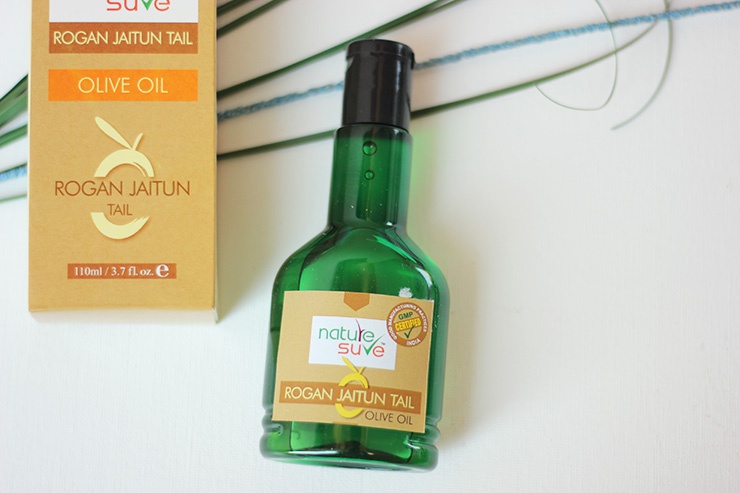 Nature Sure Castor Oil (Ricinus Communis) | Price Rs 257 for 110 ml
I have been using Castor oil for a long time now. It helps in strengthening hair roots, improving hair texture and reducing hair fall. I have already done an exclusive post on Castor oil and how to use Castor Oil for reducing hair fall and promoting hair growth. If that interests you please check it out. The Nature Sure Castor oil is also enriched with Vitamin E, Omega 6 and proteins. It is rich in antioxidants and contains anti-bacterial properties that help in restoring skin's natural moisture balance. Some of the other benefits of castor oil are:
– Treats scalp flakiness.
– Prevents skin aging and removes wrinkles.
– Hydrates and smoothens skin.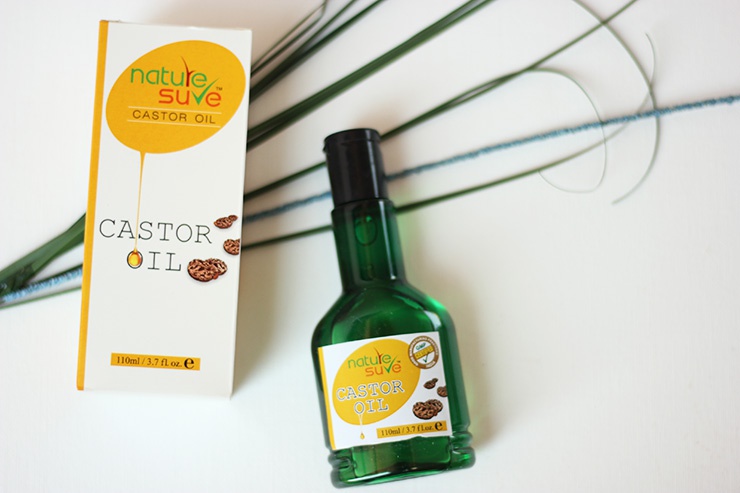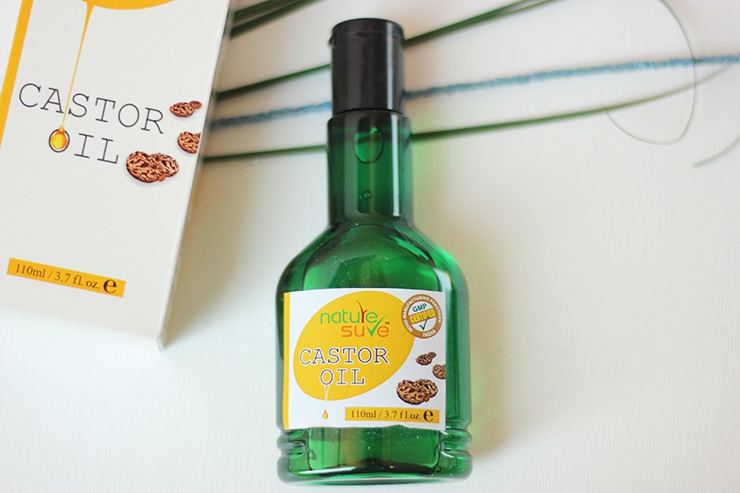 Nature Sure Hair Growth Oil | Price Rs 339 for 100ml
Nature Sure hair growth oil contains the goodness of Sesame, Trifla, Mulethi, Bhringraj, Datura among other beneficial herbal ingredients. It penetrates deep into hair roots and stimulates hair follicles. This improves hair health in terms of strength and growth. It also controls moisture and prevents dryness of the scalp. The antifungal and antibacterial properties of this oil make it an effective treatment for scalp related issues. If used regularly, it also claims to prevent premature greying of hair and split ends. The other benefits of this oil include-
– It stops hair fall, hair loss, and baldness.
– It acts as a sunscreen and protects hair from UV rays.
– It treats lice and other scalp related problems.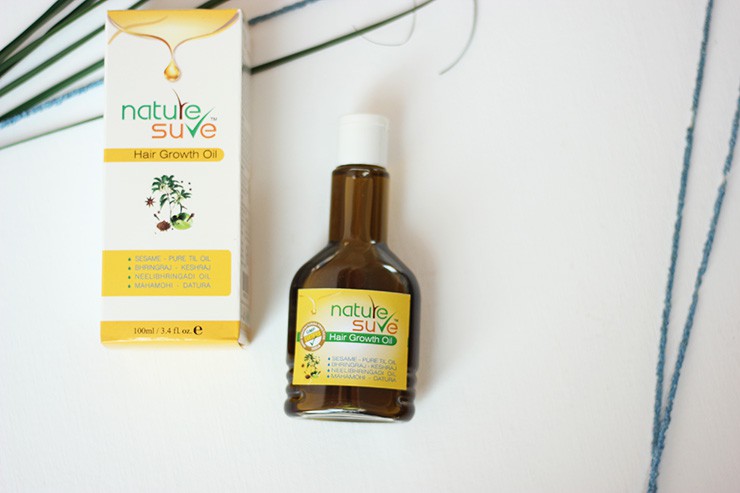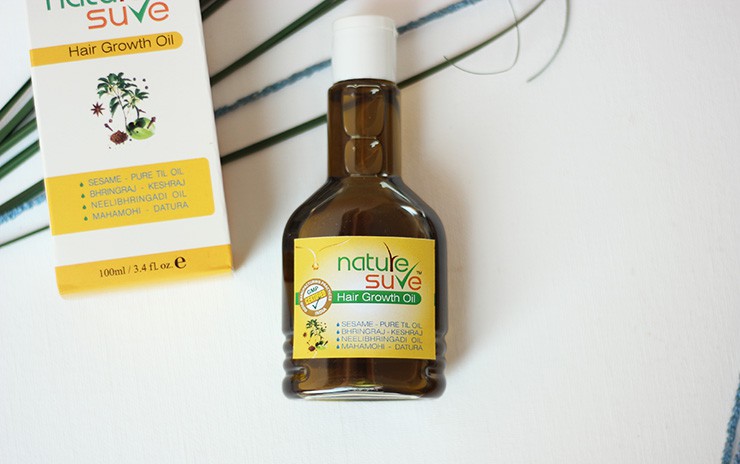 Nature Sure Anti Acne Cream | Price Rs 269 for 50g
I have oily acne prone skin so I know how it feels when a painful zit pops up at the center of the cheek. I always prefer to treat such throbbing acne using either home remedies or herbal products. The Nature Sure anti-acne cream is an ayurvedic cream to treat acne, pimples and acne scars. Its ingredient list contains Black pepper, Red Sandalwood, Amla and Jaiphal as primary components. I am not sure about the other ingredients but I have used Jaiphal on acne and it works amazing. It reduces the redness and inflammation thus curbing the acne. So, I am hoping that the other ingredients will make this cream work as effectively as Jaiphal alone.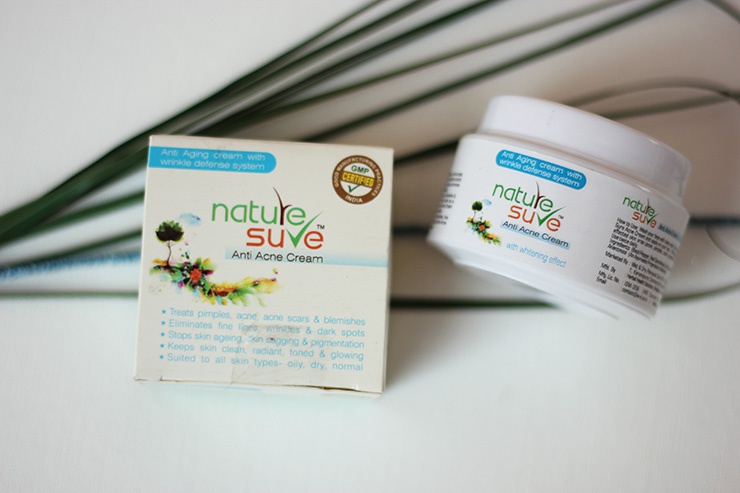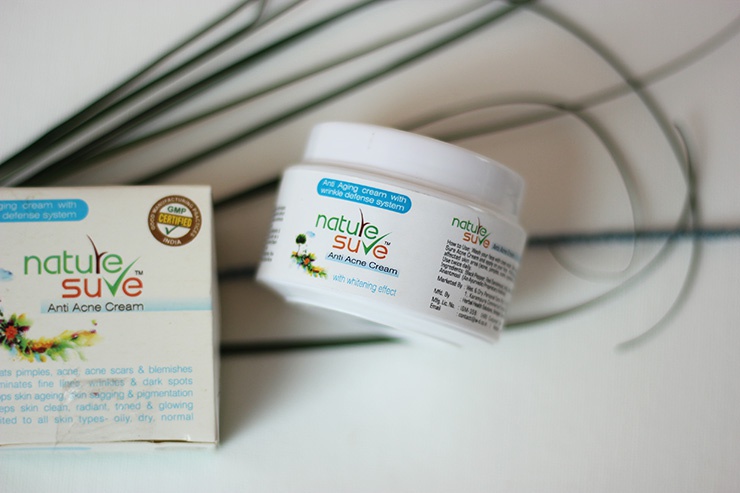 Nature Sure Herbal Mosquito Repellent Roll on | Price Rs 129
For last few weeks, I have been thinking to buy a mosquito repellent for my baby. So when I got the Nature Sure Herbal Mosquito Repellent I could not be happier since this one is herbal and contains fewer chemicals than the ones that are available in the market. t contains Lemongrass oil, Nilgiri oil and neem oil as main ingredients. It has a very nice fragrance that feels strong for initial 20-30 minutes and then starts dissipating. Though the brand says that this roll on once applied will provide 8-hour protection from mosquitos I feel this claim is true only if the repellent is applied time and again. However, the fact that it is herbal in composition makes it safe for the babies ( as well as adults) so I do not mind applying it multiple times as well.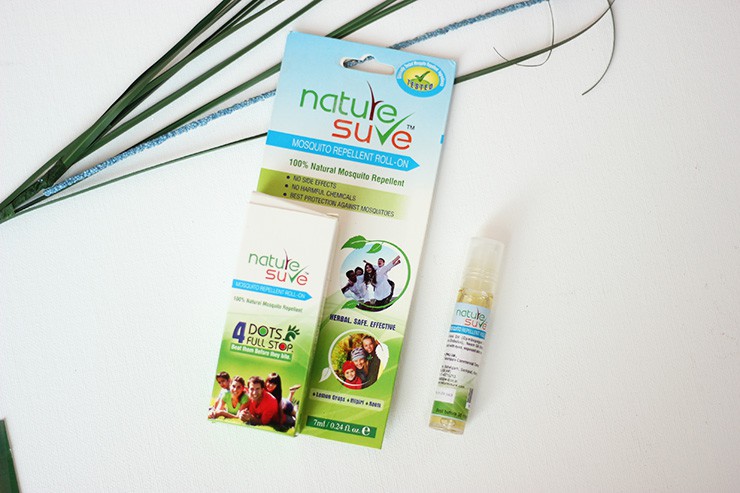 These products are available at Snapdeal & Flipkart so if any of these products interests you, you know where to click. Hope you like this Indian brand.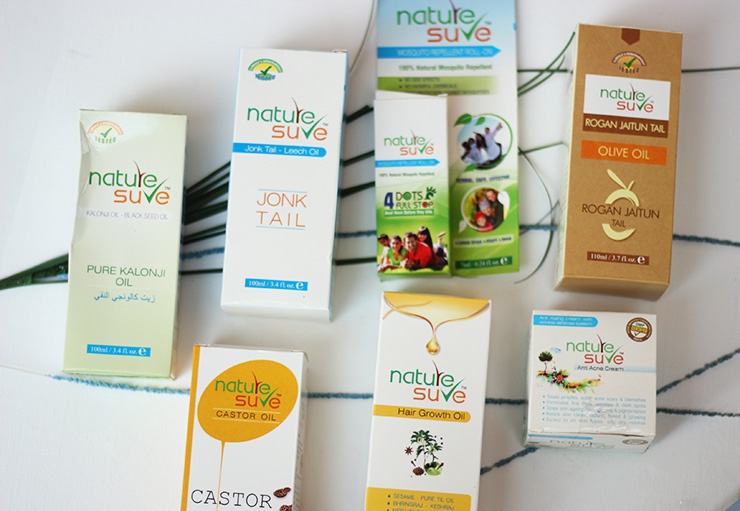 You might also like reading these related topics
Bliss Of Earth Premium Essential Oils Review
What Are Essential Oils? What Are Essential Oils Used For?