Hello Everyone,
I am blessed with the dry and rough hands that remain like that throughout the year. I can manage without body lotion for few days but can't spend a day without coating my hands with hand cream. My tendency of easily getting bored with anything is the reason why I keep purchasing new hand creams. Unlike face creams, I don't need to worry much before trying a new hand cream. During my recent visit to Innisfree Store, I came across 'Innisfree Jeju Peach Hand Cream'. The moment I saw the packaging, I knew I am going to take it home with me. In addition, the fragrance also made sure that I won't leave the store without buying it. I am using this hand cream for last 3 weeks and I am ready to share my opinion with you all.
What the product says:
Innisfree, the pure island where clean nature and healthy beauty coexist in harmony. Innisfree is a natural brand that shares the benefits of nature from the pristine island of Jeju allowing for vibrant beauty and pursues an eco–friendly green life to preserve the balance of nature. The Jeju cream comes with deep moisturizing property with a sweet scent of Jeju peaches. This tender, sweet scent will provide immediate relief to the dry hands.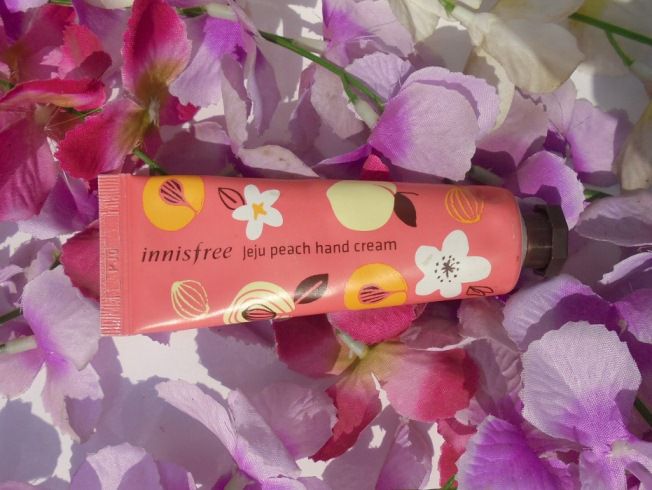 My Take on 'Innisfree Jeju Peach Hand Cream'
Currently I am obsessed with Innisfree. I am madly in love with their face masks. I keep trying one or other products of this amazing brand. When I read the review of Innisfree Jeju Daphne Hand Cream on BABE, I started waiting to visit their store and buy those hand creams which come with a cute and girly packaging.
It comes in a peach colored plastic tube that is squeezable and has a rotating cap on the top. The girly packaging is so cute that once you will enter the store, you will definitely end up buying it. The tube comes in a size which is perfect to carry in a handbag while travelling. I can easily store it in my pocket as well. The screw cap is tight enough to prevent any kind of wastage of product so it has everything covered from spillage point of view.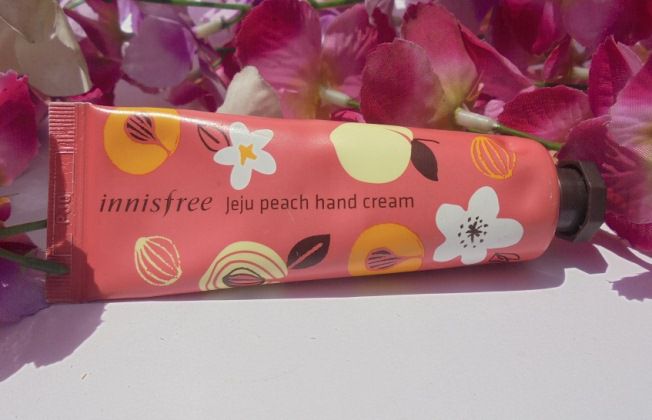 The first thing that I noticed after removing the cap was its divine peachy fragrance. It smells exactly like fresh peaches. The yummillicious fragrance keeps on lingering for few hours and I have to control myself from continuously sniffing my hands. The cream has a bit thick and creamy texture but it spreads easily, and the skin quickly absorbs it. It doesn't take much time to sink within the skin and immediately start showing the results. It makes the skin soft and smooth without any greasy or oily layer.
I only need a small pea size amount of the hand cream for the both hands. So a single tube will last me for more than two months. The moisturising effect lasts for 4-5 hours and I don't need to reapply it after every few hour. The hands remain soft and supple even after washing. It is such a light weight and non–sticky cream that I do not feel as if I have applied anything on them. The only thing that I feel is the smoothness it provides.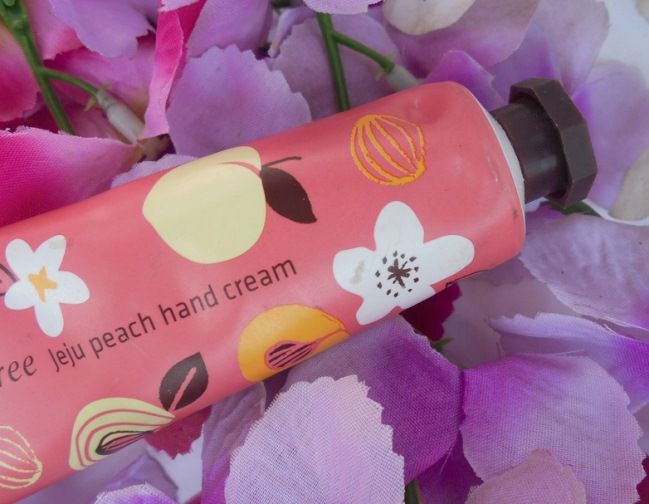 I guess it is the first time that I can't find a single con in a product even after stressing every single nerve of my brain. Some people may find it pricey to pay Rs.300/- for only 30 ml but the long lasting moisturising effect s the reason why I do not mind spending this much amount for it.
The cream doesn't make tall claims and does exactly what it says. It is a super moisturizing hand cream that has helped me a lot in nourishing my super dry hands. Now it has become an integral part of my routine and I literally keep finding excuses to apply this heavenly smelling cream.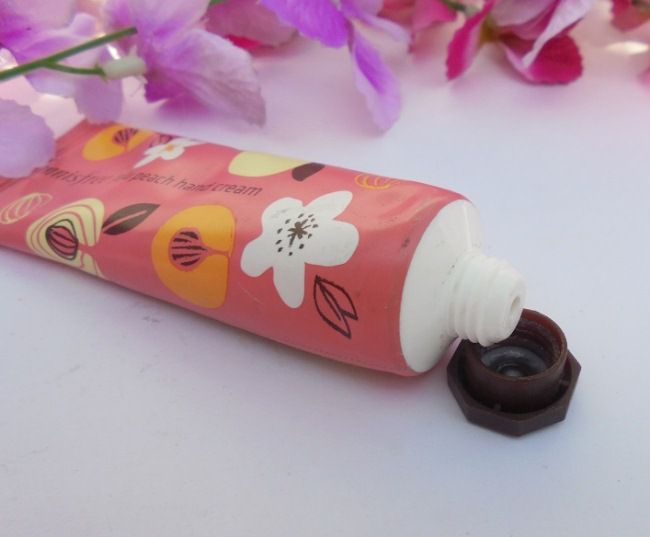 What I like about 'Innisfree Jeju Peach Hand Cream'
– It has an amazing peachy fragrance.
– It makes hands soft and nourished.
– It gets quickly absorbed.
– It doesn't leave any greasiness behind.
– The tube is travel friendly.
– It has a long shelf life of 4 years.
– The moisturizing effect lasts for long hours.
What I do not like about 'Innisfree Jeju Peach Hand Cream'
– Might be pricey for some.
– Availability is an issue.
Price of 'Innisfree Jeju Peach Hand Cream': Rs.300/- for 30 ml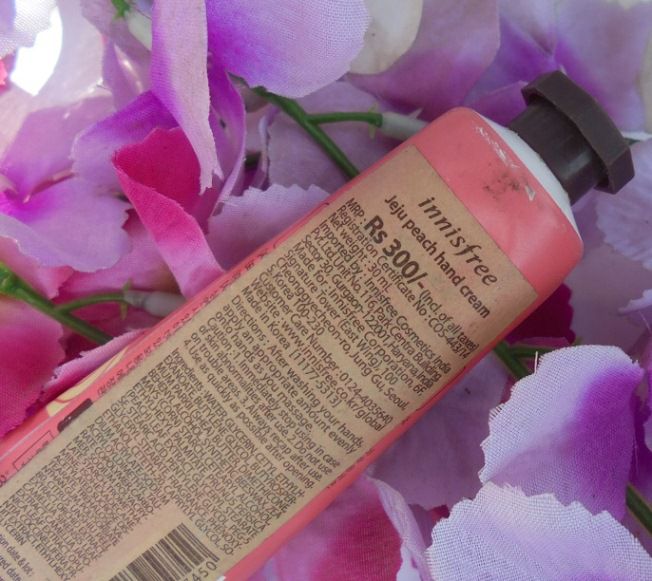 Shelf Life of 'Innisfree Jeju Peach Hand Cream': 4 years from the date of manufacturing
BABE Rating: 4.5/5
Final Word: It is definitely one of the best hand creams I have ever come across. It has an amazing fragrance that makes sure that I keep repurchasing it. It quickly gets absorbed and leaves a moisturising coat on the skin without leaving any stickiness behind. It is equally efficient in winters as well as in summers. I will keep on using this hand cream unless and until the brand will discontinue it. In case you are not a big fan of peachy fragrance, you can try other variants as well.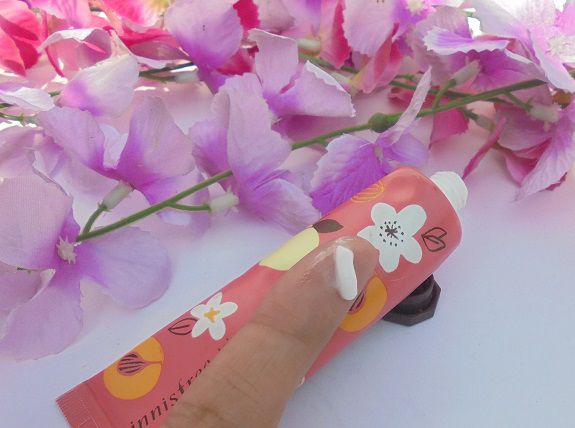 You might also like reading these related topics
Innisfree Jeju Daphne Blossom Hand Cream Review
Balance Me Rose Otto Hand Cream Review
Balance Me Super Moisturizing Hand Cream Review
Blossom Kochhar Aroma Magic Hand cream review
Eva Pretty Nails Hand and Nail Manicure Kit Review
Neutrogena Norwegian Formula Hand Cream Is Perfect For Dry Hands
The Body Shop Hemp Hand Protector Review